Murillo and Justino de Neve
Murillo and Justino de Neve: The Art of Friendship, ed. by Gabriele Finaldi (London: Dulwich Picture Gallery, 2012). 184 pp., 75 illus. £19.99. ISBN978-84-8480-234-1.
This catalogue is published to accompany the exhibition at the Dulwich Picture Gallery, London (6 February-19 May 2013). Don Justino de Neve (1625-1685), canon of Seville Cathedral, was a friend and patron of the Spanish Baroque painter, Bartolomé Esteban Murillo (1617-1682). De Neve's commissions made a significant contribution to Murillo's body of religious works. Indeed, a section of the Dulwich Picture Gallery's famous enfilade is transformed into a magnificent crepuscular evocation of a seventeenth-century Sevillian church with Murillo's three impressively large-scale lunettes, The Dream of the Patrician and His Wife, Faith or the Church Triumphant, and The Immaculate Conception, inserted into niches, with his Immaculate Conception of the Venerables Sacerdotes forming a dramatic high altarpiece.
While he is best known for his religious works, which is the focus of the exhibition, other sections show that Murillo produced a portrait oeuvre of men, women and children that are a sartorial insight into his time. In his Self-Portrait, dated c.1668-1670, he represents himself as a portrait within the painting, resting his right hand on the oval portrait frame edge. With Velázquez's self-portrait in Las Meninas, it constitutes a most sophisticated seventeenth-century Spanish portrait of an artist. He wears a black jacket over a white shirt with an exquisite lace collar, an example of fashionable, muted Spanish opulence.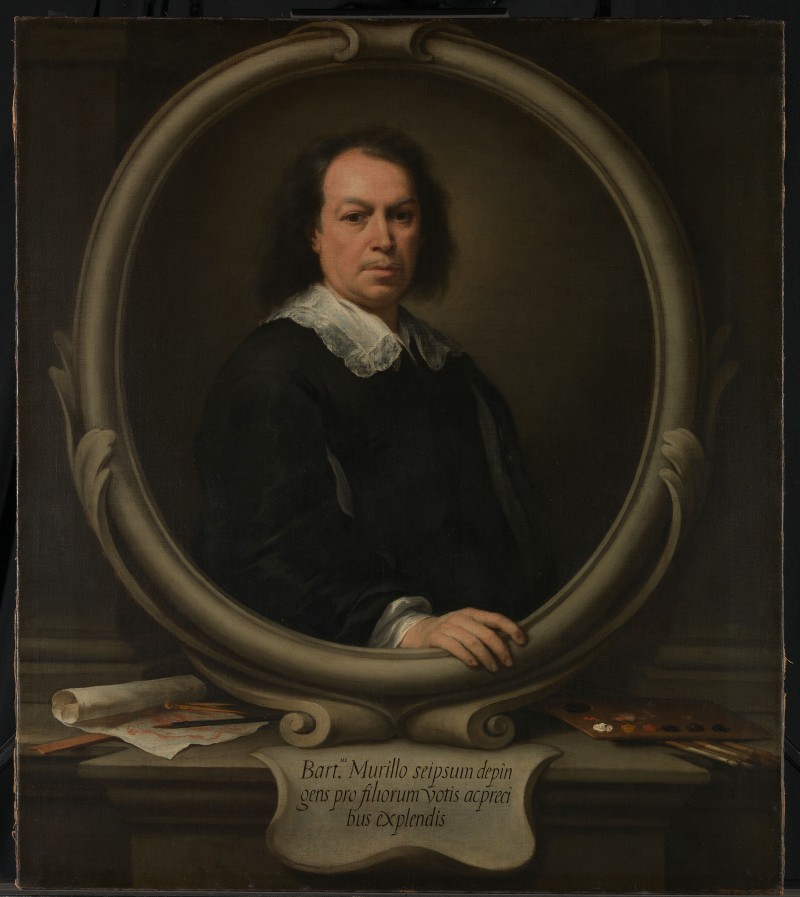 Bartolomé Esteban Murillo, Self-portrait, c. 1668-70. Oil on canvas, National Gallery, London.
Spring (?) as a Flower Girl, dated 1665-1670, may be a portrait of Murillo's daughter, Francisca María (1655-1710) who is in contemporary garb. She wears a chemise and a dress with slashed sleeves. Her most striking accessory is her shawl, which is close in design, colour and texture to the shawls woven in the highlands of Peru. They would have been imported into Seville from Lima. An extant example of a Peruvian shawl which is close in design to hers, especially the diamond-shaped pattern and red-ochre colour, can be seen in the Textile Museum, Washington, D.C. (inv.91-594). Murillo's 'fancy pictures' of children were admired in eighteenth-century England, inspiring both Thomas Gainsborough and Sir Joshua Reynolds.
Murillo's contemporaries considered his portrait of Don Justino de Neve, dated 1665, to be a masterpiece. The co-star of the show wears an ecclesiastical black robe, called a balandran. Both austere and sumptuous, it is long and flowing with split sleeves, made with generous lengths of cloth. It is fitting that one of the events in conjunction with the exhibition is entitled Murillo the Painter: Clothes, Colour and Texture.
The catalogue includes an interesting set of essays written by an international team of specialists which provides an excellent introduction to the Spanish Baroque. There are entries on all the major works on display in the exhibition. It is lavishly illustrated with both colour and black and white photographs of a high quality, and it has the scholarly apparatus of documentary appendix, bibliography and onomastic index.
Alice Mackrell