A Fashion Legacy: Anne, Countess of Rosse
Emma Kelly visits Birr Castle to delve into the costume archive of Anne Messel.
Emma Kelly
Blogs are often a labour of love, researched and proposed, with additional research done before the blog is written and submitted. My proposal for a post on the fashion of Anne, Countess of Rosse, had already been submitted and a rough extended plan drawn up when I saw an advert for a tour at Birr Castle , which would include garments worn by Anne, as Birr Castle was her home after her marriage to the 6 th Earl of Rosse. Cue a complete change in direction for this blog and a two hour journey to Birr in County Offaly.
The tour, given by the brilliant Fionnuala, mapped out the history of the castle, guiding us through the key names, events and features (including a supposedly haunted clock). Anne's story was told through six garments, bringing to life one of the key residences in the history of the castle, a woman who was a countess, a conservator and a patron of fashion. The garments were taken from the archive housed at the castle; a passion project of Anne's as she recognised the importance of clothing and set about ensuring that her clothes would last. Hundreds of pieces are housed at Birr, as well as Brighton and Hove Museums , which was where I first encountered Anne and the fashionable Messel women. Of her garments she is quoted as saying, 'The fact that I have treasured these things is proof of what I thought of them.' [1]
So who was Anne?
Born Anne Messel in 1902, she was the only daughter of Leonard and Maud, a sister to Linley and Oliver, the famed artist and stage designer. A renowned society beauty, she married Ronald Armstrong Jones in 1925 and went on to have two children, Susan and Anthony, who later married Princess Margaret and became Lord Snowden. The Armstrong marriage ended in 1934 and Anne remarried Michael Parsons in 1935, the 6 th Earl of Rosse, taking up residence at Birr Castle.
The tour centred on particular rooms, within each were one or two couture garments - the mainstay of Anne's fashion collection. The first room visited was the dining room where a stunningly beautiful emerald green woollen Jacqmar gown lay halfway out of its archival box (shown in fig. 1 worn by Lady Oxmantown). The heavy embellishment around the neckline consisted of burgundy and purple glass beads, the weight of which made mounting of the dress on a mannequin impossible. On show was not only Anne as a couture client but Anne the conservator, seeking to save her past for the next generation through careful, considered storage and display. A framed quote stood beside the dress, reading, 'I had a wonderful time in this dress I'm ashamed to say.' No hint was given as to what happened but whatever it was it clearly stayed with Anne and was important enough for her to note.
Next stop on our tour was the library and the first of three Charles James creations. Of the six garments on show, three of them were designed by James, a significant number but an obvious choice when one considers the bond between the couturier and Anne. She was described as 'one of James' most dedicated clients' during the 1930s.[2] Of the Anglo-American creations Anne stated, 'not everyone would find they were easy to wear,' (though clearly she did).[3] James was, and still is, considered one of the greatest couturiers, a master craftsman best known for his own style of tailoring. The library gown was the Beetle dress (fig. 2), sent to the Met for their Charles James exhibition in 2014. It was the first garment encountered on a mannequin and therefore the first time we saw Anne's garments on a figure, with the size of the waist the main topic of conversation amongst the other visitors. The black and pink silk and metallic gown was simple in structure and adornment, echoing the wings of a beetle. What I found fascinating was the quality and condition of the gown. Over seventy years old, it was still in good condition, a testament to the work of Anne and those that followed her to conserve the garments.
Our next port of call was the music room, a hub for hosting events, which held two of the more extravagant gowns of the tour, courtesy of James and Irene Gilbert, two key names in Anne's sartorial story. The James gown on show (fig. 3) dates from 1939 and was made to be worn to the 1870s fancy dress ball hosted by the Duchess of Marlborough at Blenheim Castle. Made of silk faille and organza in pale tones of white and nude, the full skirt is adorned with colourful bows. Fionnuala mentioned an archival note stating, 'this was the one I had to be sewn into.' Fancy dress balls were part of high society's social calendar, with a resurgence in popularity from the 19 th century. Costumes allowed for one's wealth, connections, knowledge and lineage to be put on show. An image search of Anne shows her at various fancy dress events including one with her brother Oliver (fig. 4) dressed as Bacchus and Ariadne in 1927.
The second gown in the room acted as a hat tip to another part of Anne's life, her relationship with Irish designers. Following her marriage to the Earl, Anne began to look to Irish couturiers including Irene Gilbert, Ib Jorgensen and Sybil Connolly. These designers established careers in 1950s Ireland, an era greatly defined by economic uncertainty. Gilbert forged a relationship with Anne and it was Gilbert that she went to for key garments, including a dress for a reception with the Royal family following her son's marriage to Princess Margaret. Gilbert looked to the Irish textile industry for the basis of her designs, implementing couture techniques including the bias cut. Her one piece on show was created for a party, though no further information was given regarding it. It was a gown I had seen already in ' Ireland's Fashion Radicals ', where it shared space with the Gilbert creation worn to Buckingham Palace (fig. 5).
Leaving behind the stunning views of the music room, we made our way to the drawing room, a room that had been heavily influenced by Anne. One of my personal favourites was set in this room; the Snow White dress dating from 1938, as shown in figure 6. Throughout the tour we were told about Anne as a Countess, her work in the castle, her life beyond the castle and her fashion. The Snow White gown reminded us of her role as mother; she is photographed with her children wearing the character covered dress and the dress, as Fionnuala noted, now has a stain that looks very like chocolate on it. For me, it was a brilliant choice to bring the James trio to a close. We had seen his evening wear, a fancy dress creation and now this quirky, almost Pop Art day time dress, all made within the same decade.

Another favourite was the Victor Stiebel ensemble worn to her son's wedding to Princess Margaret in 1960. This iconic outfit was immortalised in 'The Crown' Netflix series. The oyster colour of the ensemble was, Fionnuala said, a choice colour, considering she was mother of the groom and no one wishes to upstage the bride, particularly when the bride is the Queen's sister. A handwritten note was included, noting that Anne couldn't afford to buy the mink stole she ultimately wore, immediately. What pressure Stiebel must have felt creating this outfit, within the tight restrictions of Royal wedding etiquette.
An hour and six pieces of couture later, the tour finished up and we left the castle in awe. For me, it was an amazing opportunity to see examples of 20 th century couture, made by some of the greatest talents, up close and with no glass in the way. It was a unique experience viewing garments in a home and not in a museum or museum store, but in a place that shares its history with the garments. Most interestingly for researchers and enthusiasts of couture, the garments on show were only the tip of the iceberg in terms of what the archive holds. Perhaps more opportunities will present themselves for more garments to go on show and for Anne's story and her fashion legacy to be revealed.
References :
1. 'Had a wonderful time in this I am ashamed to say': Memories of a 20 th Century Style Icon, The Irish Times, Aug. 11 2018.
2. Koda, H., Glier, J. and Rucci, R., Charles James:Beyond Fashion , The Metropolitan Museum of Art, 2014.
3. Koda, H., Glier, J. and Rucci, R., Charles James:Beyond Fashion , The Metropolitan Museum of Art, 2014.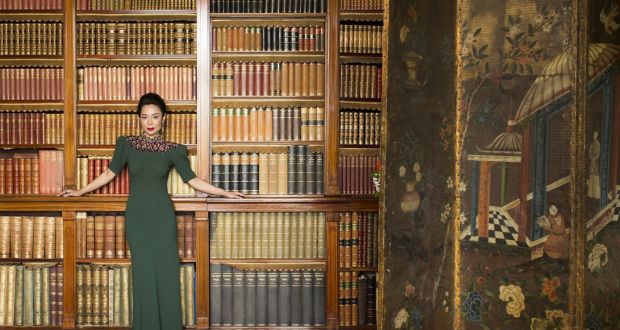 Lady Oxmantown wearing green Jacqmar gown © The Irish Times, Aug. 2018.
Sign up to receive occasional updates