A Review of the Conference 'Dress and Décor in Scotland up to 1700'
CS Ambassador Francesca Scantlebury reviews the conference 'Dress and Décor' hosted last month by the Institute of Scottish Historical Research as part of their tenth-anniversary celebrations.
Francesca Scantlebury
' Dress and Décor: Domestic Textiles and Personal Adornment in Scotland up to 1700 ' was hosted in March by the Institute of Scottish Historical Research as part of their tenth-anniversary celebrations. Noticing the growing interest in the dress and textile history of Scotland, the Institute aimed to provide an interdisciplinary workshop concentrating on dress through the perspectives of museum professionals, archaeologists and speakers from academic institutions. The conference itself took place at Parliament Hall at the University of St Andrews.
Stereotypes of Scotland before 1700 have included the country being seen as a bit of a cultural backwater, far removed from the prosperity and fashionable influence of continental Europe and its richer neighbour England. However, these stereotypes were thoroughly challenged and disproven throughout this conference, with speakers demonstrating Scotland as an eager participant of 'fashion' and a large manufacturer of various textiles.
In the morning talks focused on sixteenth century ceremonial dress and textiles with royal provenance. Each speaker illustrated how Scottish royalty prioritised clothing as part of their majestic persona, and how large amounts were spent on sumptuous fabrics such as velvet, silk, and fur, as well as jewels to adorn themselves. Particularly for occasions such as marriages and funerals, great expenditure on new clothing can be found, with one example of James V buying over 30,000 gold buttons for his wedding clothing.
Following these lectures, a special collections session was held showing artefacts from Scotland's dress history. Alongside a talk given by Claire Robinson, a pair of early seventeenth century gloves, reputed to have been given by Charles I to Sir Henry Wardlaw, were available to view. Now a part of the University of St Andrews' special collection, it was impressive to see the gloves in person due to the rarity of surviving objects from this era. Made from pale brown leather, the ivory satin gauntlet cuffs had been embroidered with fountains, floral motifs, fish, butterflies and dragonflies and castle buildings with smoking chimneys. Thought to be alluding to the ideal of nature now under private ownership, they are dated to 1600-1630. Elaborately decorated gloves such as these were to go out of fashion with the youth by the 1630s, but continued to be worn by older men.
Later discussion moved towards the production and circulation of textiles in seventeenth century Scotland. Professor Christopher Smout compared the country's many widespread rural spinners and weavers producing linen and wool to that of workers in urban centres in France and Italy focusing on silks. He argued that although Scotland was not making luxurious materials like its European counterparts, it had the advantage in terms of price, with its production of coarse cloth appealing to the populous bottom of the market.
It was concluded throughout the conference that, while Scotland could not necessarily be considered a 'driver' of fashion pre 1700 compared to that of France for example, in-depth studies of Scottish dress and textile history demonstrate that the country still played an active role in the consumption of fashion. Scottish royalty and nobility both attempted to 'keep up with' with the dress of other contemporary European courts and the fact that the textile industry of Scotland differed from its urbanised counterparts in terms of production does not mean that it did not produce large amounts of cloth and clothing in its own right.
Special thanks are also due to Roger Mason, Perin Westerhof-Nyman and Dr. Morvern French for their organisation of the day.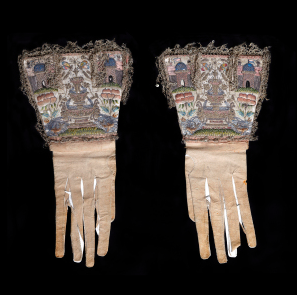 Embroidered gloves thought to have been given to Sir Henry Wardlaw by Charles I, c.1600–1630. University of St Andrews Special Collections
"