Guest Blog Month, 2021. "An Account of Sundry Cloathing.." : Archives as evidence for the study of imported dress and textiles in early colonial New Zealand 1820-1830
In our mid-week blog, the fourth in our Guest Blog series, Angela Lassig discusses the use of archives in the study of imported dress and textiles in early colonial New Zealand.
From shipping logs to diaries, receipts to inventories, paper sources offer us the means of further understanding the history of clothes. In cases where no garments remain, they can offer insight into the clothing available, how clothes were bought, sold and worn, how people engaged with clothing, fashions of a particular time and ideas held about fashion.
In this blog, the fourth in our Guest Blog series, New Zealand-based dress and textile historian Angela Lassig discusses the use of archives in the study of imported dress and textiles in early colonial New Zealand, centring her focus on the archive of the London-based Church Missionary Society (CMS).
In my current area of research - the importation, distribution and adoption of English dress and textiles in early colonial New Zealand, paper-based archival records are the key resource because of a dearth of surviving material culture. Archives inform us that as early as the 1770s, English dress and textiles such as 'old clothes'[1], red baize, ribbon and cheap new readymade clothing, were carried aboard vessels of early exploration to the Southern Hemisphere as trade goods to exchange with indigenous peoples for freshwater, food, and other necessities. My current research focuses on dress and textiles imported into New Zealand between 1820 and 1830 by missionaries and settlers associated with the London-based Church Missionary Society (CMS), which established a mission station in 1819 at Kerikeri in an area known as the Bay of Islands. [Fig. 1].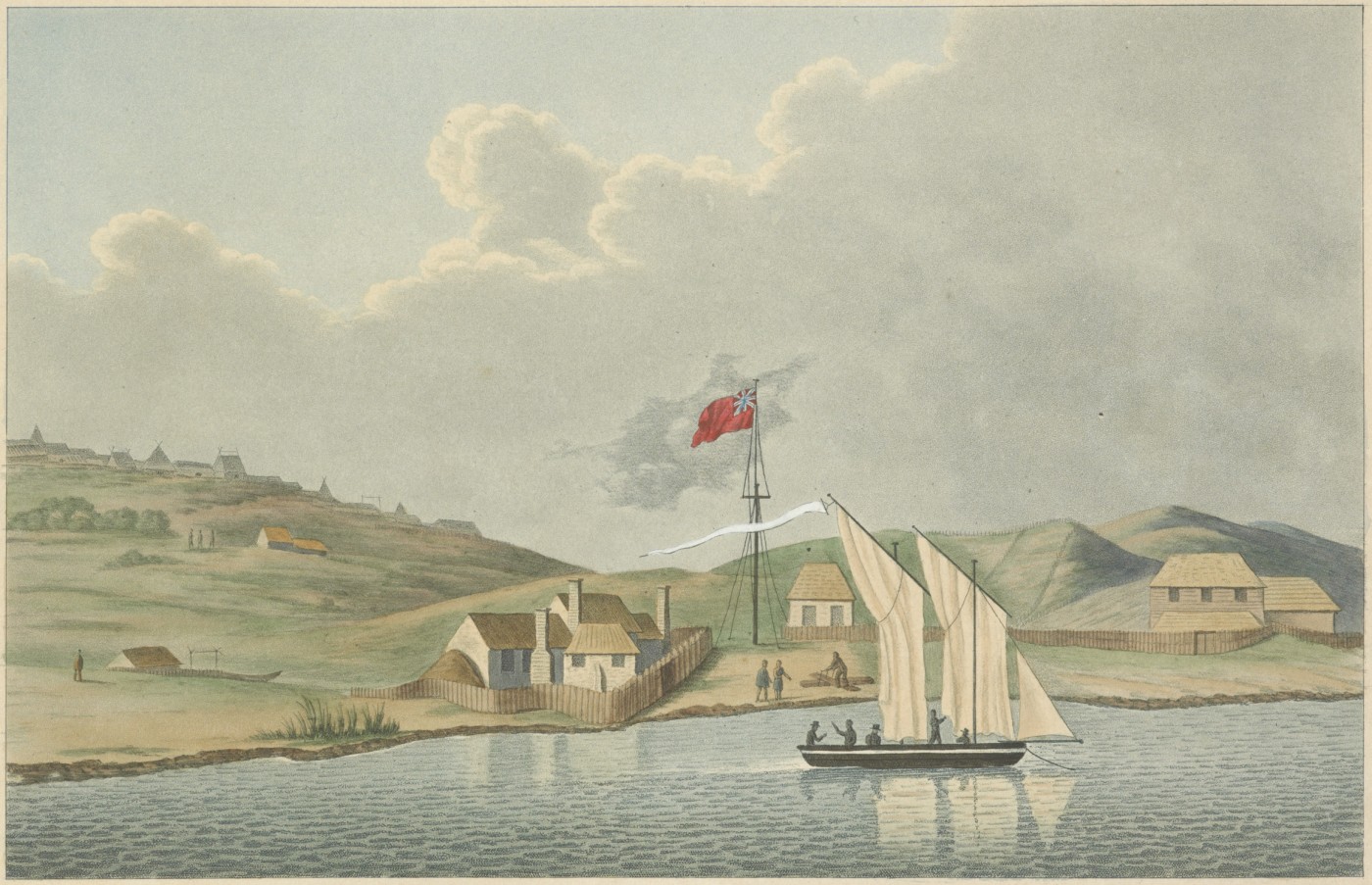 Figure 1: Établissement des missionnaires anglais a Kidikidi, (Nouvelle-Zélande.) (English missionary settlement at Kerikeri, New Zealand), 1826, by Antoine Chazal, Louis François Lejeune, Ambroise Tardieu. Gift of Horace Fildes, 1937. Te Papa. 1992-0035-1815
Although CMS missionaries and supplies had begun arriving in the Bay of Islands in December 1814, a central store to serve the needs of the settlement was first established in 1820, with mission schoolmaster Francis Hall (1792-1850) appointed as the first storekeeper. After Hall resigned from the mission in late 1823, the mission blacksmith James Kemp (1797-1872) was appointed storekeeper, a position he held well into the 1830s. My research draws on archives relating to the mission store, the first commercial establishment of its kind to be established in New Zealand. The archives comprise a group of inventories written in the hand of James Kemp, which form part of the CMS Archive in the Cadbury Research Library at the University of Birmingham, and financial records compiled by James Kemp, now in the collection of Heritage New Zealand Pouhere Taonga https://www.heritage.org.nz, a body equivalent to the National Trust.
While the CMS store inventories are not complete, they are sufficient to provide valuable insight into the importation and distribution patterns of dress and textiles during the period. When examined alongside other CMS archives, such as Missionary Registers (compilations of official correspondence), public and private missionary journals, and private letters written to and by individuals connected with the New Zealand Mission, they enliven and enrich our understanding of daily life in early colonial New Zealand. The store inventories provide valuable evidence about the receipt and issue of an increasing variety of goods, including clothing and textiles, and reflect the changing needs of a local community of indigenous Māori and Pākehā (non-Māori) that was growing in sophistication and complexity. The dress, textiles and other goods recorded in the store inventories were CMS property, to be used for the common good, for example, to barter for fresh provisions such as pork and fish. Items could also be purchased by the settlers for personal use. Clothing comprised mostly inexpensive ready-made menswear items, collectively known as 'slops', which were given to Māori men and boys by the mission artisans (blacksmith, carpenters, etc) as incentives and rewards for their commitment and payment for their work. Most consistently imported throughout the decade were blue and striped cotton trousers, trousers made from a strong cotton fabric called 'duck'; red, checked and striped cotton shirts, and blue jackets. It was only at the end of the decade that items of readymade women's wear were imported. These were cotton 'shifts', otherwise known as chemises.
The first textiles to be imported into the settlement - 'common English prints' - were intended to be made into a uniform style of dress for Māori girls, to be worn at school and to church. These would be made by the girls under the tuition of the women of the mission settlement and thus sewing requisites - needles, thread, thimbles, scissors and metal buttons - were imported at the same time. Cotton fabric for women's clothing, variously described as 'striped', 'single colour', 'navy blue print' or simply 'print', was the textile most consistently imported over the decade. This fabric was purchased privately by settlement women to be made into clothes for themselves or their female Māori servants or traded with Māori for land or provisions. [Fig. 2]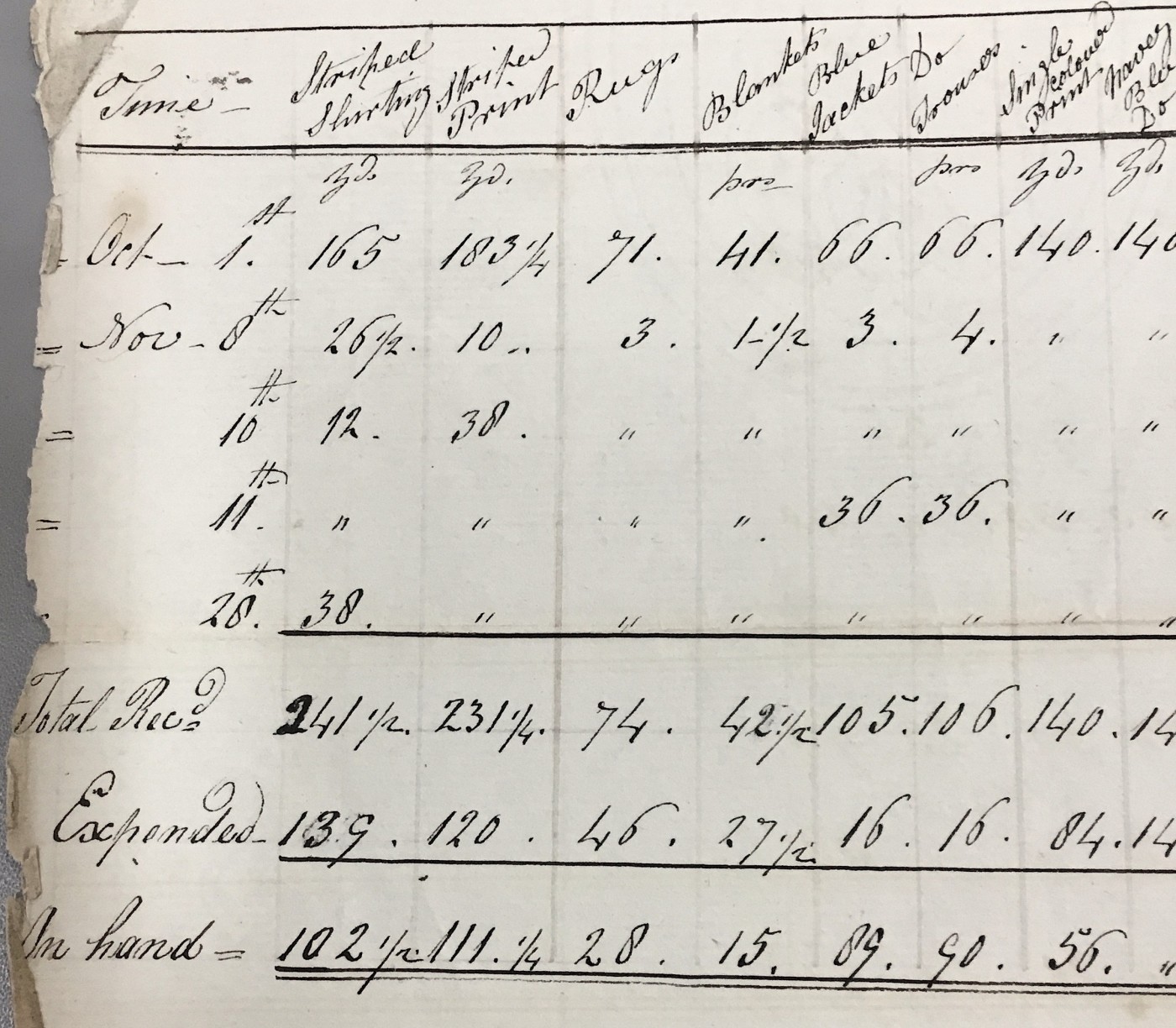 Figure 2: Detail, 'An Account of Provisions & Cloathing Rec'd & Ifsued from the 1st of Oct - 31 Dec 1823', Cadbury Research Library, University of Birmingham. CN/012/2, Photograph by Angela Lassig.
Official mission supply was sporadic and extremely slow, relying on passing ships to convey correspondence to Sydney or England, and underwent a rigid CMS process of approval. Requested goods might take a year and a half to finally reach the mission settlement. As a consequence, those settlers with the means and contacts to do so secured their clothing and textiles from alternative sources. These included relatives and friends in Britain and through appointed agents in Sydney, Australia. Private correspondence preserved in the CMS and other archival repositories indicates that, in comparison with the utilitarian textiles required for mission purposes, settler families sought more luxurious and fashionable goods including a surprisingly complex array of textiles specially selected to serve a range of specific dress and household uses.
The deeper I delve into the CMS correspondence and inventories, the more I need to question perceived ideas about early colonial dress and trade. In the absence of surviving material culture, the archives of the Church Missionary Society allow me to reconstruct and understand a complex physical world.
Author
Angela Lassig is a dress and textile historian who has worked independently as a researcher, lecturer and author since 2010. Following post-graduate Museum Studies at Sydney University in 1983, she spent the next 25 years developing her expertise in dress, textiles and decorative arts in curatorial roles in museums in Sydney (Powerhouse Museum), Auckland (Auckland War Memorial Museum Tamaki Paenga Hira) and Wellington (Te Papa Tongarewa Museum of New Zealand), where she was Senior Curator (History). Her ongoing research is focused on 19th century New Zealand clothing and textiles from a material culture perspective.
Have you booked your place for our online conference Clothing on Paper yet? We will be live for 5 sessions over 5 days in June and July, so you can join us from anywhere in the world!
For more information about the event and how to book your ticket, please visit https://costumesociety.org.uk/conference
References
[1] Smith, Ian. (2019) Pākehā Settlements in a Māori World: New Zealand Archaeology 1769-1860. Wellington: Bridget Williams Books.
Further Reading
[1] Binney, Judith. ed. (2007) Te Kerikeri 1770-1850: The Meeting Pool. Wellington: Bridget Williams Books.
[2] Salmond, Anne. (1997) Between Worlds: Early Exchanges between Maori and Europeans 1773-1815. Auckland: Penguin Books (NZ) Ltd.
[3] Salmond, Anne. (2017) Tears of Rangi: Experiments across worlds. Auckland: Auckland University Press.