Bedside Fashions: Dress and Disease
In this week's blog, CS Ambassador Rachel Hynes discusses the links between dress and disease, throughout history and the current pandemic.
by Rachel Hynes
In the fashion-time of PPE shortage, face mask debate and disposable gloves, 'medical garments' (I use this term broadly) are now powerful symbols of collective trauma, personal protection and national security. The fashion industry's response to the Coronavirus (COVID-19) health crisis was swift and unequivocal; many major fashion houses are currently engaging in varying forms of philanthropy including donating garments directly to frontline healthcare workers or converting haute couture ateliers into workshops for the production of medical scrubs, hospital gowns and face masks. Concomitantly (and unsurprisingly), home dressmaking is proving popular for many textile craft enthusiasts confined in quarantine/self-isolation. As cloth is fashioned by human experience, hand-sewn textile face masks in bright colours and bold prints are circulating as communicative gifts to vulnerable friends or the sick (inviting some comparison with the philanthropic sock-knitting circles of the First World War period). Moreover, these homespun garments acquire a statement-making philosophy as sartorial bonds of community against the indiscriminate threat of transmissible illness.
Of note, Vogue Italia's April edition features a blank/white cover page for the first time in the publication's history. The ambiguity of the colour white, the editorship claims (1), calls upon an array of meanings and interpretations. While this editorial decision scaffolds a kind of rupture in history—a great visual void—the startling aura of white also recalls the seraphic figure of the field nurse from the fashion literature of the Great War period (Figure 1). Interestingly, the empty cover page is also comparable to the 1945 'Peace and Reconstruction' issue of British Vogue (Figure 2). These aesthetic parallels (across a century) draw heavily upon the symbolism and colour cultures of medical relief and succour; shoring up the importance of the dressed healthcare worker in times of humanitarian crisis.
Within the context of nineteenth-and twentieth-century history, many dress-objects gained reputability owing to strong visual links with medical practice. The Gladstone bag, for instance, is still a weighty emblem of Western (male) medical practice within the cultural imagination. Named after British Prime Minister William Gladstone (1809-1898), the iconic portmanteau—redolent in design of the technological and scientific prowess of its age—was quickly adopted as a portable repository for the peripatetic doctor/nurse making rounds in the rapidly sprawling metropolis (Figure 3 and 4). A dispensary and deep intellectual index between smooth, expansive leather, the Gladstone bag is now an artefact of the modern reach of medicine.
Similarly, a visiting nurse to an impoverished rural cottage in Ireland (ca 1906-1914) wears an apron with a deep pouch (Figure 5). In lieu of a medical bag, the (used) pouch is expressive of her modernity and mobility. Her impeccably neat uniform and kindly countenance is a beacon of professionalism. Going back further to the eighteenth century, the pouf à l'inoculation (a verbose hairstyle associated with Marie Antoinette) celebrated the marvels of vaccination over smallpox and, of course, the constantly fashioned and refashioned silhouette of Florence Nightingale in the mid-nineteenth century cannot ever be divorced from the tradition-bound white nurse's cap (Figure 5).
However, the relationship between fashion, disease and the body is not always triumphant. Dress, we know, bears the thumbprint of human suffering. Caroline Evans's Fashion at the Edge: Spectacle, Modernity and Deathliness (2003) for example, looks at fashion and its eviscerations of trauma, stasis and deathliness upon the female form; drawing anatomy, X-ray imagery and the wounded body into the dark conceptual spaces of high fashion. Alison Matthews David in Fashion Victims: The Dangers of Dress Past and Present (2015) has shown how garments ranging from the military dress of Napoleonic regiments to the mountainous piles of filthy clothing amassed in Victorian laundries could become silent vectors of typhus in the pre-antibiotic past. Of interest, Matthews David notes how ideas of skirt-carried disease ("septic skirts") loomed large in the Victorian imagination. To this I add a brief discussion of dress within the context of tuberculosis and the influenza pandemic of 1918.
Tuberculosis
The story of tuberculosis and dress begins with "consumption chic" and ends with "Chanel chic". As Carolyn Day's Consumption Chic: A History of Beauty, Fashion and Disease (2017) contends, the years 1780-1850 conflated the rosy-cheeked, gaunt and marble-white consumption victim with cultural representations of beauty ideals. As Charlotte Bronte wrote in 1849: "Consumption, I am aware, is a flattering malady" (2). By 1923—the year of writer Katherine Mansfield's untimely death from tuberculosis—long, disease-carrying skirts had been banished to the annals of fashion and the taking of sun was widely promoted by healthcare officials for relieving the degenerative effects of tuberculosis. Additionally, the health benefits of wool (and plant fibre) as the ideal cloth for sustaining la santé were heavily (and famously) espoused by hygienist Dr Gustav Jaeger. Mansfield's personal letters (written as she endured prolonged periods of bedrest) are replete with references to loose Chanel-esque clothing for exercising and requests for fabrics from which to fashion comfortable and attractive clothes. The athletic, sun-kissed body clad in wool and loose forms had now become the all too often unattainable vision of health.
1918 Influenza Pandemic
Though the face mask is commonly associated with Asian cultures of fashion in the twenty-first century, its present ubiquity in Western parks, thoroughfares and supermarkets has invariably summoned the spectre of the 1918 influenza pandemic. Like the feminisation of tuberculosis, this deadly 'Spanish' flu was commonly given the misnomer "the Spanish lady" which, according to cultural historian Catherine Arnold, was personified as "a death-headed, skeletal woman in a black flamenco dress, complete with mantilla and fan". As Arnold points out, the cloth face mask remains a potent fashion footnote of the killer strain of avian flu: H1N1. Worn by healthcare workers and the civilian population alike, face mask wearing became law in many American cities in 1918. As I write, in 2020, New York government officials have ordered the public to wear a face mask in public spaces until further notice. Such is the ghostly return of fashion; the face mask again a memento mori — a sartorial reminder of the thin veil between life and death (Figure 6).

References:
(1) Vogue Italia Verified Instagram Account [accessed 13/04/2020].
(2) Letter from Charlotte Bronte to W.S. Williams regarding the condition of her sister Anne. February 1, 1849.
Bibliography/ Further Reading:
1. Arnold, Catherine. Pandemic 1918: The Story of the Deadliest Influenza in History. London: MoM, 2018.
2. Day, Carolyn A. Consumptive Chic: A History of Beauty, Fashion and Disease. London and New York: Bloomsbury, 2017.
3. Evans, Caroline. Fashion at the Edge: Spectacle, Modernity and Deathliness. New Haven and London: Yale University Press, 2003.
4. Matthews David, Alison. Fashion Victims: The Dangers of Dress Past and Present. London and New York: Bloomsbury, 2015.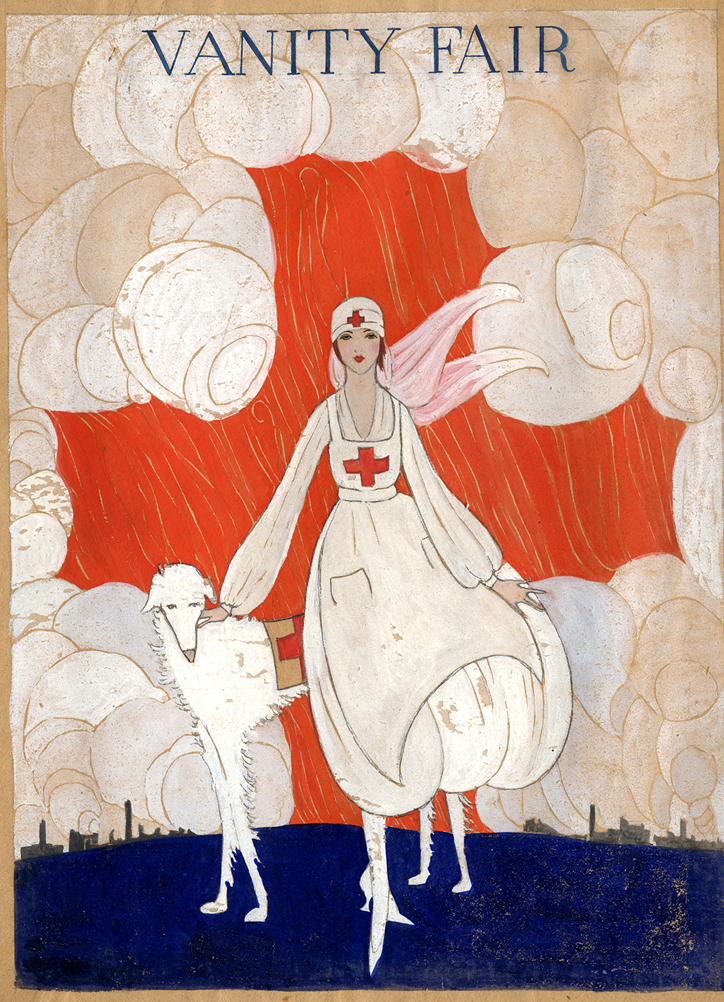 Gordon Conway "Red Cross Girl" illustration for Vanity Fair, 1918.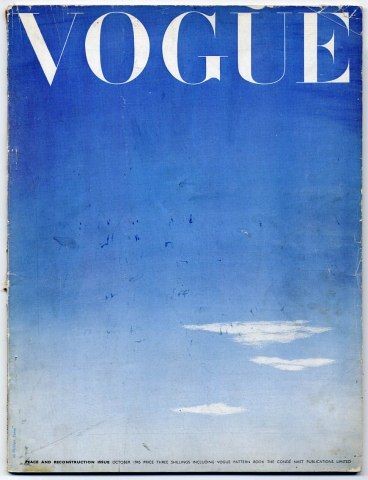 Peace and Reconstruction Issue. British Vogue. October 1945.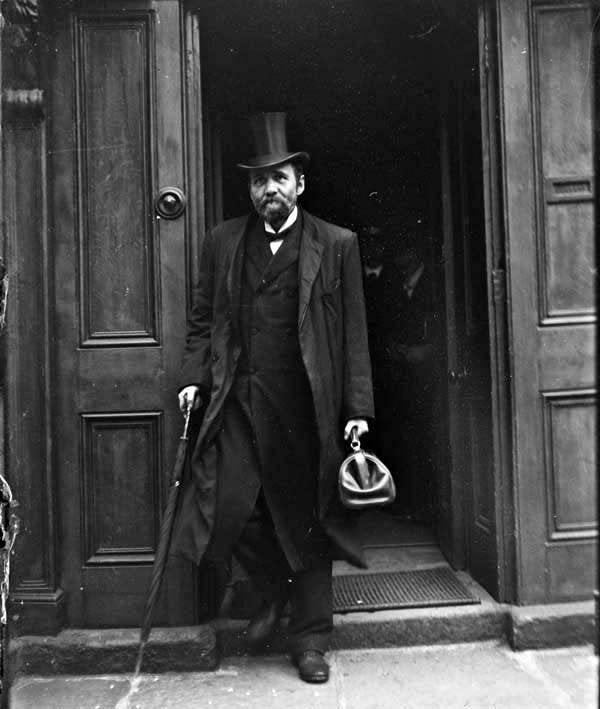 Doctor carrying a Gladstone Bag leaving the Royal College of Surgeons, Dublin. ca. 1900. Image courtesy of National Library of Ireland.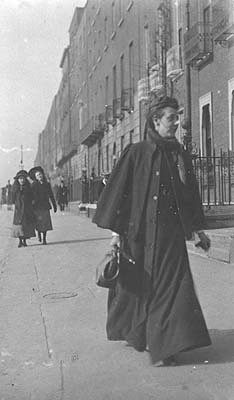 Nurse holding a Gladstone Bag and Umbrella walking on Merrion Square, Dublin. ca.1897-1904. From the Clarke Photographic Collection. Image c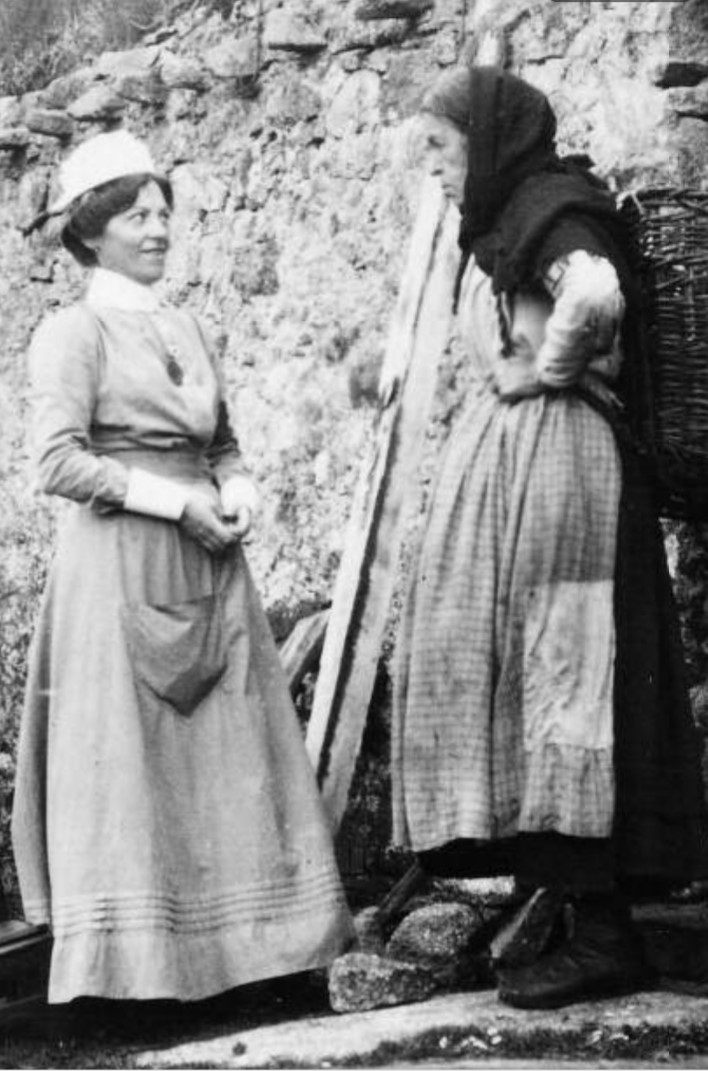 Nurse talking to woman with turf basket outside cottage. (ca 1906-1914). From the Congested Districts Board Photograph Collection. Image cou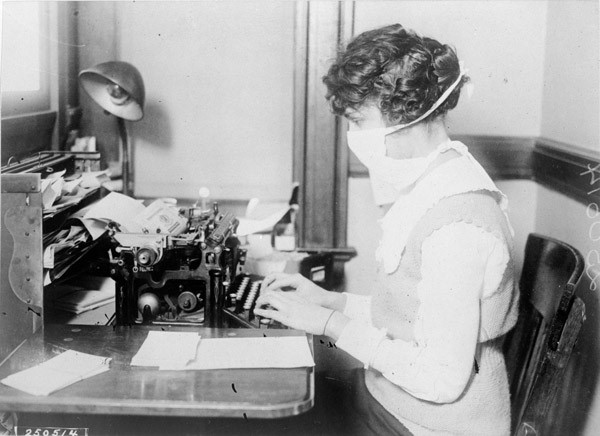 Masked typist during the 1918 Spanish Flu Pandemic.
"