Costume History Beyond the Museum Part 3: The Private Collector, Modern Uses for Historical Pieces
In 'Costume History Beyond the Museum Part 3', CS Ambassador Sarah Morgan interviews Basia Szkutnicka, a designer and author, as well as a Professor of Practice, an MA Fashion & Textile Design Programme Leader, and Academic advisor at Hong Kong Polytechnic University.
by Sarah Morgan
With the rise in vintage wearers, as discussed in part one, there has been a correlative wave of collectors preserving the delicate and distinct. In part three of our series, 'Costume History Beyond the Museum', we meet Basia Szkutnicka, a designer and author, as well as a Professor of Practice, an MA Fashion & Textile Design Programme Leader, and Academic advisor at Hong Kong Polytech-nic University.
Ms. Szkutnicka has a BA from St. Martin's School of Art in womenswear. Her work includes Vintage Details: A Fashion Sourcebook and Technical Drawing for Fashion, and she is an avid private collector of historical costume.
Aspiring collectors and costume history aficionados can see parts of her personal collection combined with the Sue Ann Genet collection at Syracuse University in Syracuse, New York, USA in the book Vintage Details: A Fashion Sourcebook, published by Laurence King in 2016. Ms. Szkutnicka wrote the book for, 'Whoever is interested. I just wanted to share the most beautiful things with others.' The book helps young designers, costume historians, home sewers, and others find inspiration and information.
'I've collected since around the age of sixteen. I remember the dressing up box at my secondary school. Amazingly, it was full of genuine Victorian to 1930's clothes and accessories. … I was mesmerized by their preciousness and beauty; I had never felt fabrics like velvet before and had never seen beading like that before.'
Her experience is not uncommon. 'There is an … astounding lack of knowledge when I speak to students anywhere in the world in any clothing pre 1980.' Ms. Szkutnicka suggests costume history sessions on BA fashion programmes and access to collections such as her own extensive personal fashion archive.
Vintage pieces are one-of-a-kind treasures. 'I love imagining who could have worn or owned the object. I wonder what their life was like and if they would ever imagine that their cast off would be coveted by another. I love the workmanship, the hand stitching, and I love the roughness.'
Each piece is an opportunity to explore individuality and learn. Old movies, museums, and collectors are all good sources of knowledge, according to Ms. Szkutnicka. However, nothing equals learning from the clothes, 'I think that as we move into a more sustainable future people will become more and more interested in the conservation and context of the pieces. They contain content, narrative, memory, and history.'
What I learned from our conversation was to appreciate the details and the opportunity for expansion of one's own collection. The silent pieces, up close and in the hands of average people, speak for themselves, allowing the viewer to see details not present when something is set on a mannequin.
Liners, padding, finishings, and other details matter as much as the overall garment. They show the foundation of a piece and explain how methods of manufacturing and wear have adapted over time, reflecting the people within the garments and making the garments as much as the fashion themselves.
Collection is about curation as much as preservation, 'I buy what I consider to be special or beautiful. … I like the decadent, the weird, the unusual. I'm not into standard stuff… My favourite items are usually from 1920 to 1945 or the 1960's. I have maybe a few 1970's pieces, Biba for example. I also have 1990's pieces.'
There are several layers of evaluation for Ms. Szkutnicka to consider when buying for her collection.
Brand matters, 'I have a lot of Vivienne Westwood and Maison Martin Margiela, my absolute favourite designers ever apart from Schiaparelli, which I have a few odd pieces of.'
Condition matters, vintage is '…so fragile and sometimes impregnated with an odour you just can't get rid of.'
Upkeep matters, '… most pre-1950's dresses and blouses are dry clean only, which destroys delicate fabric.'
And most especially, rarity matters. According to Ms. Szkutnicka, her favourite piece is her 'monkey fur coat. Because it is repellent, obscene, decadent, black as hell, beautiful, and completely shocking to one and all. I have 8 of them. Different lengths. I bought them when people thought they were goat fur and from the 1970's.'
Ms. Szkutnicka advises most of all, '…assess the condition and that the item is genuine and not a costume copy.' As she cares for her own clothes, she counsels others as well. Her own clothes are stored, '… in garment covers with lots of moth repellent around and a dehumidifier in the room.'
Unfortunately, for the time being, the collection is locked in a room in storage in Hastings, England, on hiatus as Ms. Szkutnicka has been teaching in Hong Kong since 2017. 'You can't wear most of what I have in this hot, humid climate.' Collecting is about care, and it is clear Ms. Szkutnicka cares about clothes and their influence.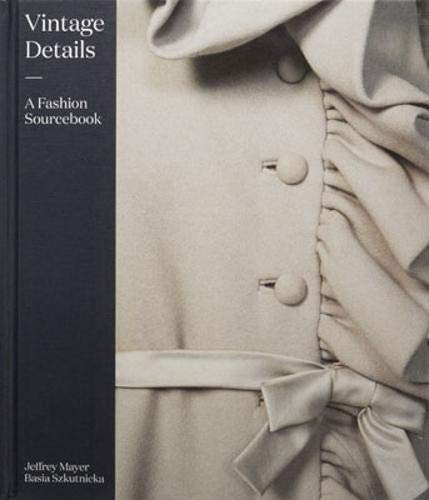 The Cover of Vintage Details: A Fashion Sourcebook, 2016.