Glasgow's Golden Age of Glamour?
Ambassador Casci Ritchie explores the effects of Hollywood cinema on women's fashion in Glasgow during the 1940s and 1950s.
Casci Ritchi
This article is an edited excerpt from my dissertation, 'Glasgow's Golden Age of Glamour? Hollywood cinema and it's effects of women's fashion during the 1940s and 1950s'. Images and memories kindly provided by the project's focus group, a group of local Glaswegian women who were avid cinema goers in the 1940s and 1950s.
Many social, film and dress historians have discussed the significance of Hollywood cinema on fashion and it is particularly well documented in relation to the US. However, there is little research into the effects of cinema on British women's fashion choices - this blog post will look at how Glaswegian women wore Hollywood inspired clothing through local stores and home-sewing.
Mass consumption of Hollywood inspired fashion is often noted to begin with Gibert Adrian's 'Letty Lynton' dress worn by a young Joan Crawford in the aforementioned film. Evidence of the US influence has been discussed but it can be argued that the Letty Lynton look also made an impact on British fashion. This image (see Image 1, middle gown) shows a Lynton inspired gown sold as part of the Aberdeen department store John Falconer's Christmas 1933 catalogue, a year following the release of the film. The dress has the same exaggerated puffed sleeves and echoes the movement in popular fashions from the boyish look of the 1920s to the soft curves and embellishment of the 1930s. This dress had a price tag of approximately £200 in today's money suggesting that the women who bought the dress from Falconer's would be extremely affluent. This dresses would still only be affordable to middle and upper class women with presumably an occasion to wear such a dramatic gown.
Scottish shops did offer more affordable Hollywood inspired fashion. One participant from a focus group fondly recalled admiring the style of Lauren Bacall in the early 1950s. She specifically copied the tweed circle skirt Bacall wore in the film 'How to Marry a Millionaire' and saved up her wages for a similar skirt from local Glaswegian store Annettes of Sauchiehall Street (see Image 2).
Further evidence related to the extent film influenced fashion in Glasgow and throughout Scotland can be found in the January 4, 1948 edition of The Sunday Post. The article 'Film Fashions on Show' introduces the latest 'Lyndale' collection available at Watt Brothers, Sauchiehall Street. The journalist Jean W. Paton states: 'synchronising with the Scottish premiere of "Elegant Lady" Watt Brothers are releasing to-morrow morning a really colossal collection of Lyndale's newest Spring tailor-made, including the models show in the film - a collection which is definitely worth while seeing.' Paton adds that 'Elegant Lady' will be shown at 'principal cinemas in Glasgow, Aberdeen, Dundee and Falkirk' and insists the reader goes to see the fashions 'we, ourselves, shall wear this Spring'. (1)
Affordability was an important factor when recreating glamour according to the participants in the research group. Many were still suffering the effects of the depression and chose to access the Hollywood styles using cheaply sourced fabrics from markets and hand sewing inspired garments. During the 1930s and 1940s sewing was a skill that many women possessed so by accessing these paper patterns they could adapt their existing clothes or embellish garments in a nod to their favourite Hollywood starlets. A Scottish cinema-goer remembers mimicking Joan Crawford by accessorising a fur coat with a bunch of violets on the lapel just like Crawford. (2)
Clothing rationing continued until 1949. However a skirt could be sewn at home using three-quarters of a yard of material for only three and a half coupons, whereas a ready-made skirt of similar design would require twice as many coupons (3). Home dressmaking remained popular into the 1950s. Participant A bought the pattern for the bustier top from 'Woman' magazine in the early 1950s and hand sewed the skirt and added a sumptuous tulle strap to the bustier (see Image 3).
References
1. "Film Fashions on Show", January 4, 1948, The Sunday Post , The British Newspaper Archive.
2. Andrew Martin, Going to the Pictures: Scottish memories of Cinema. (Edinburgh: NMSE Publishing, 2000), 100.
3. Amy de la Haye and Valerie Mendes, 20th Century Fashion, 110.
Further Reading
1. Allen C. Allen, Richard Maltby and Melvyn Stokes. edited. Going to the movies: Hollywood and the Social Experience of Cinema. Exeter: University of Exeter Press, 2007.
2. Bruzzi, Stella. Undressing cinema : clothing and identity in the movies. London: Routledge, 1997.
3. Richard Maltby and Melvyn Stokes, edited. Identifying Hollywood's Audiences: Cultural Identity and the movies. (London: BFI Publishing, 1999).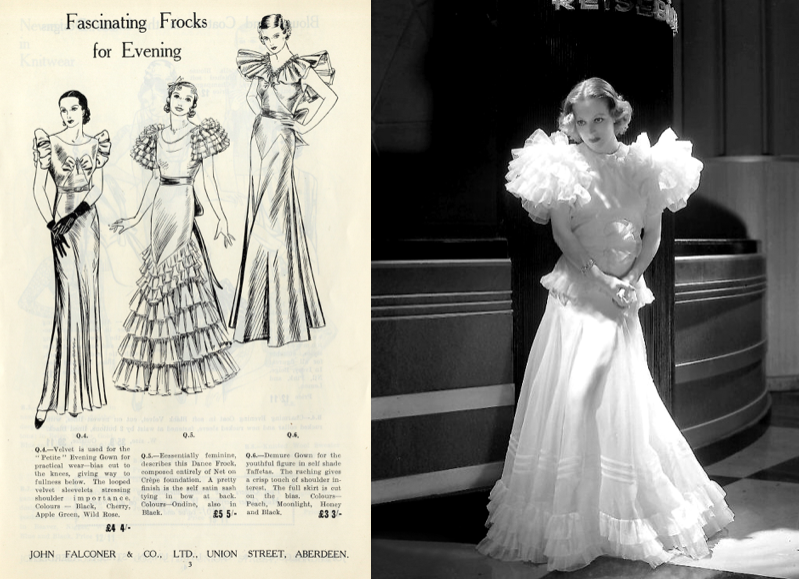 "Letty Lynton" inspired dresses in John Falconer Christmas Catalogue, 1933, House of Fraser Archive, University of Glasgow Archive Services.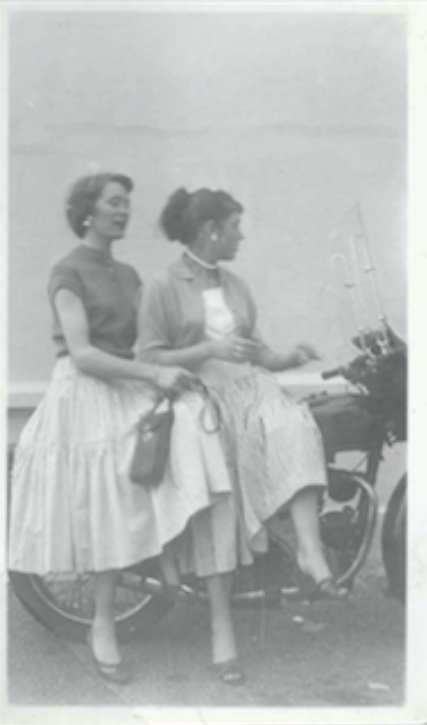 Participant D and friend in circle skirts, 1951, courtesy of Participant D (personal collection).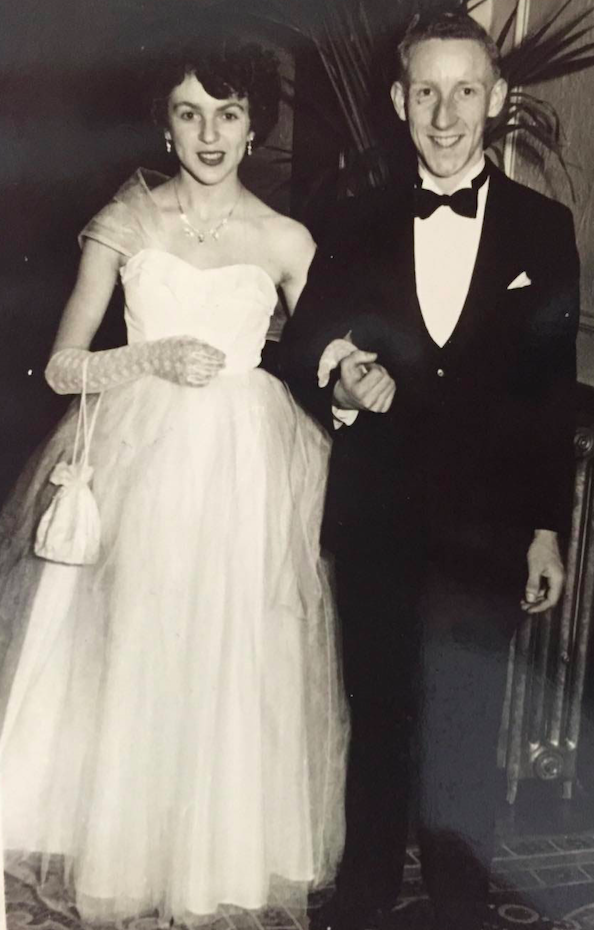 Participant A wearing her home-made gown (bustier pattern from the Woman magazine). circa 1953-1954. Personal collection.
"