The Mod suit of the 1960s at Brighton Museum
In the following run of blogs CS ambassador Sarahlouise takes an in depth look at three individual ensembles from local museum collections.
Sarahlouise Newman
The Modernist era dominated the sixties and early seventies. Society was evolving and growing out of the rubble of the aftermath of the Second World War. The beginning of the 1960s gave the British youth an opportunity to experiment with clothing and textures, silhouettes and colours since they could now afford to due to job increases and the introduction of finance. Fashion moved into pop culture with bands such as 'The Who' and 'The Small Faces' who created a Modernist look which was an inspiration from the Jazz music icon Miles Davis. Parka coats, with clean cut bespoke suits underneath, gave the younger generation an opportunity to experiment with style, which was then popularised even further by 'The Who', the movie 'Quadrophenia' and the Mods v's Rockers fights which broke out along the south coast.
This explains the link to the Modernist suit in Brighton Museum. In the late fifties, children and young people were dressed like their parents with no opportunity to experiment with the clothing they wore. This changed when fashion designers such as Mary Quant and John Stephens revolutionised the high street with small boutique shops, giving the younger generation the opportunity to have their own sense of style, as opposed to the more ordinary clothing worn by their peers. This was a form of rebellion which also gave way to better tailoring and higher hemlines.
The Emmanuel Nichol suit, based in the renegade collection at Brighton Museum and Art Gallery, also embodies the change in the economy around this era. It was specifically designed by a professional tailor for the person purchasing the suit, which was not common in 1964. The suit was donated to the Museum and is now an integral part of the postmodern history of Brighton and the youth of England during the Swinging Sixties.
The blue, tonik mohair blend fabric of the suit lends itself to a part of the Modernist culture as it gives it a light shine to fabric that in turn gives it an expensive look. Tonik mohair was the most popular as it didn't look cheap but was still durable. The suit is slim fitted and does not have a waistcoat, which at the time was also a part of the Modernist look. One of its focal points is the thin lapels which give it a streamlined look, favoured in the 1960s.
Brighton museum is situated on the grounds of the Brighton Pavilion and is opened daily with discounts for students, children, elderly and people who live in the area.
For more details please visit https://brightonmuseums.org.uk/brighton/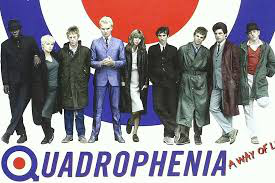 The move Quadrophenia which popularised the Mod style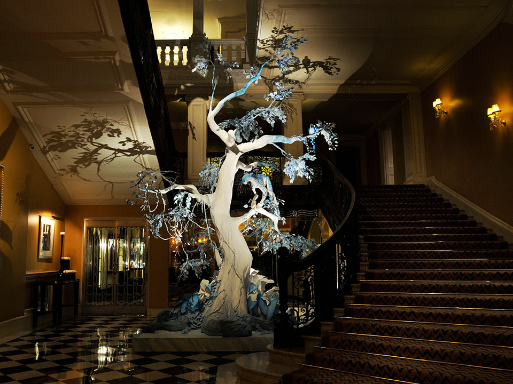 The modernist suit is on permanent display at Brighton Museum in the fashion and textiles exhibition
"