14th Century Women's Clothing in Europe.
Kicking off our 2021 programme of blogs, CS Ambassador, Grace Bentley, looks at women's clothing in 14th century Europe.
The subject of this blog seeded itself in the rather awkward realisation that any of my costume knowledge cannot truly be dated earlier than the 16 th century, [my in-depth knowledge cannot claim to be of anything earlier than the 18 th century]. Historical dress in Europe was very different prior to the Renaissance; it was pre-corset, at a time when convention demanded modest silhouettes swathed in yards of fabric. It was not until the 15 th century that a conical shaped torso was desirable, and longer still until a small waist was fashionable when Catherine de Medici forbade women showing 'thick waists' at court in the 16 th century. While attempting to rectify this lapse, I realise that this is probably true for many post-graduates just starting out on their career as a costumier. If you are one of these, I hope you may find this blog both interesting and illuminating.
To begin with, then, the Smock (where else?). There are very few extant garments dating to this period, so it is hard to know how exactly they were constructed, but the function remains the same.For hundreds of years, the 'smock' ('shift', 'shirt', or 'chemise') was worn by both men and women as the first undergarment against the skin. An undyed linen garment (or sometimes wool), it was worn by both high and low, varying only in fineness of the fabric and detail of the stitching to distinguish classes. (Hemp may have been worn by the very poor as it was less expensive than linen, and it is also possible that wealthy ladies wore silk smocks) [2].The smock was a rectangular shaped garment that used triangular gores to add a slight flare to the bottom, they could have high or low drawstring necklines. This universal undergarment was used to protect the outer garments from sweat and friction of movement, but also to protect the skin itself from cold, scratchy wool fabrics (it was thought that wool worn against the skin was bad for the humours) [2] and even from exterior threats to the wearer's health.
In the past, it was thought that the skin was exceptionally porous and thus needed an added layer of protection. It was believed that the linen shift would absorb any dirt and disease which could then be washed out. This was also a reason that people avoided washing overly frequently; the shift would be worn whilst bathing. Rather than daily washing as is common now, a clean crisp shift peeking out from under collar and cuff was a clear sign of cleanliness [3]. The use of the word 'smock' will naturally evoke images of delicately smocked fabric, used as a means of gathering large quantities of fabric into a small area such as cuffs and collars. It is indicated by some Sumptuary laws that smocks were embroidered as early as the 13 th century. The pleated smock became popular during the Renaissance and was pictured in the artwork of the time. However, there are illustrated examples of slinky sleeveless smocks dating back to the 15 th century [2]. Pairs of hose were worn by both men and women of all classes. They were cut on the bias grain for stretch and were made of wool for warmth and the various dyeing possibilities. Women's hose were worn with ribbon garters tied just above the knee to prevent them from slipping down. The Wife of Bath is described thus, "Her hose were of fine scarlet red, tightly laced, and her shoes shiny and new."
The kirtle (or 'cotte') was a fitted, long-sleeved gown that reached the ankle or ground. It was predominantly made of wool (or silk for the very wealthy) and worn over the shift and under the over-gown ('surcoat' or 'houppelande'). Wool was a prevalent fabric during this time; it took dye easily and was an excellent insulator against the elements. The kirtle was a relatively simple fitted gown that was cut to fit to the body. It had a back and a front panel, the centre front was sometimes curved to accommodate the bust, rather than the straight centre front lines we mostly see today. In the 14 th century, clothing began to utilise curved seams, allowing the garments to be more closely tailored to the form. Gores were added to the sides and back to add fullness while keeping the line of the hips slender and smooth. The half-circle skirt was also used to allow swathes of fabric to drape from the hips without any pleating [1].Pleating the skirt to achieve fullness became increasingly popular towards the 15 th century. Some kirtles were buttoned at the front and these usually had buttons from wrist to elbow, while others were laced at the front or sides. Sleeves could be attached, pinned, or laced on.
Embroidery would sometimes be worked into the kirtle, usually in wool threads, or silk for the wealthy. 'Dagging', a popular form of decoration at the time, was made by cutting shapes such as leaves or simple triangles into the edge of the cloth. The cloth most commonly used was wool, which would not easily fray and lose its shape. The cut shapes could also be applied to the edge of the fabric as a separate applique. Fabric 'cabbage' was not wasted, and people were capable of creating some rather ingenious techniques to avoid wastage. When cutting out a half-circle skirt gown, for example, the crescent-shaped pieces of scrap left over would be used to make the wide-cuffed sleeve. Triangular scraps were used as gussets under the arms [1].
The 'surcoat,' (sometimes called a 'cotehardie' or over-gown), was usually a relatively close-fitted gown with full-length or short sleeves, and very much resembled the kirtle beneath. The 'surcoat' could be of a plainer fabric with split sides or hitched up to reveal a more elaborately patterned kirtle underneath. 'Fitchets' were often cut in the front of the 'surcoat'; these small slits were made so that the wearer could easily access the pouches hanging at their belt (pockets would not be invented for some time to come.) 'Surcoat' sleeves grew and lengthened until eventually, they trailed along the ground [2]. The sleeves of the outer gown grew narrower until they became long streamers called t ippets; bands of fabric sewn to the ends of the sleeves above the elbow that hung nearly to the ground.
Sleeveless 'surcoats' were just as they sound; outer gowns that had small armholes and were looser fitting than the regular 'surcoat.' These were worn by working women to protect their under-gown from muck and wear. Noblewomen might wear them for added warmth. These gowns are often seen as having side-lacing seams which would have accommodated the increasing waistline of a pregnant woman. [2] Side-less 'surcoats' were less practical and less warm than their counterparts and thus were not worn by working-class women. They were open from the shoulder to the waist or hip and were sometimes embellished with a small amount of embroidery around the side openings. The very wealthiest ladies may have worn fur-lined 'surcoats', which were cut even more deeply, showing off the close-fitting kirtle beneath. These could be richly decorated with buttons or bands [2]. These more revealing outer garments were condemned by the Church and nicknamed 'the windows to hell'.
Circular or rectangular ' mantles ,' (or cloaks) were worn by everyone for travelling and in colder weathers. They were hoodless and generally made of a thick wool cloth which was weatherproof and waterproof, worn with a separate hood or cowl [2].The wealthier wore cloaks lined with fur. The hood covered the shoulders and was cut as two L-shaped pieces with two triangular gores, sometimes with a long slender point added at the back of the head [1].
Headwear was worn by everyone to keep the sun off the head, to keep them warm in winter or to keep the hair clean. Straw hats, coifs and caps were worn by working-class women. These were namely practical; used to contain the hair while working. Hoods were worn by people of all classes for warmth outdoors [2]. Horned and heart-shaped headdresses, hennins, padded rolls, and cauls were all worn by ladies at the time. The more sumptuous versions of these were decorated with silk brocades, metal embroidery and semiprecious stones. The hennin is the most recognisable headwear of the time, sometimes reaching the incredible height of 34 inches. Such a lofty headpiece was naturally impossible to work in; it was not permissible for a woman with an income of less than £10 to wear one, which restricted it to the wealthy [2]. Veils and wimples were worn by women of all ages, not only nuns, in public as a sign of modesty. Wimples also kept the sun off the face, preventing freckles and sun damage.
There is so much more to this period that has not been possible to explore here, such as footwear, accessories, and jewellery, however, I hope it provides a basic understanding of the layers necessary for a 14th-century European woman's wardrobe.
References
[1] Medieval Costume and How to Recreate it, by Dorothy Hartley (2003)
[2] https://rosaliegilbert.com/sitemap.html
[3] https://sarahabendall.com/2018/08/15/back-to-basics-the-smock-in-the-late-sixteenth-early-seventeenth-century/
Bibliography/Further Reading
[1] The Medieval Tailor's Assistant , by Sarah Thursfield (2001)
[2] https://www.themorgan.org/manuscripts/list
[3] https://www.hisour.com/european-fashion-history-1300-1400-32346/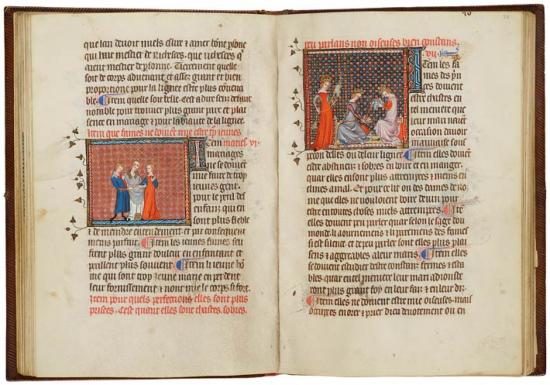 1.Instructions for kings in French, 1330-35, The Morgan Library Museum. .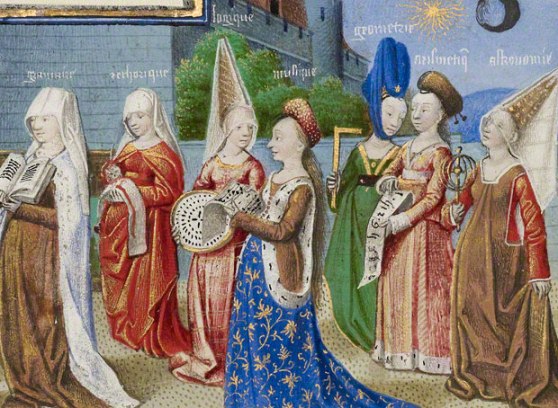 2. Philosophy Presenting the Seven Liberal Arts to Boethius, miniature in a French manuscript of The Consolation of Philosophy. attributed t
3.Vows of the Peacock, Jacques de Longuyon (Belgian). ca. 1345–50. New York. The Morgan Library and Museum, MS G.24. Gift of the Trustees of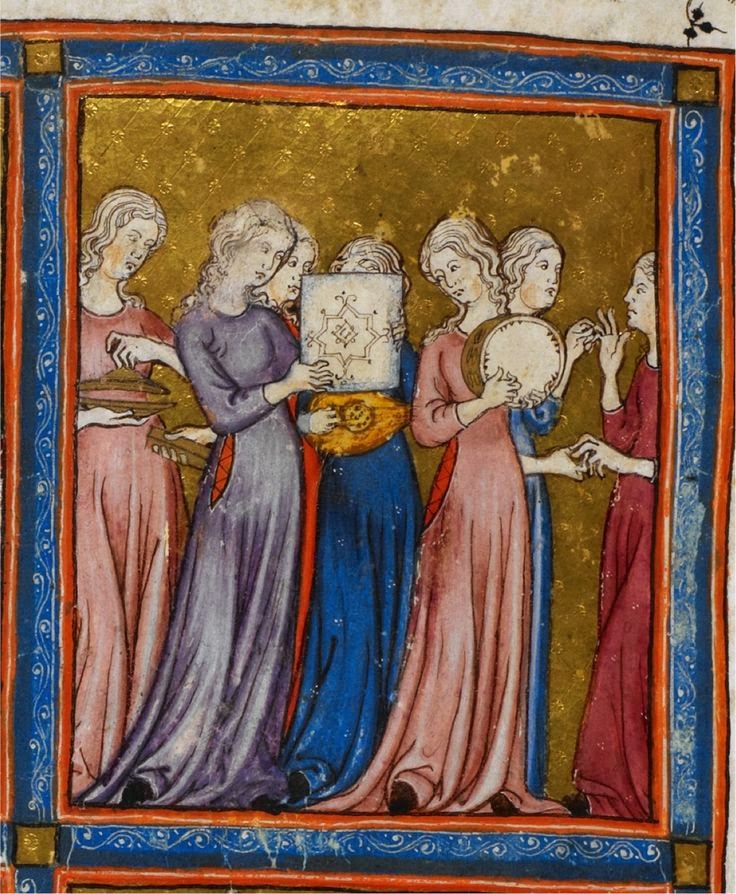 4.Golden Haggadah, 1320-1340, Fol.15 Courtesy British Library. Probably Barcelona (British Library, MS. 27210, fol. 15 recto)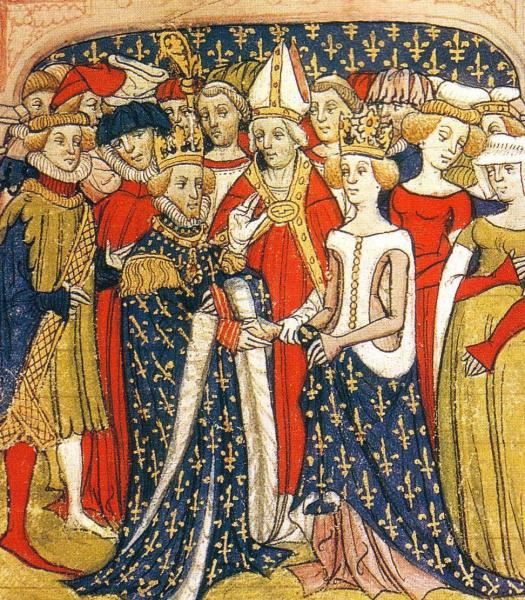 5.The Marriage of Maria, Daughter of the Duke of Brabant, Wikipedia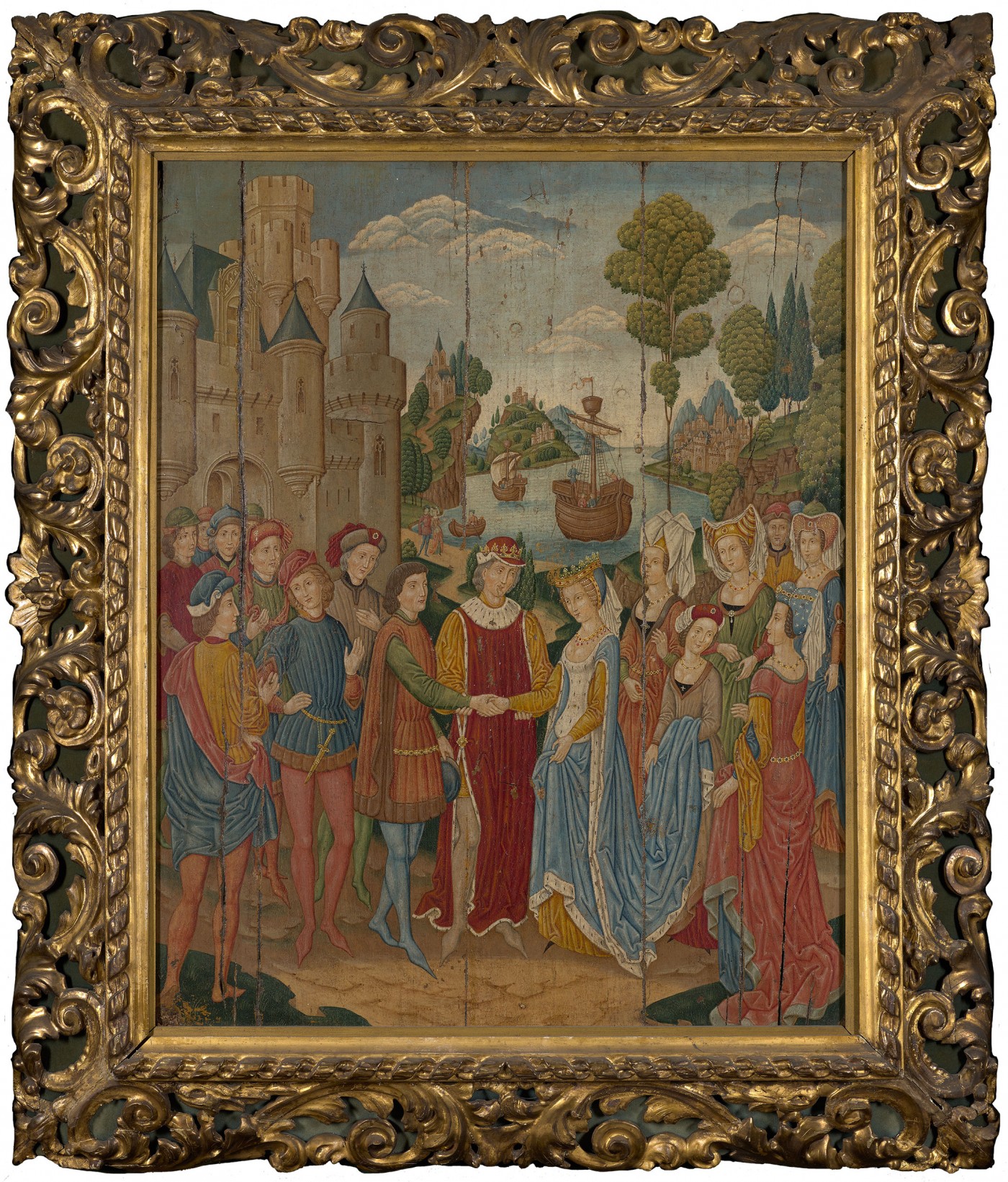 6.Betrothal of Ursula, Spanish Forger, 19th c. The Morgan Library Museum.