A Life in Theatre: millinery and accessories
Rebecca Morrison interviews Mark Wheeler
From theatre royalty to well, royalty, Mark Wheeler has accessorised them all. When first introduced to his work I was struck by his incredible craftsmanship, something he would probably describe as "rougher magic in the Messel tradition". Then when working at Kensington Palace, I discovered that he had made a copy of the Poltimore tiara for Princess Margaret, and of course I was intrigued by this royal connection. So hurrying past dozens of tourists I headed towards Mark's workshop hidden in the shadow of St Paul's to find out more…
Once settled with a cup of coffee we started by discussing Mark's training, first at Croydon and then the Slade. "The Slade was great because we had Nikos Georgiadis, who was at the height of his career…At that point he was doing things like Manon, which is still in the repertoire, working with people like Nureyev…it was very starry." This was followed by a brief period at the Young Vic, where he met Carl Toms, who had been Oliver Messel's assistant, "but was a fantastic designer and very interesting. I remember there was a show where for some reason there was no designer, he designed it over night, he produced this beautiful little model…his making skills were fantastic."
It was through his connection with Toms that Mark was introduced to Princess Margaret. "Carl co-designed the (Prince Charles's) Investiture with Tony Armstrong-Jones; he was a great chum of theirs at that point. He thought I might make this version of her tiara for the London Museum, but it was initially her idea. So we went over there and had tea and they gossiped, mostly about Oliver… It's so long ago, that one thinks I'll be horrified by this object now."
At this point in his career Mark was trying to establish himself as a designer, but when he met Natasha Korniloff; the designer and maker of some of David Bowie's most iconic costumes he "veered off into making". Korniloff regularly worked for the Ballet Rambert. When L'Après-midi d'un faune was recently revived, Mark reworked the wigs that he and Korniloff had created in 1985, "the nymphs are still in the same costumes that Natasha made…which look absolutely gorgeous."
With such a long career you must have seen quite a lot of change?
"Things don't change much, people are still trying to get you to charge as little as possible…and do things as quickly as possible. I do get really upset about the lack of credit makers get. It can be extremely collaborative and many designers, they'll make a suggestion but it's the makers who turn these things into a reality and evolve the shape and so many other aspects".
A recent fruitful collaboration has been with designer Vicky Price on Juliet Stephenson's hat for Happy Days at the Young Vic. "We started from some photographs and then we did a shape…there had to be two versions, one incredibly decayed, so I was trying to make this thing that almost looked as if it didn't exist…It was interesting just working with one performer".
And in Mark's own very modest way he sums up his role in a production, "so much fantastic craftsmanship goes into things people wear and one is carrying on that tradition in a way…when it all comes together in a particular way it's very pleasing."
Examples of Mark's work on display are Maggie Smith's hat for Lady Bracknell, Importance of Being Ernest the galleries of Theatre and Performance at the V&A, and the orange blossom garter for the re-imaging of Prince Albert's wedding suit, Victoria Revealed, Kensington Palace.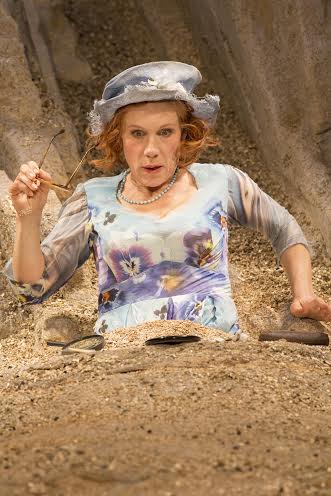 Juliet Stevenson as Winnie in Samuel Beckett's Happy Days. Photo by: Johan Persson, Directed by: Natalie Abrahami, Designed by Vicky Morti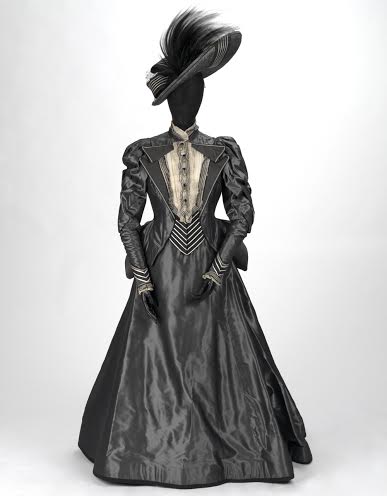 Costume for Lady Bracknell ('The Importance of Being Earnest'), by Bob Crowley, The Aldwych Theatre, London, 1993 Museum no. S.108-1993. Hat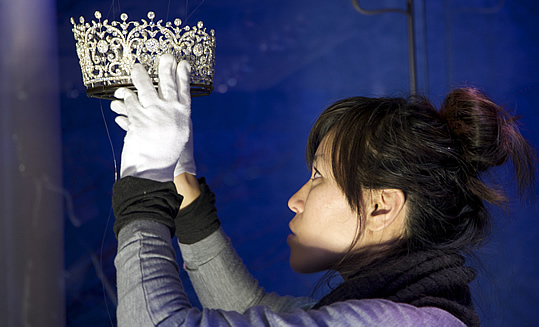 Replica of Poltimore tiara, commissioned by Carl Toms for a display of Princess Margaret's wedding dress in 1975. (Private Collection © His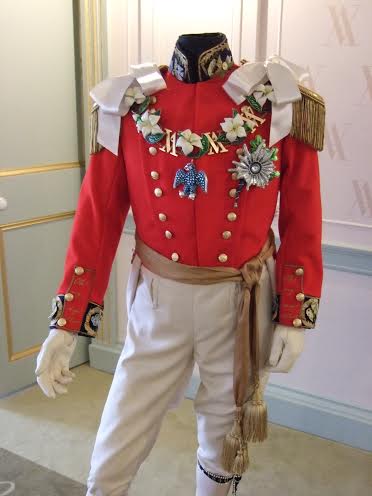 A re-imagining of Prince Albert's wedding suit, Victoria Revealed, Kensington Palace. Designed by Rebecca Morrison, orange blossom garter by
"