A Step in Time: The Story of Irish Dance
Valerie Wilson looks at Irish dance costume and how it has evolved over the last 125 years.
Valerie Wilson
In 1893 the Gaelic League was established with the intention of preserving and promoting the Irish language, music, arts and crafts, at home and abroad. Examples of Irish lace, weaving, metalwork and woodwork were widely exhibited at exhibitions of Art and Industry, nationally and internationally, between 1885 and 1930. The design movement of this period, which became known as Celtic Revival, drew much of its inspiration from jewellery, textiles and calligraphy produced in Ireland before the 1500s. In time, the pennanular brooches of ancient Ireland, Celtic knot work patterns, and crochet lace of the late 1880s formed the central elements of Irish Dance costume as we know it today.
The Gaelic League promoted their work by supporting demonstrations of traditional Irish dance and crafts at historical pageants at home and in America. The dancers at these events were dressed in reproductions of early Irish costume, made of hand woven tweed fabrics. The costumes were loosely based on the leine (tunic) and the brat (stole or cape) depicted in images from eighth-century illuminated Irish manuscripts . (1)
In 1904 the first Feis na nGleann (Glens Feis) was held at Glenarriff in Co. Antrim, with competition in music, dance, language and crafts . Note that the first prize for storytelling in Irish by senior boys was … 'a suit of Irish Homespun, presented by Hamilton and Co. Portrush, Co.Antrim'. An image of Cassie McNeill of Carnlough, taken at the event on 30 th June 1904, shows her simple white summer dress, boots, and the 'Sunday best' dress of the audience (see image 1). Male dancers were generally dressed in shirt with tie, breeches tucked into knee socks, with a cummerbund around the waist. At the same event in 1933, Netta Long of Belfast wore a simple white linen dress, and shawl of fine cream wool, both homemade and hand embroidered (see image 2). (2)
In 1930 An Coimisiun le Rinci Gaelacha (Irish Dancing Commission) was formed, under the auspices of the Gaelic League, in order to provide a governing body for the teaching of, and competition in, Irish Dance. Today the CLRG issues regulations for the wearing of dance costume and use of makeup, including fake tan!
From the 1940s onwards one of the ways in which dance schools defined themselves was through the wearing of class costumes, with specific colours and embroidery motifs used. These simple knee length dresses with long sleeves and full skirts had embroidery on the skirt, bodice and cape, with crochet lace collar and cuffs worked in white cotton. For male dancers it was common to wear a kilt, with shirt and tie, under a wool blazer. In the late 1950s and early 1960s the Anna McCoy School from Belfast toured several times in America, where the costumes, and the music, played well to the nostalgia of emigrant audiences.
From the 1950s to 1970s several more Irish dance governing bodies emerged, including the Festival Dance Teachers Association in 1971. One of the best known of these Festival dance teachers and choreographers was Belfast –born Patricia Mulholland (1915 – 1992) The Patricia Mulholland Irish Ballet was founded in Belfast in 1951, performing works based on Irish myths and legends. These 'folk ballets' included elements of traditional Irish music and dance, interpreted in a lyrical, graceful style, with costumes to match. These costumes were designed by the renowned Belfast artist and teacher Mercy Hunter (1910 -1989). Sewn from furnishing and dressmaking remnants they incorporated elements of early Irish dress with influences from European 'folk art' costume. Among Mulholland's former pupils is the actor Ciaran Hinds. In both programme content and costume for Irish dance Mulholland was something of an innovator (see image 3). (3)
In 1994 a seven–minute long performance during the interval of the Eurovision Song Contest at the Point Theatre in Dublin, electrified a global audience and changed forever the image of Irish Dance. To date the show has been seen by over 25 million people in more than 30 countries. Costumes for the show have been designed by Joan Bergin, whose Emmy-award winning work has been seen on 'The Tudors'. (4)
Post- Riverdance, the popularity of curly wigs and elaborate dresses shows no signs of diminishing and has led to a growth industry for commercially –produced Feis costume. Dresses made of, velvet, satin and fish scale - sequinned fabrics are embroidered onto buckram backing, with beading and diamante decoration applied by hand. For Festival competition the costumes are simpler and more traditional in style. For both Festival and Feis costumes the crochet lace accessories have largely been abandoned now. Commercially –produced costumes make full use of the latest computer design software to keep ahead of changing fashions.
What next for Irish dance costume? Digital printing, laser-cut fabrics? Over the years, designers for dance costume have proved that they are open to the use of new technology and willing to plunder rich resources of arts and crafts for inspiration – who knows what lies ahead?
All of which makes it vitally important to preserve and publish what has gone before. A current exhibition at the Ulster American Folk Park in Omagh (National Museums NI) charts the history of Irish Dance at home and away over the last 125 years, through lace, costumes, images and text (June 2018 –June 2019) (see image 4).
Footnotes:
1. Dunlevy, Mairead. Dress in Ireland, a history , p 18 -19. (The Collins Press, Cork, 1989).
2. Feis na nGleann, A Century of Gaelic Culture in the Antrim Glens . Ed. Eamon Phoenix, Padraig O Cleireachain, Eileen McAuley, Nuala McSparran. (Stair Uladh, an imprint of the Ulster Historical Foundation, 2005).
3. McCafferty, Joyce Ann. Into The Deep Green Pool: the life, work and legacy of Patricia Mulholland . (The Guildhall Press, Derry, 2007).
4. Riverdance programme for 20 th anniversary tour. Abhann productions Ltd. Dublin, 2014.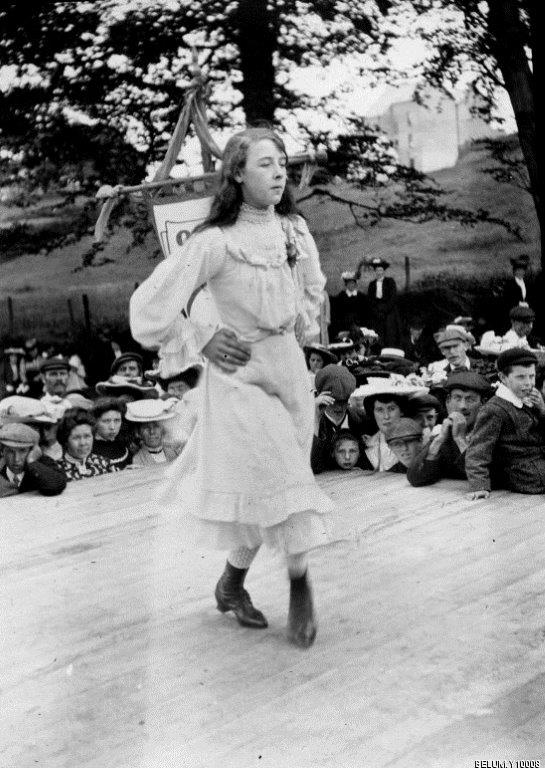 Cassie dancing, 1904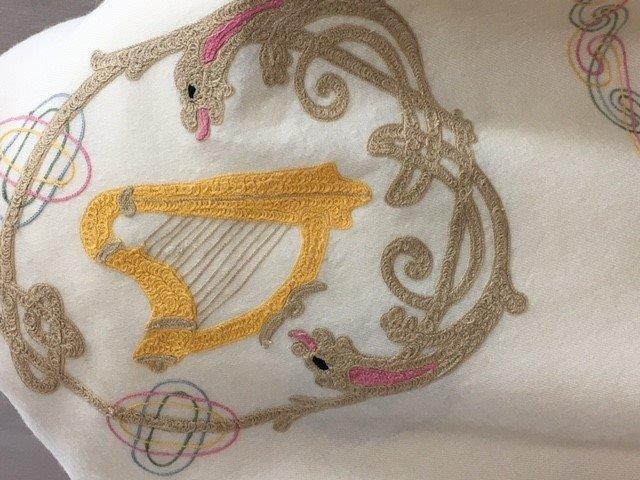 Embroidered wool cape worn by Netta Long in 1933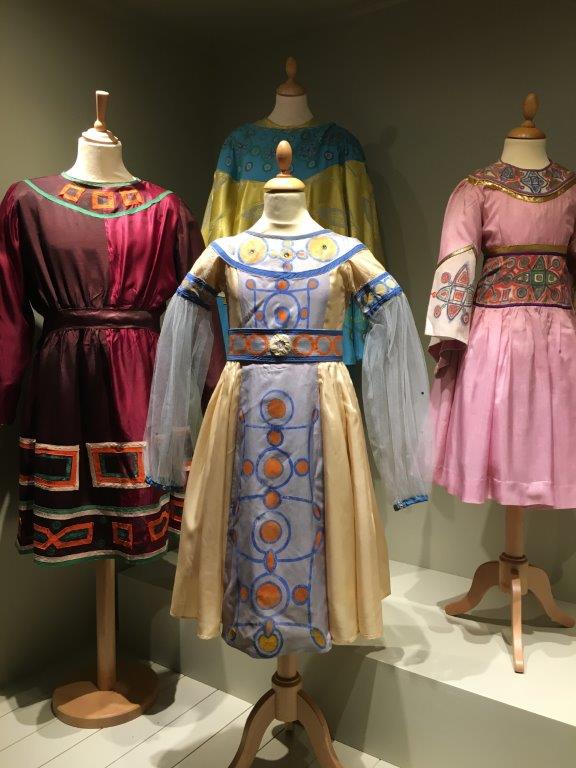 Costumes for the Patricia Mulholland Ballet, early 1970s_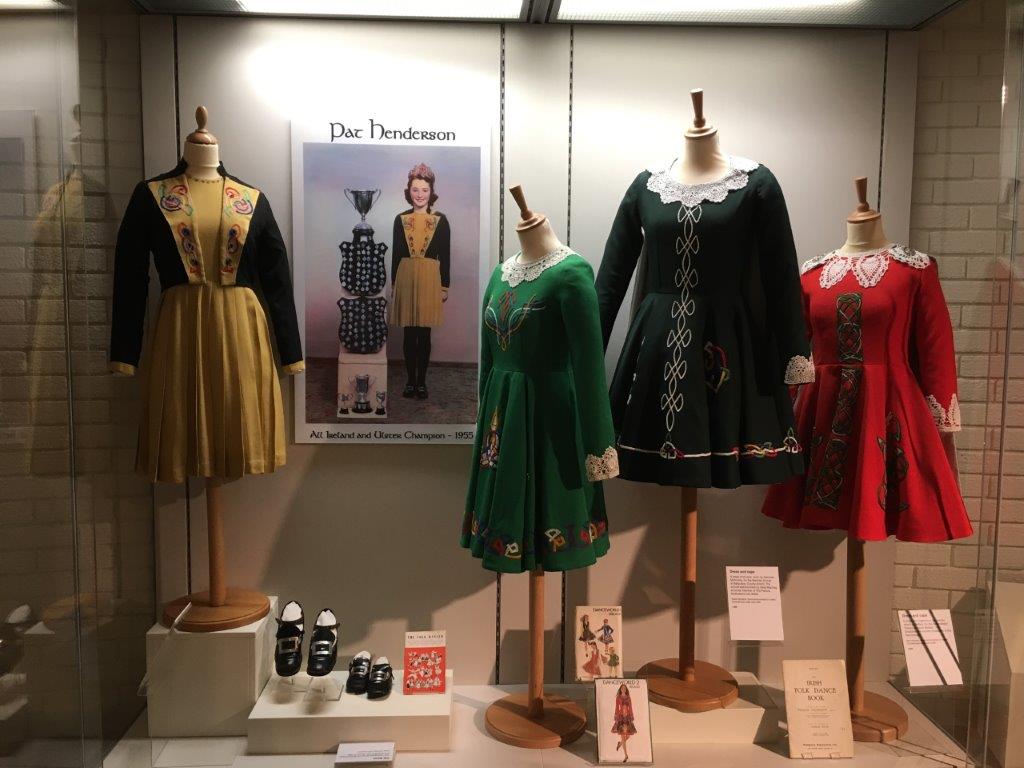 Exhibition, A Step in Time, June 2018_
"