Asking About Masking: Uncovering Spanish Flu Mask Fashion
With masks now part of our new normal", CS Ambassador Isabella Rosner looks at how face covering were worn and decorated during the 1919 Spanish Flu pandemic. "
by Isabella Rosner
You've surely seen it on Instagram, Twitter, Facebook, or wherever else you get your helping of historical fashion images and information. A photograph of two women walk down a street in masks while wearing blouses and long skirts. One of them has her mask attached to her hat. Across the Internet, this image has been declared an example of fashion during the Spanish Flu. It's shown that face masks can be fashionable, and that this is not the first time we've had to lean into face mask fashion.
But this photograph doesn't illustrate Spanish Flu fashion at all. The photograph is actually from 1913 and was originally accompanied by a caption in German which, when translated into English, reads, 'A New Veil Fashion. The Balkan War has created a new, peculiar fashion: women have recently been wearing the nose veil that has been used in Turkey for centuries'[1]. If this image doesn't depict Spanish Flu fashion, what does? How did people wear masks during the last global pandemic?
In 1918, both surgical and everyday masks were made of gauze [2]. Like many skilled stitchers today, volunteers made and distributed masks. While today we have mask making instructions going viral online, a century ago newspapers carried instructions for those who wanted to make masks for themselves and others. Those living through the Spanish Flu tried to make masks fashionable; a headline from an October 1918 issue of the Seattle Daily Times read, 'Influenza Veils Set New Fashion: Seattle Women Wearing Fine Mesh with Chiffon Border to Ward Off Malady'. And just like today, there was much discussion about whether fabric masks were too porous to prevent the spread of illness.
We are not the first to get creative with face masks. As noted by University of New Hampshire material culture, museum studies, and American history professor Kimberly Alexander in an interview with WBUR, Boston's NPR station, 'But, if you start looking at some of the drawings in people's diaries and journals, even announcements from different newspapers, there's a real focus on individuality, on people picking masks that were part of their persona' [3]. She goes on to say, 'I've been looking a lot at the way women used veils, both in a sort of social distancing way about the flu influenza, but also maybe about unwanted gazes from onlookers when you're out and about more ... or the gentleman who designed his mask theoretically with a hole for the cigar he can't stop smoking. I came across this image of the mask, again as a cartoon, but what it says is "To H--L With The Kaiser." Right on the mask. Again, it's that projection of self in a way that I think in 1918 we would not necessarily have expected'.
It looks like showcasing one's personality through one's mask is nothing new. Today's masks are painted, embroidered, bejewelled, and come in all shapes and sizes. Contemporaneous cartoons show Spanish flu masks were just the same. Beyond the Kaiser-based mask, cartoons show tassel-laden masks, crochet-edged masks, and polka dot masks, as well as masks shaped like hearts, coats of arms, and question marks [4]. The face masks of last century may have traded usefulness for novelty.
While our current face mask fashions surprisingly reflect those of yesteryear, a notable difference is who exactly is wearing masks. Photos from the Spanish Flu show that some families fashioned masks for family pets. Will we see cats and dogs in mini masks soon? Only time (and fashion) will tell.
References
[1] 'Ladies' fashion from 1913'. Alamy. https://www.alamy.com/stock-photo-ladies-fashion-from-1913-37000945.html.
[2] Little, Becky. 'When Mask Wearing Rules in the 1918 Pandemic Faced Resistance'. History. 6 May 2020. https://www.history.com/news/1918-spanish-flu-mask-wearing-resistance.
[3] Mitchell, Zoe, and Tiziana Dearing. 'Rethinking Fashion in the Midst of A Pandemic'. WBUR Radio Boston. 13 May 2020. https://www.wbur.org/radioboston/2020/05/13/pandemic-fashion-masks.
[4] Walker, Michael R. 'Lessons from 1918'. BYU Magazine. https://magazine.byu.edu/article/spanish-flu/.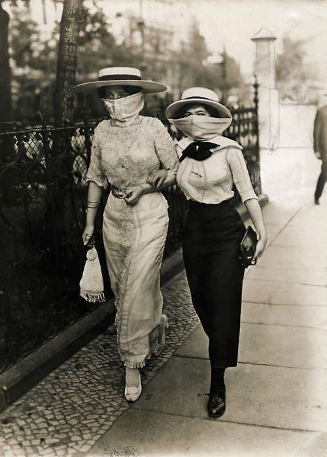 'Ladies' fashion from 1913'. Sueddeutsche Zeitung Photo / Alamy Stock Photo.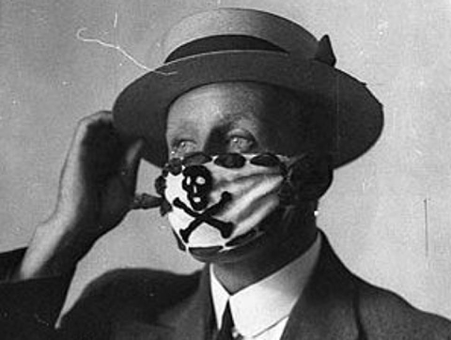 'Compulsory mask, brought in to combat the flu epidemic after the World War, 1918-1919'. Photo: Sam Hood. 1918-9. In State Library of New So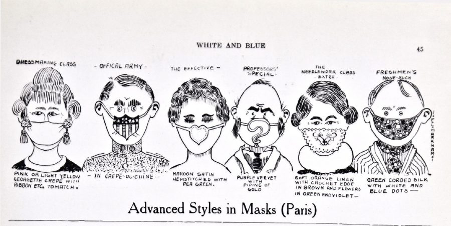 Cartoon from the White and Blue, Brigham Young University's student newspaper. 1919. Image courtesy of Harold B. Lee Library.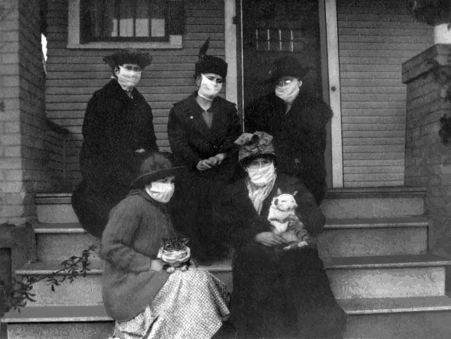 A group of women with mask-wearing cats. Wallingford, Seattle. Photo from Atlas Obscura, from collection of Dan Eskenazi.
"