Constance Howard
"Those who think of embroidery as an occasional sedative occupation must think again. In this week's blog, CS Ambassador Aimée Palmer recalls the life and career of one of Britain's greatest embroiderers, Constance Howard."
by Aimée Palmer
With the extra time to embroider and create during lockdown, I've been able to reflect on embroidery as an art form and how it has progressed from a 'hobby' to an art form. The first name that comes to mind is Constance Howard (1910 - 2000) who has had such a huge impact on contemporary embroidery.
Between the ages of 10 and 14, she attended evening art classes and then went on to enrole at Northampton School of Art and then subsequently the Royal College of art.
After graduating, Howard embarked on her teaching career, starting in Cardiff, then Eastbourne and Kingston-on-Thames. In 1947, she went on to lecture part time at Goldsmiths College, where she became a pioneer in the teaching of embroidery as an art form. Her achievements came at a time when art schools considered embroidery a minor craft. It didn't take long to change their perspective and in 1948, Howard founded the Embroidery Department. She would go on to become principle lecturer in charge of Textiles, Fashion and Embroidery at Goldsmiths.
The quote below is taken from an article in the Guardian, 5th February 1964,
"Those who think of embroidery as an occasional sedative occupation must think again. A quiet revolution has been taking place in this field for some years and the results can be clearly seen at Goldsmiths College, London, where an exhibition of embroidery and collages by staff and students has been organised by Mrs Constance Howard, head of the department".
After she retired from teaching, Constance wrote books on embroidery, some of which include 'The Constance Howard Book of Stitches' (1979) and 'Twentieth Century Embroidery in Great Britain' (4 Volumes, 1981-1986). Both publications are fantastic resources for any fashion, textile or embroidery student.
Even though it's been 20 years since she passed, Constance Howard continues to influence fashion, textiles and embroidery students and, even though it's been a few years since I graduated, I still refer back to her books.
Bibliography
https://www.theguardian.com/news/2000/jul/20/guardianobituaries1
https://www.telegraph.co.uk/news/obituaries/1349752/Constance-Howard.html
https://www.gold.ac.uk/textile-collection/constance/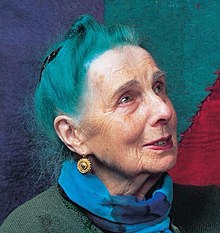 Constance Howard
"