Costume in Art & Artistic Dress
Aesthetic Dress and the Pre-Raphelite Brotherhood have become popular subjects among dress historians. In this week's blog, CS Ambassador Grace Victoria Bentley discusses costume and artistic dress within the Brotherhood and its members.
by Grace Victoria Bentley
The Pre-Raphaelite Brotherhood was formed in 1848 by a band of young artists who gravitated together through a mutual contempt for contemporary art. This new form of art was established more by their philosophy of 'truth to nature' and realism than by a specific style. The Brotherhood fundamentally objected to the impacts of the Industrial Revolution and was instead inspired by early Renaissance art. Their literary inspirations included the classics such as Ovid, Chaucer, Shakespeare, medieval romances, Arthurian legends and the Bible. [1]
The Brotherhood was formed at a time when any body part that might induce passion or lust was smothered in layers of petticoats or wedged into a steel boned corset. Producing realistic depictions of historic figures meant that their models needed to radically alter the accepted feminine silhouette of the time. This meant women sitting for portraits removing their foundation garments, thereby allowing their gowns fall loosely so that the artists could study the drapery. [2]
The Brotherhood designed theatrical costumes which implied historical accuracy and were inspired by classical Greek, Medieval, and Renaissance clothing. [3] Some of the women affecting heroines and goddesses would adapt existing garments or piece together their own costumes. Techniques such as Japanese cutting and smocking were used and there was also room for an element of imagination on the part of the painter. These makeshift costumes were not a widely acceptable form of dress, but nevertheless made an impression on the fashions of the time. This fresh feeling of nostalgia lived out through costume fed into in a new fashion, Artistic Dress.
The mode of the time was at odds with the periods that inspired the Pre-Raphaelites. "The Aesthetes rejected contemporary dress. They found its unnatural colors, man-made materials, and exaggerated silhouettes offensive." [4] The Artistic styles were influenced by the works of Dante Gabriel Rossetti and Edward Burne-Jones. The Pattle sisters were well-known for modifying and creating their own Artistic clothing, which they wore in intimate, social situations. The Aesthetic style arose from the belief that Art should offer sumptuous pleasure; a rejection of the easiness and hand crafting that William Morris championed. [5] Aesthetic Dress became popular among artistic and intellectual circles. The health risks attributed to the corset, helped along by the Arts and Crafts Movement, influenced experimental fashions around 1880. Styles transitioned into flowing lines with a loose waist, effortless drapery, puffed sleeves, and muted vegetable dyes. [6] Garments were highly individual, hand crafted, made of natural fibres and often adorned with intricate embroidery.
Morris & Co produced exquisite botanical inspired embroideries, textiles, jewellery, and wall hangings. [7] "The firm responded to the rift between fine and applied arts caused by the Industrial Revolution and mass production by reviving the workshop practices of medieval Europe…" [8] Morris was greatly inspired by medieval wall hangings and practised embroidery, printing and weaving. His wife Jane was a master embroiderer. [9] Their emphasis on skilled handcrafting illustrated their rejection of the artificialness of modern dress and their desire to create totally unique products.
References:
[1] https://www.bl.uk/romantics-and-victorians/articles/the-pre-raphaelites
[2] https://www.tate.org.uk/context-comment/articles/painting-light/pre-raphaelites-and-fashion
[3] http://www.gbacg.org/finery/2012/pre-raphaelites-to-aesthetes-their-influence-on-aesthetic-dress/
[4] ibid
[5] https://en.wikipedia.org/wiki/Artistic_Dress_movement
[6] "Dress Culture in Late Victorian Women's Fiction: Literacy, Textiles, and Activism" by Christine Bayles Kortsch (2009). https://books.google.co.uk/books?id=y_woDAAAQBAJ&pg=PA81&lpg=PA81&dq=costume+in+art+pre+raphaelite&source=bl&ots=AIL5LX2eUN&sig=ACfU3U3jNJ1cfbXmCtKAGw2RvAzyGnWwfg&hl=en&sa=X&ved=2ahUKEwjbj7flk8fpAhU_ThUIHf3dCLk4ChDoATAJegQIChAB#v=onepage&q&f=false
[7] https://www.metmuseum.org/toah/hd/praf/hd_praf.htm
[8] ibid
[9] https://www.vam.ac.uk/articles/willam-morris-textiles
Further Reading:
1. https://www.vam.ac.uk/articles/how-arts-and-crafts-influenced-fashion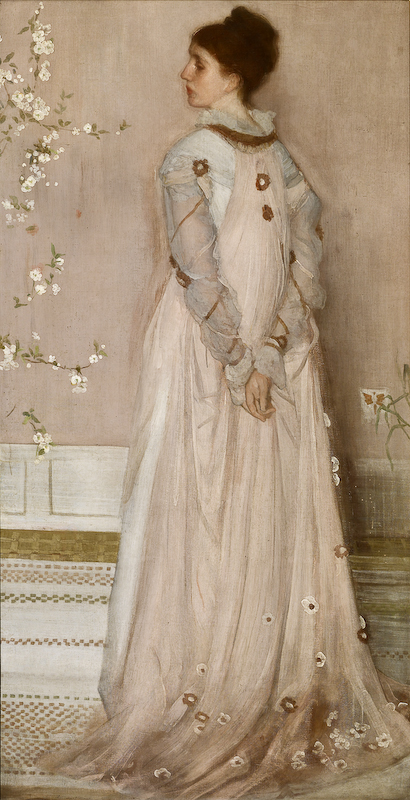 "Symphony In Flesh Colour and Pink: Portraits of Mrs Frances Leyland", James McNeill Whistler, 1871-74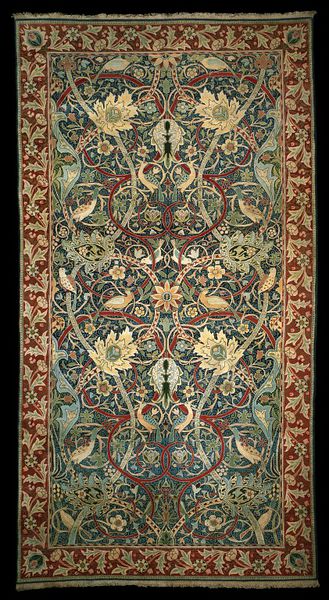 Carpet, by William Morris & John Henry Dearle, 1889, Victoria & Albert Museum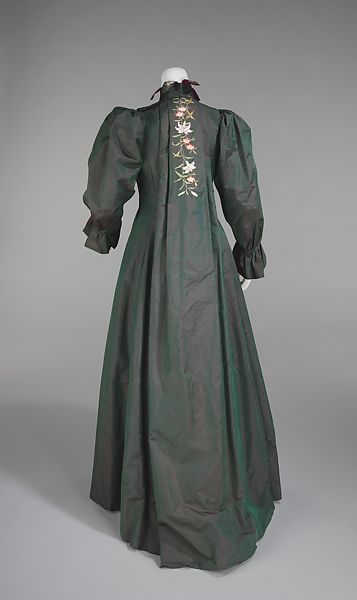 Tea Gown, 1898-1901, The Metropolitan Museum of Art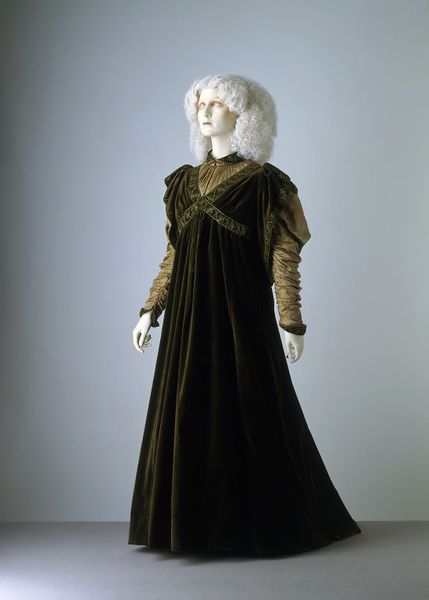 Liberty & Co dress, 1894, Victoria & Albert Museum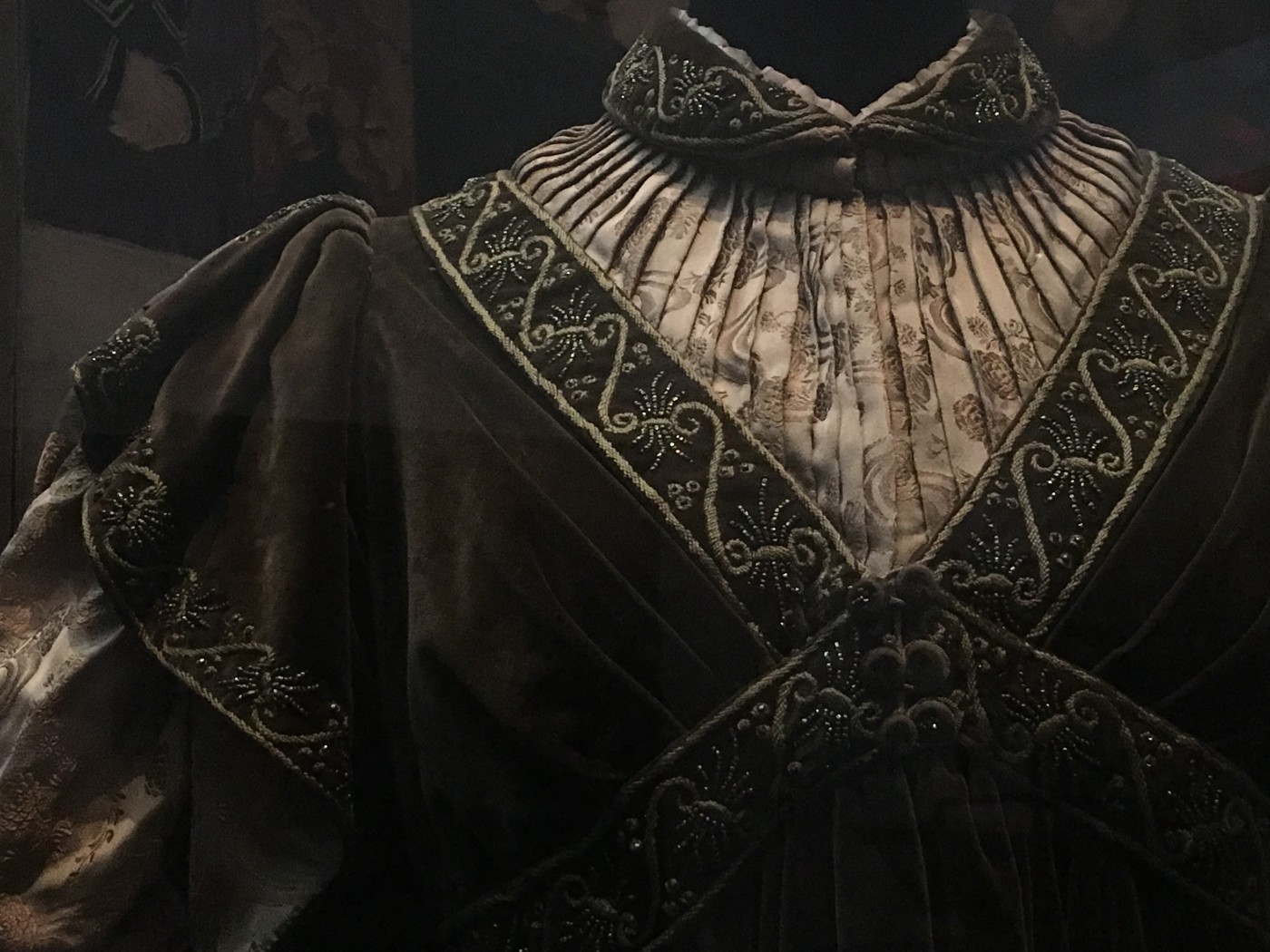 Liberty & Co dress,1894, close up of embroidery, Victoria & Albert Museum, Grace Victoria Bentley
"