Dare to Tear: Paper fashions in the 1960s
Kate Lyons
The fashions of the 1960s have always been a favourite of mine, I love the wide spectrum of styles, shapes and colours used and how the 'freedom of fashion' really kicked off during this decade. Despite this, until recently I had only skimmed over the late 1960s trend of wearing clothing made out of paper. As the ethics of 'throwaway fashion' and other short lived 'fads' has been much debated over recent years, I decided to delve a bit deeper into these paper fashions.
Originally paper clothing had been created for use in hospitals for both staff and patients, creating hygienically disposable clothing in order to cut down laundry costs. However in 1966 American companies such as Hallmark and Scott Paper Company began producing paper dresses that used the same prints as their other paper products, specifically to promote their tissues, new throwaway tablecloths, party plates, cups and other paper tableware. [Image 1] All kinds of different promotional paper dresses were created, including being used for US presidential campaigns, beauty products, and food companies. Cambell's Vegetable Soup 'Souper' dress was inspired by Andy Warhol's 1962 iconic artwork, 'Campbell's Soup Cans'. [Image 2]
Paper fashions quickly became popular in the fashion world, with designers such as Ossie Clarke and Celia Birtwell, Elisa Daggs, Poster Dress Ltd. and Wastebasket Boutique creating their own versions. These paper fashions were exciting, fun, and cheap, enabling the wearer to stay up to date with the newest prints and styles. Advancements in material technology enabled these garments to be made out of wood pulp mixed with synthetic fibres in order to create a more hard wearing paper like fabric that had water and fire resistant properties, and could be printed on easily. These fabrics required little maintenance and could be 'refreshed' by ironing inside out on a cool setting, some could even be washed, but the water and fire resistant finishes normally came off during the process.
In the true spirit of the space age, these dresses were even believed to be the prototypes for the future. Julian Tomchin went as far as to suggests that we would all be wearing paper fashions in the future as "After all who is going to do laundry in space?" (1). Elisa Daggs felt that paper fashions would continue to be fashionable and believed that "sealing machines will replace sewing machines" due to paper needing a different kind of "architecture" to fabric (2). These paper dresses were easily altered by the modern woman as they required no sewing skills, just a pair of scissors and glue or sticky tape.
Although this fashion for paper clothing was short lived and only lasted a few years; using paper for clothing has been used by contemporary designers including Hussein Chalayan, James Rosenquist and Helmut Lang, during the 1990s and early 2000s. The lasting legacy of these 1960s paper fashions is found in the DuPnt fabric Tyvek, this is still used in hospital clothing both for patient's gowns and medical staff's aprons. I feel that the desire for more ecologically friendly fashion, 'make do and mend', and using recycled materials has become more important today than having 'of the moment' clothing that can be disposable of in time for the next trend.
By Kate Lyons, Costume Society Ambassador 2014
1) Helen Carlton, Answer to Laundry in Space, LIFE Magazine, 25th November 1966, pg. 136
2) Helen Carlton, Answer to Laundry in Space, LIFE Magazine, 25th November 1966, pg. 136
Bibliography:
Helen Carlton, Answer to Laundry in Space, LIFE Magazine, 25th November 1966, pg. 136
Paper Dresses 1960s Newsreel, available from the World Wide Web:
University of Delaware, Common Threads 1960s Paper Dress, available from the World Wide Web: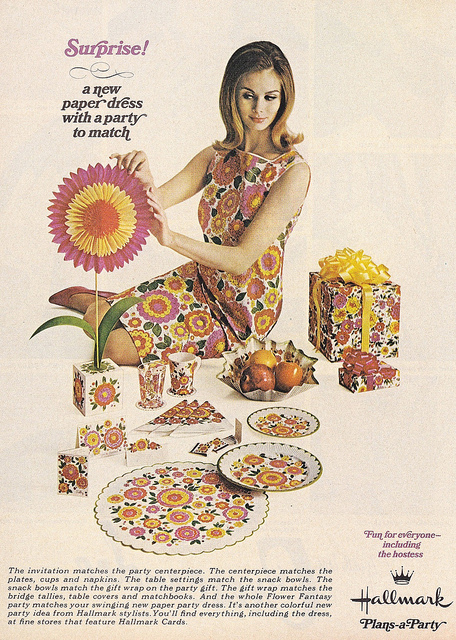 Hallmark Paper Dress Advertisement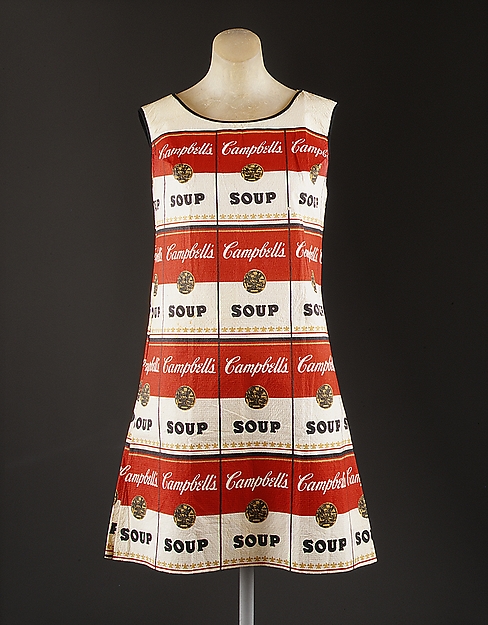 The Souper Dress Image credit: MET New York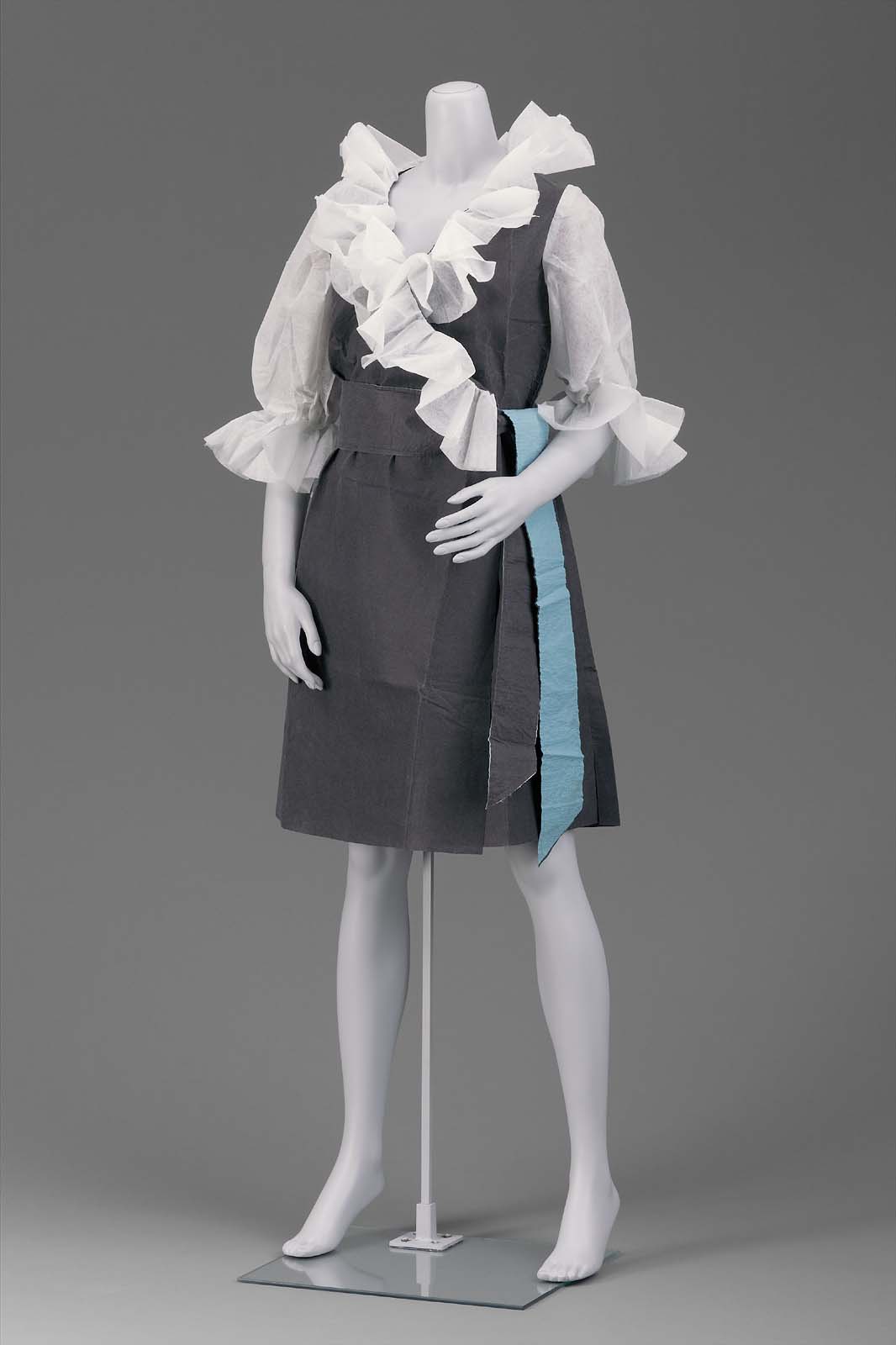 Elisa Daggs, 1966 Image credit: Museum of Fine Arts, Boston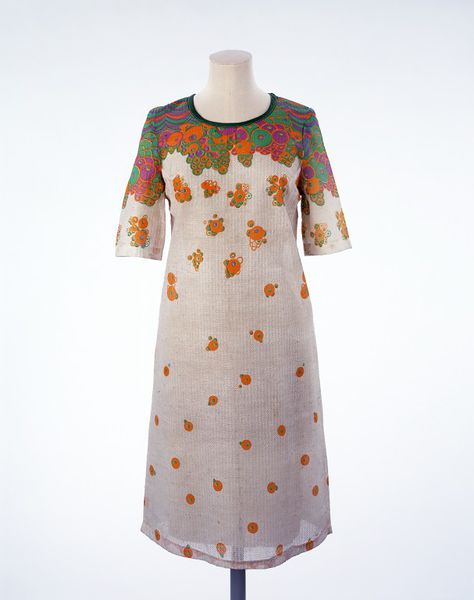 Ossie Clarke and Celia Birtwell, 1966 Image Credit: V and A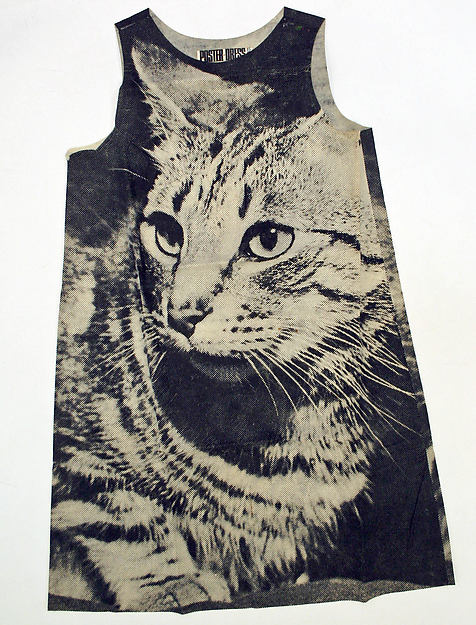 Poster Dress Ltd, Late 1960s Image Credit: Museum of Art, New York
"