Georgia O'Keeffe's Wardrobe: Modernity, Sustainability and Style
In this week's blog, CS Ambassador, Wendy Fraser, examines how Georgia O'Keefe self-fashioned a strong, recognisable public image as an artist and built a sustainable wardrobe that endured throughout her long, artistic life.
Georgia O'Keeffe (1887-1986), one of the greats of American modern art, is known for her large flower paintings, depictions of skyscrapers during her time in New York (1918-1929) and landscapes of New Mexico where she made her permanent home from 1949. Frequently photographed clothed in austere monochromatic outfits throughout her life, O'Keeffe was captured by photographers including her husband Alfred Stieglitz, Cecil Beaton, and Bruce Weber. Her clothing was an essential part of her public image as an artist and her wardrobe and the way she arranged the interiors of her homes were as much an expression of her modernity as her works of art. (Figure 1). The Georgia O'Keeffe Museum, Santa Fe, New Mexico which was established in 1997 has 267 articles of the artist's clothing and accessories in their collection. These objects represent her distinct clothing personas – the smart and spartan outfits worn for photographers and in the city, smocks and relaxed dresses for daily life and practical western wear – jeans, shirts, and headscarves for the New Mexico terrain. Her clothing came into focus when it was exhibited in Georgia O'Keeffe: Living Modern at the Brooklyn Museum from March 3, 2017, to July 23, 2017, and then travelled around the US.
The dates of the extant garments span from c1910 to 1983 when O'Keeffe commissioned a bespoke Emsley black wool trouser suit with a waistcoat in 1983 at the age of 96. Many of the earlier clothes in the collection, including two ivory silk tunic dresses with narrow pintucking have no maker or store labels and have been attributed to O'Keeffe's own hands, demonstrating her superior skills as a seamstress. Her developing style was influenced by the principles of dress reform advocated by Charlotte Perkins Gilman in her book The Dress of Women. Gilman disapproved of the restriction of corsets, extravagant silhouettes, and the societal expectation on women to conspicuously consume fashion. Despairing of the performative aspect of dress, in 1911 Gilman commented on the onus on women to please men; 'to attract the vagrant fancy of the male, nature's born 'variant,' they must not only pile on artificial charms but change them constantly'[1].
O'Keeffe's personal aesthetic was established while a young woman; she rejected the obviously feminine fashions for middle to upper-class American women at the beginning of the 20th century preferring simple shapes in matt natural fabrics including wool, cotton, silk, and linen. Seldom favouring patterned fabrics, she also eschewed ornamentation, accessories, heeled shoes, and jewellery and wore simple unisex hats worn very close to the shape of the head. As an art teacher around the time of WW1, she wore 'flat shoes, thick stockings, and undecorated, loose black dresses'[2]. O'Keefe maintained these principles for dressing throughout her life, she 'kept her eye on changing fashions enough to follow basic shifts in silhouettes, waistlines, and hemlines, but she was not swayed by the more ephemeral elements of fashion'[3]. Strong lines and a restricted colour palette began to define her image; 'when appearing in public, O'Keeffe would wear black garments, often with touches of white at the neck (…). She continually favoured a silhouette that hung loosely around her body'[4]. The many black and white photographs of O'Keeffe show her ability to strike a dramatic pose dressed in her monochrome artist uniform surrounded by props such as bleached animal bones and skulls, and always pictured alone in the rugged desert landscape or in her minimalistic home. This wool dress which she was first photographed wearing in 1930 is typical of her black and white aesthetic and features many of her favourite details: pleats, ties at the neck, a stand-up collar, full sleeves, a relaxed waistline, and the visual layered effect created by the white inserted cuffs. (Figure 2)
O'Keeffe frequently wore a brooch which coiled into her initials 'OK' from around 1938 until her death, one of her few pieces of jewellery. The original was designed in brass by the sculptor Alexander Calder and in 1959 O'Keeffe commissioned a copy in silver when she was travelling in India, to better complement her greying hair. She chose to wear the brooch vertically down her neckline, 'like one of her own organic abstractions, a stylized plant form'[5] (Figures 3 and 4). Some of the few printed garments in O'Keeffe's wardrobe are screen-printed dresses from the Finnish brand Marimekko which was established in 1949. Known for their colourful, bold patterns often inspired by nature and unrestrictive styles, the unconventional clothes are easy to wear and ideal for layering. O'Keeffe chose from the subdued end of Marimekko's colour spectrum with this striped dress with a stand-up collar designed by the company's co-founder Armi Ratia in the mid-1950s (Figure 5). Marimekko's distinctive style received an enormous publicity boost in the USA when Jacqueline Kennedy purchased seven cotton dresses during her husband's presidential campaign and was pictured wearing one on a 1960 cover of Sports Illustrated [6].
O'Keeffe often chose clothing styles that wrapped around her body. Over twenty kimonos were found in her wardrobe including short 'haori' jacket styles and summer weight cotton 'yukata'. Most were white or black, inexpensive, and not luxuriously embroidered; she started wearing them for bed and bath from around 1910 buying the earliest examples from New York stores and later from her travels to the Far East in the 1950s and 1960s. The origins of this swirling printed cotton kimono are unknown as it has no label, but the spinning discs are reminiscent of O'Keeffe's 'OK' brooch. This desire to envelop the body in clothing extended to her preference for wrap dresses throughout her life. Figure 6 shows a selection of identically shaped dresses in a selection of coloured cotton and synthetic velvet. In the same way that O'Keeffe copied the Alexander Calder's brooch that she wore so often, she also commissioned local dressmakers to reproduce favourite dresses that she had bought in New York department stores. She was always faithful to her style choices; she left multiple pairs of identical shoes in two favoured styles - suede 'Fenton perambulator' shoes made for Saks Fifth Avenue and suede flat shoes with a leather tie at the front by Salvatore Ferragamo.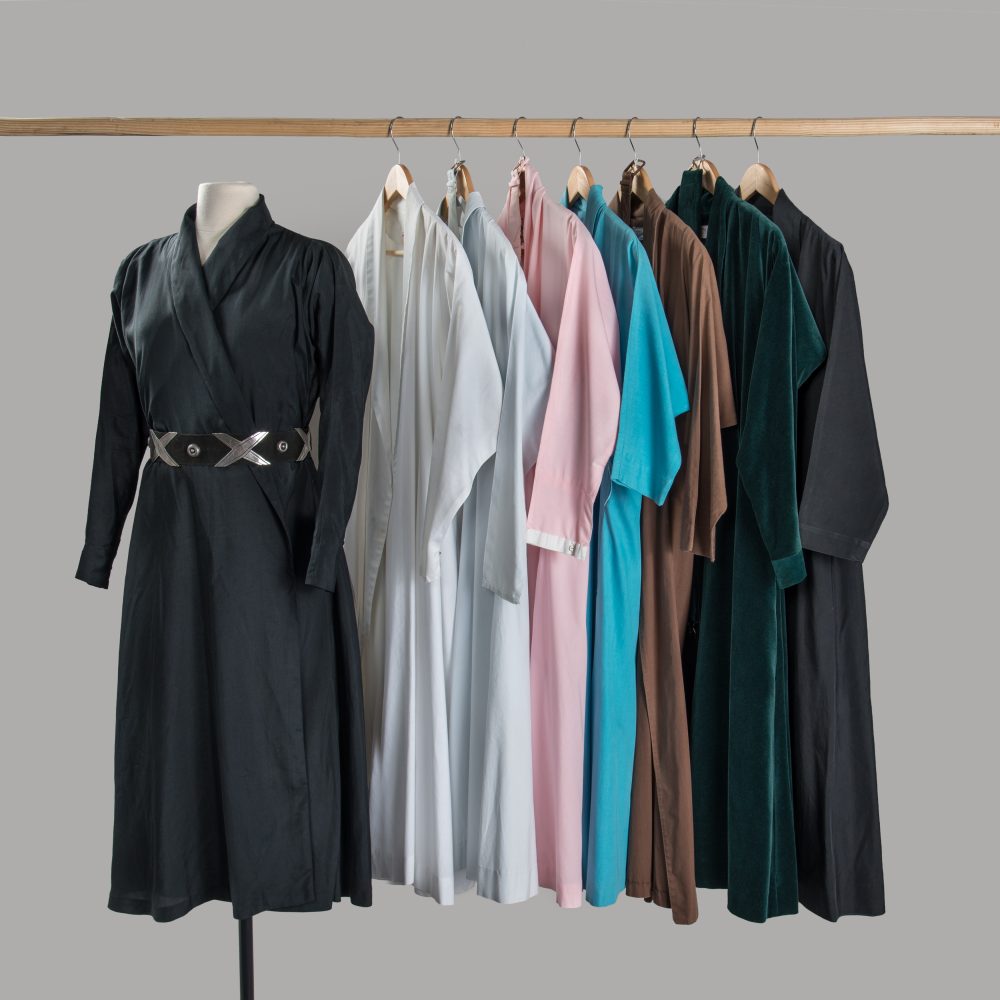 Figure 6: Selection of wrap dresses in coloured cottons and green synthetic velvet, 1950s-70s. The black dress is styled with O'Keeffe's Héctor Aguilar suede, leather and sterling silver belt dated to 1950. Photograph by Gavin Ashworth.
A visit to the Brooklyn Museum exhibition of O'Keeffe's clothing inspired Maria Grazia Chiuri's, Dior's creative director, to use both O'Keeffe's personal style in tandem with the cave paintings of Lascaux in the Dordogne as the inspiration for her first cruise collection for Dior in 2018[7]. The catwalk for the début was staged in the Santa Monica mountains with models dressed in O'Keeffe's signature black and wearing bandanas under mannish black hats. The hats in the style of the cowboy's vacquero or gaucho hat were designed by milliner Stephen Jones in homage to the style often worn by O'Keeffe to protect her hair from the New Mexico dust.
Georgia O'Keeffe established her sartorial aesthetic from a young age; by choosing simple silhouettes, natural fabrics, and a restricted colour palette she self-fashioned a strong, recognisable public image as an artist and built a sustainable wardrobe that endured throughout her long, artistic life
References
[1]Charlotte Perkins Gilman, Our Androcentric Culture or Our Man-Made World (New York: Cosimo Classic [1911] 2007) 73.
[2] Wanda M. Corn, Georgia O'Keefe, Living Modern (New York: Brooklyn Museum, 2017) 34.
[3] Corn, Georgia O'Keefe, Living Modern, 275.
[4] Corn, Georgia O'Keefe, Living Modern, 45.
[5] Corn, Georgia O'Keeffe: Living Modern, 126.
[6] Charlotte and Peter Fiell, Scandinavian Design, (Köln: Taschen, 2002) 444. Sports Illustrated 26th December 1960.
[7] Jessica Iredale and Marcy Medina, California Love: Dior Cruise 2018, WWD Online, 12 May 2017
Bibliography
[1] In episode 44 of 'The Great Women Artists' podcast, Katy Hessels interviews Wanda M. Corn who recalls her own meeting with Georgia O'Keefe in the early 1980s.
[2] Georgia O'Keeffe Museum https://www.okeeffemuseum.org/about-georgia-okeeffe/
[3] Wanda M. Corn, Georgia O'Keeffe: Living Modern (New York: Brooklyn Museum, 2017)