Holy Hands: a study of knitted liturgical gloves
In our latest blog, Costume Society member and former Editor of the UK Knitting and Crochet Guild journal Slipknot, Lesley O'Connell Edwards introduces the Knitting in Early Modern Europe (KEME) database, a fantastic new resource created by the Holy Hands project team.
Costume Society member Lesley O'Connell Edwards is part of the Holy Hands team led by Dr Angharad Thomas, which researches knitted liturgical gloves. Knitted liturgical gloves are finely worked ornamental symbols of high ecclesiastical office, which were created from the late medieval period onwards. The gloves were principally used as part of the mass in the Roman Catholic church, being worn before the sacrifice, and also were part of the consecration ritual of a bishop. Knitted liturgical gloves existed from the twelfth century: virtually all are finely crafted, and many are ornately patterned. Most have a ground fabric of silk and are usually patterned with metal thread, either as a knitted-in pattern, or as embroidery, lace, or other embellishments.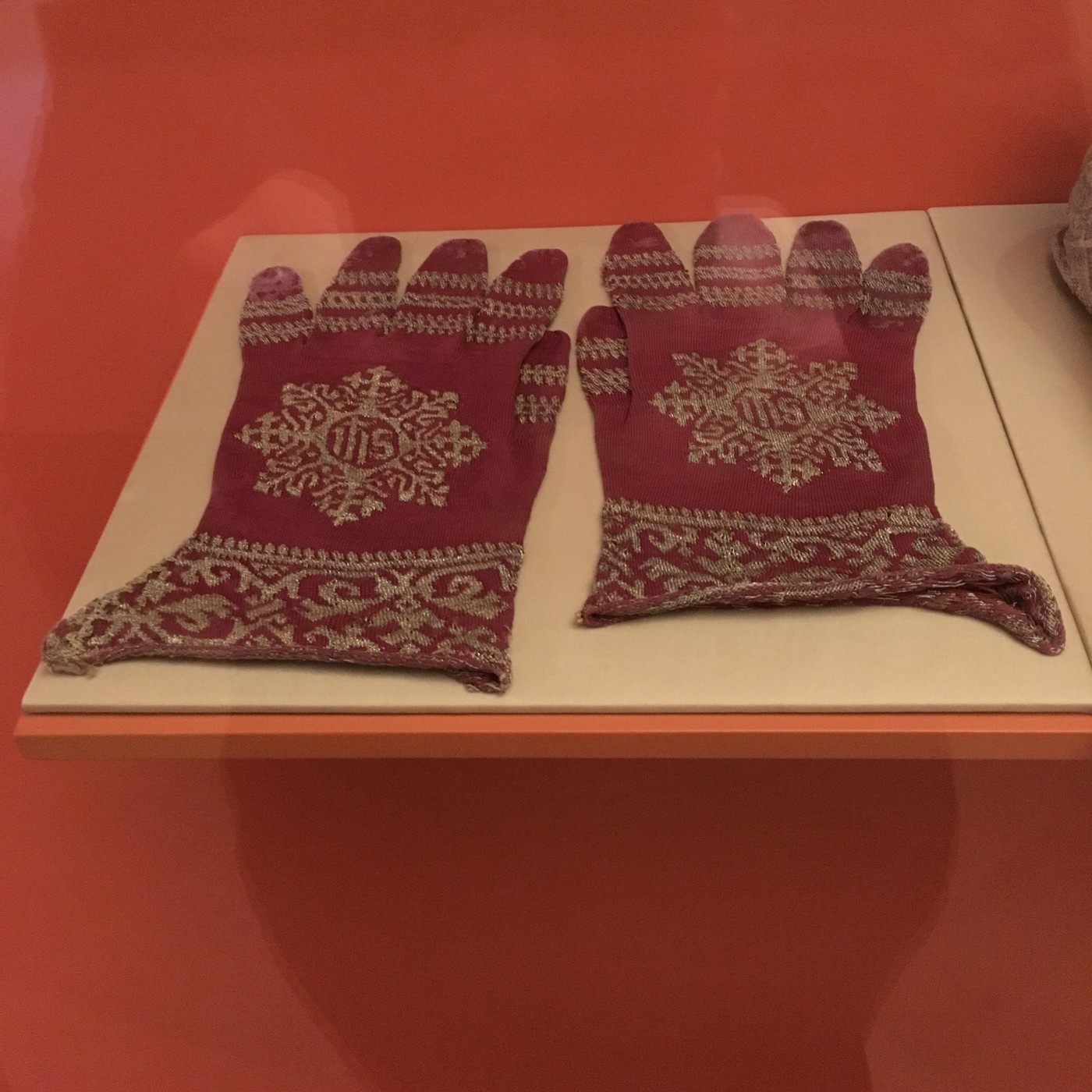 Image 1. Liturgical gloves from the treasury of the cathedral of St Bertrand de Comminges, France (inventory number 58-P-726); image: Dr Angharad Thomas (https://kemeresearch.com/gloves/18)
This knitted liturgical gloves study is the first to examine these gloves systematically. The project located ninety-six artefacts held in museums and other collections in both Europe and North America: seventy-nine pairs of gloves, one right glove, eleven left gloves, and five fragment(s). The data about these gloves are now available on the Knitting in Early Modern Europe (KEME) database managed by Costume Society member Dr Jane Malcolm-Davies and developed by Jodie Cox. It includes details of thread, gauge, construction, and embellishment with high-quality photographs for many of the gloves. The data is freely available to all researchers after online registration for access.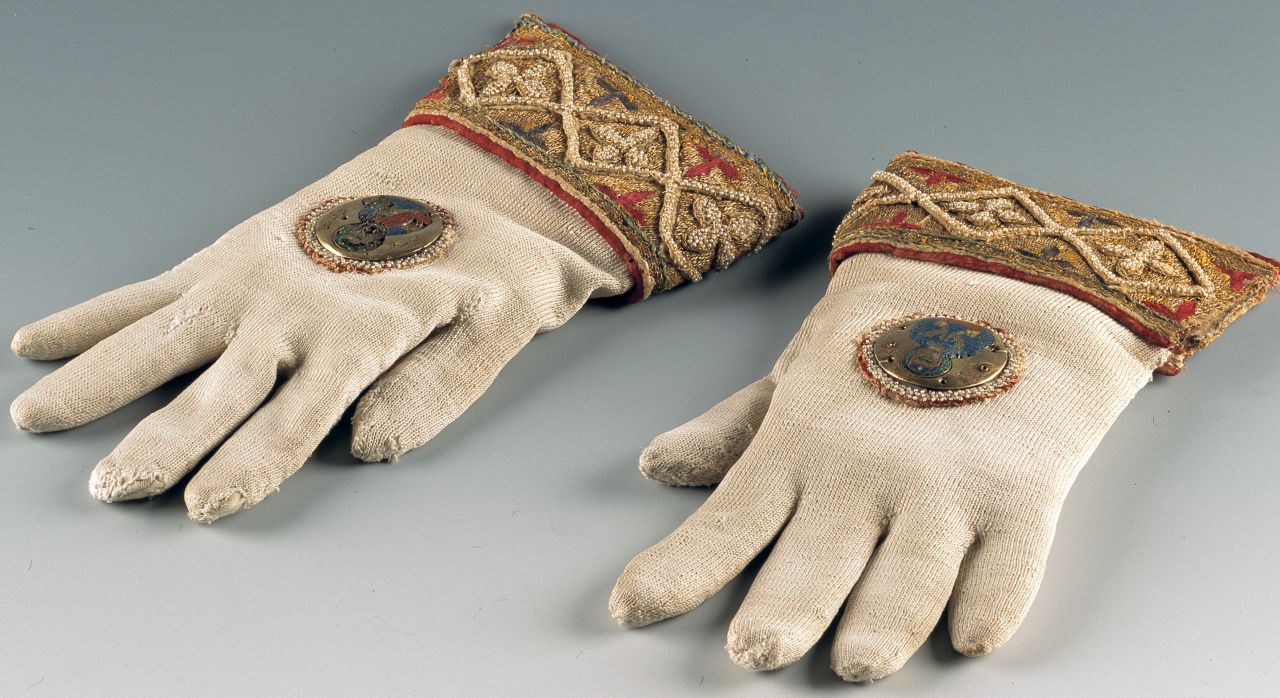 Image 2. Liturgical gloves from Brixen Cathedral Treasury, Italy; image: © Diocesan Museum Hofburg Bressanone (https://kemeresearch.com/gloves/38)

The project was funded by a Janet Arnold Award from the Society of Antiquaries of London. Work also included a literature review placing these gloves in their historical and liturgical context, which is also available through the KEME website. A protocol for the examination of knitted gloves was developed, based on the work of Malcolm-Davies et al (2018) at the Centre for Textile Research in Copenhagen. Although the initial phase is now drawing to a close, the database is an ongoing project and the team would be pleased to hear of any other gloves that survive. Please contact Dr Jane Malcolm-Davies.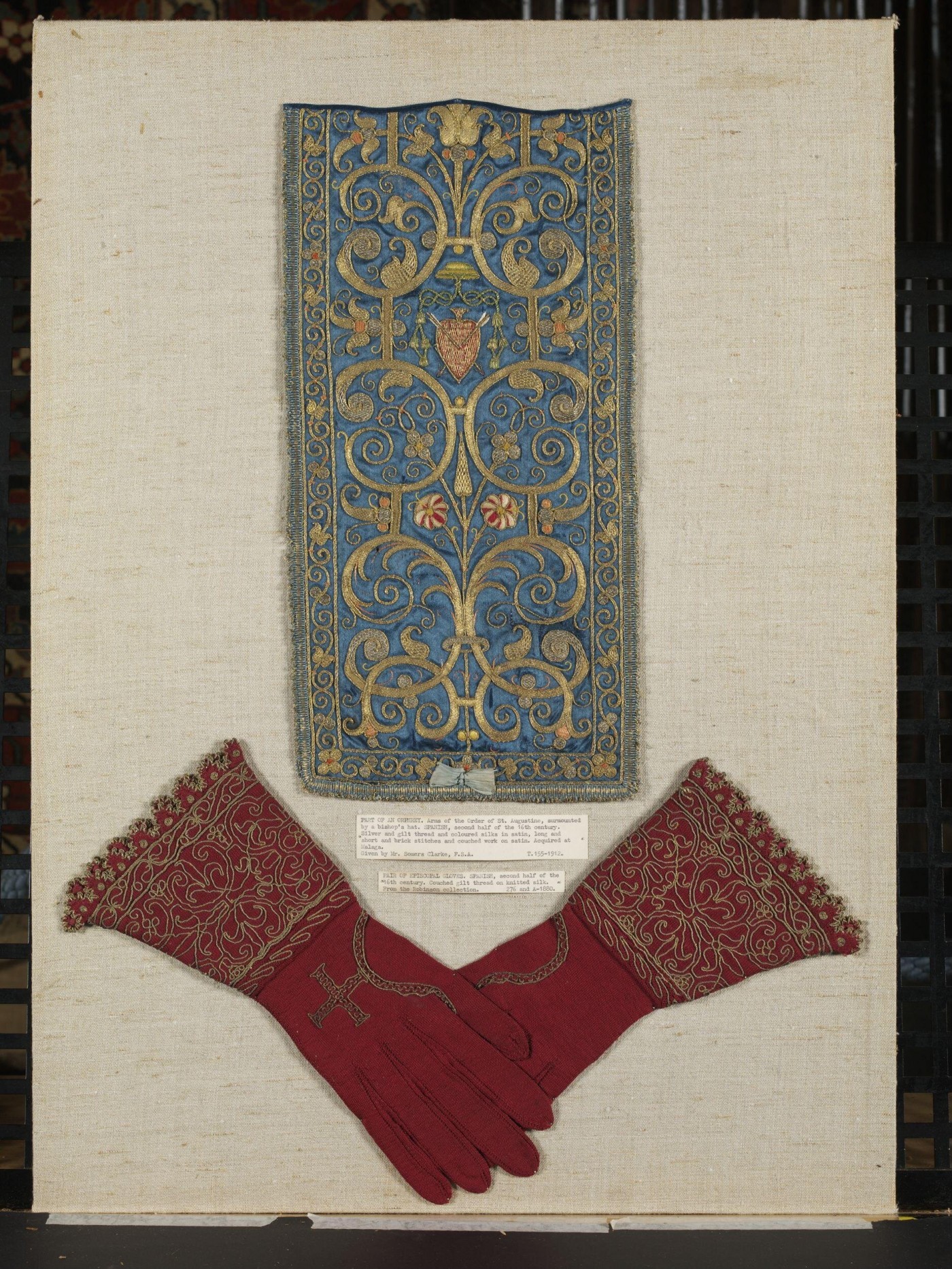 Pair of episcopal gloves, couched gilt thread on red knitted silk from the V&A collection. Source (http://collections.vam.ac.uk/item/O363886/pair-of-gloves-unknown/)
If you are a Costume Society member and keen to share your costume-related news, please do reach out to our News Editor.