In Glistening Glory: Queen Elizabeth I's Dress at Hampton Court Palace
The 24th of March marks the anniversary Queen Elizabeth I's death in 1603. In this week's blog, CS Ambassador Isabella Rosner discusses the Bacton Altar Cloth, the last surviving item of clothing from the Tudor Queen's wardrobe.
by Isabella Rosner
For three months, Hampton Court Palace was host to a very special guest – the Bacton Altar Cloth, on display in an exhibition called 'The Lost Dress of Elizabeth I' (now closed). The panel, once part of a dress worn by Queen Elizabeth I, is richly embroidered on a ground of fine silk woven with strips of beaten silver. Not only is it a rare example of Elizabethan dress, it is also the only known survivor from Elizabeth's wardrobe.
The Bacton Altar Cloth has a wandering history which led it from bustling sixteenth-century London and its environs to the Herefordshire village of Bacton and back again. The cloth began as one of Queen Elizabeth's thousands of dresses (she had nearly 2,000 dresses in her possession at the time of her death) and ended up in the possession of Blanche Parry, Queen Elizabeth's Chief Gentlewoman of the Bedchamber and a servant who had looked after Elizabeth since she was an infant. Elizabeth often gave her discarded clothing to her confidantes. It is likely that the cloth was sent to Bacton by Elizabeth or her ladies-in-waiting in memory of Parry, who died in 1590. The church that holds the panel is where Parry's ancestors are buried and where Blanche herself expected to be buried, so much so that she ordered a monument to herself to be built there. When the cloth came to Bacton, it likely rested underneath the vicar's bed for several hundred years. It had been on the Bacton church wall from 1909 until 2016, when Eleri Lynn, a curator at Hampton Court Palace, observed that it was perhaps a rare piece of Tudor-era clothing.
But how can we be certain this panel was indeed once worn by Queen Elizabeth? The story can be found in the stitches. The panel features professional embroidery including gold and silver thread, evidence of pattern cutting, and silver woven silk. Tudor law allowed only the highest levels of nobility and royalty to wear clothing that included gold and silver. The amount of silver in the panel would have cost as much as a substantial house in Tudor times!
The panel is dotted with floral, fruit, and animal motifs, rich with images of thistles, carnations, berries, butterflies, squirrels, and stags (figures 1&2). Unusually, the embroidery has been worked through the silver fabric. Most embroidery of the time would have been worked on canvas squares called 'slips', which would have been cut out and then appliqued onto other fabric. This allowed for mistakes and reuse, whereas stitching through the silver ground fabric does not. It is a testament to the embroiderers' skills.
Within the exhibition, the panel is juxtaposed with the iconic Rainbow Portrait (figure 3), on loan from Hatfield House. The portrait depicts Elizabeth wearing a bodice with a strong resemblance to the Bacton Altar Cloth, as well as a cloak that is embroidered with eyes and ears. Also included in the exhibition are contemporaneous books and embroidered slips, as well as modern examples made by students from the Royal School of Needlework.
To see the only surviving piece of Queen Elizabeth I's wardrobe is a feast not only for the eyes, but also for the soul. The panel does not only carry with it the stories of Queen Elizabeth and Blanche Parry, but each individual who precisely and painstakingly stitched the 400-year-old embroidery that, while faded, still glistens with glory.
'The Lost Dress of Elizabeth I' was on display at Hampton Court Palace until 23 February 2020.
Bibliography/ Further Reading
1 'See The Lost Dress of Elizabeth I'. Historic Royal Palaces. https://www.hrp.org.uk/hampton-court-palace/whats-on/the-lost-dress-of-elizabeth-i/#gs.qgi8cc.
2 'Elizabeth I's Royal Wardrobe'. Royal Museums Greenwich. https://www.rmg.co.uk/discover/explore/elizabeth-royal-wardrobe.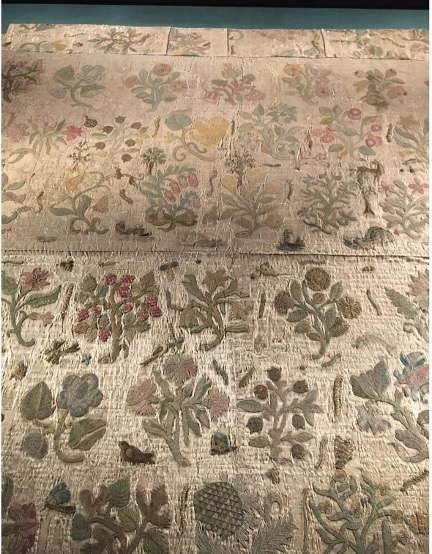 A Portion of the Bacton Altar Cloth. Photo: Isabella Rosner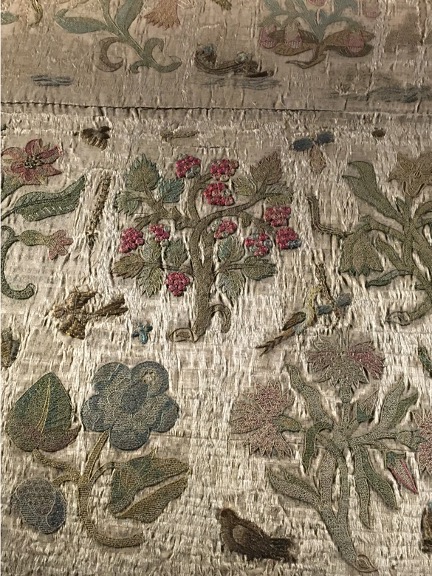 A Berry Detail on the Bacton Altar Cloth. Photo: Isabella Rosner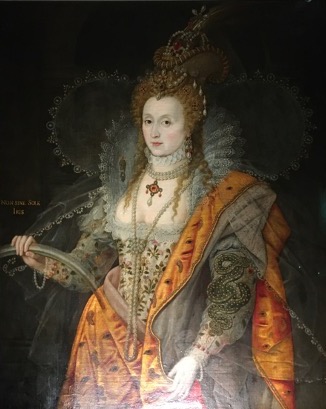 The Rainbow Portrait (1600-1602). Photo: Isabella Rosner
"