Interview A chat with the School of Textiles
Ambassador Ruby Valentine talks to Kate Wigley. The first in an occasional series of interviews
Ambassador Ruby Valentine talks to Kate Wigley. The first in an occasional series of interviews.
On Saturday 18th February, Mary Schoeser and Kate Wigley opened their School of Textiles in Coggeshall, Essex. This new resource offers costume and textile enthusiasts a library, collection and educational space outside London with an impressive list of events and study days throughout the year. Last week I chatted to Kate over the phone, and was lucky enough to get a bit more background information on the school's latest joint project. Here's an excerpt from our conversation:
Ruby Valentine (RV): So how did the idea for the school come about?
Kate Wigley (KW): Mary and I have known each other for a while, as we were both part of the Warner Textile Archive. I was their chief archivist for eight years and she was one of their trustees. Actually previously she was the archivist for Warner and Sons before it became the Warner Archive! We've both been in the textile field for many years, and have been collecting for over forty years or so, and I think I bouight my first item when I was thirteen!
RV: Wow! That's impressive!
KW: Yes! We wanted to bring our passions together and create a space outside London for textile and costume enthusiasts. Mary's collection ( literarture and textiles)is so impressive it deserved a platform, so we decided to pool our resources and ideas and create a space where we could share our knowledge and experience.
RV: Sounds great! Can you tell me a bit more about the layout of the school and the space itself?
KW: Well it's in Coggeshall in Essex, and you may think that Coggeshall is a bit of an odd place to choose as the location, but the area is actually really rich in textile history. Coggeshall was a wool town and known for its lace and velvet throughout the nineteenth and twentieth centuries, and for a wool cloth called Coggeshall Whites. The town is on the old road between London and Sudbury (on the Suffolk/Essex border) which has a rich history in silk weaving.
RV: I've lived in Essex my whole life and I didn't know that at all!
KW: Yes! The area is also rich in enthusiasts too! The space itself is relatively small, one room split into two, with one area dedicated to Mary's literary collection of thousands of books, and the other dedicated to learning. Because our collection is comprised of two private archives it can be a very hands-on collection. We really want visitors to be able to see and learn and so one area of the space has lots of good lighting and cutting-edge equipment that can help you really examine the items.
RV: You've got an impressive list of events and programmes coming up over the next year. Can you tell me some more about that?
KW: We opened on the 18th with our first lecture, the first in a series called the Art of Drapery led by Mary. It sold out, which was great, and was one of three lectures. We've got events planned up until November that cover a wide variety of costume and textile topics, both practical and academic. Mary and I have many years experience in textile and costume curation, consultancy, archival work and exhibitions, and we wanted to draw on our years of knowledge ( and industry contacts) to provide study days, workshops and lectures for a range of audiences. Next year we are developing two to three long study days as well, but we wanted to respond to feedback from this year first!
RV: The events all look great and really interesting. I'll definitely be booking a slot on one soon. In terms of visiting the School and the collection, how does one go about that?
KW: If you want to come to one of our events then keep an eye on the website: www.schooloftextiles.co.uk , our Twitter account, @schoolofT, and our Instagram, schooloftextiles, to see what's coming up. Booking is essential for our events, and visiting us will normally be by appointment only. We do group visits too, so if there are any study groups, clubs or schools that want to visit we can provide access for them.
RV: Thanks for talking to me Kate, the whole project sounds like a really great resource for the study of textiles and costume. I'm sure all of our members and blog readers will be thrilled to read about it!
Both Kate Wigley and Mary Schoeser have extensive experience in the field of textiles and dress. Their growing collection of textiles, paper designs, ledgers, historical dress and accessories at the School of Textiles supports their workshops, events and study days, and is also available for individual, as well as commercial research. This new space provides practitioners and specialists an opportunity to give students the chance to experience different techniques and expand their knowledge of individual subjects.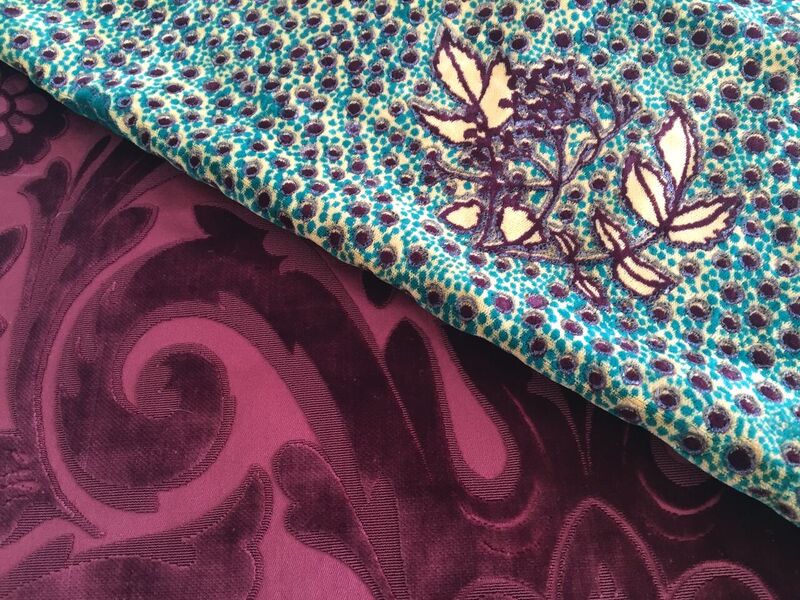 Hand-printed velvet fabric,1920s, with Baveno, a hand-woven silk velvet by Owen Jones, 1870. © School of Textiles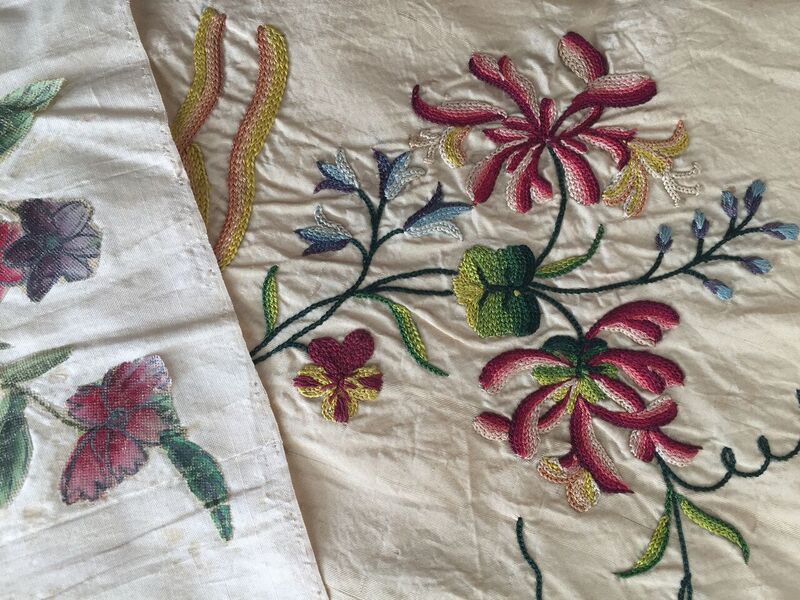 Eighteenth century painted and embroidered fabrics. © School of Textiles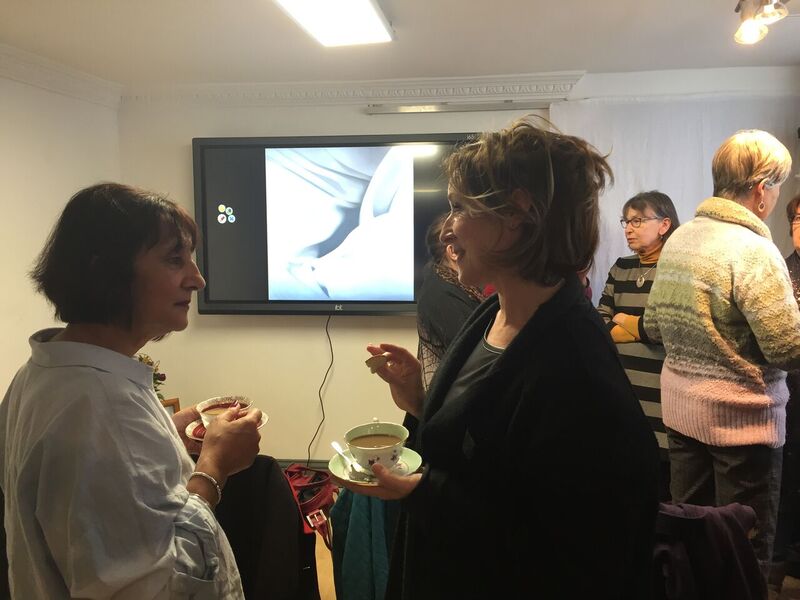 The Art of Drapery Study Day, 18.02.2017. © School of Textiles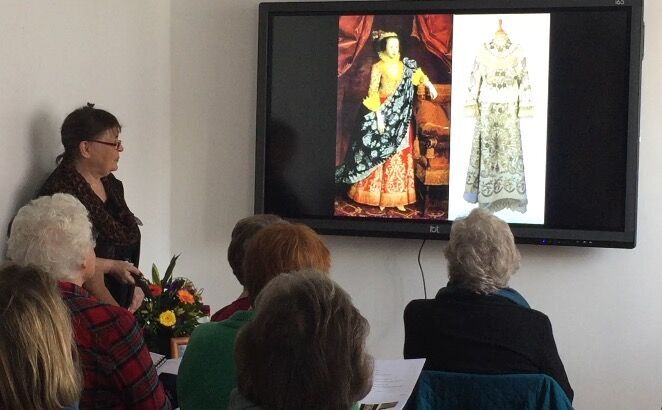 The Art of Drapery Study Day, 18.02.2017. © School of Textiles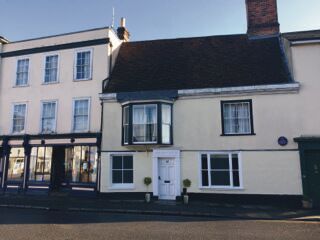 The School of Textiles at 14 Market Hill. Coggeshall, Essex. © School of Textiles
"