Lesser Known Costume Collections: Northern England
Ambassador Kate Lyons Finds Some Hidden Gems
As a costume enthusiast I love to visit as many different costume collections and exhibitions as possible, especially as this primary research is so valuable to my work. I started a search for lesser known costume collections within the United Kingdom and Ireland, this post continues with a selection of collections in the North of England. I hope I can introduce you to some collections you didn't already know about.
The Bowes Museum
Barnard Castle
County Durham
DL12 8NP
01833 694608
- Large costume collection from the Seventeenth to the Twentieth Century, mostly Nineteenth and Twentieth Century items. The museum holds the Blackborne Lace Collection and a collection of Seventeenth and Eighteenth Century vestments and textiles from St. Clares Abbey in Darlington. Textiles collection including quilts, tapestries and carpets locally made, as well as embroidery from Europe and the Far East from the Fifteenth to Nineteenth century. Paid entry.
joanna.hashagen@thebowesmuseum.org.uk
http://www.thebowesmuseum.org.uk/
Gallery of Costume
Platt Hall,
Rusholme,
Manchester
M14 5LL
0161 245 7245
- Over 20,000 items of clothing and accessories from the Seventeenth Century to the present day, including a selection of locally produced shawls and clogs, as well as fashions from Manchester's South Asian communities. A photographic portrait collection with over 25,000 images from the 1840s to present day. New exhibitions each year, with the majority of the collection available to view online. Free entry.
http://www.manchestergalleries.org/
Gawthorpe Textiles Collection
Gawthorpe Hall (National Trust & Lancashire Council owned)
Burnley Road
Padiham near Burnley
Lancashire
BB12 8UA
01282 773963
- This collection of lace, embroidery and textiles was amassed by Miss Rachel B. Kay-Shuttleworth, and is now housed at Gawthorpe Hall. Highlights of the collection include British embroideries, textiles and quilts associated with the Arts & Craft Movement; as well both British made items and Eastern European, Near, Middle and Far Eastern examples of costume, accessories and textiles. Paid entry.
r.midgley@gawthorpetextiles.org.uk
http://www.gawthorpetextiles.org.uk/
Tyne & Wear Archives & Museum
Discovery Museum
Blandford Square
Newcastle upon Tyne
NE1 4JA
01912 326789
- Large collection of costume, costume dolls, and Nineteenth & Twentieth Century fashion plates, not on permanent display but study visits can be booked in advance to the stores at the Discovery Museum. Free entry.
info@discoverymuseum.org.uk
http://www.twmuseums.org.uk/discovery.html
Maccllesfield Silk Museums
Silk Museum
Park Lane
Macclesfield
SK11 6TJ
01625 612045
- This museum holds a significant collection of Eighteenth and Nineteenth Century costume, textiles, silk making machinery, and a Macclesfield silk manufacturers' pattern archive of nearly 1,000 volumes. These collections are not only locally made but include textiles from around the world. Study visits can be booked in advance, with 'behind the scenes' days, talks, and exhibitions held each year. Paid entry.
http://www.silkmacclesfield.org.uk/
The Mitchell Collection
Hull Museums
Ferens Art Gallery
Queen Victoria Square
Kingston-upon-Hull
HU1 3RA
01482 300300
- A 450 piece collection of Nineteenth & Twentieth Century costume, accessories and textiles donated by Miss Kathleen Mitchell to Hull Museums. Many of the items are believed to have been made in or worn by people from the local Hull and Yorkshire area. This collection is currently not on display to the public, but a small selection of Nineteenth Century costume is on display at the William Wilberforce House museum. Enquiries can be made about study visits. Free entry.
museums@hullcc.gov.uk
http://www.hullcc.gov.uk/museumcollections/
Quilt Museum & Gallery
St Anthony's Hall
Peasholme Green
York
YO1 7PW
01904 613242
- Home to The Quilter's Guild of the British Isles and their extensive collection of historical and modern quilts. Not all of the collection is on display, but the exhibitions change every few months. Free entry.
admin@quiltersguild.org.uk
http://www.quiltmuseum.org.uk/
Walker Art Gallery
William Brown Street
Liverpool
L3 8EL
0151 478 4199
- Over 20,000 items in this collection from the Eighteenth Century to the present day, including extensive garments and accessories from the Twentieth Century. The collection also holds a suit worn during performances by John Lennon which is now on display at the Museum of Liverpool. The museum is currently unable to allow study visits to the collection, however the costume galleries are still open to the public. Free entry.
http://www.liverpoolmuseums.org.uk/walker/index.aspx
Kate Lyons, Costume Society Ambassador 2014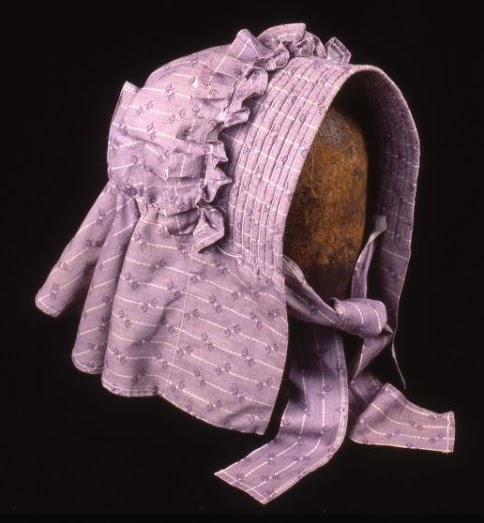 Mauve 'Staithes' bonnet with corded quilted brim, 1900-1925. Quilt Museum. Image credit to York Quilt Museum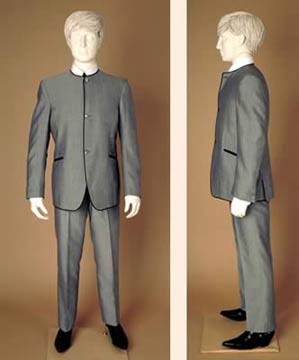 Grey wool mohair suit worn by John Lennon c1964 on display at the Museum of Liverpool. Image credit to Walker Art Gallery..jpg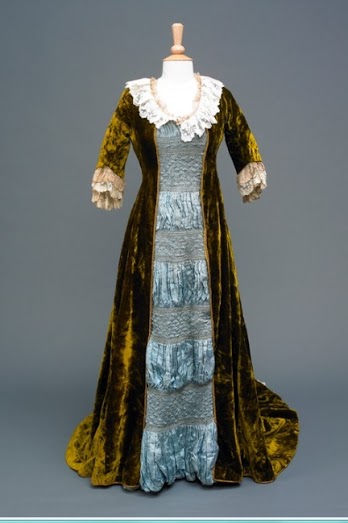 Ladies velvet and silk dress c.1880-90. The Mitchell Collection. Image credit to Hull Museums Collections.jpg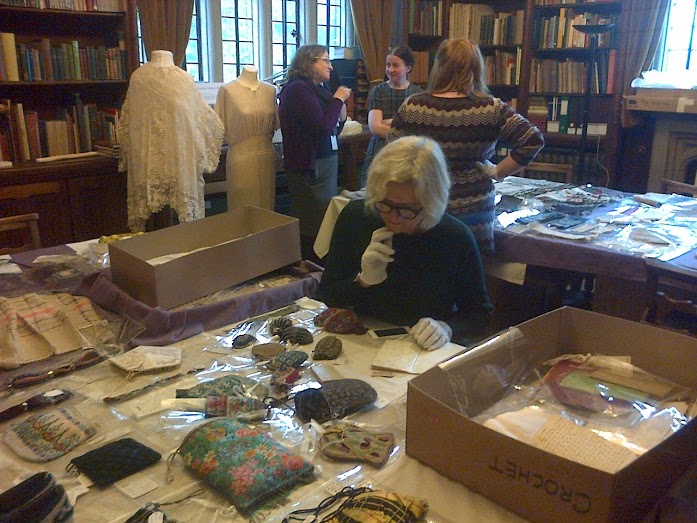 Selection if items from the Gawthorpe Textiles Collection on display for a study day. Image credit to Gawthorpe Textiles Collection..jpg

Twentieth Century costume gallery at the Bowes Museum. Image credit to the Bowes Museum
"