Patterning Vintage: A Journey with Ruffles
In this week's blog, CS Ambassador Sarah Morgan takes us through her process of recreating Nora Charles' striped chiffon dress from The Thin Man (1934).
Whilst I am not unfamiliar with patterning, a new challenge for me was to pattern a piece from film stills. As an avid movie fan and a lover of 1930s cinema, I chose the famous dress worn by Myrna Loy as Nora Charles in The Thin Man (1934). The gown was a classic 1930s bias cut evening dress in striped chiffon. There were likely to be challenges, but I felt the dress was simple enough to be made in my ten-week window.
This garment was designed by the costume designer Dolly Tree (English,1899 - 1962). Tree was famous for her work in London, Paris, New York, and Los Angeles on stage, screen, and for fashion houses. Beginning in the 1920s, Tree designed for British revues, musicals, pantomimes, cabaret, and the film industry. She was the first English woman whose work appeared in the Folies Bergère. As well as being a designer for stage and screen, she was allied with the couture house of Jean Peron. When Tree moved to New York in the late 1920s, she designed Mae West's (in)famous 1890s look. Tree designed for Metro Goldwyn Mayor's most famous stars, Myrna Loy, Jean Harlow, Rosalind Russell, Virginia Bruce, and Judy Garland
Research Stage
The first step in my process was research. The more information I gathered, especially imagery, the better I understood the construction of the garment. The luck here was having the item on film, so a 360-degree view was available. Using the footage of Myrna Loy as Nora Charles at a Christmas party, I tried to find as many angles as possible. This helped me discover information, such as the back of the dress being cape-like. However, film, especially an older film, also presented issues. The film's age and quality meant the fabric type and specifics such as finishings and other items were unknown. I found no colour photographs of the garment or where, or if, it was preserved.
As primary materials were less available, I went to the next best thing for hands-on research, books and patterns. I made a line drawing of the dress for myself and a CAD for reference. I trained in fashion design, but I usually design my own work. In this instance, there was less freedom. The clear image of someone else's work helped to see what needed to be done.
Fabrics were an important variable. A paper mockup followed by muslin is standard, but the final fabric is important to the gown's flow and look, especially with a piece such as this, where it has large draped portions. The first issue was finding a fabric thin and sheer enough to drape as needed with the stripe pattern to get the full effect. As the film was of lower resolution and in black and white, I chose to ignore the colours. I found no visual research of the garment to confirm the colours. Cigarette cards from the time with images of the dress showed it as olive green and white stripe, and posters showed it as red and white. The more I researched, the more I felt much of the final piece would be informed by my own interpretation of things, either due to missing information, such as finishings or due to current restrictions, such as fabric widths and types.
I have been sewing from the age of twelve, trained by the blue ribbon winner of the 1971 California State Fair sewing section. I know fabrics and how they flow and what you need based on weight, drape, and other specifications. If I can see and hold a fabric, I get a good feel for it and know where and how it can be used. The age of internet fabric shopping has been a terror for me. However, the chiffon-like striped material making up this dress was nearly impossible to find in-person and online was my last, and still quite difficult, avenue. Many patterns from this time call for organdy, a translucent cotton or silk fabric with a slightly stiff drape. My reading of Vintage Details: A Fashion Sourcebook and reviewing vintage patterns online and in my library, where my initial block would come, flagged up chiffon, voile, sheer crepe, and organdy as popular fabrics in the mid-1930s for dresses, especially evening dresses.
Etsy and other independent websites had many patterns for inspiration and information. As finishings were explained in pattern directions from the 1930s, there were plenty of primary sources and secondary source books. 1930s Fashion: The Definitive Sourcebook edited by Charlotte Fiell and Emmanuelle Dirix was a good starting spot. The entire sourcebook series is a good starting place for an overall view at the styles of the decades.
Toile Stage
While there is much to be said for this stage's importance, it was a slow, step-by-step process that was more fun and complicated to do and less exciting to hear about second-hand. If I am wrong about this and anyone wants to know more, that can be arranged. This is my brief overview.
The most complicated part of patterning is starting because you will get it wrong at some point. I used a 1930s slip as a block. The garment I chose had no discernible seams, an over and underdress, and angled stripes, so the most basic initial assumption would be that the overdress and probably the whole garment was cut on the bias. The skirt had a small train, so my block was widened and manipulated to convert gores into a single piece. Straps and the ruffles were something I waited to do when I draped. The bust and waist areas of the block had to be curved and slimmed, but afterwards, the fit was good. The issues of the toile were all in the cutting stage. The bias cut meant that the width of the fabric had to be over 1.5 meters wide. The undergarments matter when toiling. Once the underdress was finished, the top dress was a simple copy of the upper body and then widened from the hips down. The outer layer of the dress was simpler as the top section was drafted. The rest of the toile details were draped. The toile was marked according to the image with lines where the ruffles would go, and then bias strips of 12 inches (31 centimetres if you are feeling metric) were cut and draped.
Build Stage
This was the stage where, inevitably, things went wrong for me. This was mainly because it is worse when things go wrong in the final fabrics. My top layer of the final fabric came from China. It should not have been that hard to find a single stripe in a sheer fabric, but it was difficult. I had very little room for error. The lining came together perfectly, but that was my luck coming up too early. The main event, the beautiful striped top layer, had some issues. The back of this dress was cut out three times as matching the stripes was simple, but having them flow around the dress was not. This is why a second toile, or the first, with fabrics similar to what will be used, is important. As I have matched stripes, I was overconfident in my ability to do so on the bias.
Personally, I like to re-drape with final fabrics to make sure I have everything as best as can be. This was good for my ruffles, as the fabric I chose was not as soft and loose as I wanted it to be. The body and details had been simple, but the shoulder area was complex. In the most simplistic description, I moved the start of the fabric back on the strap to get a better, looser drape. From there, it was about pinning and praying as I could barely see my sewing foot through all the layers.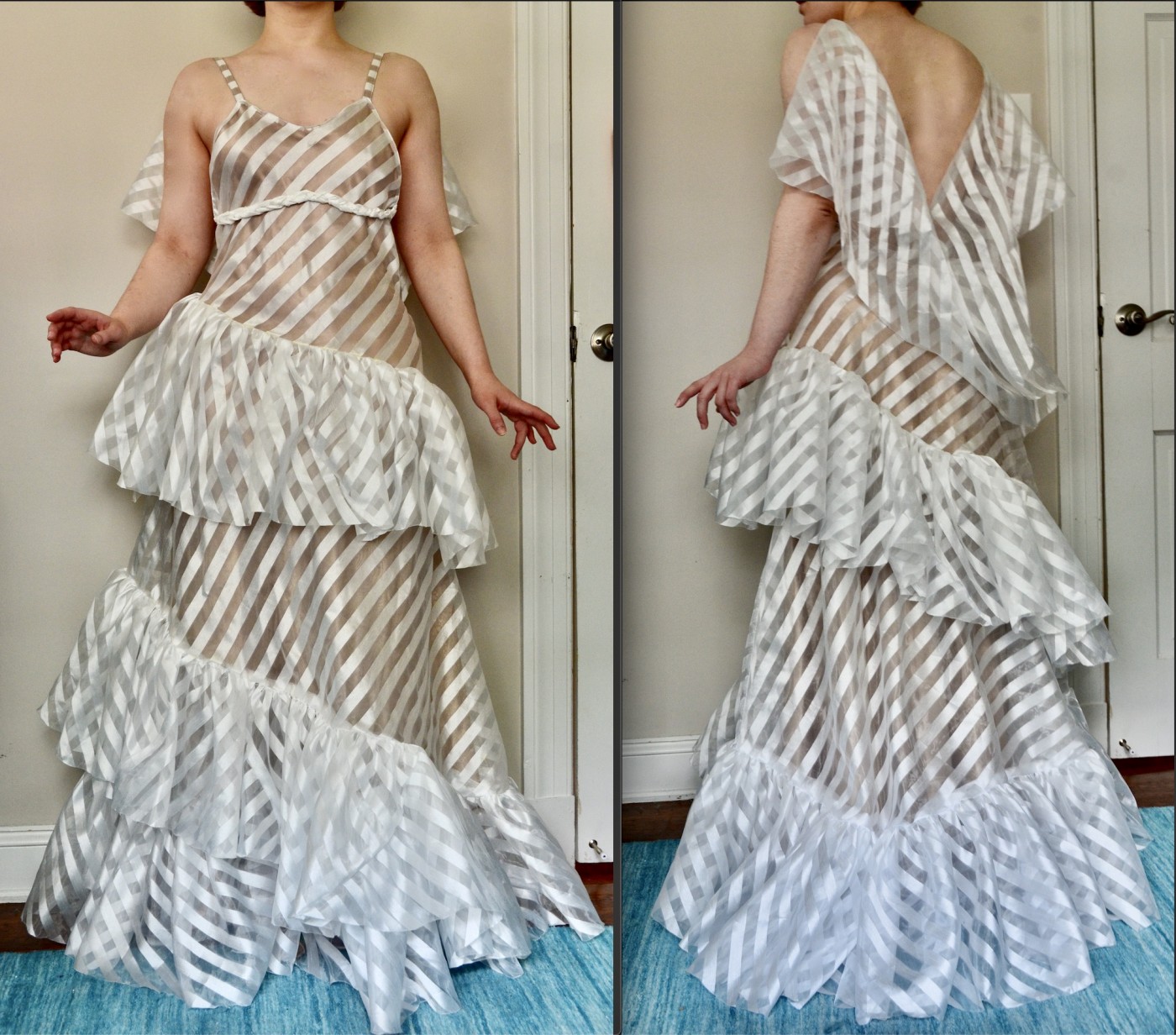 Figure 2: Dress Front and Back, Image courtesy of Madeleine Morgan, November 2020.
Final Thoughts
I am honestly not happy with certain aspects of my garment. I would have liked to toile or research longer. Access to the dress itself or more information on Dolly Tree would have helped me understand how she worked. I have respect for her work and all the originality. While I noticed not all the stripes matched up on this garment, I am convinced she magically patterned the body of the garment with no seams. However, it is far more likely I need to toile several more methods for the dress rather than mimicking the standard cuts of the time and creating my own pattern from those. Working from a 1930s film without access to clear images or the original garment was frustrating. Throughout this experiment, I think I discovered the beauty of being able to see finishings. I always admired seeing how garments were made because it fascinated me, but now I understand the essential nature of it.
In the delightful words of the character Charles Bonnet, the art forger in How to Steal a Million (1966), when describing his forged Van Gogh, 'I doubt very much if Van Gogh himself would have gone through so much trouble.' [1]
References.
1 "Quotes from 'How to Steal a Million.'" IMDb. IMDb.com. Accessed November 2, 2020. https://www.imdb.com/title/tt0060522/quotes/?tab=qt.
2 Dirix, Emmanuelle, and Charlotte Fiell. 1930s Fashion: the Definitive Sourcebook. London: Carlton Books Ltd, 2015.
Bibliography.
1 "Dolly Tree." IMDb. IMDb.com. Accessed October 12, 2020. https://www.imdb.com/name/nm0871675/?ref_=ttfc_fc_cr13.
2 Leese, Elizabeth. "Tree, Dolly." Essay. In Costume Design in the Movies: an Illustrated Guide to the Work of 157 Great Designers, 114–16. New York, NY: Dover Publications, 1991.
3 Mayer, Jeffrey, Basia Szkutnicka, and Stephen Sartori. Vintage Details: a Fashion Sourcebook. London: Laurence King Publishing, 2016.