Sequins, Satin and Glam Rock: An Ode to Marc Bolan, "who started it all".
In this week's blog, CS Ambassador Ella Muir delves into the life and sartorial endeavours of Glam Rock's pioneering frontman, Marc Bolan.
by Ella Muir
In the Victoria and Albert Museum's theatre costume collections, preserved for prosperity there lies a suit: a shining two-piece formed of gold lamé and fashioned in London by Granny Takes A Trip, in their boutique on Chelsea's fashion-famous King's Road. This extravagant garment remains a lasting sartorial symbol of Britain's bygone glam rock movement; a style that mingled music and fashion, characterised by performances of utmost ostentation and flamboyance, and pioneered in the early 1970s. The revolution had arrived and it was one ruled by decadence, scattered with sequins and dashed with glitter. At its helm was Marc Bolan, wearer of this gold suit, pioneer of Britain's glam rock era, and "the man who started it all". [1]
When Bolan donned this suit of gold in 1972, glam rock was in full swing. Against a backdrop of economic crisis and social unrest, it presented the opportunity for ostentation and experimentation: through a combination of fashion and music, glam rock brought about a new movement, with London's boutique scene positioned firmly at the forefront. [2] In the 1960s a generalised rise in income and personal prosperity displaced the wealthy, mature elite who had dominated fashion in the decade prior, precipitating a wave of fresh designs and innovative styles created specifically for the young. This demand gave rise to the boutique: small, self-service shops that sought to offer affordability and informality in fashion. [3]
Situated at 488 King's Road, psychedelic tailor Granny Takes A Trip was in the company of sartorial royalty. In 1968 The Beatles had opened Apple Tailoring (Civic and Theatrical), a store dealing mainly in the 'regency look' of the period, whilst The Rolling Stones and their array of groupies took to hanging out at the Chelsea Drugstore complex, located down the road at number 49. [4] By the 1970s the area, also known as World's End, was host to a multitude of highly influential designers, including Mary Quant, Vivienne Westwood, and the Granny Takes A Trip boutique; a colourful explosion of patterns and fabrics powerfully reminiscent of psychedelia and flamboyance.
Reacting, as Simon Reynolds puts it, 'against the drab, denim-clad long-hair bands of the hippie era, glam rock was the first true teenage rampage of the Seventies'. [5] Costumes were outrageous, hairstyles extravagant, and when it came to using make-up, more was definitely more. The theatricality and verve of clothing associated with glam rock was a celebration of camp and androgyny: its wearers shunned the rigidity of gendered fashion in the years prior, with its men opting for satin, sequins and copious amounts of glitter, permitting a generation of fans to do the same.
The proponents of glam rock revelled in spectacle, and none more so than Bolan - frontman of the band T. Rex and pioneer of the movement. He was no stranger to fashion subculture; a model in his teenage years and an early adopter of Mod style, Bolan told Town Magazine of his 'ten suits, eight sports jackets, fifteen pairs of slacks, about twenty jumpers, three leather jackets, two suede jackets, five or six pairs of shoes and thirty exceptionally good ties'. [6] Clearly, this was someone with a marked interest in clothing, as his publicist Alan Edwards later said, "he wasn't just a dedicated follower of fashion - he created fashion". [7]
In 1971, a year before he would don his gold lamé two-piece, Bolan appeared twice on Top of the Pops alongside his T. Rex bandmates. Clad in a silver satin sailor suit with glittery teardrops painted beneath his eyes, the performances are widely acknowledged as the birth of glam; Bolan himself attributed ninety-five percent of his success to the way he looked. [8] By 1972 the movement was in full swing, Bolan draped in velvets, feathers, leopard print patterns and glittery flares at its forefront. The singer's sudden death in 1977, two weeks before his 30th birthday, put an untimely end to his life - but in his music and his style, Bolan's legacy endured.
"Marc Bolan exploded on to the pop scene, strewing it with sequins and sparkling flash". [9] His was an androgynous aesthetic and glamorous sense of style that continues to inspire: from musicians such as Lady Gaga and Lenny Kravitz to the collections of Yves Saint Laurent, Balmain and Anna Sui. In the sparkling space boots, plush velvet flares and shimmering jackets adorned with gemstones, the threads of Bolan's style endure. The man himself said it best, dressed in his best and with a typical lack of self-effacement: "If God were to appear in my room … I don't think I would be humble. I might cry, but I think he would dig me like crazy". [10]

References:
[1]Ken Barnes, 'The Glitter Era: Teenage Rampage', Bomp! (1978)
[2] Alwyn W. Turner, Glam Rock: Dandies in the Underworld (New York: Harry N. Abrams, 2013)
[3] 'An Introduction to 1960s Fashion', V&A <https://www.vam.ac.uk/articles/an-introduction-to-1960s-fashion> [accessed 2 August 2020]
[4] 'Whatever Happened to the King's Road?', All in London <https://www.allinlondon.co.uk/features/whatever-happened-to-the-kings-road> [accessed 2 August 2020]; Tom Pinnock, 'Try on, tune in, drop out: the story of Granny Takes A Trip and London's psychedelic tailors', Uncut <https://www.uncut.co.uk/features/try-tune-drop-story-granny-takes-trip-londons-psychedelic-tailors-102789/> [accessed 2 August 2020]
[5] Simon Reynolds, Shock and Awe: Glam Rock and its Legacy (London: Faber and Faber, 2016)
[6] Ben St. George, 'Electric Warrior: Marc Bolan', The Rake <https://therake.com/stories/icons/electric-warrior-marc-bolan/> [accessed 2 August 2020]
[7] Joobin Bekhrad, 'The Least-Known Most Influential Man in Fashion', New York Times (2017) <https://www.nytimes.com/2017/09/19/fashion/marc-bolan-london-fashion-week.html> [accessed 2 August 2017]
[8] Cameron Crowe, 'Marc Bolan: The little dynamo spouts off on the competition and (natch) his own genius', Creeme Mag (1973)
[9] Pamela des Barres, Rock Bottom: Dark Moments in Music Babylon (London: Macmillan, 1996)
[10] St. George, The Rake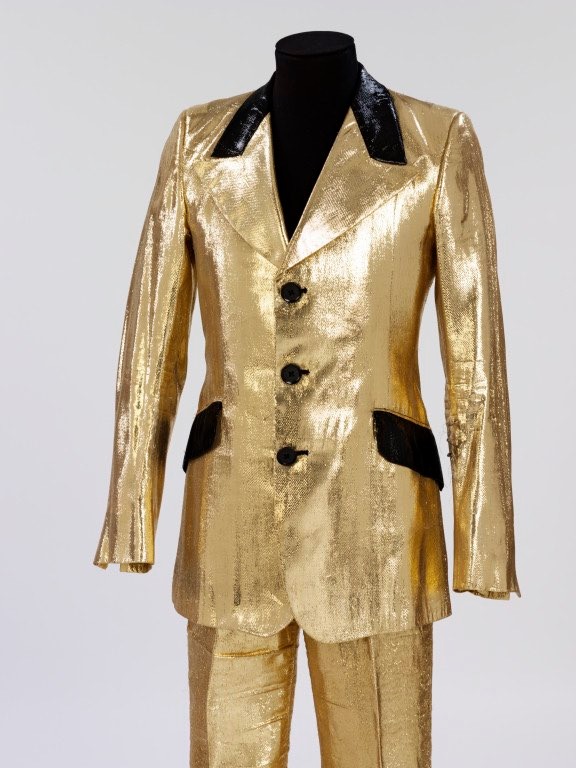 Suit worn by Marc Bolen: Granny Takes A Trip (Source: V&A Museum)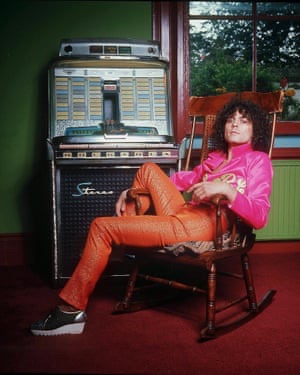 Jukebox dandy: Bolan in 1973 (Source: Roger Bamber/Shutterstock)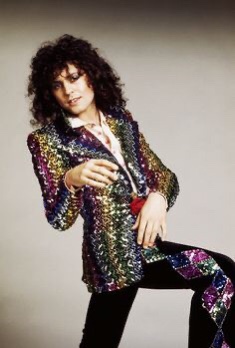 Marc Bolan, BBC (Source: Pinterest)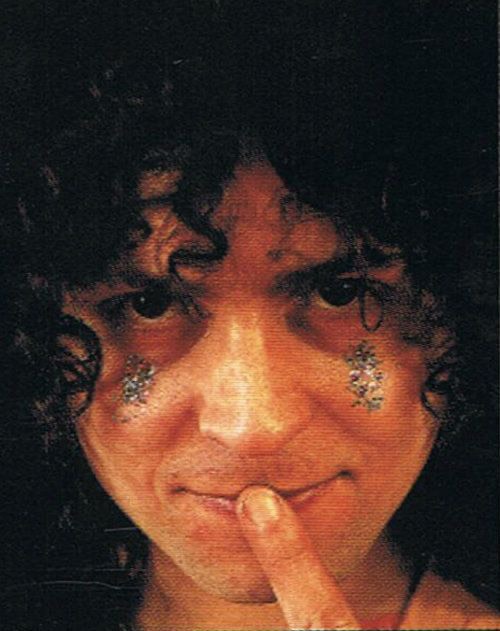 Marc Bolan, Top of the Pops (Source: Pinterest)
"