Sleeping Treasures: The Kate Elizabeth Bunce Kimono
To coincide with the opening of the V&A's much anticipated exhibition, KIMONO: Kyoto to Catwalk, as the subject of this week's blog, CS Ambassador Grace Victoria Bentley takes a look at the Kate Elizabeth Bunce Kimono.
by Grace Victoria Bentley
Last year, Birmingham City University's Senior Lecturer and Leader of BA Hons Costume Design and Practice, Louise Chapman, kindly gave me access to a kimono found amongst the Kate Elizabeth Bunce Collection, which was bequeathed to the university upon her death in 1927. This veritable treasure trove dating from 1775 was discovered in a cupboard in 2012 and has since become the subject of Louise's PhD to help ensure its future preservation.
Upon seeing the vibrant flash of red silk, my initial impression was of a vivacious, passionate young woman. My research confirmed that this colour was thought to express the glamour and allure of youth. (1) The shell and hem of the kimono are padded with wadding; probably to provide warmth, shaping and to give it weight as the garment is exceptionally light (Figure 1).
Kimono often showed landscapes representing scenes from plays and well-known myths. There is an outer kimono, or uchikake (1860-1880), in the Victoria & Albert Museum, which depicts the Chinese legend of Shakkyo (Stone Bridge). However, this is a relatively rare example of human figures been used in kimono design. (2) Natural subjects including flowers, animals and birds (such as cranes which represented longevity) were common. These motifs were meant to reflect the character of the wearer and some were specific to ceremonies and occasions. (3) The fabric of this kimono is a fine silk with a pattern of clouds, flowers, trees, running water, a pair of fans (this may imply the presence of two lovers recently fled the scene) and what appears to be a gaming board and a writing desk. The pattern does not entirely match up at the side seams (Figure 2), which suggests that the pattern has been printed, rather than painted.
Satin stitch worked in different colours, as well as couched gold 'Japanese' threads highlight some of the motifs. These brief touches of gold over the whole garment seem typical to the kimono. All-over goldwork would have been absurdly costly, but these sprinklings of gold give the garment just a hint of opulence.
As hand embroidery was first practiced thousands of years ago to reinforce worn clothing, it is not surprising that the embroidery here has extended the life of the fabric (Figure 2). The goldwork motifs are very well preserved, with nearly all the couching threads still intact (Figure 4). The white substance used to create such lovely patterns, sadly seems to have been responsible for the breaking down of the fibres (Figure 5). The white dye or bleach may have contained zinc, which has historically been used in white paints and pigments.
While the garment is believed to be an early 20th century item, it could pre-date this by some decades (4). However, the garment's ageing and the considerable wear to the fabric may be due to it being used in university shows and parties prior to its recent discovery. The garments were not afforded as much respect and care as they enjoy today (Victorians often wore their 'hand-me-down eighteenth century garments to fancy dress parties, which contributed to their rapid degeneration). Before its discovery, the Bunce collection painted a somewhat forlorn picture; dusty historic gowns, mouldering away in a lonely corner, their value and purpose forgotten. But now, despite their sorry condition, items such as the kimono, remain fascinating garments for our continued study and understanding. One hundred years on they continue to feed the imagination of young makers, teaching them that clothes are like shells we leave behind, echoing the shapes of our lives.
With special thanks to Louise Chapman and Birmingham City University; Louise Chapman's portfolio can be viewed at https://lchapman070161.wixsite.com/website

References
1 https://www.vam.ac.uk/articles/kimono
2 https://collections.vam.ac.uk/item/O1298036/kimono/
3 https://www.vam.ac.uk/articles/kimono
4 Conversations with Louise Chapman in person and over text.

Bibliography/ Further Reading
https://digitalcommons.unl.edu/cgi/viewcontent.cgi?article=1800&context=tsaconf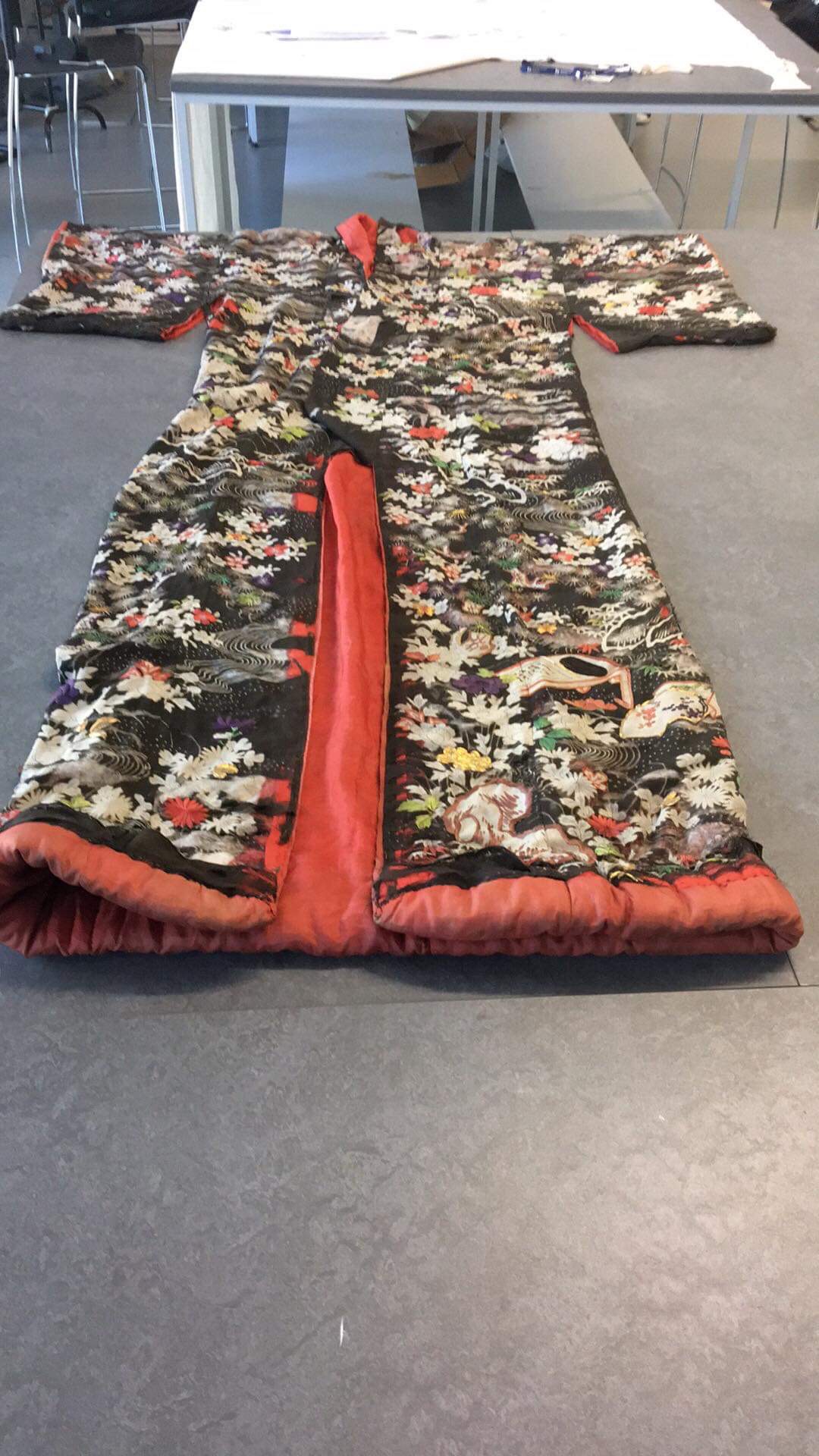 1. Figure 1: 'Kimono Front', Grace Bentley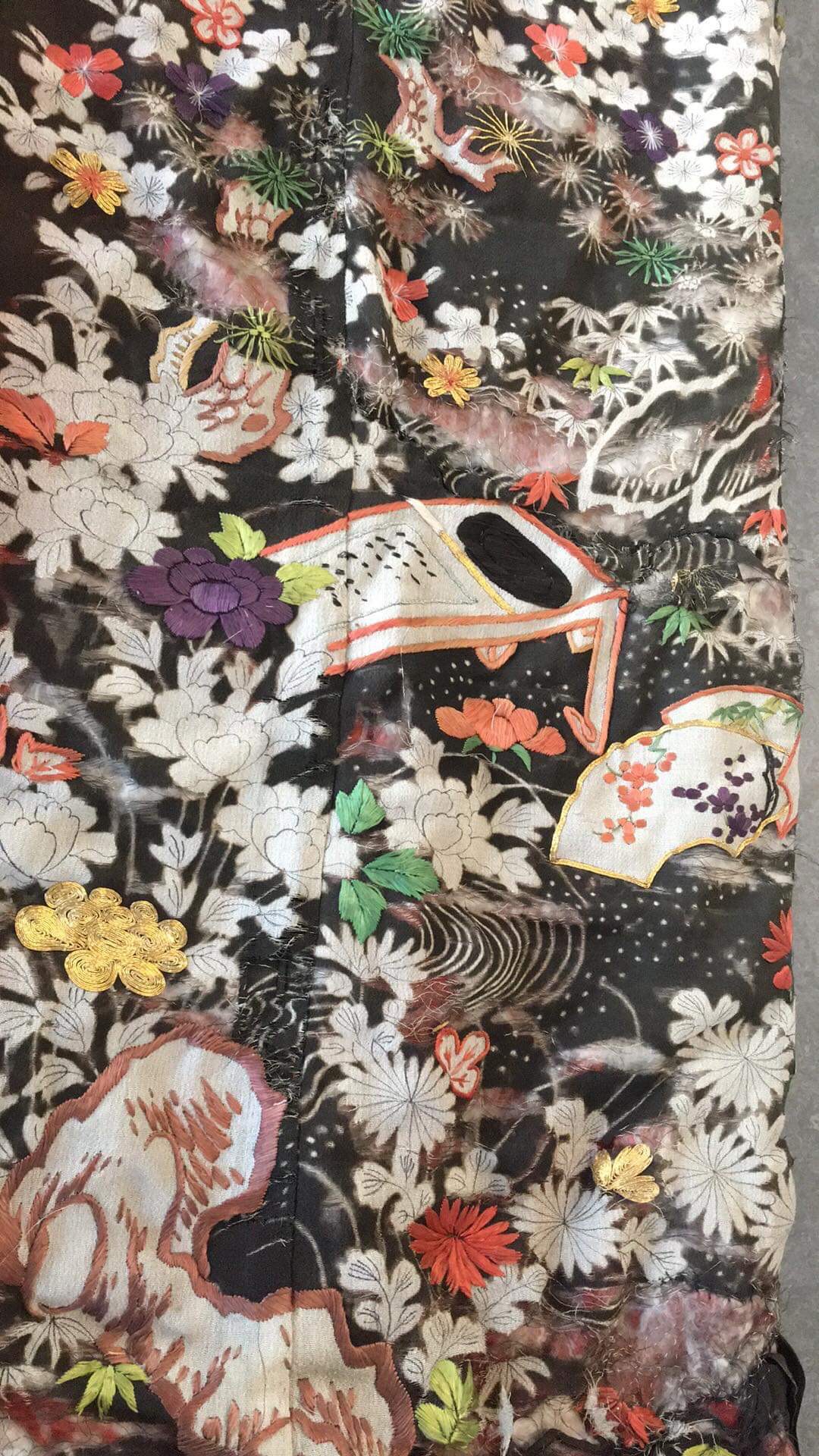 2. Figure 2: 'Design', Grace Bentley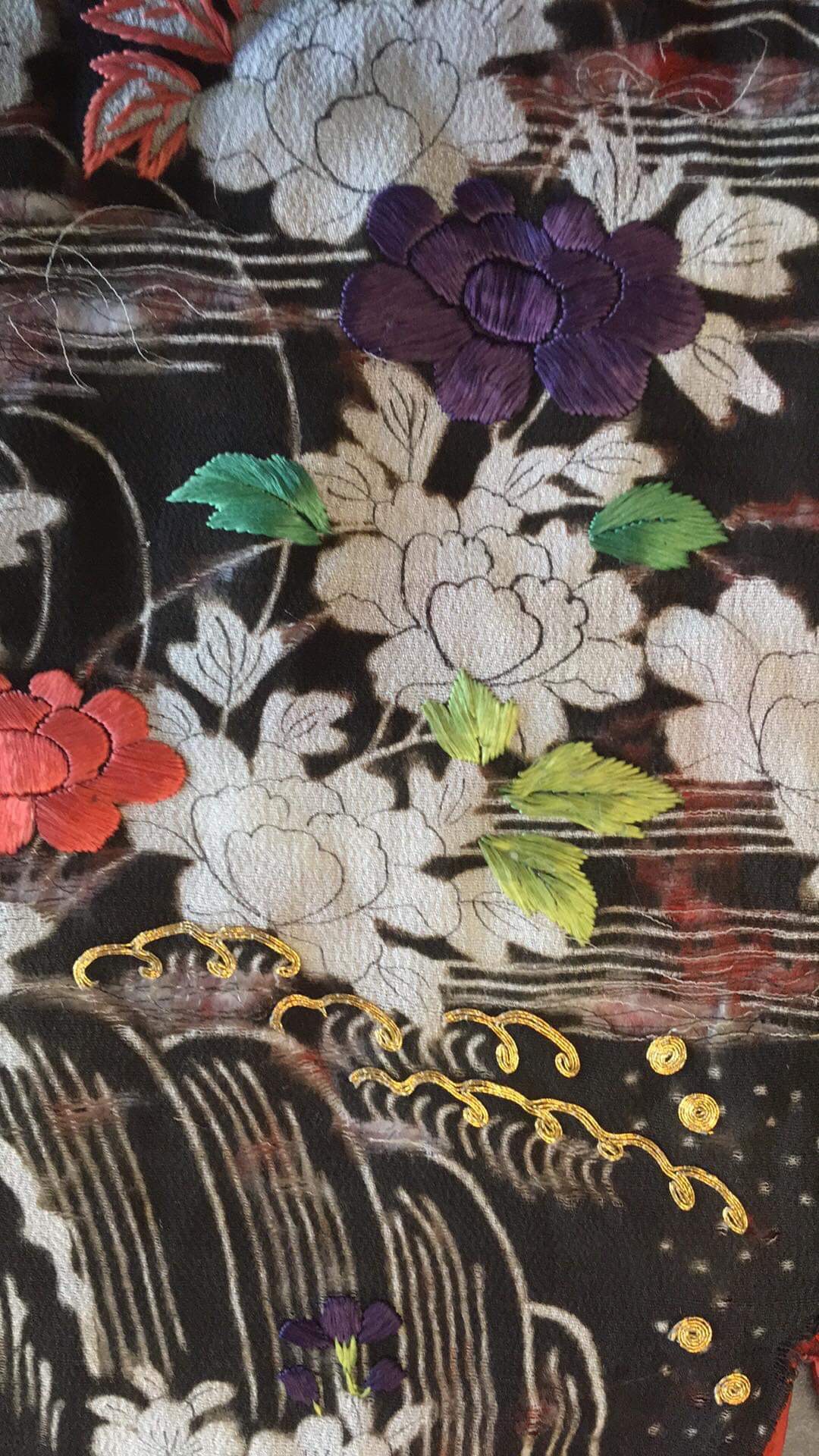 3. Figure 3: 'Embroidery', Grace Bentley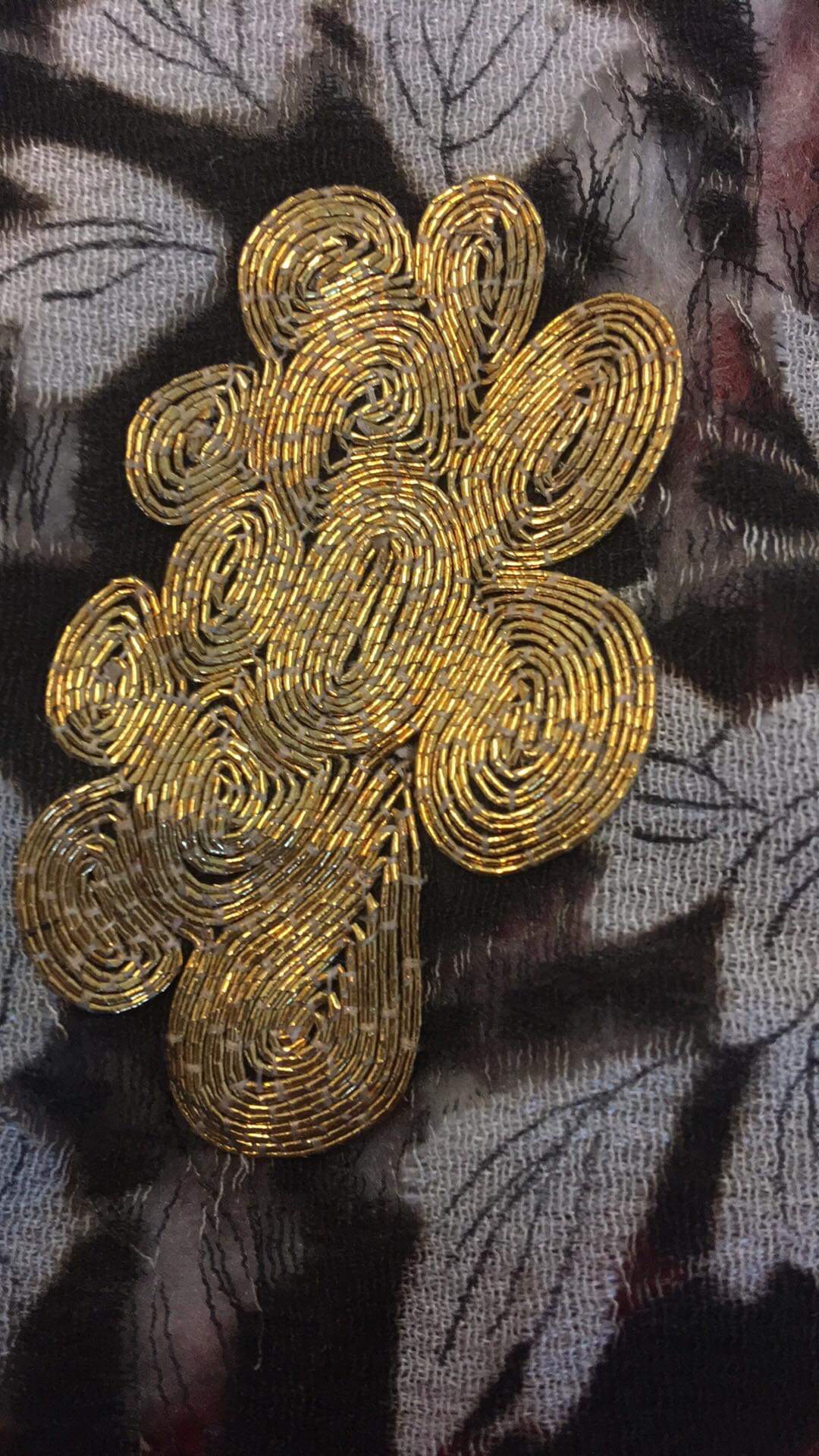 4. Figure 4: 'Couched Goldwork', Grace Bentley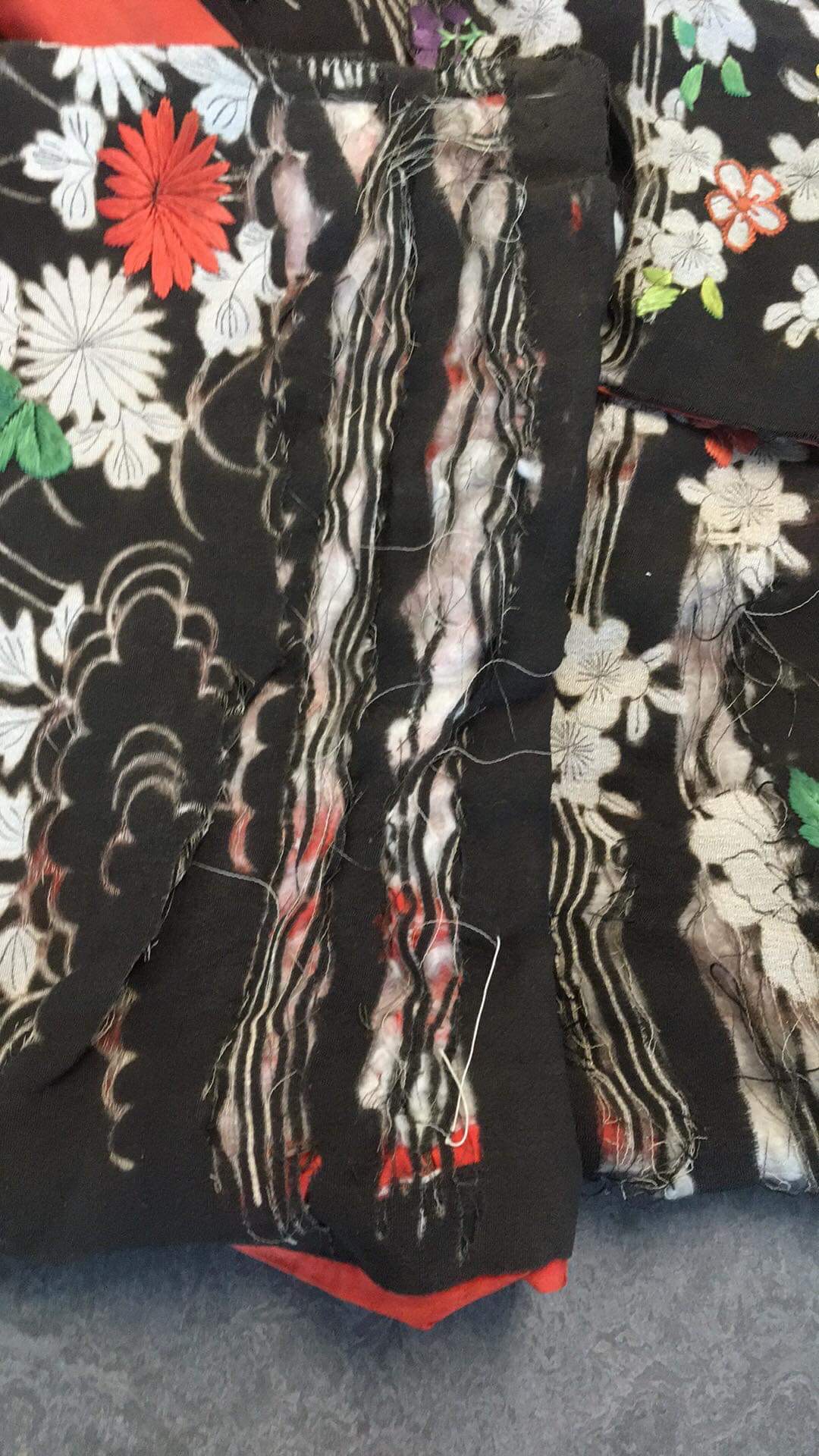 5. Figure 5: 'Deterioration', Grace Bentley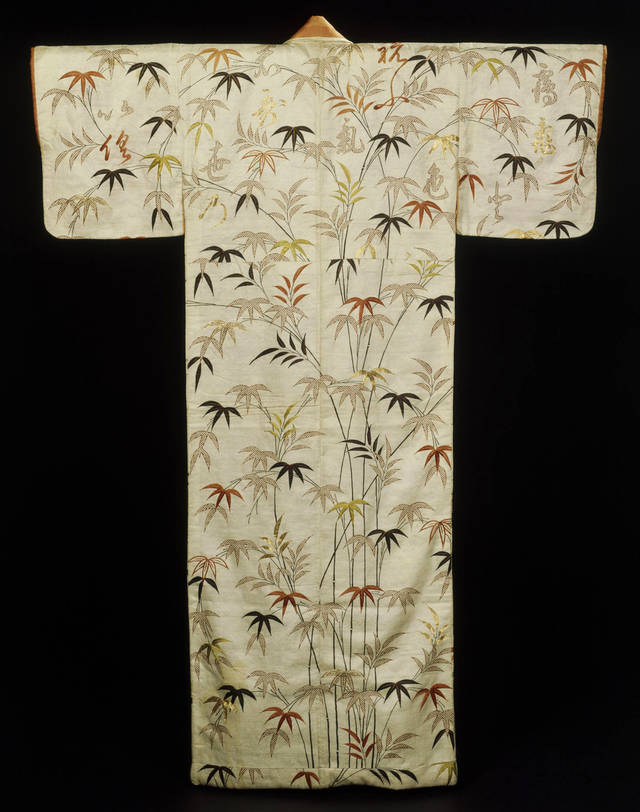 6. Figure 6, 'Kimono, 1780-1800, Japan'. Image courtesy of Victoria and Albert Museum, London
"