Stovepipe Hats and Bedgowns: An Exploration of the Welsh National Costume.
In this week's blog, in honour of St. David's Day, CS Ambassador, Gemma Esvelt, explores Welsh national costume.
With St David's Day, a national day of celebration in Wales, nearly upon us normally one might expect to see young children wearing the national costume such as that shown in image 1. In Wales, many primary schools hold an Eisteddfod, (a festival of music, language and culture) with a parade for the children often through the streets of the town. You would see young girls wearing the ionic tall black hat, a red dress, chequered apron and a white lacey shawl held together with a daffodil pin. But where did this version of welsh national dress come from? Was it really the invention of Lady Llanover? And did women actually ever wear that hat as a part of their normal clothing? This blog post is a shallow dive into the study of Welsh national costume, highlighting the main theories and controversies and exploring the key elements that make up the costume.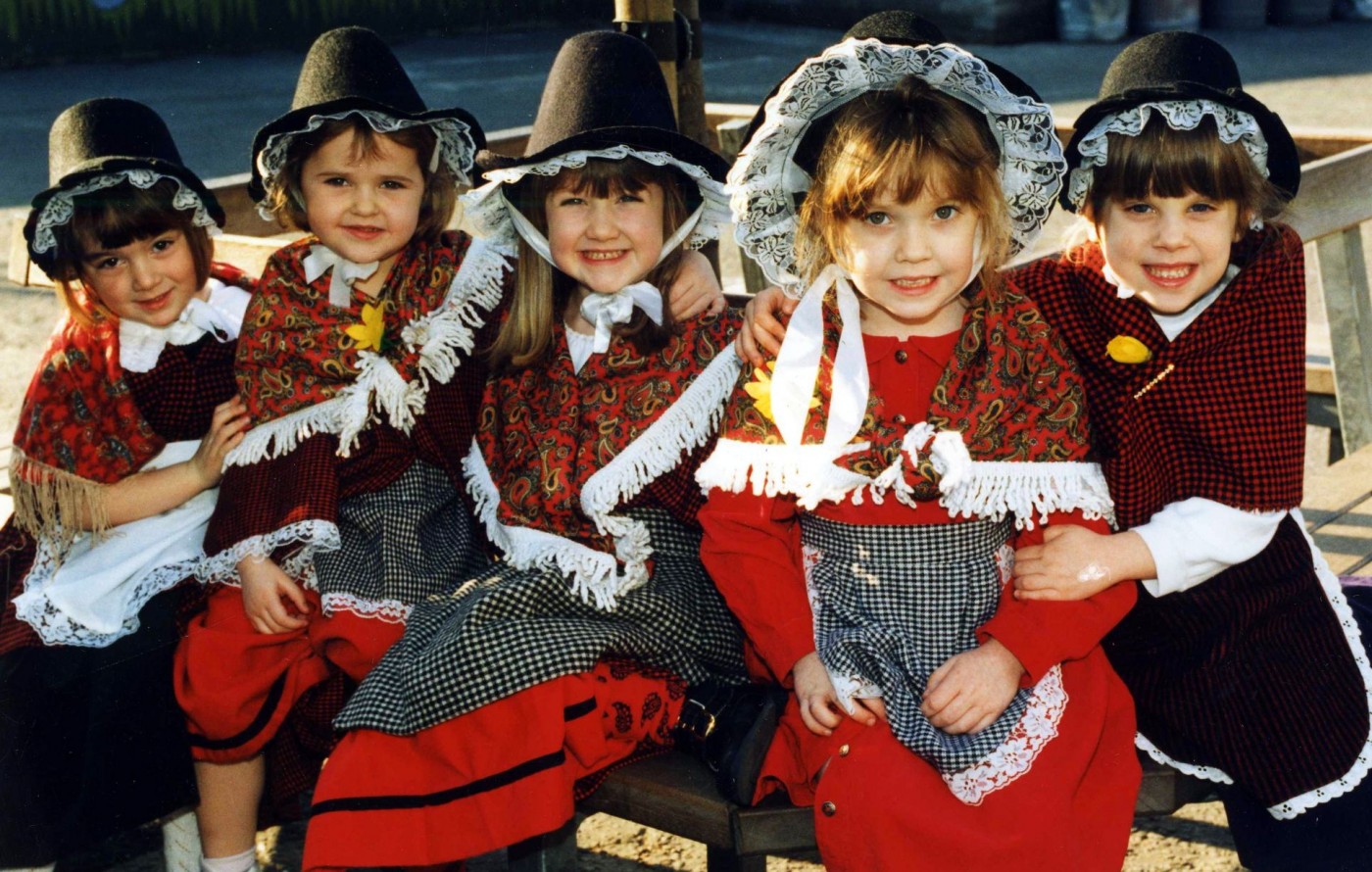 Figure 1.Five young girls in traditional Welsh dress at Ysgol Gymraeg Treganna, Cardiff in 1998.
Image from: Wales online, 25 Feb 2014, 26 fantastic pictures that show St David's Day celebrations in Wales through the years. Available at: https://www.walesonline.co.uk/incoming/gallery/26-fantastic-pictures-show-st-6745527

Prior to the early eighteenth century, there was no such thing as a unified national costume in Wales [1]. Much of our evidence comes from the letters, journals and artworks of English tourists who visited Wales in search of the romantic countryside from the 1770s onward. It can be problematic relying on these accounts as they 'concentrate on the quaint and unusual,' also little material culture prior to the 1830s survives [2]. Generally, working women in rural Wales wore a woollen 'bedgown', petticoat, a 'whittle' fastened with a thorn, a handkerchief over the head and a man's felt hat.
According to Christine Stevens, it is possible to identify central elements of rural utilitarian dress which suggests a folk or traditional dress which have since come together to create the national dress [3]. The only components that seem to be uniquely welsh was the bedgown, because by the late eighteenth-century English women no longer wore it, and the fact that women wore the same hat as men.
Augusta Hall known as Lady Llanover (1802-1896) has often been accused of inventing the welsh national costume [4]. She was a major figure in 19th-century Welsh cultural revival also promoting welsh language Cymraeg, welsh literature and music. Lady Llanover's influence comes from her 1834 essay and accompanying watercolours sketches of welsh women in costume. Her research was based on what working women in rural wales actually wore, but the sketches themselves are a glamorised fashionable version, see image 2. Her argument also focused heavily on supporting the Welsh woollen industry, lamenting the fact that women were turning towards flimsy cotton and away from locally produced wool flannel [5].
It has since been revealed, by recent scholarship, that Lady Llanover's influence on the welsh national costume was greatly exaggerated [6]. Mass tourism and the souvenir trade of the later nineteenth century probably had a greater effect on promoting the romanticised standardisation of welsh costume. In images 3-4, you can see the staged postcard image of the welsh ladies in colourful costumes and the cute quaint old women in their cloaks and hats having tea. Since the 1950s the costume is now less practical, lacier, and frillier becoming a visual symbol of Welsh identity and usually only worn at special events such Eisteddfod or on St David's Day.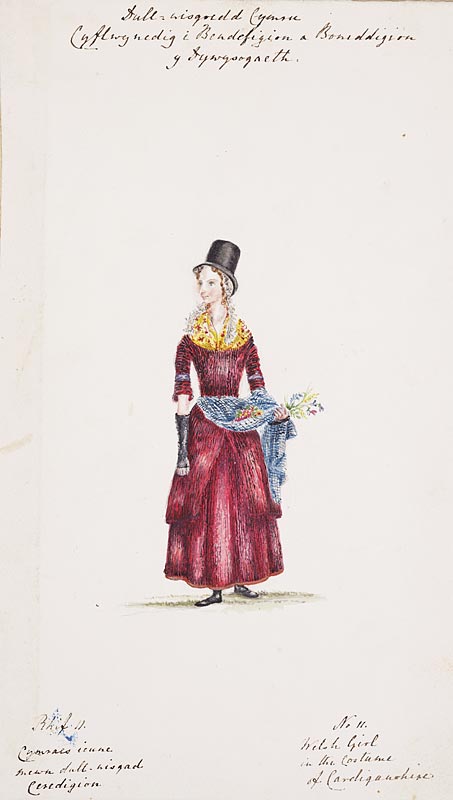 Figure 2 :Short title Lady Llanover's sketches: Girl in costume from Cardiganshire. No 11 From the album of watercolours of Welsh costume, commissioned by Lady Llanover, painted by A. Cadwallader. Image courtesy of National Library of Wales. NLW DV 299.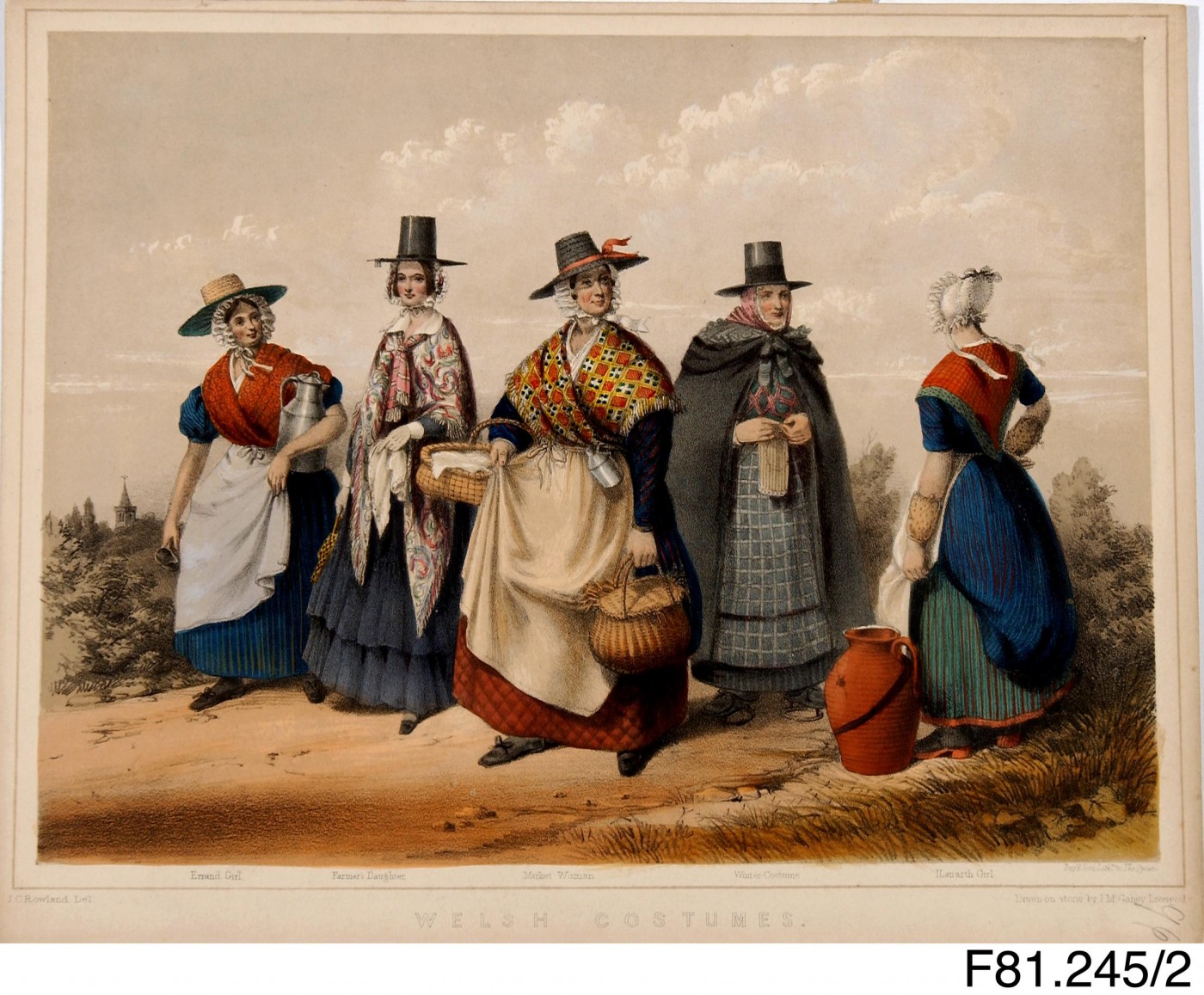 Figure 3:Welsh Costume Illustration from 1848. Artist: Rowland, John Cambrian. Image courtesy of National Museum Wales. F81.245.2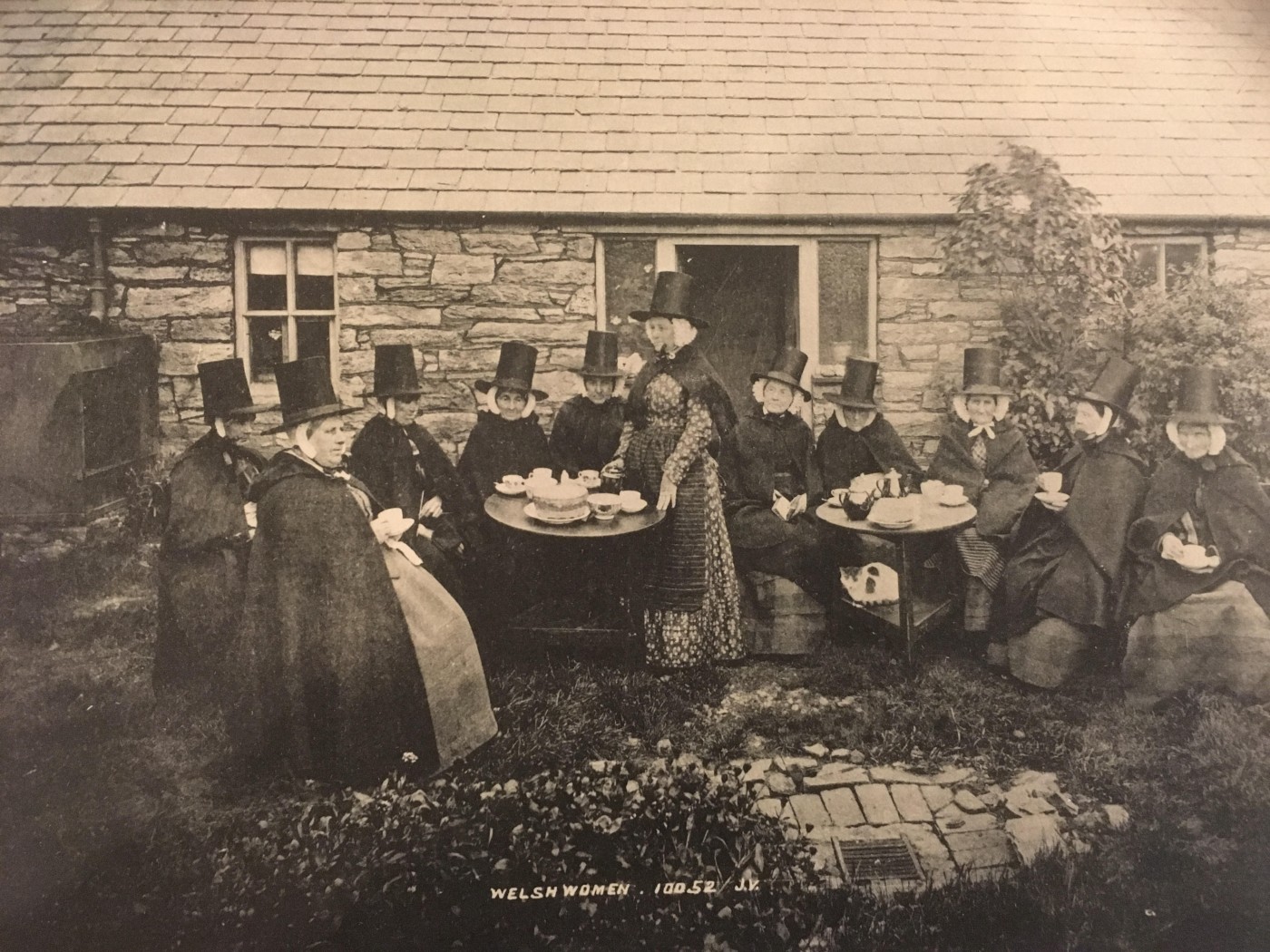 Figure 4: Postcard of Welsh women in costume having tea. c.1900. Image courtesy of Y Lanfa Powysland Museum.
Below is a brief exploration of the elements that make up the Welsh national dress for women.
Het Gymreig / Welsh Hat also known as a Stovepipe or Chimney Pot Hat
The tall black conical shaped hat is the most recognisable and unique elements of Welsh National dress. There is little evidence of this tall hat being worn prior to the 1830s and even then, it was usually worn only on market days or at important events, not as an everyday utilitarian hat. The possible origins for this hat have been extensively explored by Michael Freeman, one possible link is to the Quaker 'wideawake hat' and the quaker movement in Wales from the mid1650s [7].
From the 1840s the het gymreig came in two different shapes. In south and south-west Wales it was taller and slightly conical, typically made by hatters outside Wales in London, Bristol and even Paris. In north Wales, the hats were more drum shaped with a slightly tapered crown and usually made locally. Surviving hats from the 1830s onwards were made with silk plush on stiffened buckram. These hats were expensive, very fragile and not the easiest to wear, often needing a ribbon to tie under the chin in order to stay secure on the head [8].
Betgwn / Bedgown
This is probably the most traditional part and oldest part of the national costume. There are two types of betgwn, a loose T-shaped gown and the more common tailored gown with a fitted top, ¾ or full-length sleeves and an open tail that varied in length from a short flare just below the hips or to the knees. Traditionally made of red or dark blue locally produced wool flannel and later more colourful patterned flannels or printed cotton.
Pais / Petticoat or Underskirt
Full length gathered skirt worn underneath the betgwn, usually made of a heavy gwlanen flannel with horizontal or vertical stripes of contrasting bold colours such as red, white, dark blue and black.
Y Clogyn / Cape or cloak
Today the red one is usually worn but up until the 1860s blue was more common. Nineteenth-century capes have a hood large enough to cover the tall hat with a decorative detail along the edge.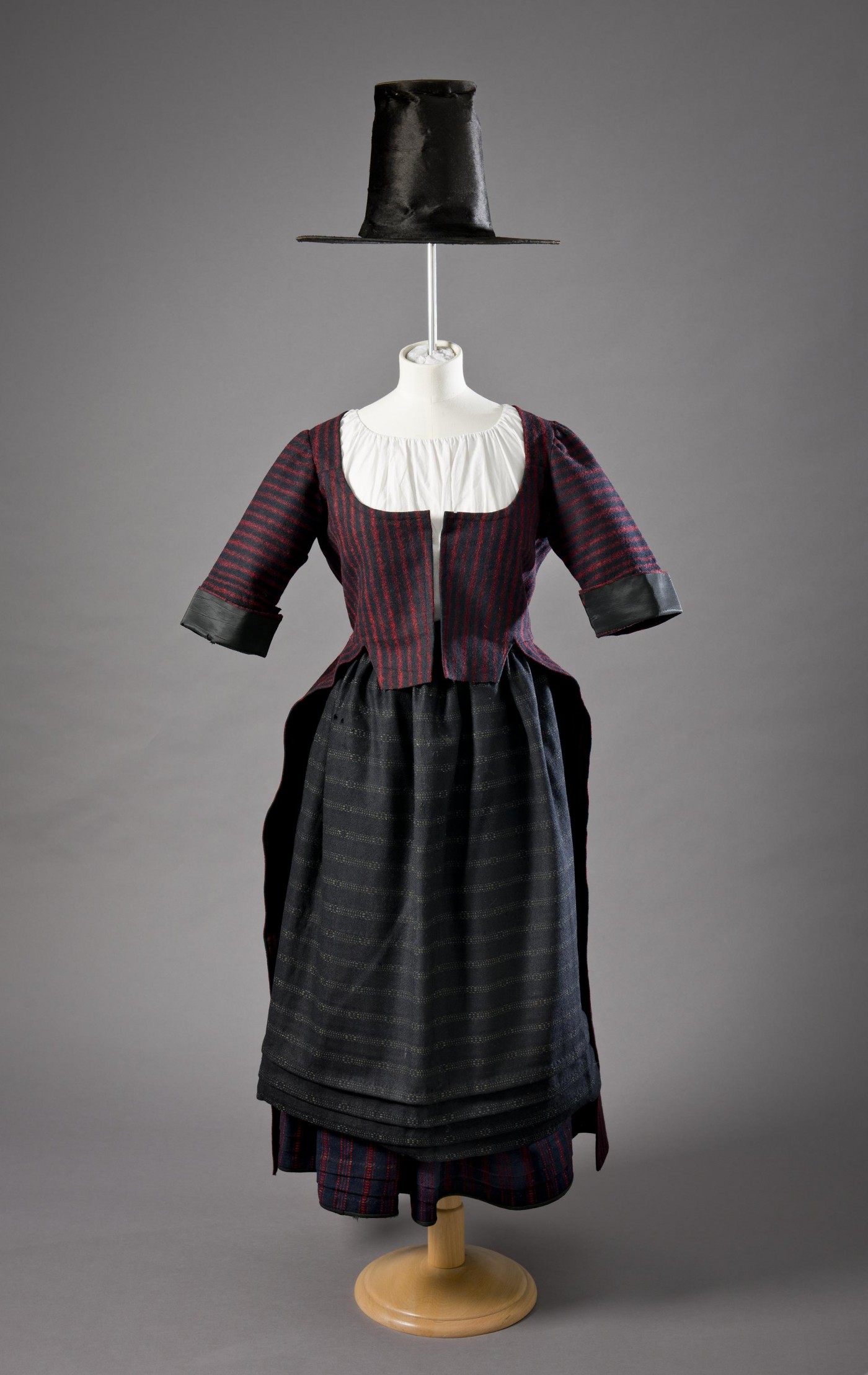 Figure 5:Bedgown. Image courtesy of St Fagans National Museum Wales. F69.14.1
Ffedog / Apron
The apron worn by children on St David's today is usually small with decorative lace or black and white check. Aprons worn by working women would have been much larger and used to protect the skirt or to carry items. Made of course linen, cotton or flannel in sometimes in a lighter colour sometimes or with a check print. In image 5 you can see the bedgown, petticoat and apron.
Siôl / Shawl
There are a variety of different shawls worn by welsh women depending on geography and work type. Today, the predominant shawl is paisley or fringed worn tucked into the apron. The forerunner to the shawl was the whittle, a narrow width of flannel wrapped around the body. Catherine Hutton who visited Aberystwyth in 1787 and recorded that, 'they wear a long piece of woollen cloth wrapped around the waist. I have a hundred times seen a woman carrying a pitcher of water on her head, a child or a loaf in this wrapper, and knitting as she walked along' [9]. See souvenir doll in image 6.
Hosanau or Sanau / Stockings
Wales has a long tradition of stocking knitting with noson weu (knitting evenings) being a common social gathering in rural Wales [10]. Footless stockings were more traditional as most stockings were sold for export.
There is no equivalent national dress for men. Illustrations often show men in their Sunday best rather than their working clothes wearing breeches and stockings which stayed popular until the 185, shirt, waistcoat, neckerchief and a woollen jacket [11]. Men's clothing was similar to what was worn in the rest of the UK therefore it is less commented on.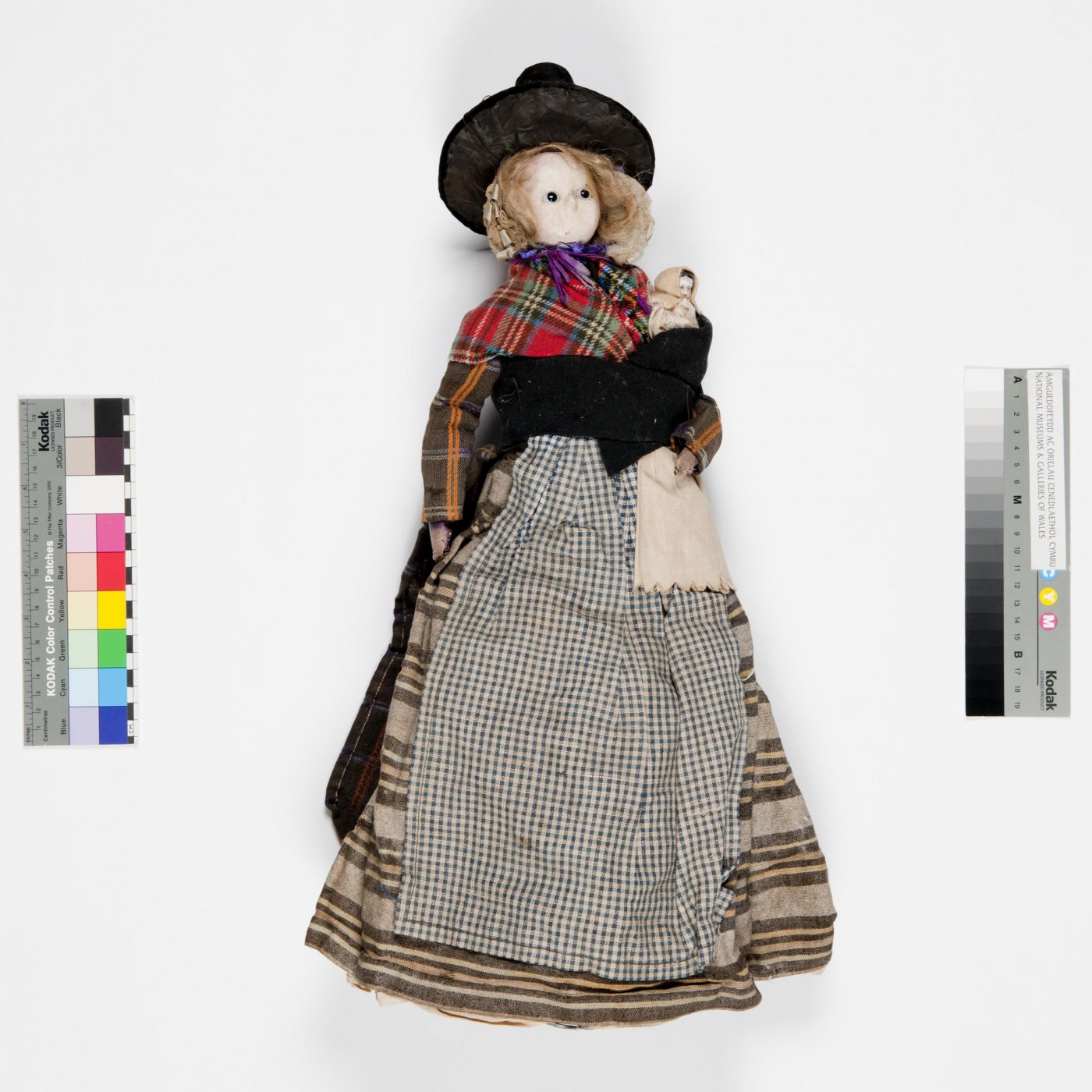 Figure 6:Doll in Welsh National costume, you can see the baby tucked into the whittle. Image courtesy of National Museum Wales item number 30.316
References
[1] Johnson, Ben., n.d. Traditional Welsh Costume. Historic UK. Available at: https://www.historic-uk.com/HistoryUK/HistoryofWales/Traditional-Welsh-Costume/ [Accessed 18th January 2021].
[2] Stevens, Christine., 2002. Welsh Peasant Dress — Workwear or National Costume?, Textile History, 33(1), pp.63-78, p.64.
[3] ibid.
See also, Stevens, Christine., 2004. Welsh Costume: The Survival of Tradition or National Icon?, Folk Life, 43(1), pp.56-70.
[4] Guren-Williams, Celyn., 2008. Lady Llanover and the Creation of a Welsh Cultural Utopia. Ph.D. Cardiff University. Chapter 5, pp.145-194.
[5] ibid p.151.
[6] see works in bibliography by Christine Stevens, Michael Freeman, Celyn Guren-Williams, Helen Forder.
[7] Freeman, Michael., 2020. Welsh Costume / Gwisg Gymreig. Available at: https://welshhat.wordpress.com[Accessed 18th January 2021].
[8] Freeman, Michael., 2008. Welsh Hat. Ceredigion Museum. Available at: http://pilgrim.ceredigion.gov.uk/index.cfm?articleid=10006.Accessed 18th January 2021].
[9] Beale, Catherine Hutton., 1891. Reminiscences of a gentlewoman of the last century: letters of Catherine Hutton. Cornish Brothers: Birmingham, p. 52 quoted in Stevens, Christine., 2002. Welsh Peasant Dress — Workwear or National Costume?, Textile History, 33(1), pp.63-78, p.65.
[10] Lucas, Mark., 2020. A Christmas Stocking Full of Welsh History about Socks!. Museum Wales blog, [blog] 4 December. Available at: https://museum.wales/blog/2020-12-04/A-Christmas-Stocking-Full-of-Welsh-History-about-Socks [Accessed 18th January 2021].
[11] People's Collection Wales, n.d. Welsh Costume: Men's clothes. Available at:<https://www.peoplescollection.wales/collections/840731>[Accessed 18th January 2021].
Bibliography/ Further Reading
1 Forder, Helen., 2013. High Hats and Harps. Tallyberry Publishing: Tonypandy Rhondda Cynon Taf Wales.
2 National Museum Wales. Welsh National Dress FAQ. Available at: https://museum.wales/articles/2014-06-14/Welsh-National-Dress-FAQ/
3 Stevens, Christine., 2000. Welsh Costume and the Influence of Lady Llanover. Friends of the National Library of Wales conference, Aberystwyth, Wales, 16 September 2000. Available from: http://<https://www.library.wales/fileadmin/fileadmin/docs_gwefan/amdanom_ni/cyfeillion/darlithoedd/cyfn_dar_CStevens_000916S.pdf>