The Burmese Performance Costume
In her second case study Sarahlouise explores this extraordinary costume from Brighton Museum.
Sarahlouise Newman
Classical Burmese dancing is a tradition which stems back to around the 6 th century, although this could be contested, as Burmese dance also has elements of Indian danc e, which dates back to around the 13 th century. Th is Burmese perform ance costume is situated in the ' Performers and S pectators ' exhibition , upstairs in Brighton Museum and Art G allery. Th is permanent fixture was created by the London based Burmese designer Panchee nay Myo.
Panchee left Burma in 1962 and moved to England bringing with him his gift for creating authentic Burmese costumes , having studied historical costume extensively. Throughout the s ixties and s eventies, Panchee made costumes for all the characters in the marionette theatre, which he was also trained in , bringing classical Burmese dancing to the British public . This garment is particularly important because it is an amalgamation of elements from the two different continents; Panchee had brought textiles with him from Burma and these were used alongside fabrics and materials from London markets.
The costume is handmade for a slim built male and is covered with different types of sequins and coloured silk. There is also a headdress which is not currently on show at the m useum. The blue sequinned shoulder piece and the front layered panels can be removed, leaving a tailored purple silk jacket and orange lower dress. The twentieth century garment shows the viewer how traditional Burmese tailoring and textiles are used to create costume. A garment such as this in the past would have been shown in front of royalty while performing a dance routine. Currently there is no further information on the outfit, however, there are also marionette puppets within the exhibition further showcasing Panchee's work.
For more details https://brightonmuseums.org.uk/discover/2015/02/26/marionettes-from-burma-2/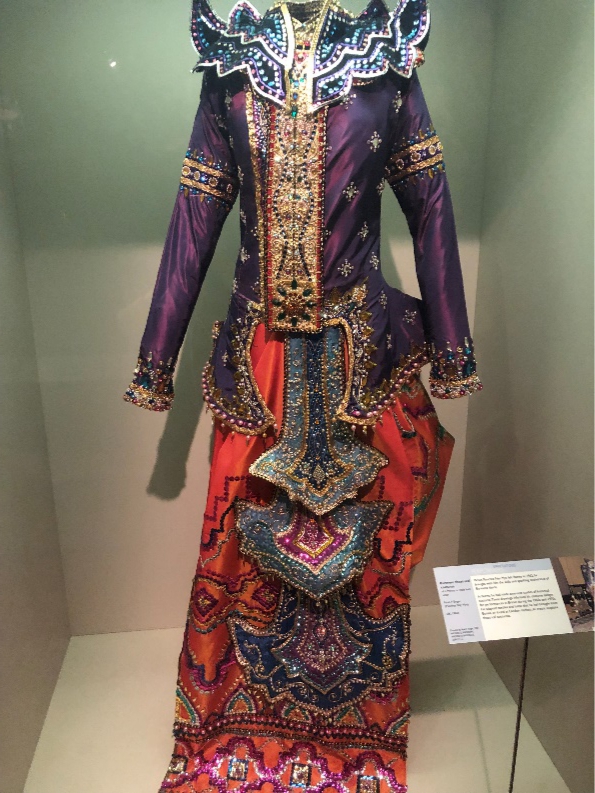 Burmese performance costume © Brighton Museum and Art Gallery
"