The Costume Society September Reading Group: Louise Chapman on the Cabinets of Costume
In our latest blog, Costume Society Ambassador Gemma Esvelt reviews the September Costume Society Reading Group hosted by Lottie Mosse with Louise Chapman discussing her recent article, "Cabinets of Costume: Renegotiating Participation Through Practice, Object-Based Study and 'Ghosts' of an Assemblage of Dress", which appears in Costume 2020, Vol 54 No2, pp222-241
The Costume Society Reading Group meets virtually for in-depth discussions with authors whose work has been published in Costume, the Society's journal. On the first Monday of September 2021 we were honoured to be joined by Louise Chapman, a theatre costume practitioner and Senior Lecturer and Course Leader for the Costume Design and Practice undergraduate degree at Birmingham City University (BCU).
Louise's article "Cabinets of Costume: Renegotiating Participation Through Practice, Object-Based Study and 'Ghosts' of an Assemblage of Dress" appears in Costume 2020, Vol 54 No2, pp222-241 and explores the lead up to the exhibition Cabinets of Costume held at Birmingham City University in May 2017.
BCU holds a large archive of historic costumes which Louise described as 'two gatherings' rather than a collection; one from Kate Bunce, an English artist associated with the Arts and Crafts movement, bequeathed to the university which is largely catalogued and labelled. And a second gathering or 'assemblage' that has been donated over many years and is more erratic in its formation. Louise told us how the Cabinets of Costume exhibition had offered a unique opportunity for a selection of costumes from the archive to be displayed but also to be studied by students and show the value of object-based study and the creative process of making.
Creating the ghosts
For this project five costumes were chosen, and students were tasked with creating representations of the original garments, which were later referred to 'ghosts' since they were made up from white organdie cotton. Louise explained that the curatorial team had chosen to limit the number of costumes to only these five pieces covering the nineteenth century and it was these that were offered to students.
From a personal perspective, Louise spoke about her own favourite dress and how students were encouraged to choose to work with the garment that most spoke to them, as Louise said, to feel 'the sympathetic vibration of the garment' accepting the emotional and personal pull. The pull being a handwritten label and the connection she felt to the original maker as a maker herself. Using the 'maker's lens,' as Louise describes it in her article, she explained the deeper understanding one gets from the shared practical knowledge of how clothes are made which allows for an embodied participation when engaging with a garment. Thus highlighting how object-based study of historical dress is such a fantastically useful tool in university education.
Louise explained how the cohort of students involved in the 2017 exhibition project were a mixture of BCU students from different pathways, including fashion, costume and garment technology. Students were paired up and Louise related how interesting it was to see how each pair collaborated to navigate the process and strategized to maximise their combined skill sets. Louise stressed how challenging the project had been for the students, with the safety net of the pattern cutting block and the reliance on modern techniques removed, and that students had to embrace the material flaws and construction oddities of the chosen garment. Louise shared how the students were 'encouraged to work more creatively.' [1] She said students were told that taking photographs should be a last resort and that instead the emphasis should be on slow observation and spending time with the garment following the principles practised by Jules Prown [2], Ingrid Mida and Alexandra Kim. [3]
A further challenge that Louise revealed was in the making of the exhibition mannequins, but they were nonetheless, an interesting part of the creative process for students. Due to the transparent and ghostlike quality of the cotton organdie fabric the mannequins became part of the exhibition and research process. Students were required to construct a mannequin to fit their garments perfectly which added to their investigative learning and required extensive recording of measurements. Made from papier mache, imagery and literature related to the time period were subsequently pasted onto the surface of each of the mannequins.
As referred to in Louise's article, there were significant conservation challenges to putting on the exhibition. There was also a challenge with the feeling of the space, which was, she explained, very corporate, 'like a white box gallery'. Louise said she felt a sense of responsibility to Kate Bunce (the original collector of the archive) to make the space a comfortable and more domestic one. This extended down to the invitation design, and Louise created an inviting space with an Alice in Wonderland style doorway that encouraged visitors to actively interact with the exhibition. With a gazebo in the centre, filled with domestic materials, visitors were invited to explore by opening drawers and lifting flaps.
During the evening Louise spoke engagingly about her background in theatre, as a maker and researcher and how this had influenced the way the costumes were displayed in the exhibition. She remarked how she feels the relationship between theatre and performance is sometimes lacking in current fashion exhibitions; that sense of experience, the performative aspect and being able to explore. Louise told the audience how she had wanted to bring the practices she learnt in theatre to this exhibition, 'I wanted people to experience them [the costumes] … to share in my experience, the joy of finding objects and to get as close as possible to that sense of discovery.'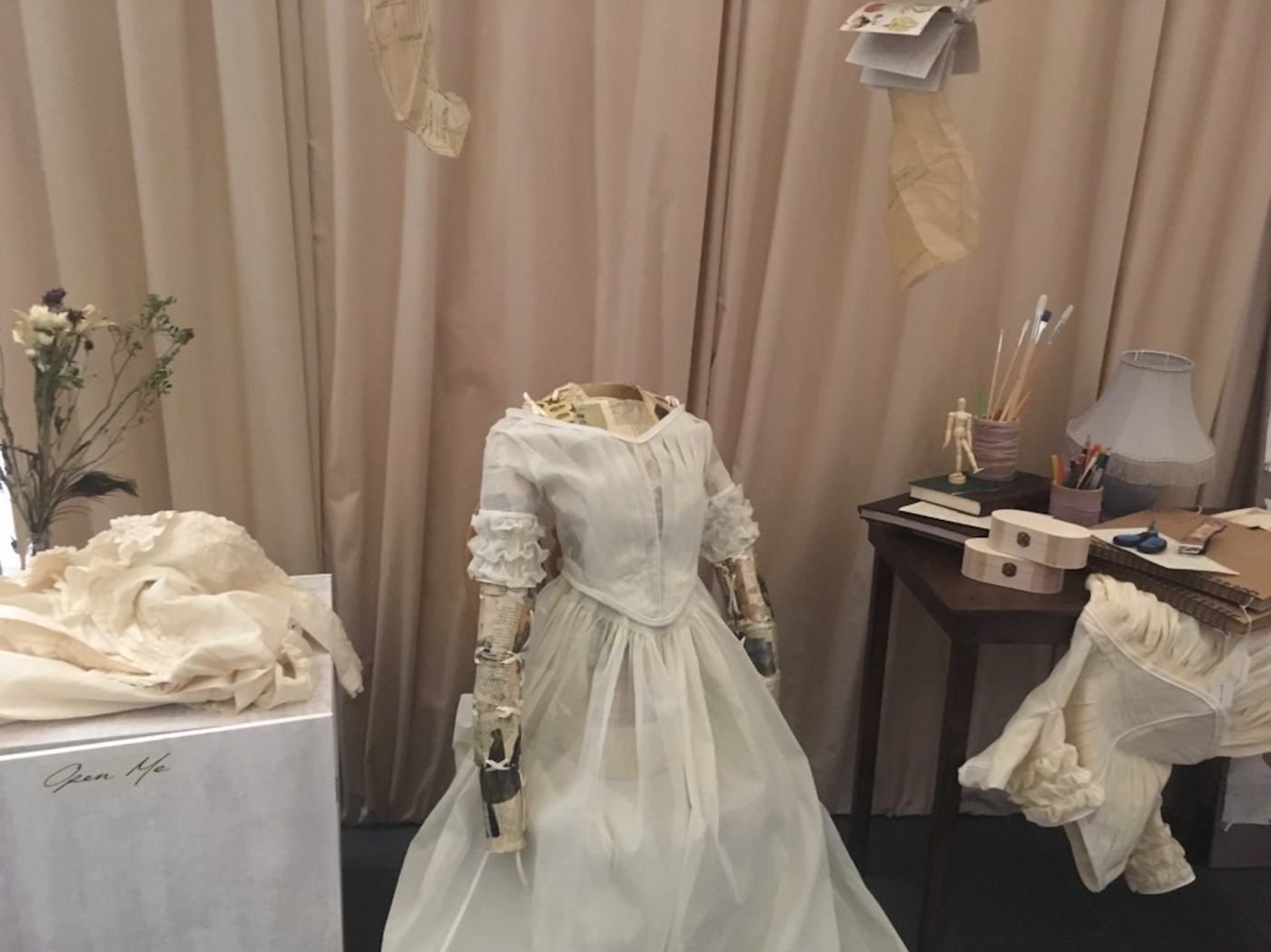 Image 3 Final 'ghost' of honeysuckle printed day dress c1847, in Cabinets of Costume exhibition.
The reading group finished with Louise sharing an image of a fabulous purple hood from the collection which is stuffed with sheep's wool . She explained that although it is a 'substantial and sculptural piece' it is instantly relatable to students since it has the look and feels of a contemporary puffa jacket. Louise told us that such relatability means the hood always creates a buzz and demonstrates the evocative power costumes have over us, echoing the earlier discussion about how participating students had been drawn to certain specific garments in their process of selecting what to reconstruct for the exhibition.
Costume Society members will have access to a recording of the reading group after the event. And remember that as a Costume Society member you can access a digital version of Louise's article via our extensive Costume archive . If you are interested in becoming a member of the Costume Society, please visit our Membership page or contact our Membership Secretary Beth Evans.
References and further reading
1. Chapman, Louise., 2020. Cabinets of Costume: Renegotiating Participation Through Practice, Object-Based Study and 'Ghosts' of an Assemblage of Dress. Costume, 54(2), pp.222-241
2. Jules David Prown and Kenneth Haltman, American Artifacts: Essays in Material Culture (2000), pp. 2–3; Jules David Prown, 'Mind in Matter: An Introduction to Material Culture Theory and Method', Winterthur Review, 17.1 (1982), 1–19; Jules David Prown, 'Style as Evidence', Winterthur Review, 15.3 (1980), 197–210.
3. Ingrid Mida and Alexandra Kim, The Dress Detective: A Practical Guide to Object-Based Research in Fashion (London: Bloomsbury Academic, 2015); Janet Arnold, Patterns of Fashion 2: 1860–1940 (London: Macmillan, 1977).