The Francophile French Hood Wearer or Not?
Francesca Scantlebury looks to the symbolic use of headwear through past and present depictions of Anne Boleyn.
Anne Boleyn, the notorious second wife of Henry VIII, has been remembered as a great Francophile. After spending most of her childhood abroad in France, one contemporary described her as having the manners of a 'native born Frenchwoman',(1) whom no one would have guessed was in fact English. This exudance of 'French allure' could be seen in her fashion choices too, eventually beguiling Henry VIII and setting trends at the English court.
Anne can be credited with popularising the French hood in England in the 1520s and 1530s. Consisting of a small, rounded bonnet and embellished with a curved jewelled biliment, the French hood sat above a coif and was worn with a black veil attached at the back. It also showed the wearer's hair at the front. This provided a more attractive alternative to its English counterpart, the gable hood. This heavy English headwear can be seen in portraits of Henry's first and third wives, Catherine of Aragon and Jane Seymour. Comprising of a decorated triangular arch over the forehead and side lappets which trailed down the side of the face, the gable hood conservatively covered all of the hair.
As these two hoods were associated with different countries, wearing either the French or gable hood provided a way in which women could show a connection to, or affinity for, either nation. Therefore, through wearing the French hood Anne demonstrated her preference for French fashions, whilst also aligning herself with French interests. Before and after her marriage Anne continued to encourage an alliance and friendly relations between Henry VIII and Francis I of France and in later artwork Anne was portrayed wearing a French hood. Even today the image of her as the seductive 'other woman' dressed in her French hood persists in film and television productions. From the 1969 film 'Anne of the Thousand Days' to 2008's 'The Other Boleyn Girl', Anne is usually depicted in a costume designer's version of the flattering French headwear, often in purposeful contrast to Catherine of Aragon who is shown wearing 'frumpy' English headwear.
Despite this image, the sole surviving likeness of Anne definitively created during her lifetime actually depicts her wearing a gable hood. In a 1534 medal designed to commemorate her coronation Anne is clearly shown wearing the English style of headwear. The reason for this representation could be that, as Anne was deeply unpopular with the English public, an attempt was made to advertise her as an 'Englishwoman' with a secure connection to England and the Tudor bloodline. Henry VIII's mother, Elizabeth of York, and grandmother, Margaret Beaufort, had both been early proponents of the gable hood, which may have led the headwear to be associated with this 'royal' status, as the Tudors claimed their legitimacy through these matrilineal lines.
If the headwear was viewed then as a symbol of the Tudor dynasty and its bloodline, this idea could go some way to explaining why Anne also chose to wear the gable hood for her execution in 1536, instead of her preferred style of the French hood. Her marriage was annulled after charges of adultery and treason had been brought against her, and her daughter, the future Elizabeth I, was declared illegitimate. By wearing the gable hood for the momentous event of her execution, Anne may have been suggesting that she still viewed herself as the lawful queen and her daughter as a legitimate Tudor heir.
This effort however could be described as having arrived too late. The association between Anne and the French hood lingered and after her death her replacement Jane Seymour banned her ladies from wearing the now highly fashionable headwear.
References
Maria Hayward, Dress at the Court of King Henry VIII , (UK: Maney Publishing, 2007), 180.
Bibliography/ Further Reading
Hayward, Maria. Dress at the Court of King Henry VIII . UK: Maney Publishing, 2007.
Lynn, Eleri. Tudor Fashion . London: Yale University Press, 2017.
Ashelford, Jane. The Art of Dress: Clothes and Society 1500 - 1914 . Great Britain: National Trust Books, 1996.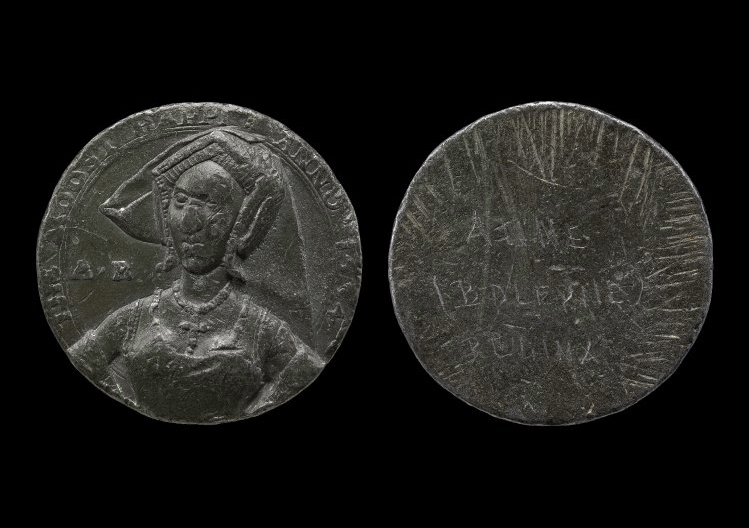 Commemorative coronation medal of Anne Boleyn, 1534, lead, The British Museum, London.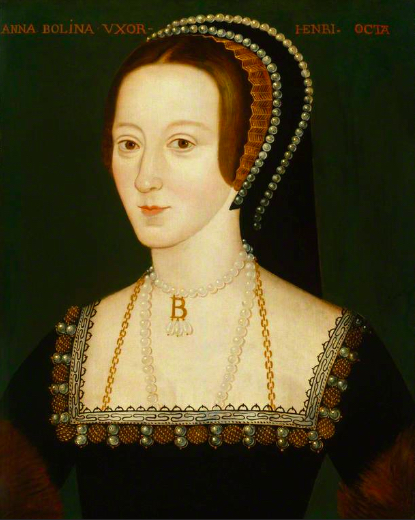 Unknown artist, Anne Boleyn, late 16th century, oil on panel. National Portrait Gallery, London.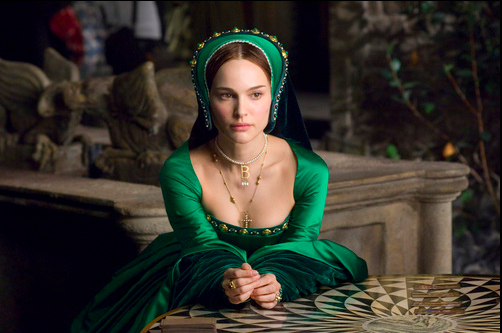 Natalie Portman as Anne Boleyn in The Other Boleyn Girl, 2008. Google Images, 2018.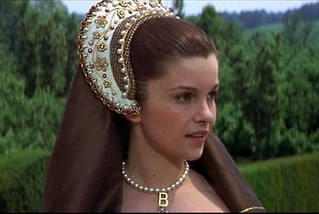 Geneviève Bujold as Anne Boleyn in Anne of the Thousand Days, 1969. Google Images, 2018.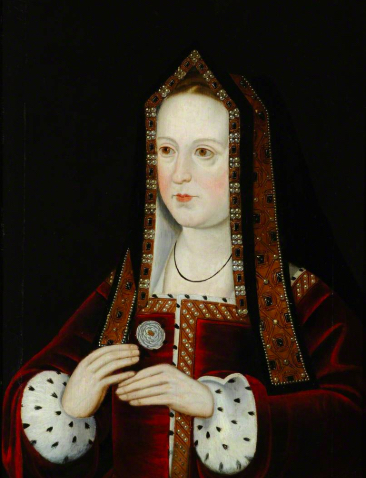 British School, Elizabeth of York, 16th century, oil on panel. National Trust, Nostell Priory. Elizabeth wears an earlier version of the gab
"