The Stitcher at Suger Lofe: John Nelham, Professional Designer and Embroiderer
This week's blog post was written by Costume Society Ambassador Isabella Rosner on the work of John Nelham, a seventeenth century designer and embroiderer.
A huge amount of embroidery from seventeenth-century England survives, from mirror frames to workboxes. Most of these pieces were wrought by anonymous female stitchers in the home or the classroom. Like in so many art forms, from painting to architecture, men's names are the ones that survive, while women's identities are often lost to history.
But luckily for us, in this specific case, a singular man's name can tell us much about how early modern English women spent their days. One man's name, John Nelham, offers a glimpse into the world of stitching for seventeenth-century girls and women.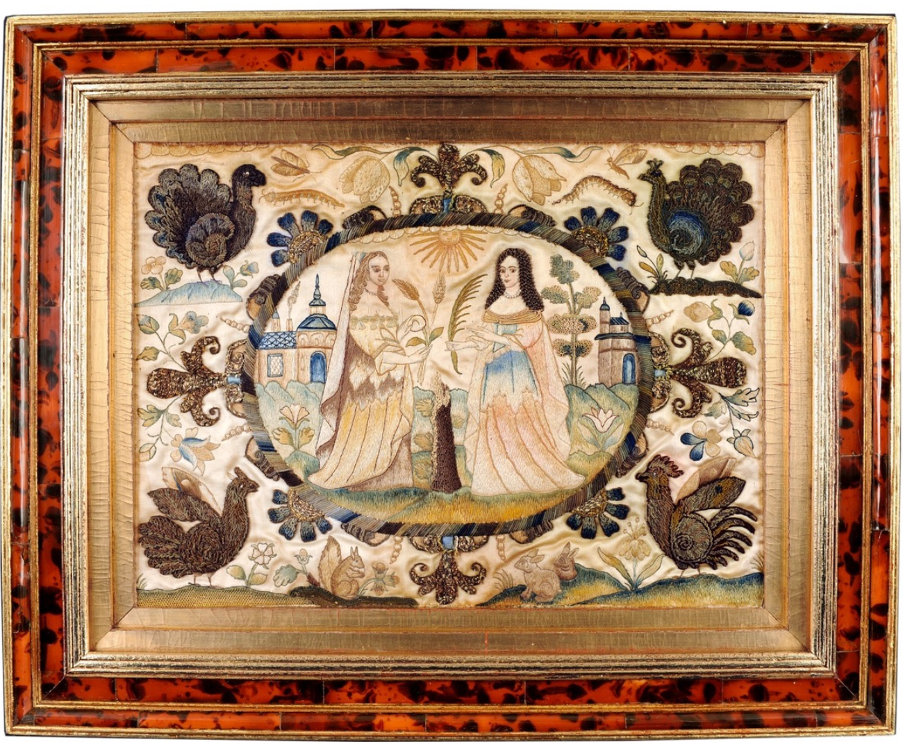 Image 1. 17th century English raised and silk work embroidered panel depicting two of the Virtues centrally placed within an intricately worked cartouche. At each corner four fantastical birds are worked in coloured metal purl with the silk satin ground covered in individual motifs depicting insects, animals and flowers. The central cartouche worked also in metal purl, metal thread and coloured silk threads may indicate the workshop of John Nelham for the pattern drawing, Witney Antiques.
John Nelham (c. 1640-c. 1684), a London embroidery designer and professional stitcher, was the son of Roger Nelham (d. 1654), who himself was an embroidery designer and supplier of sewing materials in London. Roger held property in Mortlake and Kingston-upon-Thames, villages outside the city's centre and is likely the Mr Nelham referred to by Lady Brilliana Harley of Brampton Bryan Castle, Herefordshire, in a 1638-9 series of letters to her son at Oxford, in which she mentions several textile designs by Mr Nelham (also spelled Neelham). In his 1654 will, Roger bequeathed John half of his books, prints, and patterns which inspired his embroidery designs, as well as all of his work instruments. Roger gave the other half of his possessions to his younger son, Samuel, who was not yet of age.
It is nearly impossible to know about John Nelham's business dealings from before the Great Fire of London in 1666 and for several years following. From 1679 onwards, he was listed as a member of the Court of Assistants in the court books of the Worshipful Company of Broderers. The court books listed Nelham selling cloth and taking part in civic functions of the Company. By 1683, Nelham was associated with William Rutlish, Embroiderer to King Charles II. Nelham's name disappears from the Company's books a year later, with no more mentions of his name after 1684. His lack of will suggests he died suddenly, but an inventory of his estate survives, a boon for those studying or interested in early modern needlework. The inventory lists "a parcel of pictures and prints, five dressing boxes and a parcel of printed books" [1].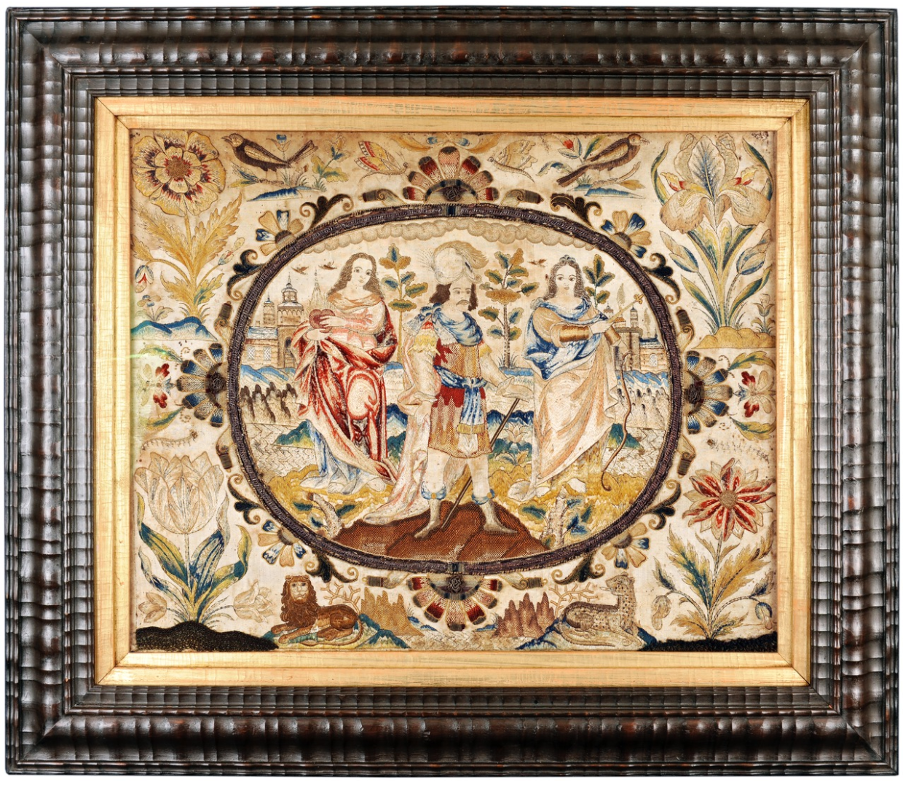 Image 2. Embroidered needlework possibly designed by John Nelham, 17th century, Witney Antiques.
Nelham's inventory is labelled "Old Bailey, at the Sugar Loaf," which matches a written inscription on a seventeenth-century embroidery in the collection of Blair Castle in Perthshire, Scotland. A section of exposed satin at the base of the picture reads, "Jo. Nelham, Suger Lofe, Grayffriars, Newgate Market. "Suger Lofe" is "Sugar Loaf" and was the symbol painted on his shop sign, a way for illiterate seventeenth-century Londoners to locate shops by image rather than word. Following the 1666 fire, Nelham moved his shop from Newgate Market further south to the Old Bailey.
The fact that the Blair Castle embroidery is definitively linked to John Nelham means one can look for similar embroideries, a task undertaken by textile historian Margaret Swain in 1982 and discussed in her article "John Nelham's Needlework Panel" wherein she identifies a central aspect of Nelham's design aesthetic, a central cartouche bordered by baroque, stylised flowers and leaves. Inside a "Nelham style" cartouche were usually several figures, illustrating a biblical scene or female personifications of the virtues, senses, or seasons. Outside the cartouche would be flowers, sometimes accompanied by birds or heraldic beasts such as lions and unicorns. Swain's article concludes with the important question, "Why has no similar inscription (a useful piece of advertisement) been discerned on any of the related pieces […]? Until other pieces are located bearing a name, it cannot be assumed that these panels on satin with oval medallions, were, without exception, drawn out in the workshop of John Nelham" [2].
Despite this question, the designs of huge numbers of seventeenth-century embroideries featuring central cartouches have been attributed to John Nelham. Both pieces with central cartouches not bordered by large, metallic thread-laden flowers and leaves and pieces with cartouches surrounded by layers of looped ribbon are also said to have been designed and printed by Nelham. But exactly what sort of hold Nelham and his designs had over the stitchers of England is difficult to discern. Did Nelham design those other cartouche-based embroidered pictures? Where are the other designs signed "Jo. Nelham"? We modern needlework scholars and fans may be prone to exaggerating Nelham's influence, which is understandable. We know very few early modern stitchers' names, but since we know both Nelham's name and his location, do we cling to that knowledge to envision the ripples of his impact, his aesthetic?
Nelham's singular, enticing inscription allows us to understand just a bit more about the world of stitching in seventeenth-century England, a subject with so much extant material but so little surviving documentation. Through him, we get a peek into the world of professional male embroiderers in London. But what remains unknown is the relationship between professional embroidery designers like Roger and John Nelham and those anonymous girls and women who stitched at school or home. More research needs to be done to determine which extant pieces the Nelhams designed, whether their designs were premade, made-to-order, or both, and what the Nelhams themselves embroidered. The letters from Lady Brilliana Harley to her son illustrate a collaboration between the Nelhams and amateur stitchers, but the exact nature of that collaboration is still alluringly mysterious.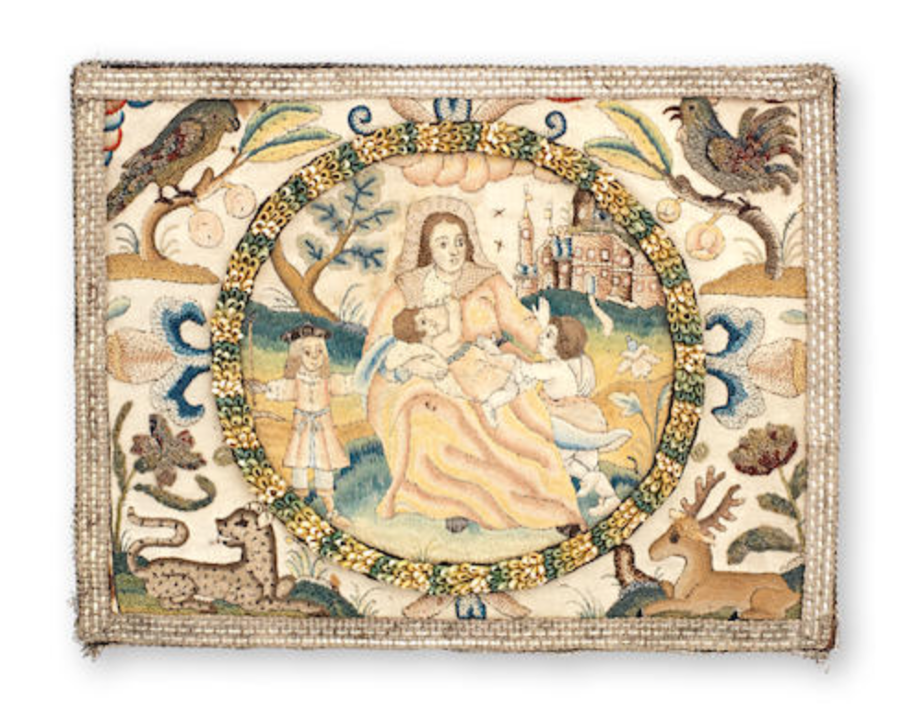 Image 4. Top of embroidered cabinet with looped ribbon central cartouche, late 17th century, sold by Bonhams in 2020
Costume Society ambassador Isabella Rosner is an art historian who studies material culture from the seventeenth through nineteenth century. Isabella is a second year PhD student at King's College London, where she studies Quaker women's needle, shell, and wax work before 1800. She is funded by KCL's Centre for Doctoral Studies and the current title of her dissertation is '"Women Professing Godliness with Good Works": British and American Quaker Women's Decorative Arts Before Ackworth and Westtown, 1650-1779'.
Images:
Image 1. 17th century English raised and silk work embroidered panel depicting two of the Virtues centrally placed within an intricately worked cartouche, possibly designed by John Nelham, 17th century, Witney Antiques.
Image 2. Embroidered needlework possibly designed by John Nelham, 17th century, Witney Antiques.
Image 3. Needlework picture on white satin worked in satin and metal thread in a variety of raised stitches. Inscribed "Jo. Nelham, Suger Lofe, Grayffriars, Newgate Market," Blair Castle, image taken from Margaret Swain's article. 1654-1660
References:
[1] Nevison, John L. "John Nelham, Embroiderer." The Bulletin of the Needle and Bobbin Club 65 (1982): 17-9.
[2] Swain, Margaret. "John Nelham's Needlework Panel." The Bulletin of the Needle and Bobbin Club 65 (1982): 3-16.
Bibliography:
"Nelham, John (c. 1640-c. 1684)." Textile Research Centre. 26 August 2016.
"Unfinished Embroidered Picture of Rebecca and Eliezer at the Well." In Cora Ginsburg's winter 2009-2010 catalogue. 2009.