Virginia Woolf, Dressmaker: 1897-1937
For this week's blog, CS Ambassador Rachel Hynes discusses Virginia Woolf's deep, inquiring interest in fashion and Woolf's sartorial choices both in life and in her novels.
by Rachel Hynes
Inspired by the filmic, contemporaneous and affective currencies of costume and fashion, the novels of Virginia Woolf are stuffed with garments, cloth, and textiles; reflecting the material profusion of women's early twentieth-century fashion cultures as well as mediating Woolf's deep, inquiring interest in fashion's ceaseless shiftability: the phantom threads of fashion-as-time, and the Janus-faced doublespeak of clothing in performances of gender and sexuality.
One of Woolf's fictional fashion models is the upper-crust London society hostess. Woolf famously dresses Mrs Dalloway, for instance, in a silken "silver-green mermaid's dress", strongly reminiscent of Mariano Fortuny's shimmering, serpentine-green Delphos dress and the early, 'peacock jewelled' designs of Norman Hartnell. Clarissa Dalloway—no stranger to Hatfield, Mayfair, and Buckingham Palace—seamlessly inhabits the 1923 Bond Street fashion scene (perhaps passing the busy workrooms of court dressmaker Elizabeth Handley-Seymour). In fact, Woolf's portrait of Clarissa is so intimate and detailed (if strangely devoid of description), one can easily imagine the young Clarissa gauzed in Lucile's frothy tulle (descending by candlelight) for her coming out period as a late Victorian debutante.
Aside from designing deftly fashionable texts such as Mrs Dalloway (1925) and The Years (1937), Woolf was a keen follower of fashion in her personal life wearing Parisian designs by the ultra-chic, and cutting-edge couturier Nicole Groult. She famously wrote for the nascent British Vogue, gleefully "sweeping guineas off the Vogue counter" and counted early Vogue editors Madge Garland, Dorothy Todd, and Elspeth Champcommunal as close friends. She was awed by the mathematical cut and razor-sharp lines of Charles James, and many extant photographs of Woolf show her garbed in the very iconicity of twenties' fashions: in cloche hats, drop waist frocks, and sack-style coats. Crucially, Woolf's sister Vanessa Bell was the bold and experimental head of dressmaking at the Omega Workshops, and Bell's avant-garde philosophies of colour saturate many of Woolf's fictional frocks. Although writing within a period of sharp and dizzying sartorial transformation, Virginia Woolf was a child of the Victorian culture of cloth, and this formative training in sewing, shopping and swaddling, as well as her many visits to Victorian court dressmakers as a Kensington girl, undoubtedly inform her later literary representations of interwar fashions.
Modernist Haberdashery
Surrounded by dressmakers in her sister Vanessa, half-sister Stella Duckworth and, perhaps, mother Julia Stephen, as well as the evidence of her interaction with an extensive list of London-based dressmakers referenced in her personal writings: Madame Walker, Madame F. DuBois, Mrs Young, Mrs Roberts, Miss Joy, Jane Bride, Miss Brooke, 'Gravè', and Elspeth Champcommunal, scenes of fictional dressmaking pervade Woolf's canon, attached to her wider interest in women's domestic craft such as knitting, embroidery and sewing. Woolf frequently employs cloth to unite temporal, spatial and corporal subjectivity and tasks fabric and texture as soft architecture in the creation of sartorialized subjectivities and geographies. Woolf regularly invokes the figure of the dressmaker to stitch narratives, temporalities and imaginative verisimilitude: the making of memory is carried out by a "capricious" seamstress in Orlando (1928); Nurse Lugton's golden thimble is endowed with magical, transformative potential, and, although Clarissa Dalloway's numinous needle engages in "drawing the silk smoothly to its gentle pause" she often engages in the act of "cutting people up" and "….sticking them together again". Woolfian dressmaking, therefore, is often a virtuoso act of assemblage: conjoining shapes, patterns, design, textures and folds in a polysemous artistic bricolage. Upon close reading, the metropolitan London scene so vividly evoked in many of Woolf's novels is held together by running stitches, swathes of glistening fabric, elasticated threads and overlapping sections of cloth. The dressmaker, the dressmaker's tools and the role of dress in the social spaces of Woolf's fiction, particularly in relation to London party scenes, constellates around what Hermione Lee identifies as Woolf's life-long fascination with the look of high society: "(…) she likes the look of it [high society], its light ripple, its shimmer, its stuff" [1]. Creating shimmering stuff or the ineffable glamour of couture fashion for eminent society hostesses was intricate needlecraft, a skill Woolf continues through pencraft. In 1925 Woolf captures the imaginative treasure trove of the dressmaker's materials in an evocative diary entry:
"Happiness is having a little string onto which things will attach themselves. For example, going to my dressmaker in Judd Street, or rather thinking of a dress I could get her to make, & imagining it made—that is the string, which as if dipped loosely into a wave of treasure brings up pearls sticking to it".
Elite Silk
Woolf's favoured material is elite silk, charged with the ecstasies and duplicities of the London season: mercurial, dangerous and complex. The highly evocative 1907 section of The Years (1937), set in the crucible of the Edwardian era with its moonlight, music, silver-plated unreality and "flowing pale figures of women in evening dress" is an echo-track of Woolf's coming out season clad in the finest offering of the early London couture trade. Moreover, the sketches pinpoint the emergence of Woolf's sustained interest in the manifestations of fashionable society through silk, the properties of which she will adumbrate into the twin philosophies of the "party consciousness" and "frock consciousness" in the interwar period in 1925; two interconnected states of mind triggered by the gossamer forms of sentience inflected by elite clothing upon the social and dressed body. A proponent of the domestic sphere as an artistic domain, Woolf's fictional scenes of home-dressmaking and needlework insistently fortify the historically threadbare representations of domestic female creativity: again and again, bright needles flash defiantly in drawing rooms, sewing machines whir contentedly in kitchens, and a pair of scissors crisply cutting through cloth or the forgetful search for a thimble are the visible hand-utensils of the historically obfuscated dressmaker, an invisible figure Woolf invokes through her own authorial craft.
References:
[1] Lee, Hermione. Virginia Woolf. New York: Knopf, 1996
Bibliography/ Further Reading:
1 Garrity, Jane. "Virginia Woolf and Fashion." The Edinburgh Companion to Virginia Woolf and the Arts. ed. Humm, Maggie. Edinburgh: Edinburgh University Press, 2010. Print.
2 Sanchis Morgan, Geneviève. "The Hostess and The Seamstress: Virginia Woolf's Creation of a Domestic Modernism". Unmanning Modernism: Gendered Re-readings. eds. Harrison, Elizabeth Jane and Shirley Peterson. Knoxville: University of Tennessee Press, 1997.
3. Woolf, Virginia. Mrs Dalloway (1925). London: Penguin Popular Classics, 1996.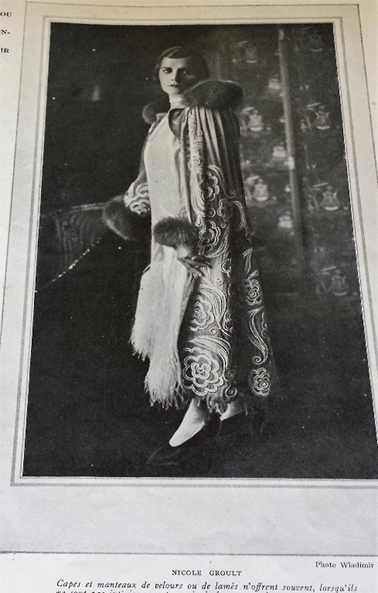 Nicole Groult dress and coat, 1924, French Vogue. Image reproduced by kind permission of the Musee Galliera Archives.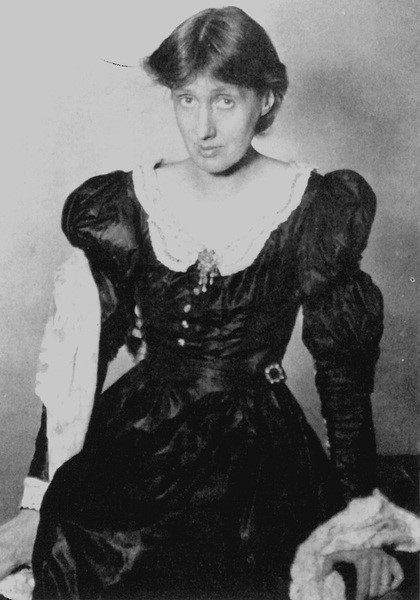 Virginia Woolf in her mother's Victorian dress. Photograph by Beck and McGregor, 1924.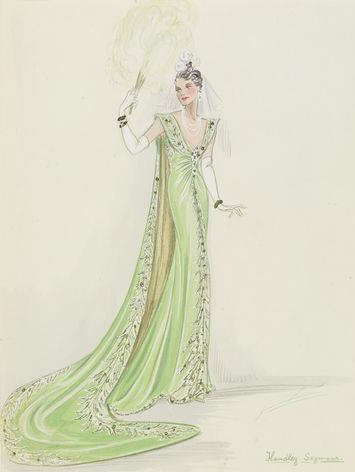 Slinky green satin dress and train with beaded embroidery. Design for a modern court dress by Elizabeth Handley Seymour (1939). © Victoria a
"