What do the children's TV program 'Blue Peter' and an 18thc Court Dress have in common?
This week we have Janet Wood talking about how she came up with some creative solutions to mounting a very wide 18th Century Court Dress.
As a costume conservator specializing in the display of historic dress the opportunity to be part of the team employed to display the 18th the 'Georgians' exhibition at the Fashion Museum in Bath was an offer too good to be missed. With my colleague, Christine Housden, our task for the next 5 days was to focus on female fashion in 2 showcases in the exhibition; we had 19 female dresses to display. The most challenging piece was a wide 18th century Court Dress. This was the last dress of the week and we had 4 hours to complete it. No time to create a complicated hoop petticoat but we needed an historically convincing and conservation sound solution.
The duration of the exhibition was one year. The skirt of the dress was not too heavy, but it was proportionately very wide and balance was essential in order to create a convincingly elegant horizontal hemline. The solution came in the form of a grey, 'flat-pack' cardboard dress box and a 'bum roll'.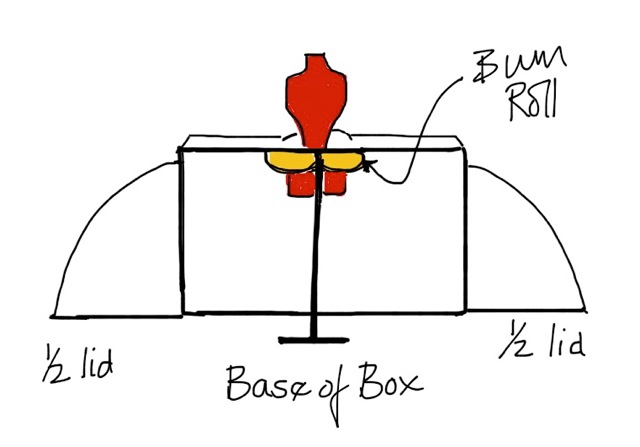 The bum roll provided a firm base around the waist of the torso on top of which the box could be balanced. The larger base section of the box was turned on its side and opened out. One side was cut to fit around the waist of the torso and laced with tape at the back, the opposite side folded up and laced to the end walls of the box. Having fixed corners at the bottom edge gave stability to the base. A 'bone folder' was used to create a fold in the middle of the top edge. This created a subtler curve on the top edge.
The lid of the box was cut into 2 triangles. These were added to the sides of the main box, extending the hem width to fit easily inside the skirt of the dress. The longer sides of the triangles were curved to follow the shape of the skirt. Polyester wadding was cut to fit smoothly over the cardboard shape and finally habutai silk was draped over this to enable the skirt of the dress to slide smoothly into position.
The result was a light, quick, secure support for the court dress. Sadly, work was fast and furious and it was not until the dress was mounted that we actually realized how successful the skirt mount proved to be so, sorry, no pictures. The sketch above gives an idea of the process. Hopefully, when the dress is removed from the mount at the end of the exhibition photographs can be taken and the method recorded for future reference.
The dress can be seen on display as part of the, GEORGIANS: Dress for Polite Society exhibition, from 25th January 2013-1 January 2015
Box supplied by: Preservation Equipment Ltd www.preservationequipment.com/Store/Products/Archival-Storage/Boxes/Corrugated-Textile-Storage-Boxes
Janet Wood FRSA, Costume Conservator