From Masquerade to Lady Gaga: Music, Fashion and Fantasy
Two Reviews of the Last Costume Society Study Day, October 2012:
Lorraine Smith, MA History and Culture of Fashion, London College of Fashion
Shaun Cole said in his introduction to this year's study day that "performers create an identity - a fantasy - through their use of clothing and costume", and each speaker who followed expanded on this point beautifully.

The morning began with theatre designer Joanna Jarvis and dance specialist Mary Collins taking us back to 18th Century France. With a perfect combination of both performance costume and dance histories, Jarvis and Collins delighted us with information on clothing and the way it affected and inspired the mobility of performers. Senem Yazan followed with a wonderful look at male impersonators in British music hall, including references to Ella Wesner, Bessie Bonehill and Vesta Tilley. It was astonishing just how long performers have been playing with the concept of gender roles.

This led in perfectly to Victoria Broackes' presentation about the V&A's exhibitions "The House of Annie Lennox" and "David Bowie Is". I would imagine that many of the day's attendees are now planning to visit the Bowie exhibition when it opens in March 2013! The final session of the morning was a talk by Laura McLaws Helms on the iconic style of Stevie Nicks. She has inspired so many people that there are now designers producing Nicks-inspired dresses, fan sites where women share outfit photos, and even an annual event called Night of a Thousand Stevies!

After a much needed lunch break, we returned for a presentation entitled "Masquerade in Clubland: A Safe Space for Glamour" by Dr Kevin Almond. Clubbing outfits and costumes are a way of balancing different identities, and the clubs Dr Almond discussed provided a safe place for people who felt alienated by society to express themselves visually. Helene Thian followed with a beautifully evocative talk on Kansai Yamamoto and David Bowie in London in the 1970s. Entitled "Moss Garden", Thian's presentation told us how the designer and performer planted the seeds of Japonism and androgyny in the Western fashion world.

We had already learnt that the costume Bowie wore on Saturday Night Live in 1979 would be featured in the V&A's exhibition, so it was appropriate that this talk was followed by one Klaus Nomi, who performed with him on that show. Dawn Hoskin told us how the created character of Klaus Nomi became New York's leading New Wave performer. A quintessential post-modern performative persona who wore striking Thierry Mugler costumes, Klaus saw himself as a piece of living art. The final speaker of the day was Matteo Augello tackling the subject of the diva. Divas often perform a fictional character first, with their music a secondary concern, and so they were an ideal subject matter for a study day focusing on costume. With mentions of Bette Midler, Barbara Streisand, Cher, Liza Minnelli, Grace Jones, Madonna, Annie Lennox, Madonna and Beyoncé, this was a true diva history lesson!

The day was engaging and enlightening, covering a diverse range of related topics and providing something that would be of interest to everyone there. Thank you to everyone who shared their work and their passions with us.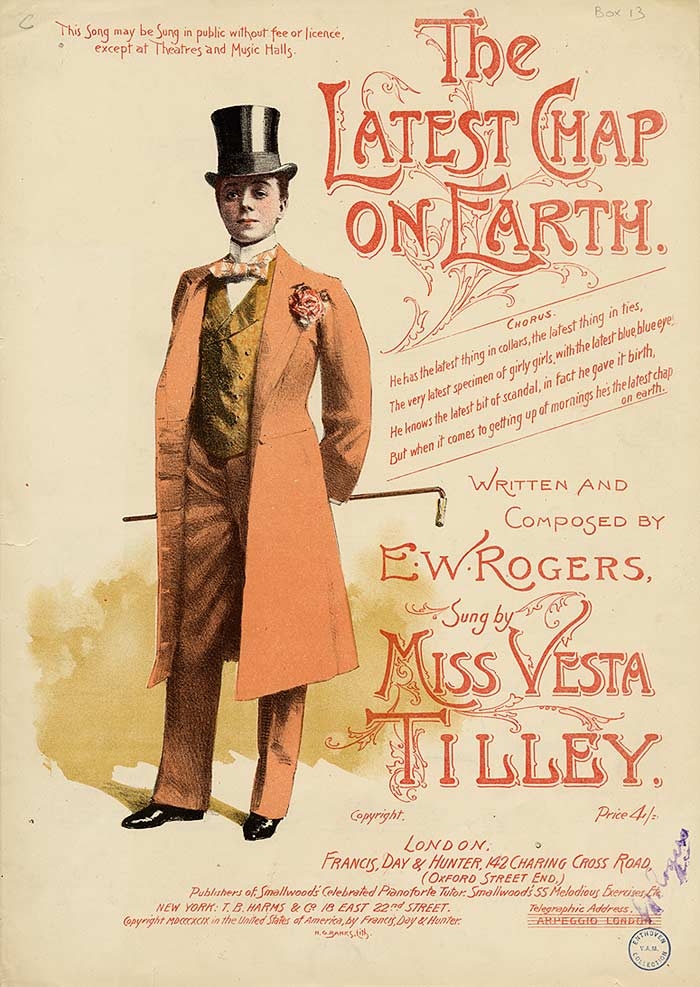 The male impersonator Matilda Alice Powles (Vesta Tilley), 1864 – 1952.
Françoise Assamoi, MA Fashion Curation, London College of Fashion
This autumn, The Costume Society's study day From Masquerade to Lady Gaga – Music, Fashion and Fantasy which took place at the London College of Fashion looked at the relationship between fashion, music, design and visual culture and how stage costume can be regarded as a legitimate and quintessential part of the construction of an artist's multifaceted identities, and retain its place in the public's imagination.
Starting from Eighteen Century France with Joanna Jarvis and dance specialist Mary Collins, the debate opened on the relationship between fashion and dance during that period and the changes that saw costume designs progressively evolve to allow the facility of movements. Examining the era of British Music Hall, Senem Yazan looked at the manifestations of dandyism in women who worked in the field of visual and performing arts, notably artists such as Vesta Tilley who dressed and behaved like men for their performances. Sharing her experience of working with Annie Lennox on The House of Annie Lennox exhibition which was shown at the V&A early this year, curator Victoria Broakes highlighted how artists such as Annie Lennox self-consciously fashioned various personae for themselves through costumes at various stages of their careers – from punk, rock to softer looks. Laura McLaws Helms looked at Fleetwood Mac's singer Stevie Nicks's ethereal and romantic stage costumes and personal style, and how both influenced a generation of women (and men) across the world; leading in the past few years in the creation of various fan-based websites dedicated to Stevie Nicks's fashion style. In a different register, Dr Kevin Almond investigated the subversive way in which costume is used in nightclubs and how ultimately, it serves to conceal everyday presence. Often the choice for a stage costume can be triggered by a significant place; this was the case of David Bowie who after visiting the Moss Garden in 1970s Japan, returned to the Western world moved by what he had experienced. From No theatre to kodo fundushi, what ensued as journalist Helen Tian described, was a very close collaboration between the artist and Japanese designer Kansai Yamamoto who designed the artist's stage costumes between 1971 and 1977, 'planting the seeds of Japonism and Androgyny in the Western fashion world'. Looking at 1980s artist Klaus Nomi and his references to Japonism - with his face painted as a kabuki robot mixed with cartoonish and theatrical - Dawn Hoskin highlighted how the artist's on-stage style has been source of inspiration to designers such as Gareth Pugh and Louise Goldin, and singer Lady Gaga. As the day drew to a close, Matteo Augello paused on the matter of 'divas' and selected some of the most influential leading female artists of the music industry who over the years have famously carried their stage-performances and presence off-stage. From historical divas to fashionable divas, one cannot fail to notice the constant interlink between performance and impression management; as one-woman show/diva Bette Midler famously said: "It's the need to convince people that you're as great as they think you are."
This study day could have easily stretched onto another day for the power that fashion holds within the music industry is as strong as the lyrics of a song, artists (male and female) have recognised and continuously use the transformative power of fashion and costume not just to sell records but to make a statement and challenge perceptions, at times offend, but most importantly to entertain.