A Life in Costume: the Wardrobe Assistant
Rebecca Morrison Goes Behind the Scenes on a West End Show
Matilda the Musical celebrated its 1000th performance at the Cambridge Theatre on 23 March 2014. This revoltingly good show has played to packed houses, received five star reviews and won awards on both sides of the Atlantic. But what about the unsung heroes who work tirelessly making sure that everything runs smoothly and looks as perfect as it did on press night? I took the opportunity to chat with Helena Rose, a Wardrobe Assistant who has worked on the show since it opened, and to ask her about the highs and lows of West End life?
Meeting in the morning, Helena squeezes us both into a small and antiquated lift that rises high into the eerily quiet Cambridge Theatre. The narrow wardrobe room is packed tightly with rails holding the evening's costumes and neatly labelled boxes line the shelves, but it is easy to imagine this room becoming a hive of activity later in the day.
An early interest in dance, fashion and theatre led her to pursue a degree in Costume Design at Leeds University, before graduating Helena landed her first job on Barking a children's show for Granada TV. She describes it as a 'baptism of fire', it was a show about a talking dog 'it was great because it was all on location and everything was made. I had to leave home at 4.30 in the morning and I got home at 8 o'clock at night, it was exhausting, hilarious and a lot of fun… oh and the food was amazing'. This was followed by time spent at the West Yorkshire Playhouse making costumes, 'I enjoyed making, I still do, but it is a lonely job, which is why I ended up backstage.
After a season for the RSC in Stratford, Helena moved to London. She worked at the Open Air Theatre in Regents Park, and on touring shows such as Calendar Girls and Flashdance. 'Touring is great when you're young, but it's long hours, lots of travelling… being away from home can make it quite difficult'.
Matilda has brought her security and with it a mortgage, but also 'a different learning curve, it's the same show for a long period of time…you have to figure out ways of keeping it interesting'. Constant cast changes help, 'my boss is good at giving us different projects to work on, I make the escapologist's catsuits and we all make part of the children's miracle costumes. It's not just mending, ironing and the cobblers'.
Helena's day starts at 11am on a matinee day and at 2pm on a single show day. The washing and ironing has been done by Jo 'the laundry fairy and then it's mending, making and polishing and making sure it all looks fabulous for the evening. A half hour break and then do the show'. Helena's dressing plot is busy, so there is no time to sit around.
What advice would she give to someone wanting to work in wardrobe? 'Persevere, it can be very rewarding, long hours, hard work, but lots of fun…Sewing skills are a given, but you also need to be calm in a crisis, you need to be a mum, you need to have advice and be a shoulder to cry on…a people person really. Oh, and slightly un-shockable…there aren't many professions where within the first ten minutes of meeting someone you are asking them to take their clothes off!'
And the best part of the job? 'The stuff the kids come out with, recently one of the youngest children said…. You know Jesus can walk on water? And did you know cucumbers are 98% water? Therefore I can walk on cucumbers, making me 98% Jesus!'
With that revelation our time is up and I leave the strange peace of the theatre for the bustle of Covent Garden. Knowing that later that day Helena and her team will be playing their unassuming part in one of the West End's most popular shows.
Rebecca Morrison, Costume Society Ambassador 2014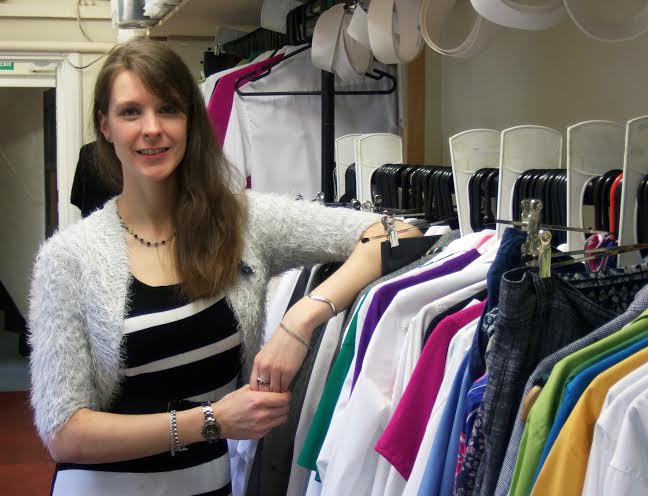 Helena Rose, Wardrobe Assistant at Cambridge Theatre Photo credit: Rebecca Morrison 2014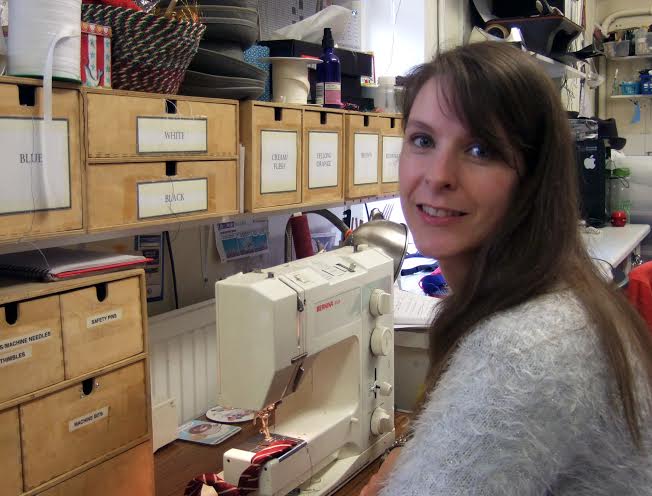 Helena Rose, Wardrobe Assistant at Cambridge Theatre Photo credit: Rebecca Morrison 2014
"