By the Pricking of My Thumbs: Costume, Heritage and British Identity in Shakespeare's 'Macbeth'.
In this week's blog, CS Ambassador Chelsey Lewington discusses the role of costume, heritage and identity in Shakespeare's 'Macbeth'.
by Chelsey Lewington
Throughout renowned playwright William Shakespeare's 38 plays clothing is an integral part of the text [1]. Over the past 400 years various performances of Shakespeare's work globally have led to various interpretations of his texts and how they are presented to the audience. For example, I have seen an all-female Globe production of 'Much Ado About Nothing' which was set during the Elizabethan era, the late Ninagawa's epic production of 'Macbeth' adorned in the native dress of Japan and a production of 'Richard II' which used everyday items such as a ketchup bottle and sponge to symbolise characters in a narrativised version of the play. In each of these examples costume becomes a "visualisation of someone other than the actor [or everyday appliance] who wears it, and the clothing is chosen or designed for this particular theatrical moment" [2].
Costume, as a theatrical element within performance, is usually forgotten about when analysing theatrical performances. This misunderstanding is extremely relevant within the productions of Shakespeare's plays, as Jean MacIntyre points out, that when attention is paid to the imagery of clothing in his work it rarely considers the actor's costume on stage [3]. Unlike other elements which make up the world of a performance, costume is the only one intrinsically linked with an actor's body. The choice of costume is not only shaped by the directors' decisions and the space in which the event is happening in, it is also shaped by the actors' analysis of the play. It is then through the analysis of the costume that we can better understand the intentions of the play [4].
Despite being considered an English Playwright, here we will be looking at his 'Scottish play' 'Macbeth' which was originally written in 1606 and first performed to the public in 1611 [5]. Shakespeare as a writer has achieved not only canonical status within the academic community but also a contemporary celebrity status too. The fact that his work has no copyright laws around it may account for his plays being consistently performed, however, his work also allows for the exploration of universal themes and concepts [6]. Shakespeare, however, is also considered an English playwright who deals with all things English, something that is especially interesting as it is believed he was born and died on St. George's Day. The historic heritage of cultural icons and institutions such as Shakespeare's works is what Andrew Higson refers to as "a selective preoccupation with the past" in which 'we' define in the present through seizing selected aspects of the past and presenting them to highlight our current sensibilities. One selected aspect that is frequently embedded in Shakespeare productions, besides the language, is the traditional Shakespearean costume which has been drawn upon by designers and tweaked throughout the centuries [7]. The adaptation of 'Macbeth' from 2018 by the Royal Shakespeare Company (RSC) has one prevalent example of this within the production [8]. Through this example, I will examine the complex nature of the costume's connections to older British performances as well as how this costume helps the audience connect not only to the play but the text and their heritage as well.
Nothing can usually beat the experience of watching theatre live, however, many theatre companies have been providing us with the experience of watching pre-recorded performances in the comfort of our own homes. This version has been pre-recorded which does mean that, due to camera-angles, some aspects of the performance will be lost. This RSC production stars Christopher Eccleston as Macbeth and Niamh Cusack as Lady Macbeth. The running time is 2 hours and most of Shakespeare's original text is in place except for the omitting of some scenes and the duality of certain actor's lines within their roles. This production is set in the present (see the child witches wearing onesies) and the omnipresent theme is that of time and the same eternal corruption of power, a theme made prevalent by the digital clock on the stage wall. The set on stage is very minimal as it makes use of just a single table, in certain scenes for example, to highlight a change in location [9].
Despite the modern sensibilities in this production, there is one dress within this production which evokes not only the ghosts of previous performances but also convey a deeper meaning within the play. This is seen in this production during Act 1, Scene 7 which is the scene where the Macbeths discuss and plan Duncan's murder. Lady Macbeth (Niamh Cusack) is wearing a strapless emerald green dress. The shaping on the top half of this dress is nicely fitted, with bias cut and darting. This then cascades into a semi-flowing skirt which stays somewhat contoured to her body and its length reaches down to the tips of her shoes. The back, however, has a revealing V-neck shape and an added bit of silk like fabric along the back the V-neck which then joins together and cascades down the back of the dress [10]. Initially this dress resembles Madeline Vionnet's designs from the 1930s. Upon closer inspection the dress is quite similar to two very iconic past performances. The first is from Henry Irving's 1888-9 production of 'Macbeth' which starred Ellen Terry as Lady Macbeth, the dress is famously depicted in a painting by John Singer Sargent. The second is Vivien Leigh's dress from the Stratford-Upon-Avon production in 1955 [11]. All three dresses are of similar shades of green, have a similar cut and silhouette upon the wearer's body. Even though Cusack's rendition is less extravagant, the dresses of past Lady Macbeth's are strong enough to invoke itself onto the design without making it read as costume.
Literal recycling of costumes can occur in productions, for example the reuse of khaki green army gear, but this is mainly for economic reasons. The green dress here is emphasising theatrical heritage. Cusack's dress is worn when discussing the murder, rather than the coronation, however I would argue that this choice is used to signify a deeper meaning of the play. The dress Lady Macbeth wears to her coronation in this production reminds the audience of the iconic dress Princess Catherine wore upon her engagement to Prince William [12]. This use of the sapphire dress also signifies Aoife Monk's ideas around costumes, fashion and celebrity consumer culture [13]. Cusack's more pared down dress highlights Andrew Higson ideas on 'the seizing hold of selected aspects of the past and their 'repackaging' which is presented in the way which fits within our modern sensibilities' [14]. Her dress is also more modern looking than her famous counterparts which makes it easier for the audience to identify and have an emotional attachment to the characters on stage. Cusack's dress also evokes those from the past and in doing so shows the continuity from past costumes being packaged onto the modern stage. In order to have a sense of heritage in the first place means that there must be an element of continuity from the past [15]. The emerald dress and its connections to Terry and Leigh's performances signify the need directors have to show Shakespeare's works in modern settings as a way to connect the audience comfortably to the immortal themes in his plays.
The text and costume reflecting a deeper understanding of the play is also seen in Act 1, Scene 7. In this scene, Lady Macbeth mentions the colour green in one of her speeches, a colour seen frequently in Shakespeare's works. She mentions in line 37 "And wakes it now to look so green and pale." The use of green and pale, as referenced in the notes, not only means nausea in terms of a hangover, but also the "overtones of girlishness, as in green sickness" [16]. Before the murder of Duncan Cusack's Lady Macbeth is wearing a yellowish/green silk. In her first appearance it in a blouse and in her dressing gown when hearing of Duncan's death [17]. After this she no longer wears green. This costuming choice therefore signals an added depth to the understanding of the play as it forebodes the guilt and madness that she will eventually succumb to. The emerald dress worn whilst planning the murder of Duncan highlights the fact that she is not Queen yet. Her clothes before she becomes Queen are green, a colour which is uttered in one of Shakespeare's most famous lines.
References:
[1] Shakespeare, W., 1606 (this edn. 2015) Macbeth, third Arden edn. Ed. by Clark, S. and Mason, P. London: Bloomsbury, p.321-324.
[2] Lennox, P. and Mirabella, B., 2016 Shakespeare and Costume edited by Lennox, P. and Mirabella, B., London: Bloomsbury, p. 5.
[3] Ibid, p.3.
[4] Ibid, p.1.
[5] Various Authors, [21 March 2018] 'Did the Critics See Red over RSC's Macbeth?' available at < https://www.whatsonstage.com/stratford-upon-avon-theatre/news/critics-rsc-macbeth-review-roundup_46093.html> [accessed 24th August 2020].
[6] Bristol, M. D. (1996) Big-Time Shakespeare London: Routledge, p.3.
[7] Higson, A., (2003) 'English Heritage, English Cinema: Costume Drama since 1980' Oxford: Oxford University Press, p.50.
[8] 'Macbeth'¸ dir. Polly Findlay, Royal Shakespeare Company Performance at Royal Shakespeare Theatre, 21 March -18 September 2018. First watched 14th June 2020, re-accessed 22nd September 2020.
[9] Ibid
[10] Ibid
[11] McBean, A., (1989) Vivien: A Love Affair in Camera, ed. by Adrian Woodhouse, Oxford: Phaidon Press Limited, p.86-90.
[12] Fernandez, C, [January 2 2020] '38 Looks Kate Middleton has Worn since Becoming a Royal' Available at: < https://www.insider.com/kate-middleton-best-outfits-through-the-years-2019-12> [first accessed 25th August 2020].
[13] Monks, A., 2009 The Actor in Costume, 'Dressing the Audience: A History of Fashion at the Theatre', Basingstoke: Palgrave Macmillan, p.34-40.
[14] Higson, A., (2003) 'English Heritage, English Cinema: Costume Drama since 1980' Oxford: Oxford University Press, p.50.
[15] ibid
[16] Shakespeare, W., 1606 (this edn. 2015) Macbeth, third Arden edn. Ed. by Clark, S. and Mason, P. London: Bloomsbury, p.168.
[17] 'Macbeth'¸ dir. Polly Findlay, Royal Shakespeare Company Performance at Royal Shakespeare Theatre, 21 March -18 September 2018. First watched 14th June 2020, re-accessed 22nd September 2020.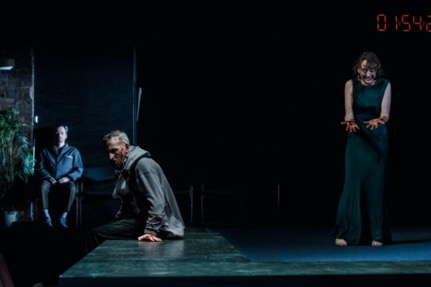 1. The concept of time is a key theme within this production of 'Macbeth' as exemplified by the digital clock in the production. © Richard D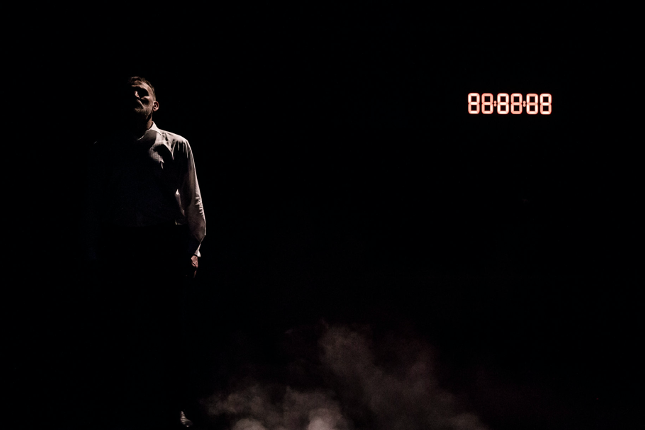 2. Lady Macbeth's (Niamh Cusack) Emerald Dress (albeit a little bloody), © Richard Davenport, RSC 2018.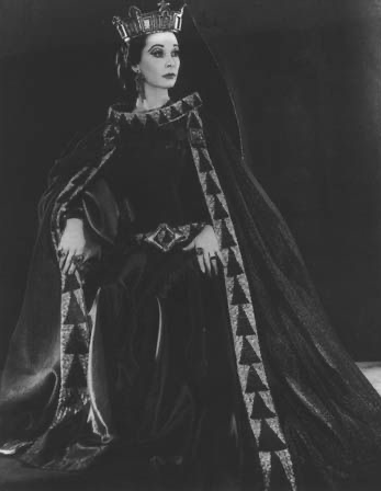 3. Vivien Leigh as Lady Macbeth. Due to the fact that this image is black and white you cannot see the fact that the dress and cape are emer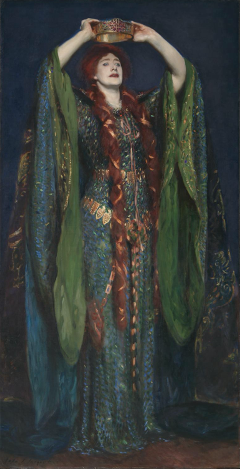 4. Ellen Terry as Lady Macbeth. Oil painting depicted by John Singer Sargent, 1889. © Tate Collection, London.
"