Costume History Beyond the Museum Part One: The Vintage Wearer, Modern Uses for Historical Pieces.
Not all historical clothing needs to end up in a museum! This week CS Ambassador Sarah Morgan looks specifically The Vintage Wearer and modern uses for historical pieces.
by Sarah Morgan
Historical dress is not just for mannequins. In fact, 'the current economic climate appears to have contributed to the trend of acquiring and reusing vintage clothing, accessories, and homeware products, particularly with young consumers' (1).
In this series, we explore how individuals use and expand upon historical costume knowledge. The rise of the vintage fashion industry, sustainability in mainstream fashion, and costume dramas on television and film have increased the exposure of the average person to costume history, but who does that impact and how? Through the efforts of individuals who use costume history in their everyday lives, we move past the idea that to research costume history requires white gloves and a few doctorates.
The Costume Society's goal is to 'promote the study and preservation of historic and contemporary dress' (2). Jessica Bonarius is a prime example of historical dress studied as a modus vivendi. A Durham-based artist and former Miss Vintage UK contestant, she has been in vintage dress since 2010, after working in a vintage shop in Durham.
Ms. Bonarius studied Costume Design and Making at Nottingham Trent University, working as a costume assistant and designer for many years. Her inspirations, Marlene Dietrich and Ginger Rogers, are the Golden Era Hollywood, the 1930's to the 1950's, icons who wore the fashions of Edith Head, Adrian, Elsa Schiaparelli, and other designers. Most importantly, Jessica is a person, much like the online trending Zack Pinsent, who dresses in vintage everyday, other than when she is, as she says with chagrin, in 'my gym clothes'. When at university, her background in costume design and need to research for her course led to a 'great source of inspiration'.
There is an individuality that stems out of vintage dressing, a rejection of the norms found in high street windows. According to Ms. Bonarius, 'I honestly have no idea [why vintage dressing has become popular] … I'm not obsessed with being historically accurate. I know some people on the vintage scene are so particular that if you're in a jacket from 1945 then everything else must be from that date … I like being playful with it and just wearing what makes me feel good.'
Jessica dresses predominantly in 1940s attire. 'I think it's just the period that clicked with me the most … There is … something special about the make do and mend attitude during World War Two that I love. It was about making the best of what you had at the time. I like that, especially since my own family are not well off.'
Her favorite piece in her collection of vintage and recreation wardrobe is her CC41 utility coat. Gifted to Jessica by a friend, it is 'rather glamorous and flatters [her] figure.' There is an element of the tailored unique. Items that are well-made to stand rough wear are crafted of rayon and challis. While high street brands come in small, medium, and large, vintage finds could be tailored to your specific measurements and boned as well.
However, the perks of vintage do not obscure the pitfalls. Those who wear bits of costume history do not have the pleasure of perfect temperature units or preservation facilities and must make do with what they have, 'Often if a piece should tear at a seam or something I will just stitch it up myself. The hardest thing is keeping them clean. Sounds gross I know. But a lot of pieces can't be machine washed, they have to be done by hand or dry-cleaned, and dry-cleaning isn't cheap!'
Items like furs or older wools are subject to difficulties of mother nature as well as wear, 'I moved into a flat and somehow got clothes moths. Of course, they loved my furs so I had to freeze every coat, cape, stole and hat to kill the moths and eggs.' Keeping historical costume is not for the faint of heart.
Unlike museums, a rare item can be left in the ladies loo on a train or simply rip from overuse. A piece can quickly become unwearable through light damage, old threads, and the need for specialty repairs. While museums can tack something onto a mannequin, it is harder to tack onto flesh.
Events such as the Twinwood Festival and Goodwood Revival allow individuals interested in fashion and cultural history to connect with each other and display their collections and creations. Miss Vintage UK contestants are required to '…send a photograph … to Twinwood and an explanation of why [they] dress vintage and [their] inspiration' for their application. Followers of the Twinwood Facebook page then vote on the contestants. There is a camaraderie aspect, but even that fails to fully grasp why individuals choose to commit themselves to historical dressing full time.
The main take away from Ms. Bonarius is the evolution of the pursuit, 'it's become more refined as I've got older and got to know more about different eras.' As she says,
'… I've had a few disasters over the years! I used to dress quite glamorous daily so my special event looks didn't differ much from my daily attire. Recently however I've been dressing down a little. Wearing a lot of vintage work wear during the day. My go to glamour look though is 1940s slacks and a nice blouse … top it off with a fabulous 40's hat. Marlene Dietrich or Katherine Hepburn vibes.'
Is it because of sustainability, as many academic journals postulate, or is there simply a desire to emulate a style long gone and only seen in magazines and films? It is not an easy question to answer, however, according to Jessica, it is simple. She advises, 'Dress however you feel happy. Wear what makes you feel good and have fun with it.'
Look out for part two of this series, "The Costume Designer."
References:
(1) Cassidy, T. and Bennett, H. (2012). The Rise of Vintage Fashion and the Vintage Consumer. Fashion Practice, 4(2), pp.239-261.
(2) Costumesociety.org.uk. (2020). About the Society. [online] Available at: /about [Accessed 2 Mar. 2020].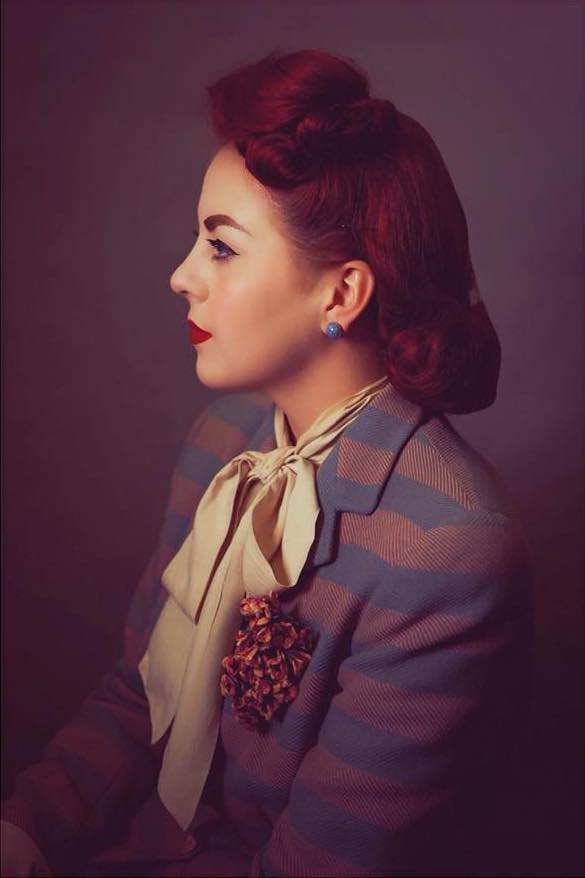 A Portrait of Jessica Bonarius, 2018, Photo Credit: Kai Price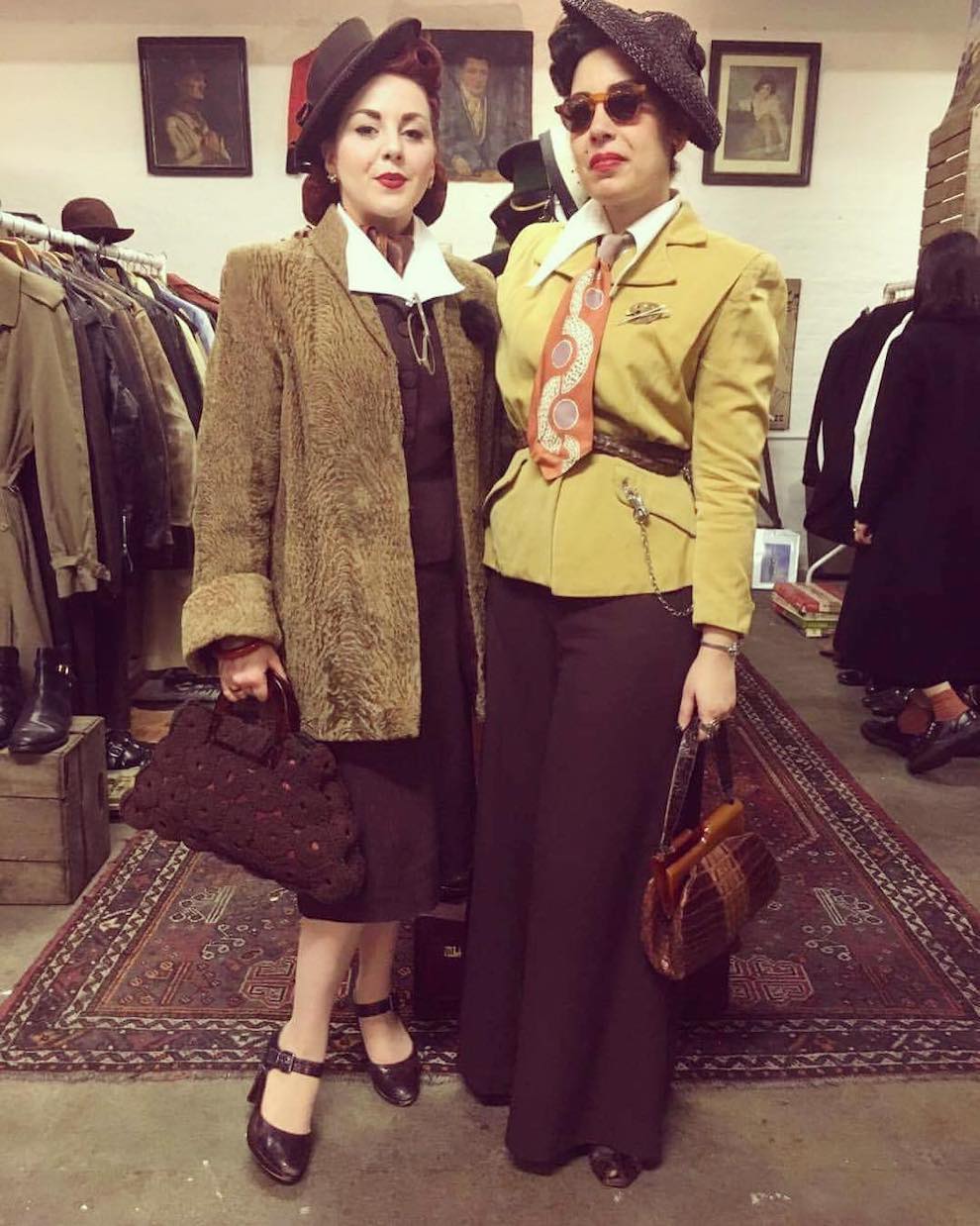 Jessica Bonarius and Sara Vargas de Mato at the Vintage Archive in the Brick Lane Vintage Market, 2017, Photo Credit: Markus Maverick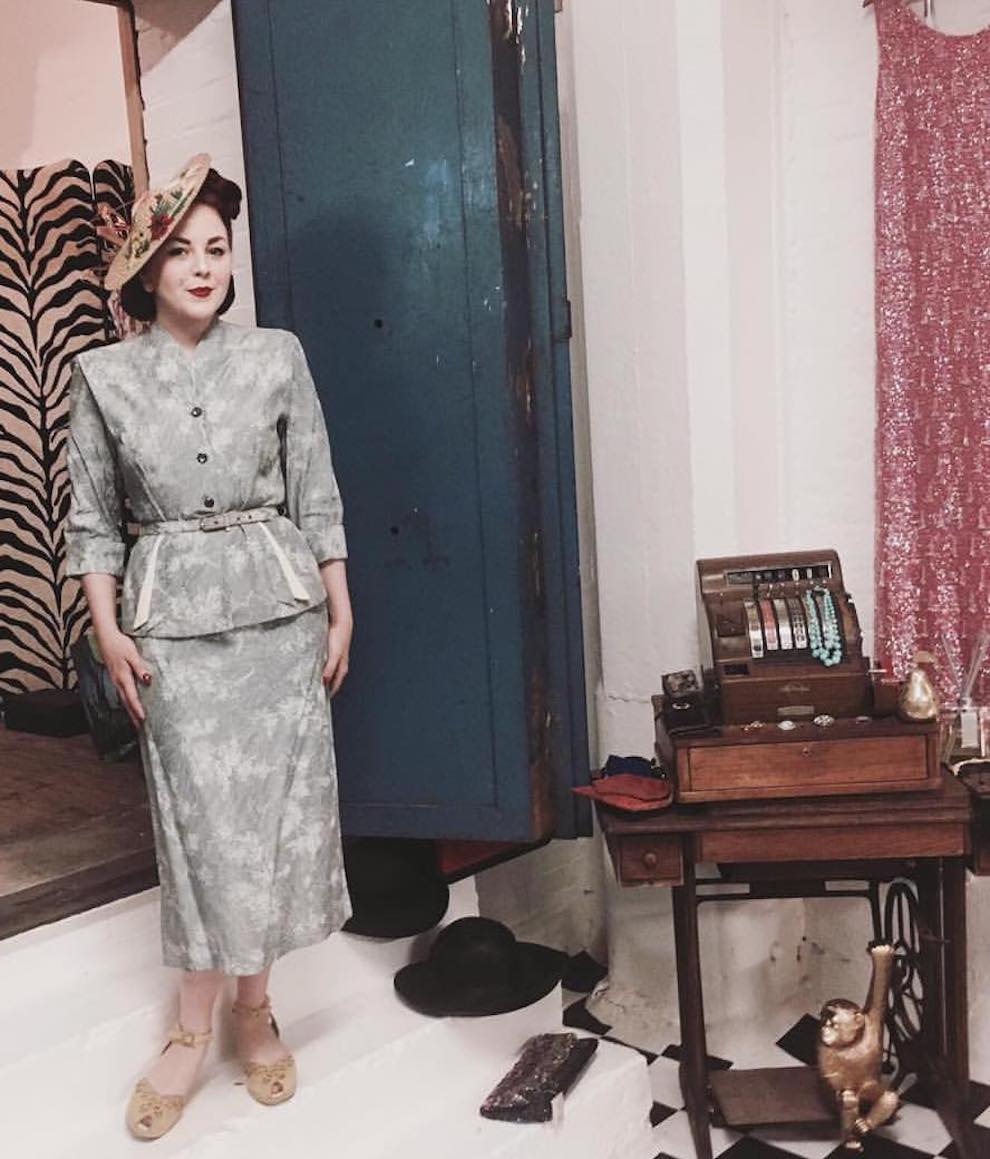 Jessica Bonarius in the Vintage Archive at the Brick Lane Vintage Market, 2017, Photo Credit: Markus Maverick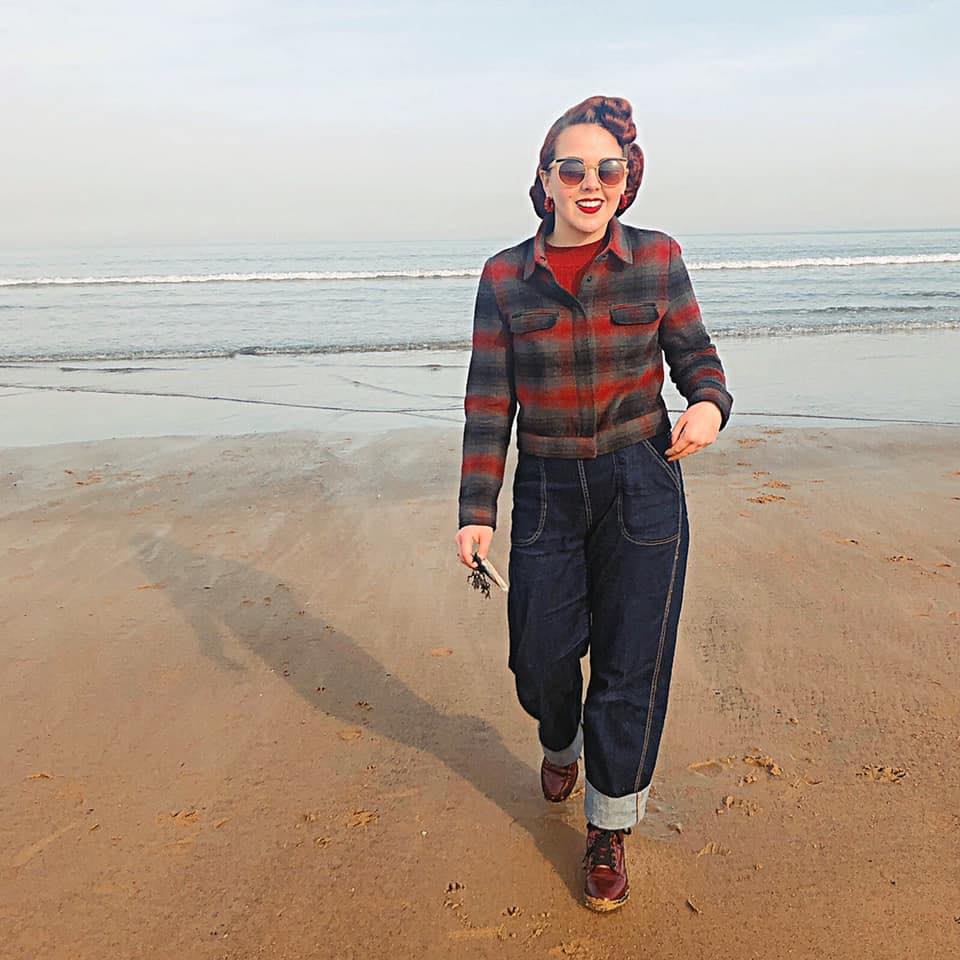 Jessica Bonarius on Tynemouth Beach, 2019, Photo Credit: Hannah Bonarius
"