Costume History Beyond the Museum Part Two: The Costume Designer, Modern Uses for Historical Pieces.
In 'Costume History Beyond the Museum Part Two', CS Ambassador Sarah Morgan interviews Amy Andrews Harrell, a period costume specialist for film and television.
by Sarah Morgan
The rise of costume dramas on television and in films has exposed the average person to costume history. But what goes into the work of a costume designer who specializes in period pieces?
In Costume History Beyond the Museum Part Two: The Costume Designer, Modern Uses for Historical Pieces we meet Amy Andrews Harrell, a period costume specialist for film and television.
Ms. Harrell has an MA degree in Costume Design from Southern Methodist University and a BA theatre degree from the University of North Carolina at Charlotte. She has worked on productions such as Steven Spielberg's Lincoln, HBO's John Adams, PBS's Mercy Street, and the upcoming Showtime minise-ries The Good Lord Bird. A recipient of the 2018 Best Costume Design Award from the Costume Society of America for her work on Series 2 of Mercy Street, her work is an example of non-academic uses for costume history.
A costume designer connects creators such as seamstresses, agers, and milli-ners to the actors, director, and the rest of the crew. They direct the visual aes-thetic of the individuals in the film, working alongside the cinematographer and set designer to create a cohesive visual mood.
This combination of creativity and practicality are easily broken down into five, broad steps. While each step blends or runs simultaneously, an organic line moves forward toward a final goal… the film.
Step 1 - Research
There are many pitfalls to costume production, but research is straightforward. Ms. Harrell has an analog process for her research, especially in the early stag-es.

"I love books … [and] I like to go to the New York Public Library picture collection. And I guess because my teachers did that, I always feel the legacy of doing it … I'm really scared of Google and the like, every-one's only going to know the first page of Google very soon … and so [the New York Public Library picture collection is a] really a valuable collection."
Step 2 - Presentation to the Producers
Once your research has begun, step two is an ongoing discussion with the pro-ducers. The development of initial character ideas and costumes have begun, and mood boards are set up to prepare the producers for the historical aspects of the film and how each costume will be used. The questions of 'what is need-ed for the film' and 'what are the styles of the period' are asked and answered in this step.
"If they haven't done [a period film before] … people don't realise. Even on Mercy Street a producer came in … and had to wait for me to get out of a bidding, and he goes, "I didn't know," … I don't even know if he thought there was a big zipper in the back or something … with these dresses. He didn't know they wore, really wore, the hoop skirt … All these things that [costumers] would take for granted that people would understand … I would have to educate the producers on, "so this is the fashion from the day," … and then have to interpret it for your actress who you know doesn't like the colour and looks better in a teal and then you have to balance it with what fabric."
Step 3 - Character Development
Every detail is important. After the explanation of the period to producers, step three is the development of the characters through renderings and mood boards. This begins to take shape almost simultaneously with physical mock-ups. Ms. Harrell has to think about who each character is, their place in the story and their eventual arc in the story.

"I am just intrigued by … [how] we adorn ourselves … if you really look everybody does it and … that's my favourite thing to do is make little tweaks … and you have to tone it to their person, you know, make the actor comfortable because if they're not comfortable, then it's not going to work anyway … I love bringing those two things together, working very carefully with the actor to make them comfortable and to bring them to the characters."
Step 4 - Fittings
Beyond the creation of the character it is important to find a comfort level with the actor as that character. Step four is the repeated process of fittings to create character specific details and style. A good deal of that is down to fit and access to the actor and the creation of mock-ups. On The Good Lord Bird, the rapper Killer Mike was cast at the last minute.
"[Fittings were] like Mission Impossible because he was touring … which a lot of that I'm used to … because [production] can't cast people until they know what date they're going to film and … with all the mov-ing parts, it's … a constant battle … Mike was touring, so … we just had to set on this crazy adventure of getting a mock up fit, because … we had to be in the world of it being spot on … and it had to be waiting, ready to go and fit him to a tee when he got there because we weren't going to have a second chance."
When in his costume, Killer Mike, at six foot, is, I can attest, everything the 1860s average man he was playing versus the Atlanta-based rapper he is. As Ms. Har-rell states, "[His clothes], they fit because we went the extra mile of building it for him … but that's what I mean about something when he gets there, he puts it on and he's like, 'Oh yeah, I can do this … be this 19th century person and under-stand what it is to live in this world.' And I love that."
As Ms. Harrell states, "… you don't want to get caught … You don't want the dress to fly up and you see your sins." However, that means a certain amount of using what the modern era provides for fabrics and techniques no longer in use. For example, the 1860s southern hoop skirt was made of flattened steel wire, sturdy but still fairly manipulatable. They were made to specific sizes and shapes in a long unused process, 'And that's why [modern costume shops] can't do it … we either have the option of that flimsy stuff in the fabric store or some-thing crazy and stiff that won't bend.'
So, what is a period costumer to do? Get creative. "I usually take … two or three prom hoops to make one and put them in there. Then it'll have some integrity." Considerations for the issues of modern fabrics versus new fabrics also plays into this. A brocade may look good on film and mimic a fashion plate, but mod-ern brocades are heavier than brocades in the past and the hoop underneath has to take that weight.
Beyond the fabric and structure, even the details pose a problem, "so far as but-tons go, buttons are a constant, constant battle." The line between anachronistic and historically accurate is thin at times when contemporary issues of produc-tion must be taken into account. On a production nothing is ever the same prob-lem-wise, from project to project or day to day there is always a new problem and a new solution. "On Mercy Street, I felt like I was always looking for fabric. On the last job I did, because it was men and men of the [1860s] have a lot of buttons, … I was always looking for buttons."
It is fascinating to see the transition from influence to rendering to sketch to mock-up to final ensemble, to see the character take shape through visual lan-guage. There is a flow of design and test, sketch and render, a series of repeat-ed actions put to trial and error until the eventuality comes to pass. 'When we're in the heat of it, I have to … figure out what we need and then actually com-municate the seaming to the tailor.'
Communication and the clever use of materials are both important to the design process. It is too labour intensive to make an entire world, so background char-acters have a mixture of hired and created designs. Clothes were repurposed from one character to another, buttons and fabrics harvested. As Ms. Harrell says, "… sometimes things go so fast, I can't control it." Antique robes are used in fight scenes, and any damage has to be patched in the moment. Work on a set must be based on communication in order to adapt.
Step 5 - Detailing, e.g. multiples and aging
The issue of patching and damage leads us onto the next step. Step 5 is the creation of details, which includes multiples and their aging. While simultane-ous with creation, step 5 is the costume designer as the connection, from pro-ducers to creators and creators to agers.

"I would have to show him what degree I wanted something aged to … I would have to work with them pretty closely to show them what direc-tion I'm going… It is an organic thing, and I really appreciate that about the process and working with the people … the ground is shifting un-der our feet with all the different elements that are coming in that we must take into consideration."
We ended our conversation on the fascinating subject of garden hose. I was describing an issue I had on a project designing a hoop skirt strong enough to hold champagne glasses, and Ms. Harrell had the answer immediately out of her wealth of experience: "So the first year of Mercy Street I tried all these differ-ent things and there was this one blog about a girl who's a re-enactor, and … we did that. We did it with hose … you would have to make a farthingale of it. So it's got fabric in between the tubes not just the little strips, but it weighs a ton."
A costume designer, especially a period costume designer, needs to supply a period environment to tell a story. Authenticity is important, however, "because we're not really back then and we, you know, have all these limitations due to productions," accuracy is only a goal. The goal is accuracy, but also overall cre-ation of a character. Do you not have access to an authentic 1860s hoop skirt? Then a hose will make the shape and hold up the heavy skirts. "Theoretically, if I get a job, I could do any number of things from dressing the most conservative president's wife or … a spacesuit or an alien. I mean, that's what I love about it." There is a freedom to design, but it must be organised and developed in the chaos of production. In the end that is a costume designer's job, to guide a con-temporary production toward authentic period characters. It reveals a lot of cy-clical work but results in a final product.
Look out for part three of this series, 'The Costume Collector'.
Links:
Amy Andrews Harrell IMDB Profile
Amy Andrews Harrell Website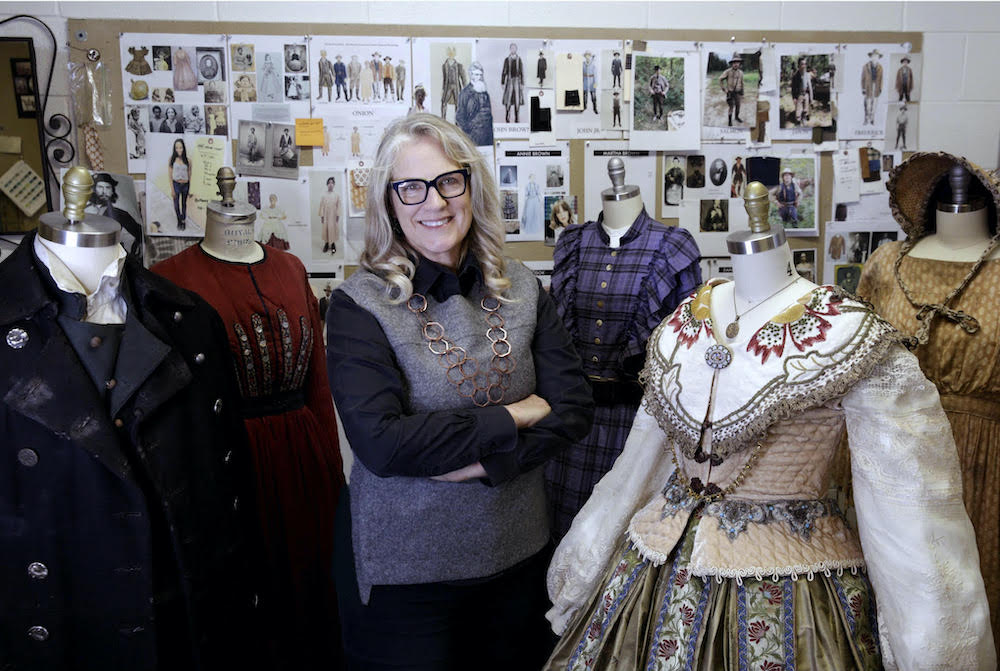 A Portrait of Amy Andrews Harrell, 2019, Photo Credit: William Gray.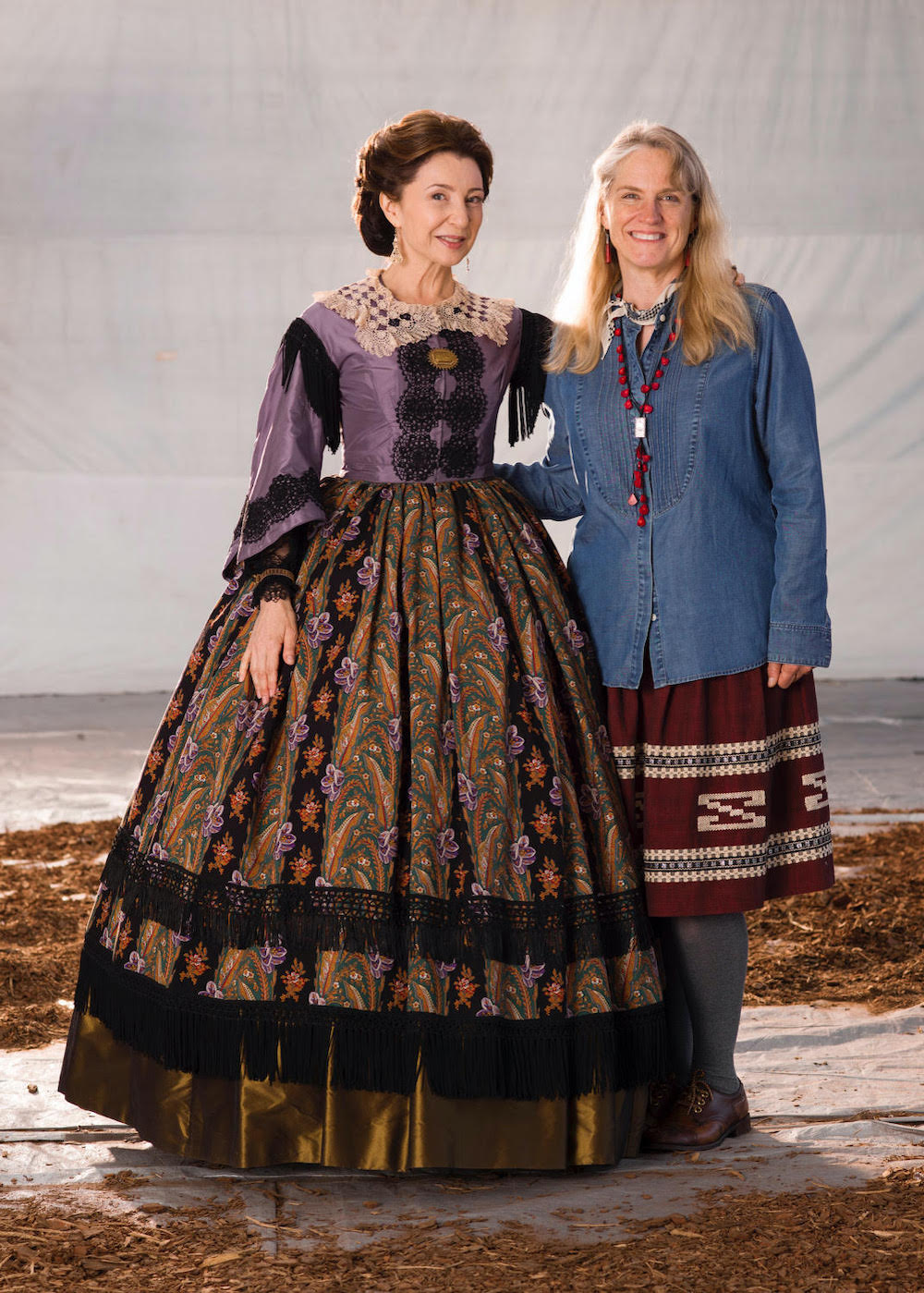 Donna Murphy as Jane Green and Amy Andrews Harrell on the set of Mercy Street (2016 - 2017), Photo Credit: Cade Martin.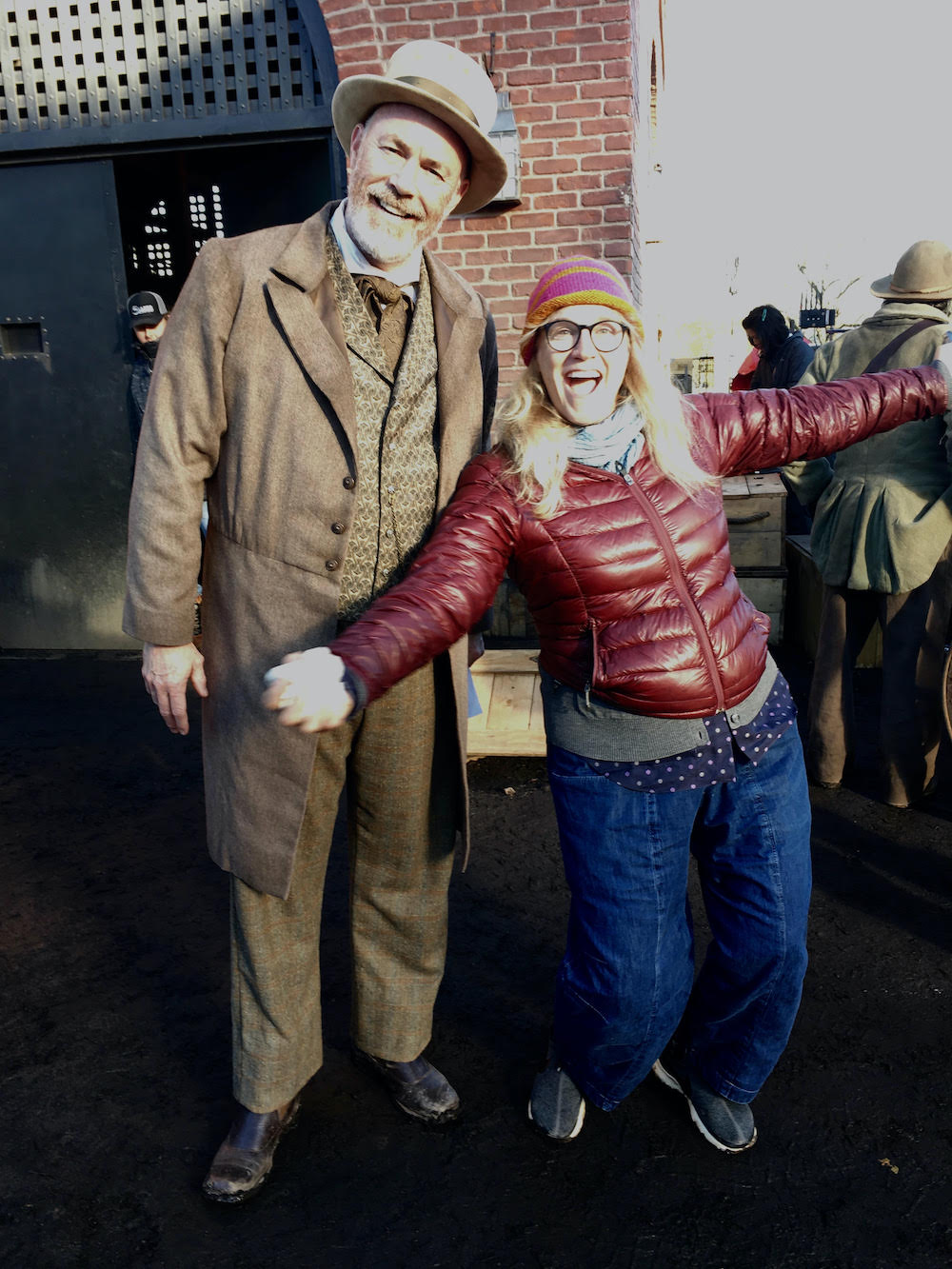 Amy Andrews Harrell on the set of Mercy Street (2016 - 2017), Photo courte-sy of Amy Andrews Harrell.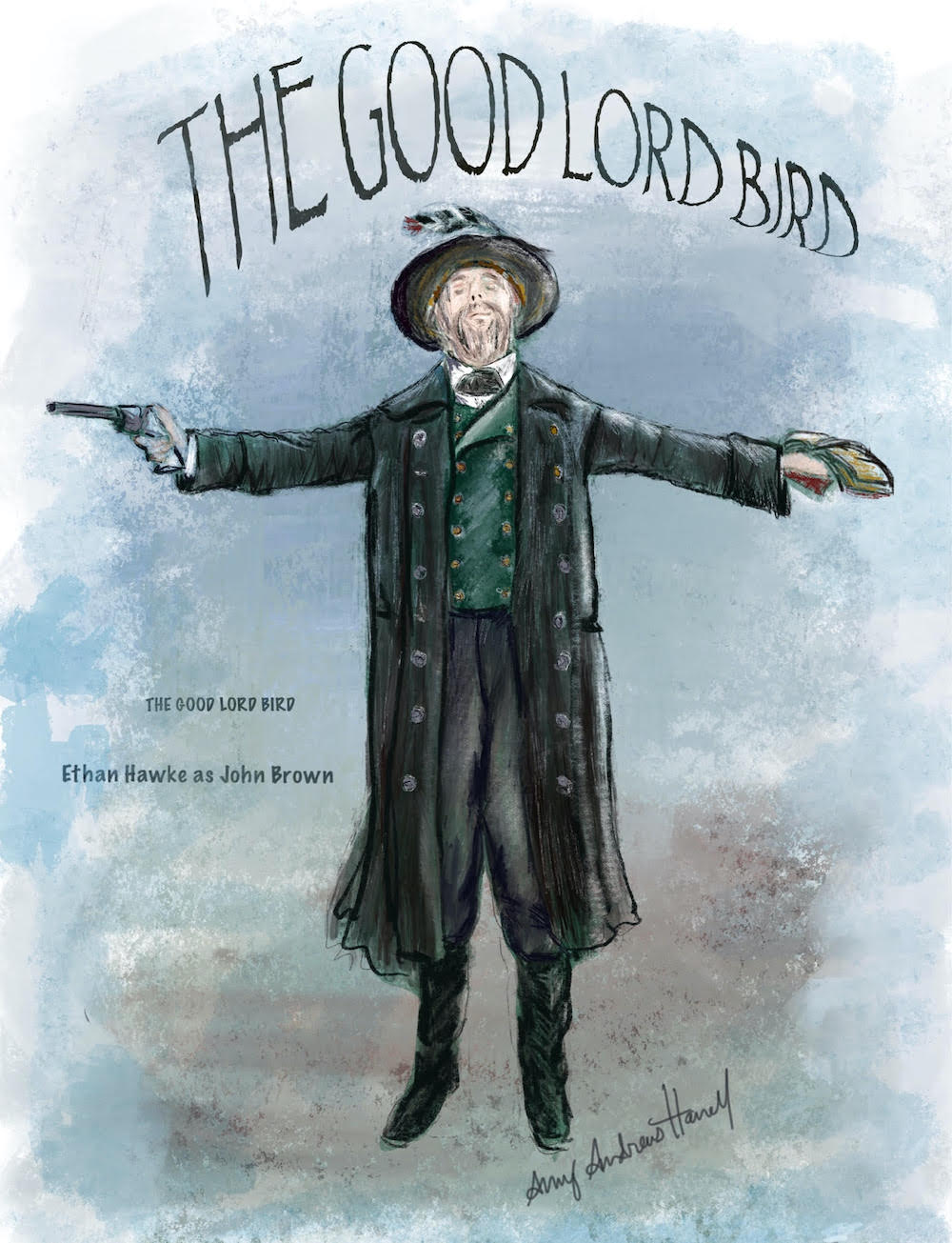 Character Sketch of John Brown from The Good Lord Bird (2020) by Amy An-drews Harrell, 2019, Image courtesy of Amy Andrews Harrell.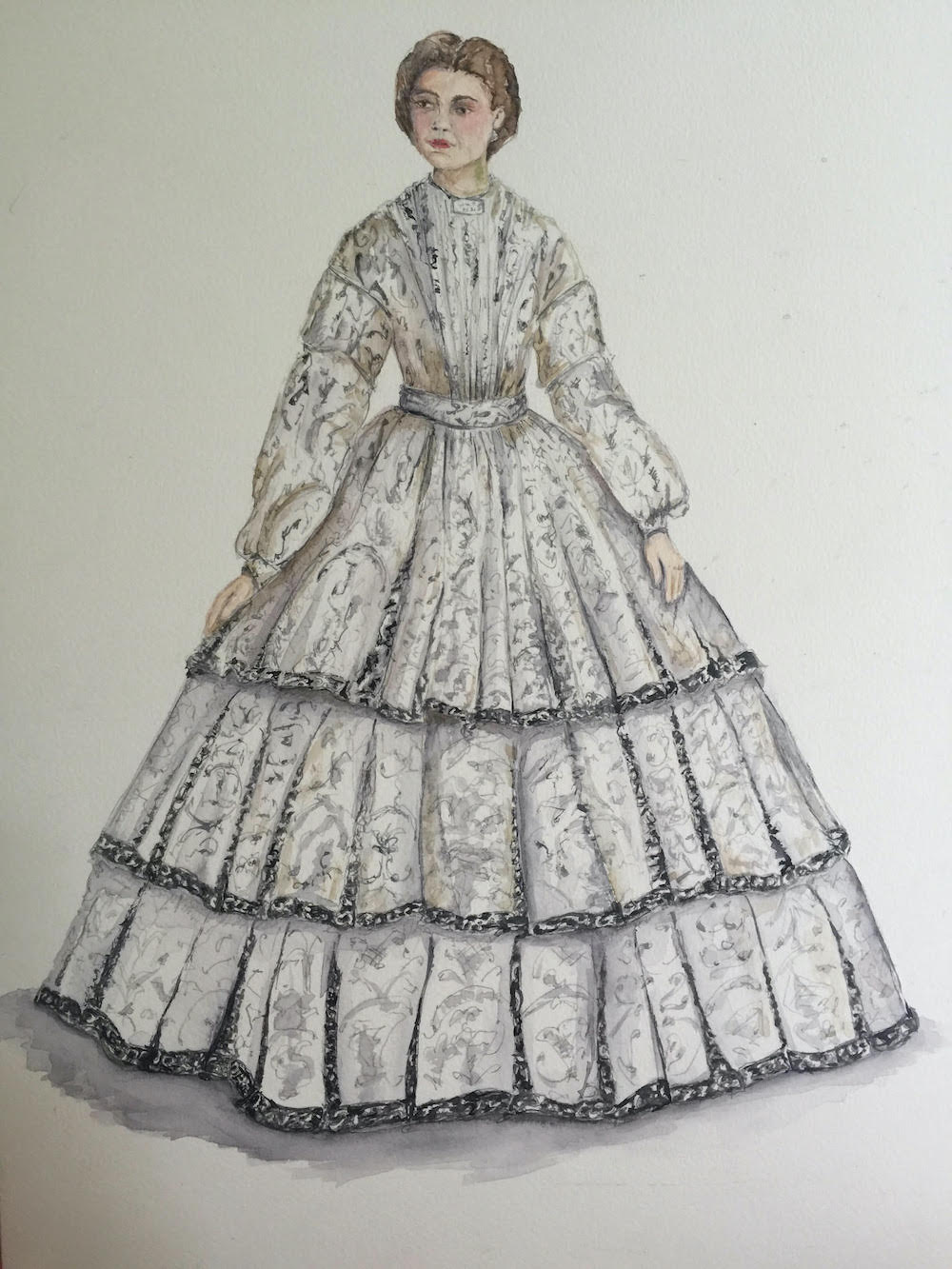 Dress Design by Amy Andrews Harrell for Mercy Street's Second Series, 2017, Image courtesy of Amy Andrews Harrell.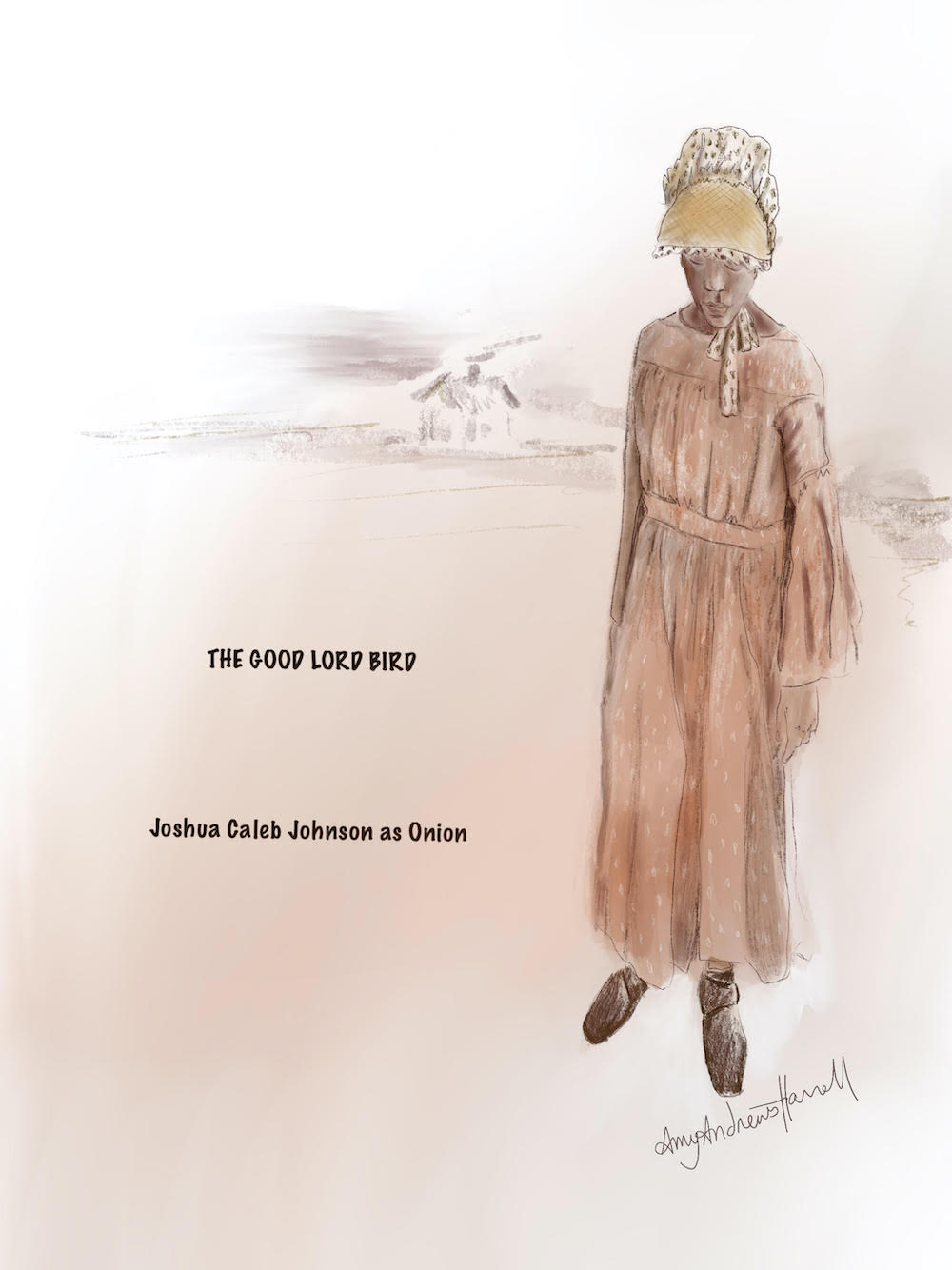 Character Sketch of Onion from The Good Lord Bird (2020) by Amy Andrews Harrell, 2019, Image courtesy of Amy Andrews Harrell.
"