Death Becomes Him – Highlights of Tutankhamun: Treasures of the Golden Pharaoh
Before lockdown, CS Ambassador Joanna Munholland had the opportunity to visit 'Tutankhamun: Treasures of the Golden Pharaoh' at London's Saatchi Gallery. In this week's blog, Joanna highlights some of her favourite fashion and textile related objects from the exhibition.
by Joanna Munholland
Before lockdown, I was able to visit TUTANKHAMUN: Treasures of the Golden Pharaoh at the Saatchi Gallery in London. Billed as the last chance to see these priceless items in London, the exhibition was scheduled to run unitl 2nd May, 2020, but has since been closed to the public due to the current global health pandemic. Fortunately, you can still experience this wonderful exhibition via an online virtual tour.
Besides the head rests, crooks and flails, statues and so much more, there were lots of stunning pieces of jewelry, incredibly preserved linen gloves, and an amazing flabellum (fan).
The first item I want to mention was a small, crouched figure on a thick gold chain (figure 2). The crouching figure is identified as Amenhotep III, the paternal grandfather of King Tutankhamun. The exhibition label explains, 'A lock of hair belonging to Amenhotep's wife, Queen Tiye, was found with this figure. Amenhotep III's shebyu collar of glass beads proclaims his devotion to Ra. / Gold / Reign of King Tutankhamun 1336-1326 B.C. / Grand Egyptian Museum'. For me it stood out because even though it's a small object, it's face is full of life and the entire piece is incredibly detailed.
Another piece that caught my eye was an earring (figure 3) with a falcon incorporated as part of the design (to me, it really looked like a duck). Besides being a beautifully detailed piece, one thing I really appreciated was the fact it was displayed in such a way that people could examine it from both sides, one side much closer than the other. The text for the earring reads, 'Gold Inlaid Wesekh Collar-Shaped Earring with Blue Glass Falcon: One of a Pair / This duck-like falcon represents Horus and holds the shen sign for eternity. The pharaoh was the early embodiment of Horus, the son of Osiris. / Gold, Quarz, Calcite, Faience, Glass / Reign of King Tutankhamun 1336-1326 B.C. / Grand Egyptian Museum' . Wesekh translates as the 'broad one'.1
If you are interested in textiles there were some incredible linen gloves that had miraculously survived thousands of years locked in the tomb. Of the pair on display (figure 4), one remains folded - perhaps that is the way it was found and it is too dangerous to unfold it. The exhibition text reads, 'Pair of Tapestry Woven Linen Gloves, One Folded / This pair of gloves is similar to others found inside the semicircular box. / Linen / Reign of King Tutankhamun 1336 - 1326 B.C. Grand Egyptian Museum / first time out of Egypt'. While they were displayed passively, again, it quite likely has something to do with the sheer age and fragility of the gloves.
Finally, not wearable fashion but definitely a fashionable accessory was an ornate flabellum, or fan (figure 5). The label reads, 'Gilded Wooden "Ostrich Hunt" Fan / The inscription on the stick says that Tutenkhamun hunted ostriches in the desert near Heliopolis and provided feathers for this fan. / Wood, Gold Leaf / Reign of King Tutankhamun 1336 - 1326 B.C. Grand Egyptian Museum'. It is a stunning object, but the interpretation of the object was fantastic because it really helped visitors to envision what the object might have looked like when it was used by King Tut himself.
What truly blew my mind about most of the items on display was the level of detail given to each of the pieces. Not surprising, given they were laid out for a king, but it increased by appreciation for the artisans and craftspeople. I tried to take a moment in front of each case to absorb what was in front of me, to try to take in as many details as possible, not always possible due to the volume of people who had come to see this fascinating display of artefacts (figure 6).
Whether or not it truly is the last time these objects tour, it was an incredible thing to behold them now.
Bibliography/ Further Reading:
1 https://www.britannica.com/biography/Tutankhamun
2 https://www.fancircleinternational.org/history/fans-of-tutankhamuns-tomb/
3 http://www.bbc.com/culture/story/20191029-king-tutankhamun-the-tragic-cause-of-the-pharaohs-cult
Any links:
https://www.saatchigallery.com/art/tutankhamun.php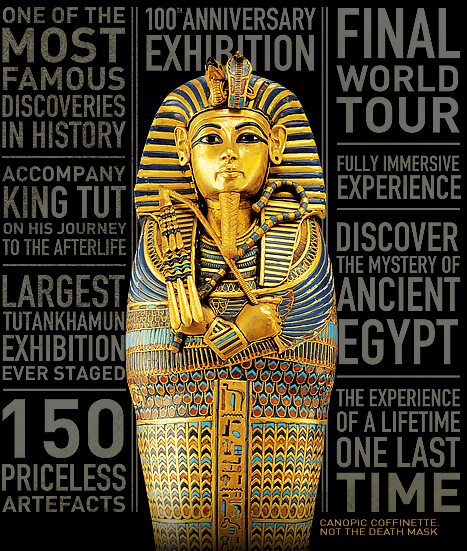 Tutankhamun Exhibition Marketing Image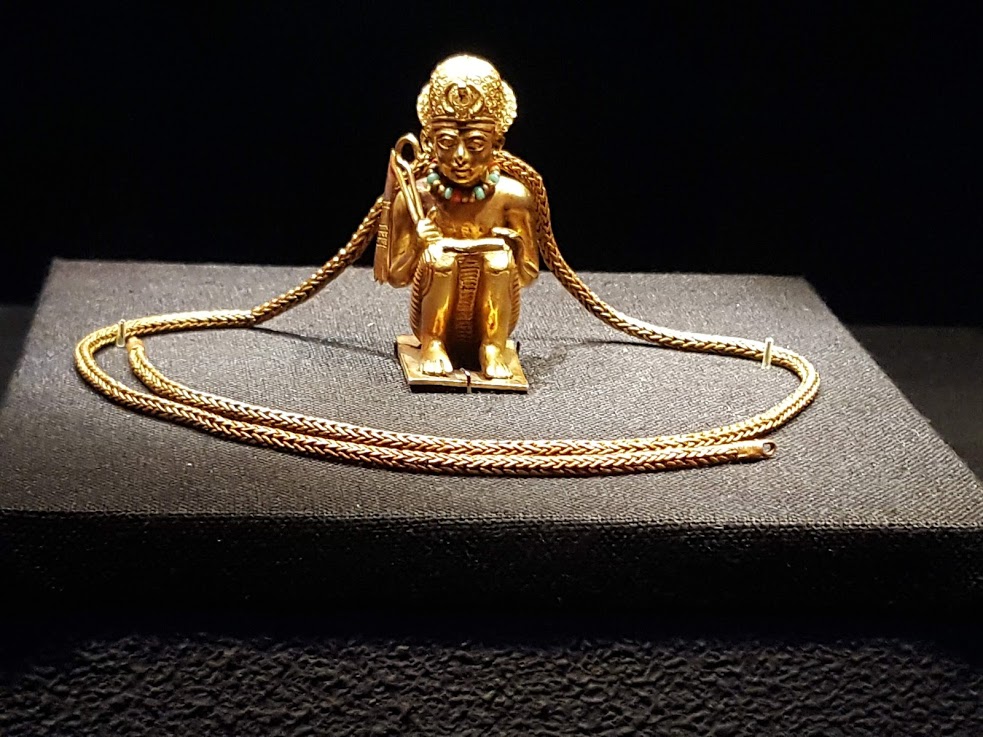 'Crouched Figure'; Credit; 'Golden figure, image credit, Joanna Munholland'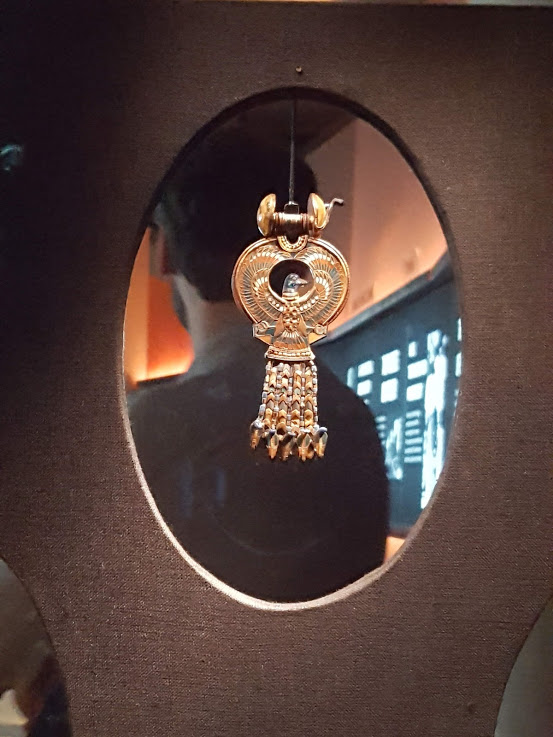 'Falcon earring King Tut'; Credit; 'Falcon earring, image credit, Joanna Munholland'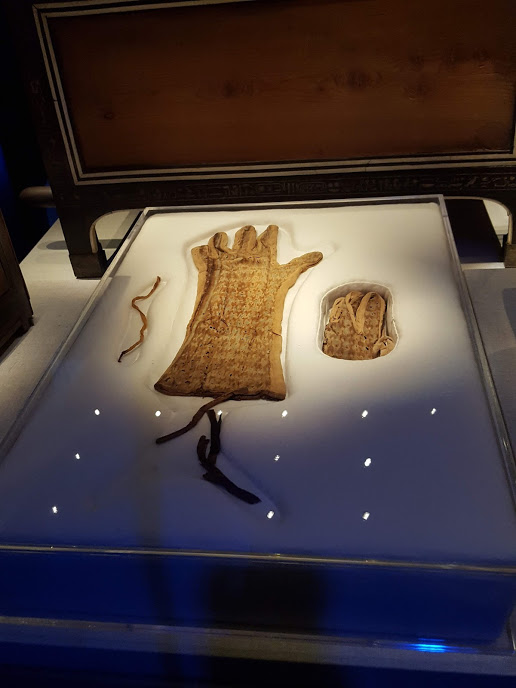 'King Tut Linen Gloves'; Credit, 'Linen gloves on display; image credit, Joanna Munholland'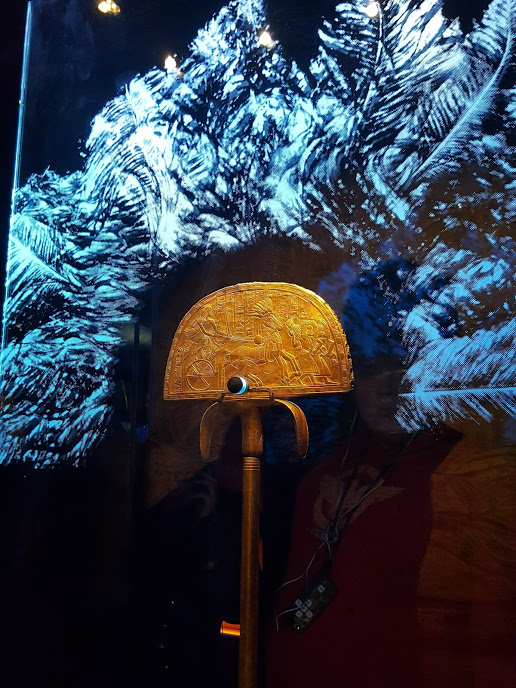 'King Tut Fan'; Credit, 'Fan on display; image credit Joanna Munholland'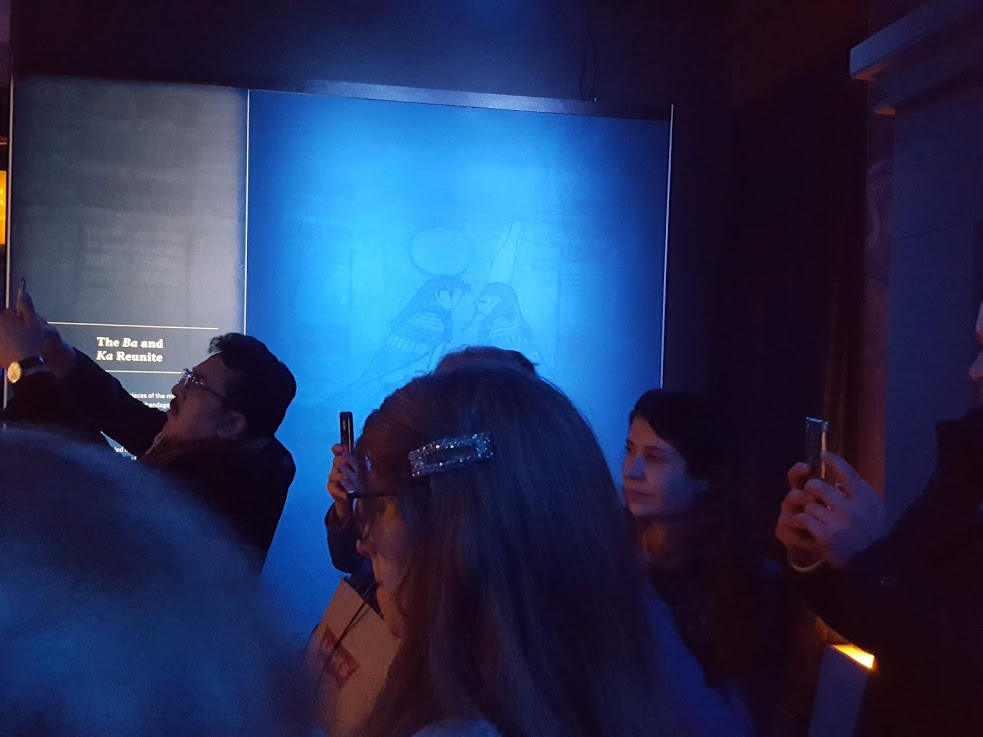 'King Tut Crowds'; Credit, 'The exhibit was incredibly packed on a Saturday night; image credit, Joanna Munholland'
"