Embroideries, prints and weaves: a visit to Chertsey Museum, Surrey
Rebecca Morrison Reports On Her Visit
Embroideries, prints and weaves: a visit to Chertsey Museum, Surrey
On a rather rainy day a group of us arrived at Chertsey Museum, but the weather had not dampened our spirits as we had much to look forward to. I will confess to being slightly London-centric in my visits, but Chertsey Museum, which holds the Olive Matthews Collection has always been high on my list of must sees.
Olive Matthews was quite an extraordinary woman, born in 1887 into a comfortable middle-class home in Camden, North London. An only child who had lost her mother at a young age, she was brought up by her father and aunts. In keeping with Victorian practices she was taught by a governess and encouraged to take up self-improving hobbies. Collecting dress and accessories were an excellent prospect, easy to store, yet possessing the qualities Olive most admired, hand made and of high quality craftsmanship. With her allowance of between 2s 6d and 5s a week Olive regularly visited the Old Caledonian Road Market, where she made some quite remarkable discoveries…
After a brief introduction our host and curator of the collection Grace Evans started at the beginning. The earliest item in the collection is an early seventeenth century nightcap made of fine linen and richly embroidered with silks, silver gilt thread and silver spangles. A superb replica made by Louise Taylor was passed around and we were able to appreciate the incredible level of detail present in this rare object. It is remarkable to think that Miss Mathews unearthed the cap at the market, where it was being sold as a 'Victorian' nightcap complete with the later additions of tassel and pink silk lining. I doubt anyone would be so lucky now.
The collection is renowned for its eighteenth century items. A few pieces including a printed handkerchief dated July 9 1774, featuring David Garrick and other actors and playwrights of the day were inherited from her great, great grandmother Susanna Pearce. Was it these items that inspired the young Olive to start her collection? A very private woman who rarely discussed her motivation she gave a clue as to her interest in the eighteenth century in a letter, 'I am interested in costumes up to about early Victoria…styles I have known and worn I don't care about, They are not Antiques to me'(1).
This passion for an age pre-mass production was exemplified throughout the morning, as Grace treated us to many items including men's and ladies' wear from the eighteenth and early nineteenth century, beautiful shawls and stoles all exhibiting a myriad of textiles, embroideries and printing techniques. But this is not a collection that stands still. Successive curators have added to it, filling in gaps where necessary and bringing it into the twentieth century with items by designers including Hartnell, Ossie Clark, and Jean Muir. One object that sparked much comment was a late 1930s dress by Jeanne Lanvin of bias cut red wool crepe, appliquéd in gold leather and sequins.
It was such a privilege to get a glimpse of some of the highlights of the Olive Matthews collection. Chertsey Museum has two galleries dedicated the collection. The Accessories Gallery, which features many of the exquisite smaller items and the Fashion Gallery hosting a dress exhibition that changes annually. On display until 23 August is Farewell to All That, which looks back to the years just before World War One and to a halcyon world that was lost for forever. If you would like to know more about the Olive Matthews Collection or Chertsey Museum, visit http://chertseymuseum.org/home .
1)Excerpt from a letter from Olive Matthews to Mr Bob Trett dated 22 April 1974. Cited in Evans, G., Fashion in Focus: Treasures from the Olive Matthews Collection, Chertsey Museum, 2011, p 10.
Rebecca Morrison, Costume Society Ambassador 2014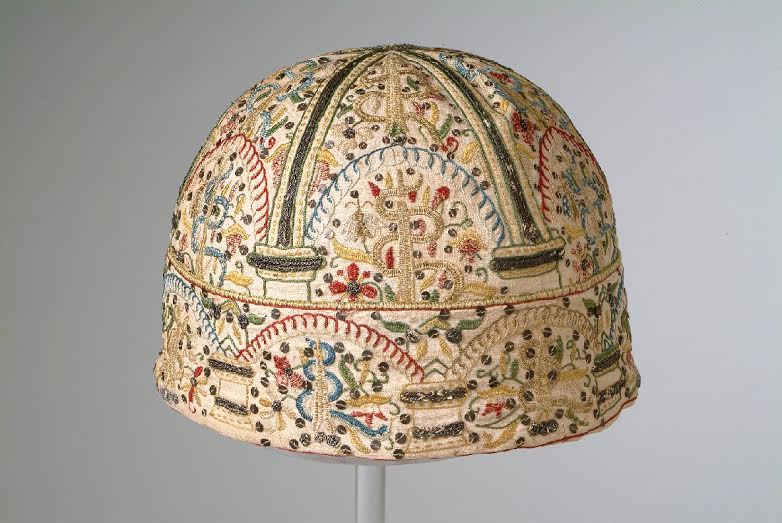 Man's nightcap of fine linen embroidered with silks, silver gilt thread and silver gilt spangles, 1600-1620. Image copyright the Olive Matth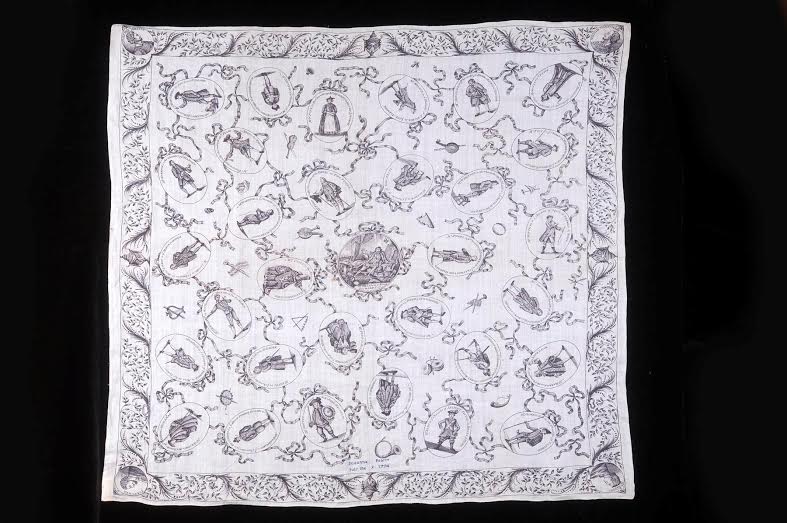 Linen handkerchief printed with images of David Garrick and other actors, and embroidered with 'Susanna Pearce, July the 9 1774. Image copyr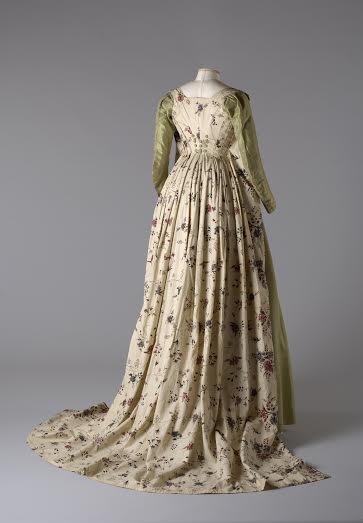 Painted cotton gown, 1790-1795. Image copyright the Olive Matthews Collection, Chertsey Museum.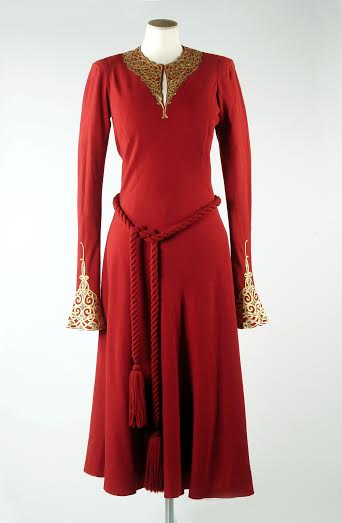 Evening dress of bias cut red wool, appliquéd with gold kid leather and sequins, Jeanne Lanvin, 1938. Image copyright the Olive Matthews Col
"