Exciting News! Another Elizabeth Hammond conservation grant has been made
A Costume Society Elizabeth Hammond Conservation Grant has been made to Manchester Art Gallery
Exciting News! Another Elizabeth Hammond conservation grant has been made.
A Costume Society Elizabeth Hammond Conservation Grant of £4,950 has been made to Manchester Art Gallery to pay for the conservation of a unique late 19thc smoking jacket for their major exhibition 'Dandy Style', opening on 4th February 2021.
It will form a centrepiece in the show in the section investigating the 'Artistic Dandy', and highlighting the more flamboyant, artistic styling favoured by the likes of Oscar Wilde.
The maroon wool poplin smoking jacket from the1880s forms part of the historically significant Cunnington collection which was purchased by Manchester Corporation in 1947 and which forms the foundation of Platt Hall and Manchester's international costume collection.
The coat is in need of substantial conservation as there are holes and damage across the whole of the front.
Zenzie Tinker Conservation Ltd will carry out the work.
Look out for a link to the conservation project on our website when work commences later in the year.
Janet Wood
Officer managing the Elizabeth Hammond Conservation Award.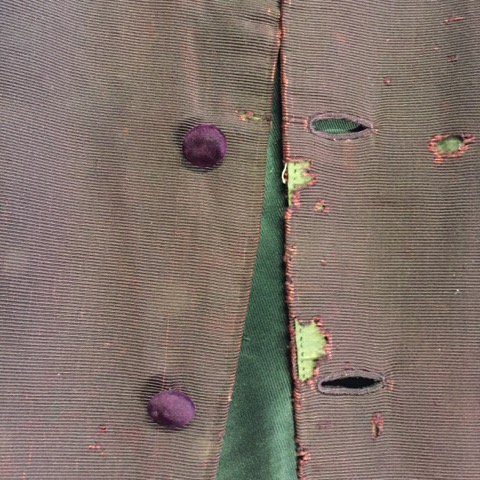 Image copyright Zenzie Tinker Conservation Ltd.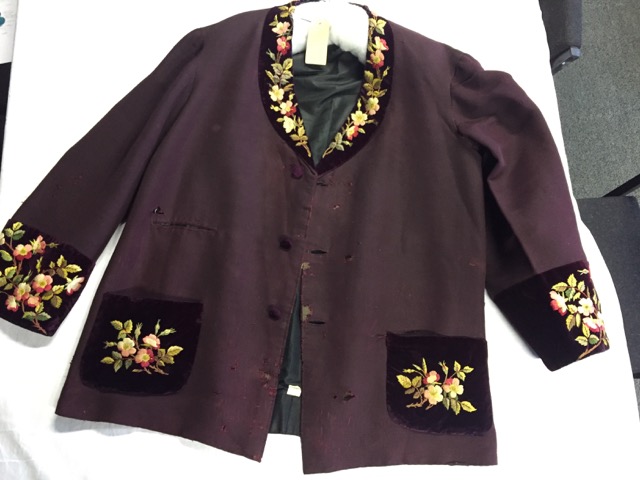 Image copyright Zenzie Tinker Conservation Ltd.
"