Gilded Lilies: A Sparklewren Retrospective at The Underpinnings Museum
In the final instalment of our Guest Blog Month, Victoria Haddock reviews The Underpinnings Museum's new online exhibition Gilded Lilies: A Sparklewren Retrospective.
by Victoria Haddock
The Underpinnings Museum is a free online museum that showcases and documents garments dedicated to the evolution of underwear through the ages. Founded in 2016 by lingerie designer and 'vintage underthings aficionado' [1] Karolina Laskowska, the museum explores the history of lingerie, an often neglected area of fashion study. By offering free access to high-quality photography and technical and historical contextual information on a diverse array of historic foundation wear and lingerie dating from the 1770s through to the 21st century, the Underpinnings Museum is a valuable resource for fashion students, historians and home sewers.
The museum has been holding regular online exhibitions since 2016 that have explored topics including how technological advances have affected bra-making and the boudoir cap. The new exhibition for 2020 is Gilded Lilies: A Sparklewren Retrospective, curated by Laskowska.
The 2010s saw an unprecedented revival of corsetry craft and one of the key creators within this movement was the Sparklewren label, founded by Jenni Hampshire in 2009. Hampshire is an entirely self-taught corset maker and 'Gilded Lilies' examines her work as one of the most influential and memorable makers in the modern corsetry movement. The exhibition's title comes from 'Gilding the lily', a common misquotation from Shakespeare's King John that refers to over embellishing something unnecessarily; a concept that Sparklewren has repeatedly challenged with their designs. Displayed across twelve chapters, the exhibition spans thirty-eight pieces and eleven years of Sparklewren designs, featuring exclusive behind the scenes and editorial photography, sketches, and embroidery samples. The exhibit explores Sparklewren's development, the brand's reinvention, the techniques used for construction, fabric choices, boning, patterning, and the embellishment of corsetry.
The Birmingham based brand's early years were influenced by the concepts and techniques of Jenni's fine art background. Sparklewren's early designs referenced different periods of corset history: ranging from rigidly structured 18th century stays to the fan lacing that was popular on 20th century girdles, taking antiquated details from historical design, and re-purposing them as decorative and modern design elements. What set Sparklewren apart was that Jenni treated the corset as a piece of wearable sculpture, rather than as a functional garment.
I found Chapter Seven on Sparklewren's historical influences of particular interest. As Laskowska explains in the exhibition, 'no contemporary corsetiere can divorce themselves from the influence of historical corset design; despite advances in textile technology, much of modern corsetmaking remains fundamentally unchanged from the techniques of the late 19th/early 20th centuries' [2]. One of Jenni Hampshire's experiments was based on the c. 1900 'Bird's Wing' corset from the Symington collection, held by the Leicestershire County Council Museums Service. Consisting of twenty-one panels per side, the corset was supposedly named as it resembles a bird's wing when laid flat. Jenni worked to refine the style, which requires a high level of stitching accuracy, using it in both her bespoke creations and to develop her ready to wear ranges.
The online nature of this exhibition makes it much more interactive as it can be navigated page by page or by going directly to your area of interest by clicking on a full list of links at the bottom of the page. Clicking on images of the corsets, waist cinchers and bodysuits featured takes you to a dedicated object page, giving detailed information about the individual piece for those wanting to discover more about their construction and the materials used. The exhibition is beautifully illustrated with detailed 360 degree images of each item by Tigz Rice Studios that really make this exhibition a feast for the eyes!
With many museums still closed, online exhibitions have become increasingly popular, allowing people to access culture during lockdown. The Underpinnings Museum have been using this format for years and it shows in the stunning images and Karolina Laskowska's detailed descriptions that accompany each garment in Gilded Lilies: A Sparklewren Retrospective.
The exhibition went live on Monday 27th July and can be found here
References
[1] The Underpinnings Museum, 2018, Team, The Underpinnings Museum, viewed 18 July 2020. https://underpinningsmuseum.com/team/
[2] Karolina Laskowka, 2020, Chapter Seven: Historical Influence, The Underpinnings Museum, viewed 18 July 2020. https://underpinningsmuseum.com/exhibition-gilded-lilies-a-sparklewren-retrospective-chapter-seven/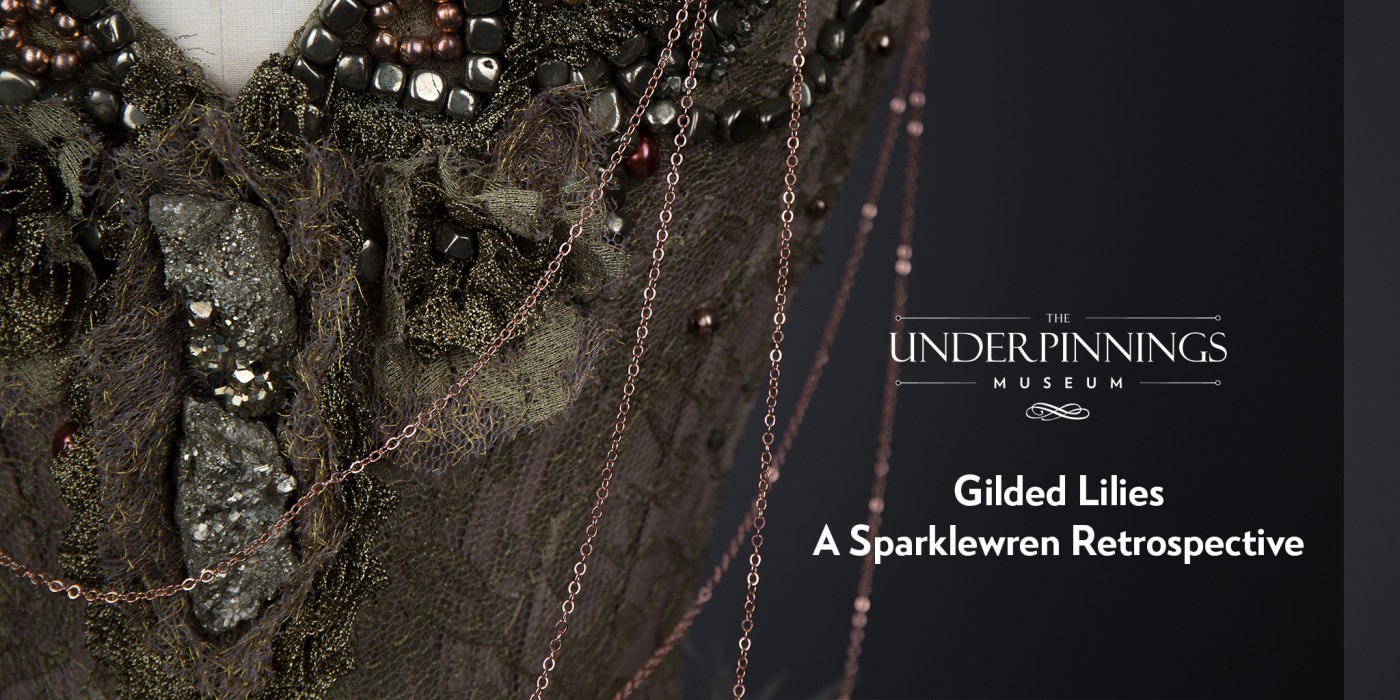 Gilded Lilies A Sparklewren Retrospective Banner © The Underpinnings Museum. Photography by Tigz Rice.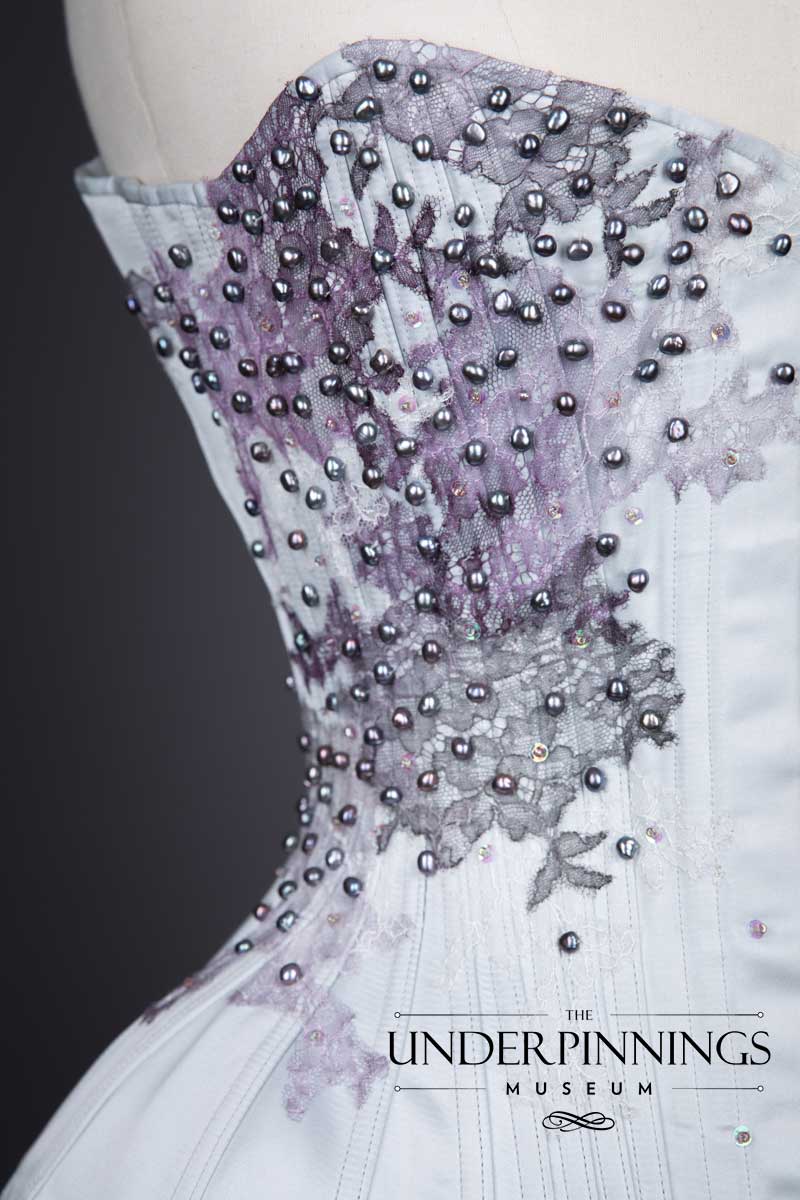 'Love In A Mist' Silk & Lace Appliquéd Overbust Corset By Sparklewren © The Underpinnings Museum. Photography by Tigz Rice.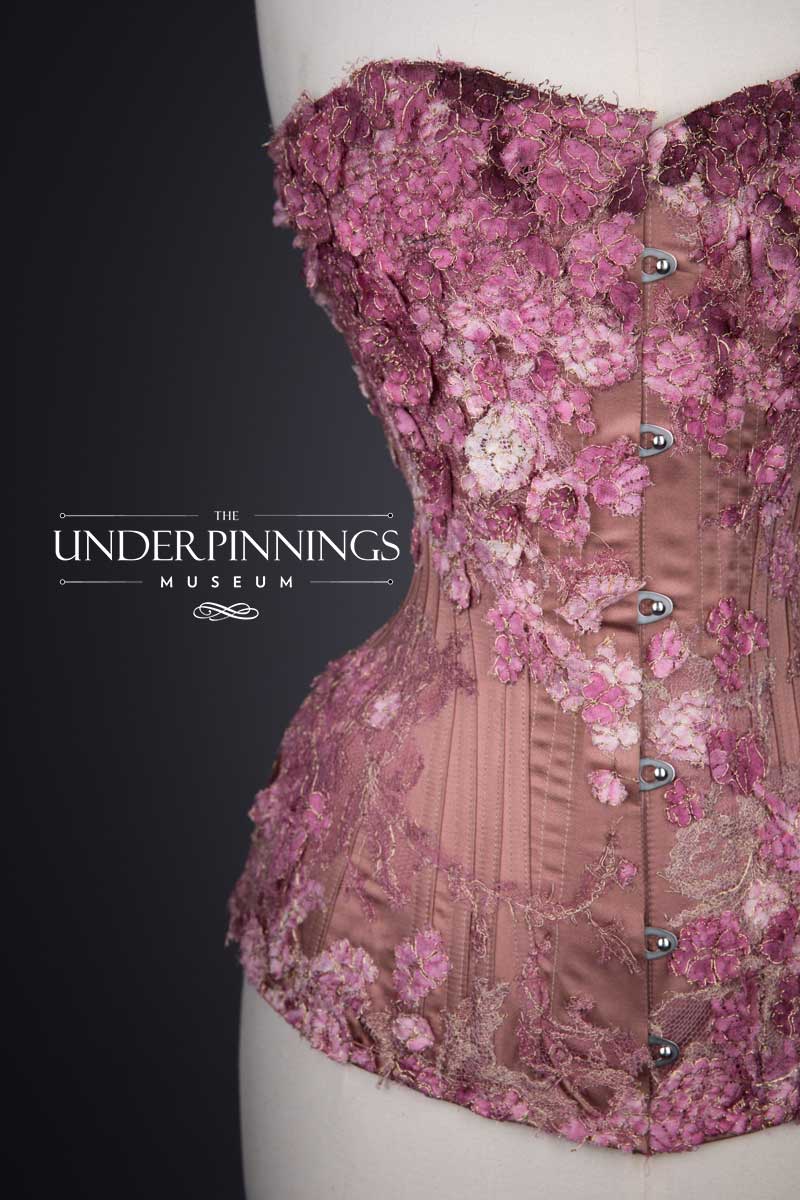 'Falling Blossoms' Overbust Corset By Sparklewren © The Underpinnings Museum. Photography by Tigz Rice.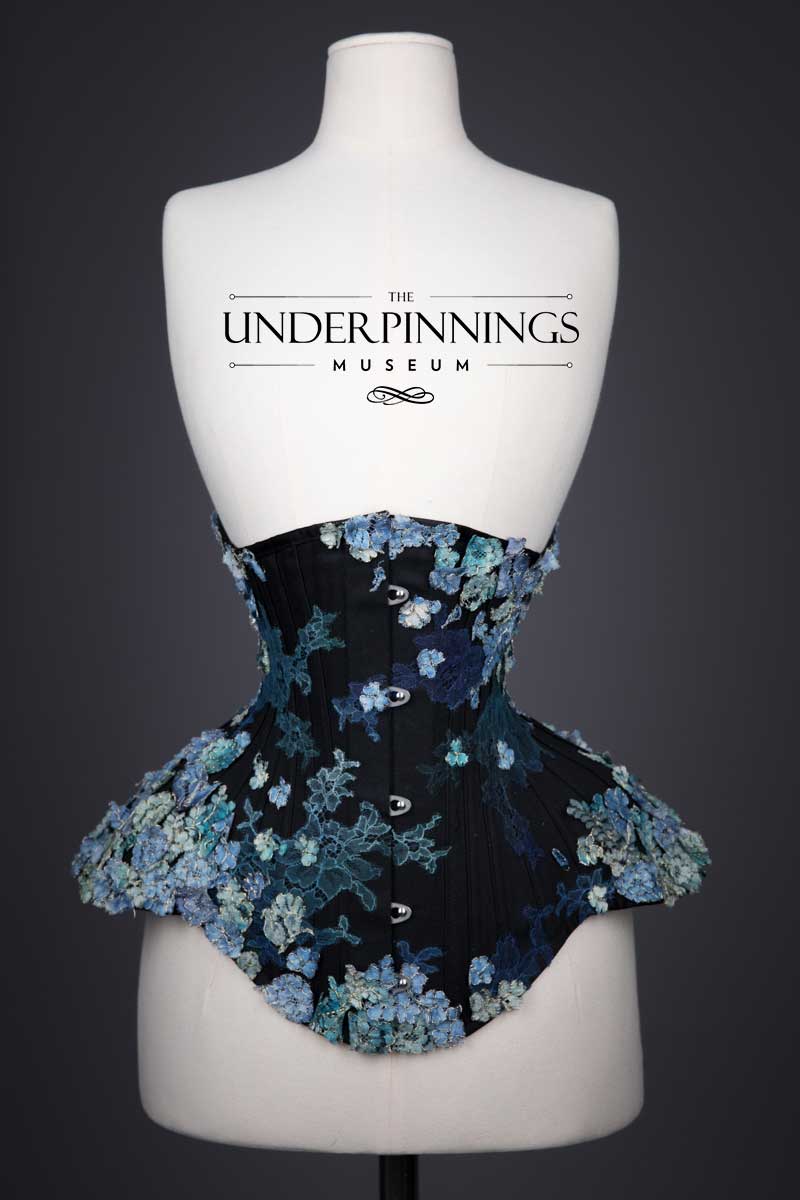 Black Water Underbust Corset By Sparklewren © The Underpinnings Museum. Photography by Tigz Rice.
"