Guest Blog Month,2021. Tracking Elizabeth Bull's Wedding Dress Across Time and Place: Atlantic Crossings, 1731-1910
In our Sunday Guest Blog, Dr. Kimberly Sayre-Alexander offers an insight into her research on Elizabeth Bull's wedding dress and the process of recovering erased voices.
As we begin the second week of our Guest Blog Month, we wish to thank our contributors from week one, Dr. Kimberly Chrisman-Campbell, Stephanie Smart and Frances Tobin, for their fascinating blogs.
This week, our attention turns to America and New Zealand in the 18th and 19th century. Central to each are written documents that have inspired and enabled our contributor's research. Each flags up the variety of written sources available and what they can offer to a researcher. Kicking off our second week is Dr. Kimberly Sayre-Alexander, Director of Museum Studies and Lecturer at the University of New Hampshire, and her blog, Tracking Elizabeth Bull's Wedding Dress Across Time and Place: Atlantic Crossings, 1731-1910.
Scholars of early America recognize the many challenges of recovering the voices of those who have been erased from the dominant narrative, to paraphrase the character of Eliza from Lin-Manuel Miranda's Hamilton. Even studying women of wealth and status brings many challenges. Elizabeth Bull (1717-1780) is a prime example. Bull held a privileged position among the well-heeled elite of colonial Boston, due to her wealth, family and social status; yet her voice is barely audible in the historical record. Only a few scattered items survive to mark her passage on earth: a wedding dress, her children's baby clothes, and her will [1]. Indeed, the probate inventory is one of the few examples we have of her voice, demonstrating her agency in bequeathing her possessions. Ultimately, it is through the needle rather than the quill that she speaks to us today [2].
Historians have described Elizabeth Bull's Boston as a somewhat parochial world, but the remnants of her life suggest something else: a global consciousness, mediated through Atlantic filters. Bull was the only daughter of the successful Atlantic merchant, John Bull, whose tavern and wharf on Boston's bustling waterfront marked her own station. Her mother came from a similarly endowed family and augmented the family's social network and financial resources. John Bull died in 1729, leaving Elizabeth a twelve-year-old orphan, but one with promising prospects. Some two years later, as was the custom for adolescent females of 'the quality', she began a needlework project; perhaps less customary, it was for her wedding dress. At this time, she was not betrothed nor was a suitor on the horizon. When she married Reverend Roger Price (c. 1694-1764) on a cool damp April day in 1735 at age 19, the dress was not yet complete [3].
Not surprisingly, Bostonians were inspired by European fashions and worked to replicate the refined styles which would connect them to England. But, a close study of her dress reveals broader, global connections, again mediated through the standards of Atlantic gentility. In appropriating Asian designs, Bull selected motifs that met the cosmopolitan standards of Atlantic gentility. A major component of her extant wedding garment began in a silk shop in China, yards of celadon green Chinese silk, which arrived in Boston through a complex series of trade routes, as did the silk thread for the embroidery. Sinuous vines, leaves, and polychrome carnations, tulips, and other flowers conveyed a prevailing Rococo design aesthetic [4].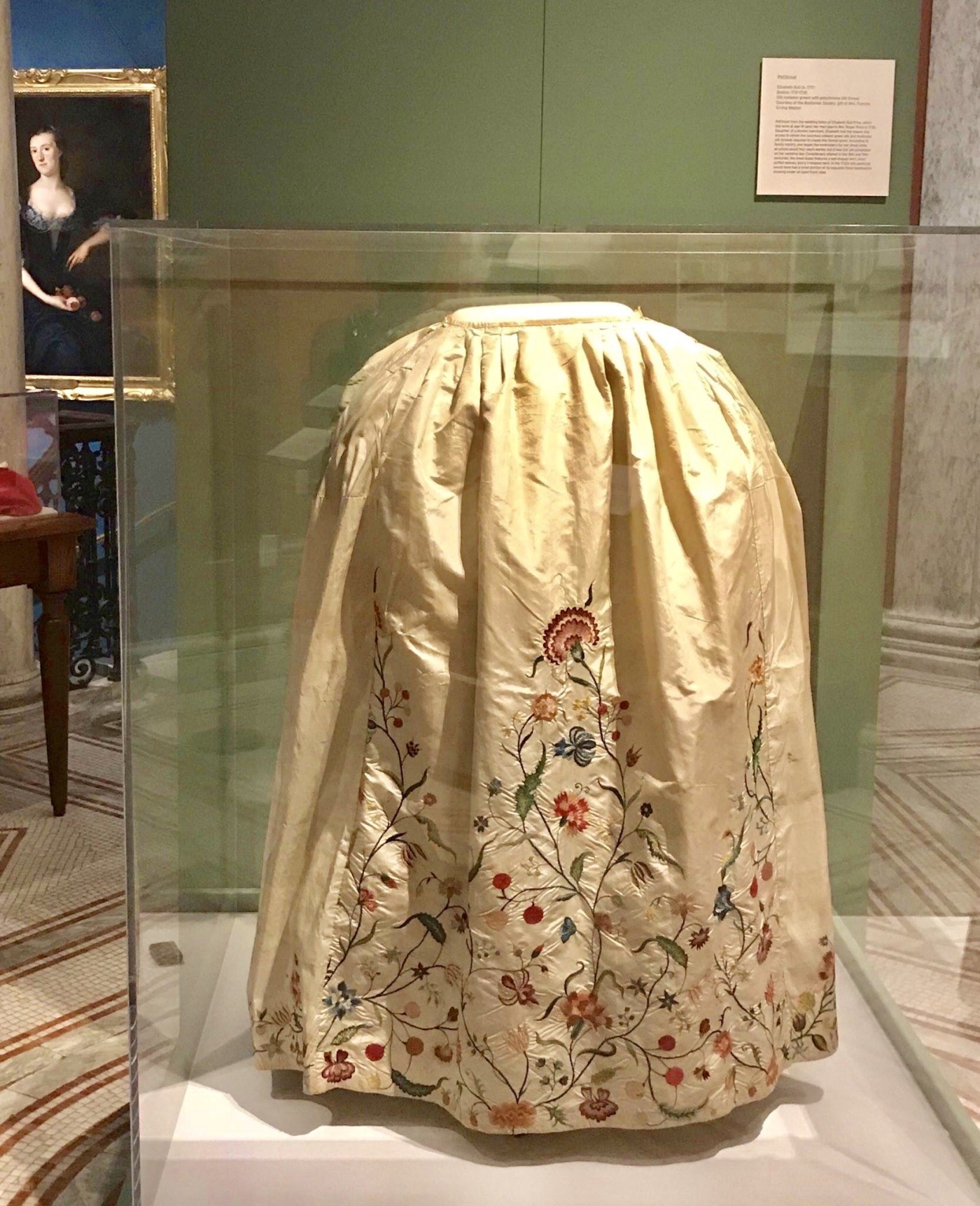 Figure 2:Installation view of petticoat from 'Fashioning the New England Family' [Massachusetts Historical Society, October 2018-April 2019] 1910.0050.035. Photo by the author from the collection of Revolutionary Spaces.
The dress and other surviving materials recreate a tableaux of Boston life as experienced by an elite woman who ultimately married a very important Anglican representative in New England. Where she had wealth, he had status [5] What she wore, how she spent her time, and who she interacted with would have caught the attention of fellow Bostonians. Her Boston world--the State House was only four years new when she was born; King's Chapel, the Anglican seat of Boston occupied the same spot it does today, although an earlier building dating to the 1680s was then on the site, her father's Tavern and Wharf, the Granary Burying Ground, and Old South Church were all part of her world. While women may not have been present in the Council Chamber, they conversed in the fashionable shops, they held sway at teas, dances, and church-related events. Despite several nineteenth-century alterations, the survival of a pre-1740 North American garment with such a rich history, is rare. Indeed, the fact that we can currently view the dress at Revolutionary Spaces (previously the Bostonian Society) is testimony to a series of happy accidents. Bull Price's dress provides us with a bit of a road map that we can use to explore life in pre-Revolutionary Boston.
Elizabeth's marriage followed this trans-Atlantic pattern. An ambitious eighteenth-century minister travelled where opportunities presented themselves. Consequently, in 1753, the family followed Reverend Price to England, where Elizabeth Bull Price lived out her days, dying there in 1780. After the War for Independence, her children returned, claiming the farm, land and chapel in Hopkinton, just south of Boston, that their father had constructed in 1744.
And, what became of Elizabeth Bull's dress? The garment had its own life history. According to family sources, eldest daughter Elizabeth Price brought the dress back with her when she returned after the Revolutionary War and eventually gave it to her niece Olivia Price Hall. The dress reveals several alterations in the nineteenth century, especially to the bodice. One upside to the alterations, discovered during the conservation process, was that the petticoat had been stitched up inside the dress so that the original dimensions and intent are better understood, as is the vibrancy of the embroidery.
In 1910, it became part of the Revolutionary Spaces collection, at that time known as the Bostonian Society/Old State House, where it was on long term view. There it remains, though now rarely making an appearance due to its fragile state, in careful care, along with a number of other family items worked by Bull. This then marks a measure of closure, another Atlantic crossing as the dress returned home to Boston, under the watchful eyes of attentive collections managers and curators [6]. It is a reminder that when we think of travel, we should not limit the experience to the journeys of people, goods, or correspondence but also incorporate the movement of ideas, images, and artefacts.
Author
Dr. Kimberly Alexander is on the faculty of the History Department at the University of New Hampshire, where she is Director of Museum Studies and Lecturer. She has held curatorial positions at several New England Museums, including the MIT Museum, the Peabody Essex Museum and Strawbery Banke. Her most recent book, entitled Treasures Afoot: Shoe Stories from the Georgian Era, traces the history of early Anglo-American footwear from the 1740s through the 1790s [Johns Hopkins University Press, 2018]. Dr. Alexander's forthcoming book, Fashioning the New England Family, will be available in Autumn 2021. She was Guest Curator of "Fashioning the New England Family," at the Massachusetts Historical Society [October 2018-April 2019].
Treasures Afoot: Shoe Stories from the Georgian Era http://https://pwb02mw.press.jhu.edu/title/treasures-afoot
Fashioning the New England Family http://https://www.upress.virginia.edu/title/5368
Have you booked your place for our online conference Clothing on Paper yet? We will be live for 5 sessions over 5 days in June and July, so you can join us from anywhere in the world!
For more information about the event and how to book your ticket, please visit https://costumesociety.org.uk/conference
References and Notes
[1] Both Elizabeth Bull Price and Reverend Price's wills are housed in the National Archives at Kew; collections materials relating to Elizabeth Bull survive at Revolutionary Spaces (formerly The Bostonian Society), and manuscript materials may be found at The Massachusetts Historical Society in the Price-Osgood-Valentine Manuscript Collection.http://https://www.masshist.org/collection-guides/view/fa0460
The wedding dress has elicited much interest over the decades; in recent years including a series by historian J. L. Bell, Boston1775 "Update #3: Mysteries of the Elizabeth Bull Wedding Gown,"http://http://boston1775.blogspot.com. A blog post from the Bostonian Society, which holds the gown, provides valuable information: "Elizabeth Bull and Roger Price: An 18th Century Love Story," June 18, 2015, On King Street, Bostonian Society,http://www.boston- history.squarespace.com/kingstreet. The Price-Osgood-Valentine collection at the MHS documents many generations of the family, described in the collection guide at the MHS website: http://www.masshist.org/collection- guides/view/fa0460
[2] In addition to the wedding dress and baby clothes held at Revolutionary Spaces, there is a skillfully embroidered neckerchief, replete with metallic threads, and an engraving, depicting a woman sewing, which was a gift from Rev. Price to Elizabeth, providing additional evidence that she was recognized for her talents with the needle.
[3] Evidence found on the petticoat reveals that while the pattern had been traced out, it had yet to be completed in several places. The location of the unfinished embroidery would have been hidden to all but those with an intimate view of the garment, i.e.: incomplete work on the petticoat would have been covered by the gown.
[4] Most recently, the conservation of the dress was undertaken by textile conservator, Kathryn Tarleton (www.contextinc.net). Although Bull carried out the embroidery, it is likely that one of Boston's dress or mantua makers constructed the actual gown and that there were several unidentified hands who made alterations for subsequent wearers in the 19th century.
[5] "Tradition in the family states that he attended divine worship at Trinity Church, and there saw, for the first time, Miss Elizabeth Bull. He [Reverend Price] was so much pleased with her beauty that he gave up his intention of returning to England, sought her acquaintance, and during the year 1735 she became his wife." From the Annals of King's Chapel.
For more on Roger Price, see Mary Plummer Salsman and Walter H. Stowe. "The Reverend Roger Price (1696-1762) Commissary to New England (1730-1748)," Historical Magazine of the Protestant Episcopal Church, 14, no. 3 (1945): 193-229. http://www.jstor.org/stable/42969668.
[6] The conservation Report may be found at Revolutionary Spaces The skilled work was carried out by textile conservator, Kathryn Tarleton. http://(www.contextinc.net)