In conversation with Ellen Mirojnick, Bridgerton's Costume Designer.
In this week's blog, CS Ambassador, Connie Slater, interviews Ellen Mirojnick, the costume designer of Netflix's most-watched series, Bridgerton.
Please be warned that this blog post does contain spoilers.
It is a truth universally acknowledged, that the year 2020 has been just the worst. But at the end of that miserable year, on the 25th of December to be precise, there was a light shining at the end of the tunnel. No, not pigs-in-blankets, but the release of the new Netflix original Bridgerton. Based on the first of Julia Quinn's eight novels in the Bridgerton collection, the eight-episode series follows the hectic 'coming out' of Daphne Bridgerton in London's high-society, or, the ton as it is referred to in the show. Set in 1813, Bridgerton gives us Regency with a twist, mixing historical figures with fictional ones.The costumes in the series have been designed under the vision of New-York Costume Designer Ellen Mirojnick; known for her work on The Greatest Showman and Maleficent: Mistress of Evil. Having worked previously with the television production company Shondaland, Mirojnick was asked by Shonda Rhimes to create the over-the-top costumes for Bridgerton. And she certainly delivered.
CS: What is the process for designing the costumes? Do you draw them all out first, and then give your designs to a patternmaker? Did you yourself choose all the fabrics? What comes first?
EM: The process for Bridgerton was a little bit different, but every project that I do is very different depending on what the needs are. In the case of Bridgerton, we had to create a stock of costumes so that we could actually do the show. That was so different from how I normally work because we were fabricating the perfect silhouette. We chose three different silhouettes: a female, and a couple of silhouettes for the men. And then at the same time, we bought as much fabric as we possibly could, and sent it off to different makers who would, as I call it, 'stack and stitch' these pieces because these were hundreds and hundreds of dresses. That part of it was so different from any other normal show, even if it is a large show, this was the largest. So that had to be accomplished, [for the background actors] but at the same time, there were the principles. And our principles [costumes] were all bespoke, and actually done by different cutters and their teams within our costume team.
We created first and foremost a 'look book' indicating the general feel of the show. And what that included was solid foundational research. Research that included different types of garments from many different decades; modern approaches, modern embellishments… it included everything. It was as though you were looking through a most beautiful, glorious look book that you kept on your coffee table.
But that gave the feeling of the show. The look books were sent to all the makers in creating the stock, and then also used as we were determining the designs for each one of the characters. Yes, we drew a few ideas, but actually, it all waited until we saw each one of the characters for real. For me, it never really mattered what I designed exactly because I can't stay glued to that idea. The idea has to shift depending on who the person is. And what I see from who that person is and how to translate who that person is into a character. So sometimes the idea is just the idea. For example, if Daphne didn't look good in blue, well we'd have to change to a different shade, right? If Penelope really was dreadful in yellow, we'd have to make a shift. So, the idea is laid down, and then it's a pretty organic second step to then design what we want to do for each character.
The costumes are shaped till the time they're finished. For example, with Regé, [the Duke] he was a person that came into our fitting room and you knew exactly what had to be put on him. We knew by looking at him and, sizing him up if you will, what would work and what wouldn't work, and what direction we would go in immediately at first glance. And that first fitting actually laid down exactly what the design of the character was going to be. That first fitting told the whole story. It doesn't always happen that way, but for him, it was very clear from the get-go. As it was for Anthony, it was clear with him from the get-go also.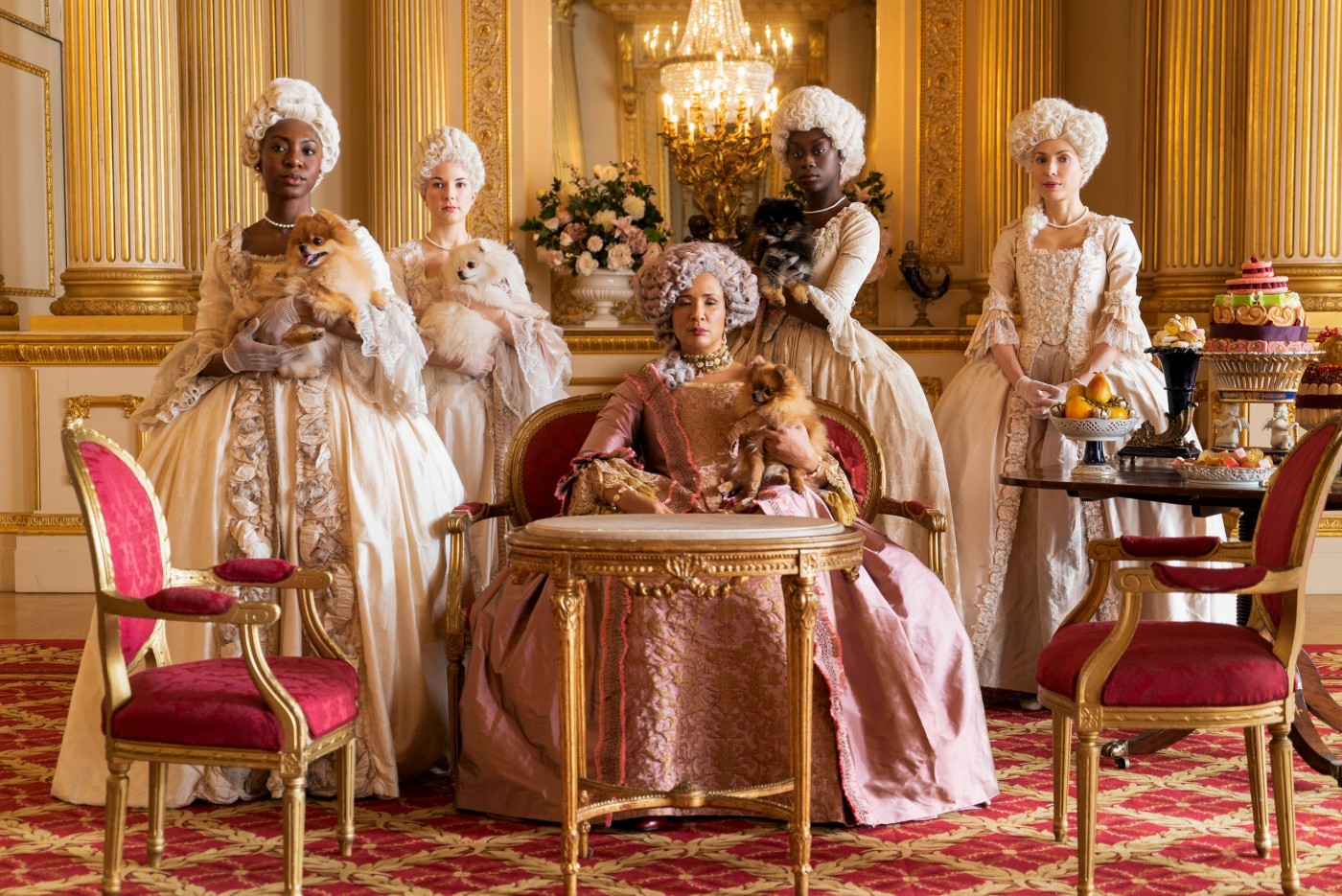 Queen Charlotte and her ladies in waiting.Credit: Netflix 2020.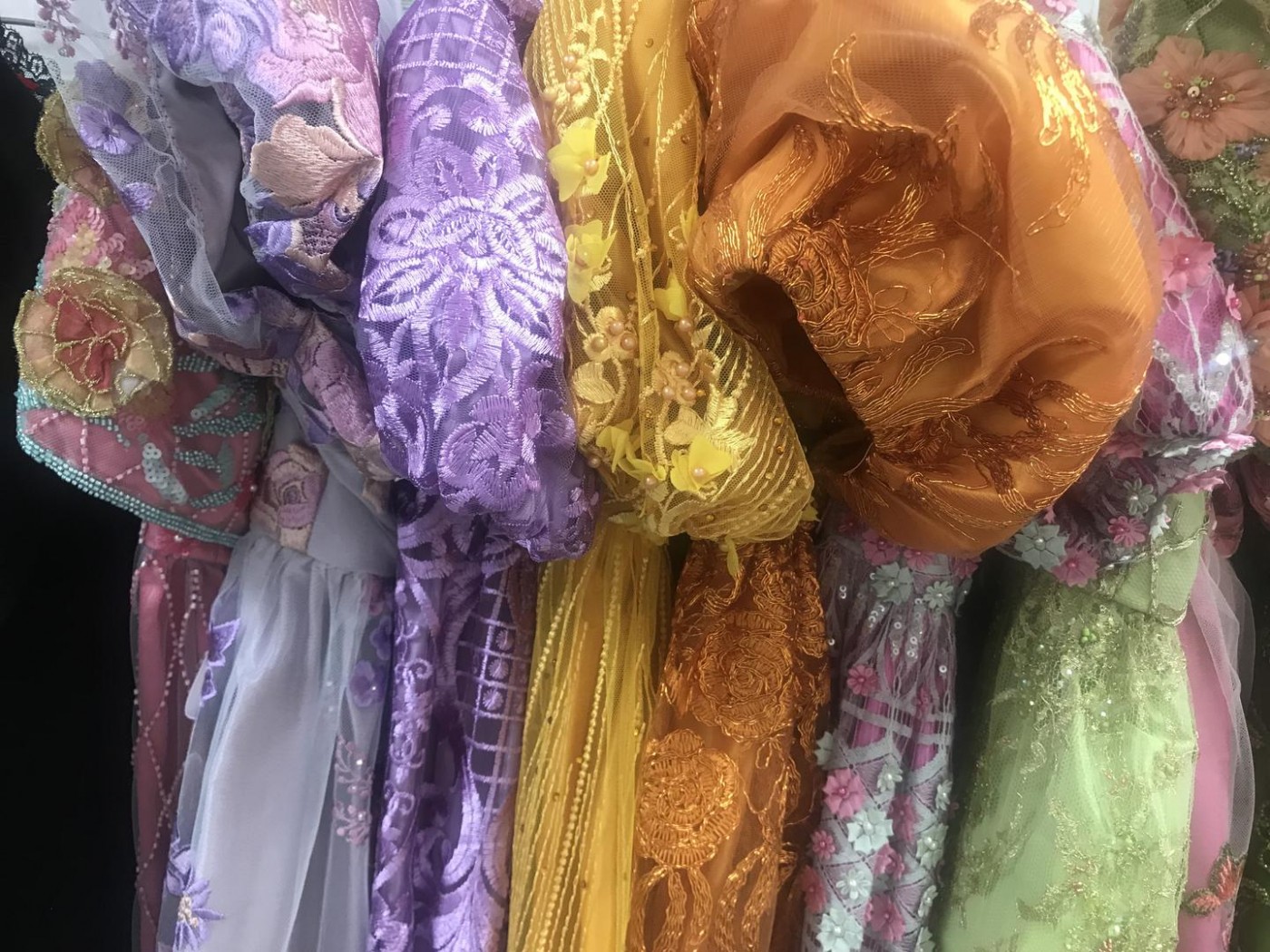 Behind the scenes in the costume warehouse. Credit: Netflix 2020.
CS: In the fourth episode of Bridgerton, we learn from a conversation between the Duke and Lady Danbury that there are still underlying racial divides within their society, and then in the following scene the costumes worn to the ball are predominantly black and white, with the ballroom floor being checked black and white like a chessboard – was this a conscious decision, and if so, could you talk me through that and the link between set and costumes more generally?
EM: That ball was a very specific ball, the Trowbridge ball, and that was to be a ball that was a little more extreme. It's not soft, it has a harder edge, it's more unusual [in comparison to the other balls]. The band, people who play instruments and those who performed were all a bit 'New Romanticy', in a Regency way [laughs]. But it was very specific compared to the other balls.
It's always a conversation between costume and production design, everything that you see for the most part is purposeful and is normally worked out way before. If I remember correctly the Trowbridge ball was originally going to be a red ball, and then it changed more closely to the time as we moved it into a different direction. It had a more intense or jewel-like and graphic point of view as opposed to the other balls that were pale or flowery. It was quite great to be able to do different balls all with the same purpose of being where you meet your 'mate' but having different types of balls at the same time. I think that production design is so important, they [Costume and Production design] work together and that is probably one of the key elements in making a visual feast.
CS: How much creative liberty were you allowed to take with the costumes, could you do what you wanted within the budget or did Shonda come to you with her own ideas and you delivered?
EM: No, we were not very directed. The brief was at the very beginning before we did the look book. And I had known working with Shonda [before], that it requires a certain type of approach prior to beginning. We knew it needed to be aspirational. We knew it needed to be an adaptation of the period, a fictionalised romance story of the regency period. But not a historically precise period piece.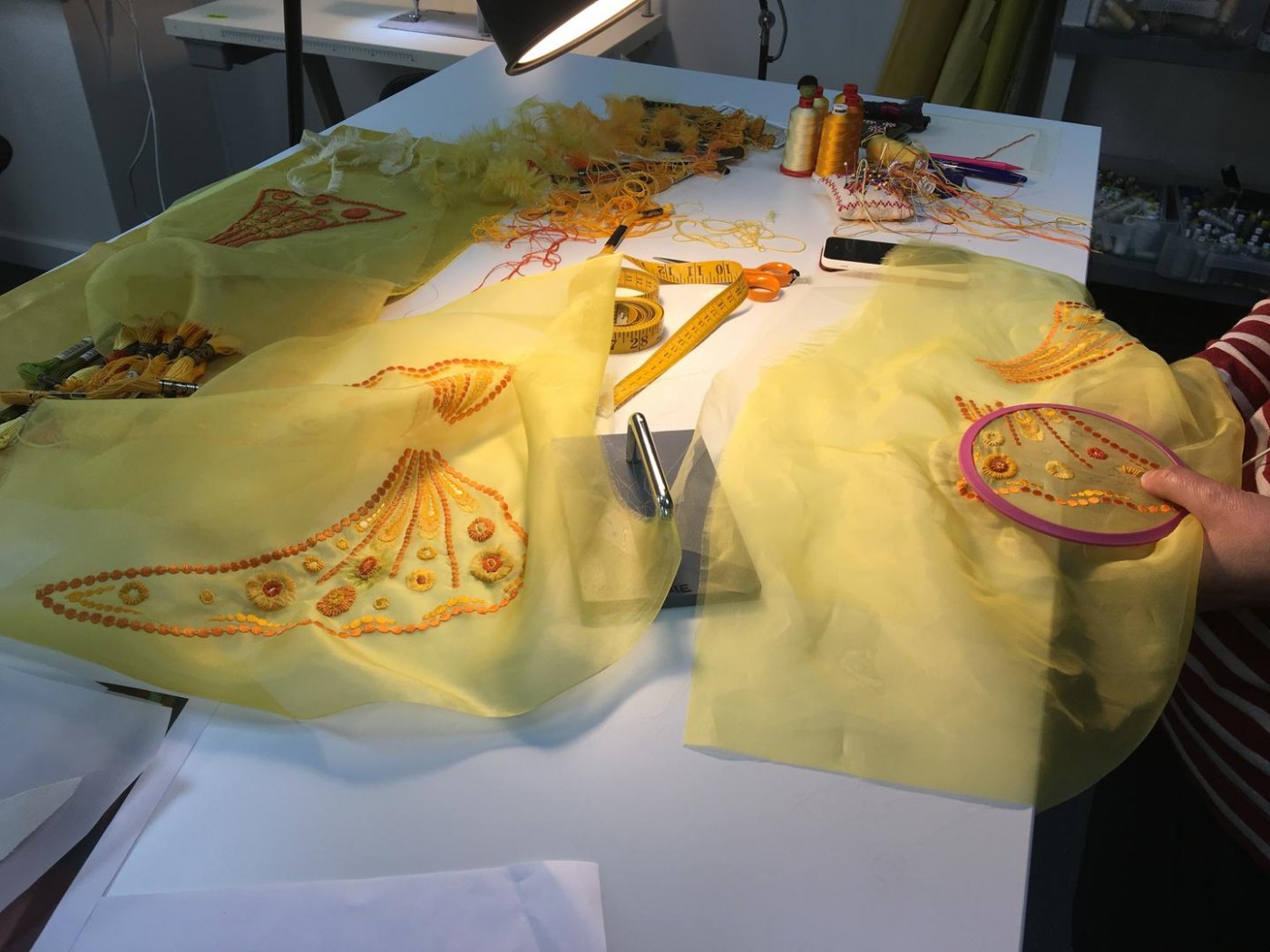 The making of the Featherington's dresses. Credit: Netflix 2020.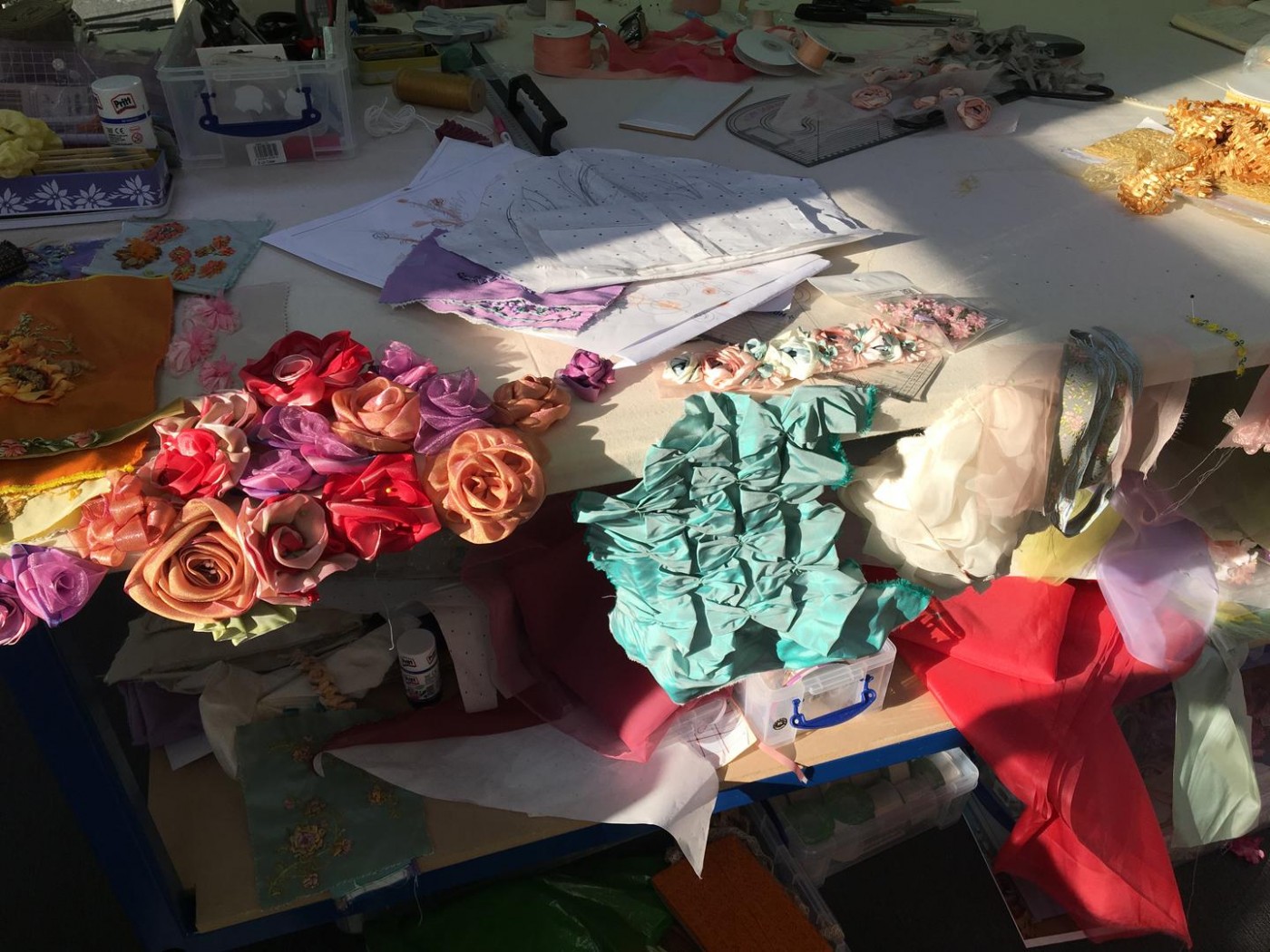 Behind the scenes fabric flowers. Credit: Netflix 2020.
CS: Yes, I've seen a lot about people criticising it for that [lack of historical precision], but it's based on a book, it's not strict fact.
EM: I haven't seen too much [criticism] to be honest with you, maybe there's more in the UK (laughs). It's [Bridgerton] an adaptation from a story, it was said from the get-go that it is not a historical period piece. Emma's a historical period piece, with adapted points of view in it - I'm just using that as an example, it's new right now. I love how we adapted it [Bridgerton] because it gave the feeling of when you would read a romance novel, and when you would read a romance novel your imagination gets to run wild. You don't go to the book and say "hmmm, was that exactly?". It's the feelings of the adaptation and the illusion of the period. Things in our show, in fact, the whole entire show is based on solid research, a solid foundation of the Regency period. It was our interpretation of that period that we ran with. To create what Chris' [Chris Van Dusen] brilliant text was so that Bridgerton could come alive.
CS: Yes definitely, the costumes compliment the story, and it is not reality anyway, it's an alternate reality.
EM: Exactly, and that's what a romance novel does, doesn't it? You know, a story is always translated in a particular way. Telling a real story is one thing. If you're telling an adaptation that happens to take place in a period of time it is a reflection of the period of time, it isn't an exact duplication, or based on historical accuracy. And so we had great freedom. Once we all knew what page we were on - and you know that is the most important thing, everybody being on the same page - we just ran. And that's how it came together; everybody being on the same page and giving it as much freedom as possible.
CS: What would be your dream show/film to do costumes for? Or which actor/actress would you most like to dress?
EM: It would really depend on the project, but I love musicals, so I would love to do musicals all the time. I love the music, it just lifts the spirits and the dancing. And having the challenge of doing costumes that were for dancers and actors at the same time. But at the same time, I love projects that are really nitty-gritty rock projects. It really depends on who the director and producers are and what the genre and the story is.
With thanks to Ellen and the Netflix Team.
Additional Links