Karen Nicol; The Inquiring Mind of a Textile Artist
Since attending her industry talk given at my alma mater just over a year ago, I have become completely enamored with the work of textiles designer and embroiderer, Karen Nicol, who has very kindly agreed to give her views on using vintage and reclaimed materials within her specialism.
Karen is a mixed media textile artist and embroiderer who has worked in art, fashion, and interiors for over forty years. She is well known for her use of eclectic and diverse materials, her magpie-like gathering of inspirational objects and her experimental use of traditional techniques. "I seem to have a brain that concentrates on embroidery and sees embroidery in everything that's around me." [4] Her book Embellished: New Vintage (2012) contains a riotous mix of inspiration, treasured trinkets, diverse textures, and fabulous textiles detail. The huge fabric 'sketchbook' she reveals to illustrate her investigational techniques is simply bursting with sequined flora, glassy resin droplets, mark making stitches, raffia flowers and embroidered birds. [see images 1, 2, 3]
While she was taught all of the fundamental embroidery techniques in her youth, Karen's current specialisms are the Irish Singer, Cornelly, and Multi-head machines as well beading and hand embroidery. [1] She has collaborated with designers such as John Rocha and Matthew Williamson, Givenchy and Chanel, and her interior work has been patronized by many notable clients, including the Designers Guild, the King of Qatar, Anthropologie, The King of Thailand and the Pope. [2] Karen's work incorporates the varied qualities of vintage treasures such as Victorian braids, vintage lace and ribbon, antique raffia and millinery straw braid. [3] Her 'couture animals' are built up of fascinating materials, textures and techniques, each creature full of life and character. She has also worked with materials such as resin, film negatives, peacock hurl, vintage fur, old shirt fronts and vintage sequins. [3]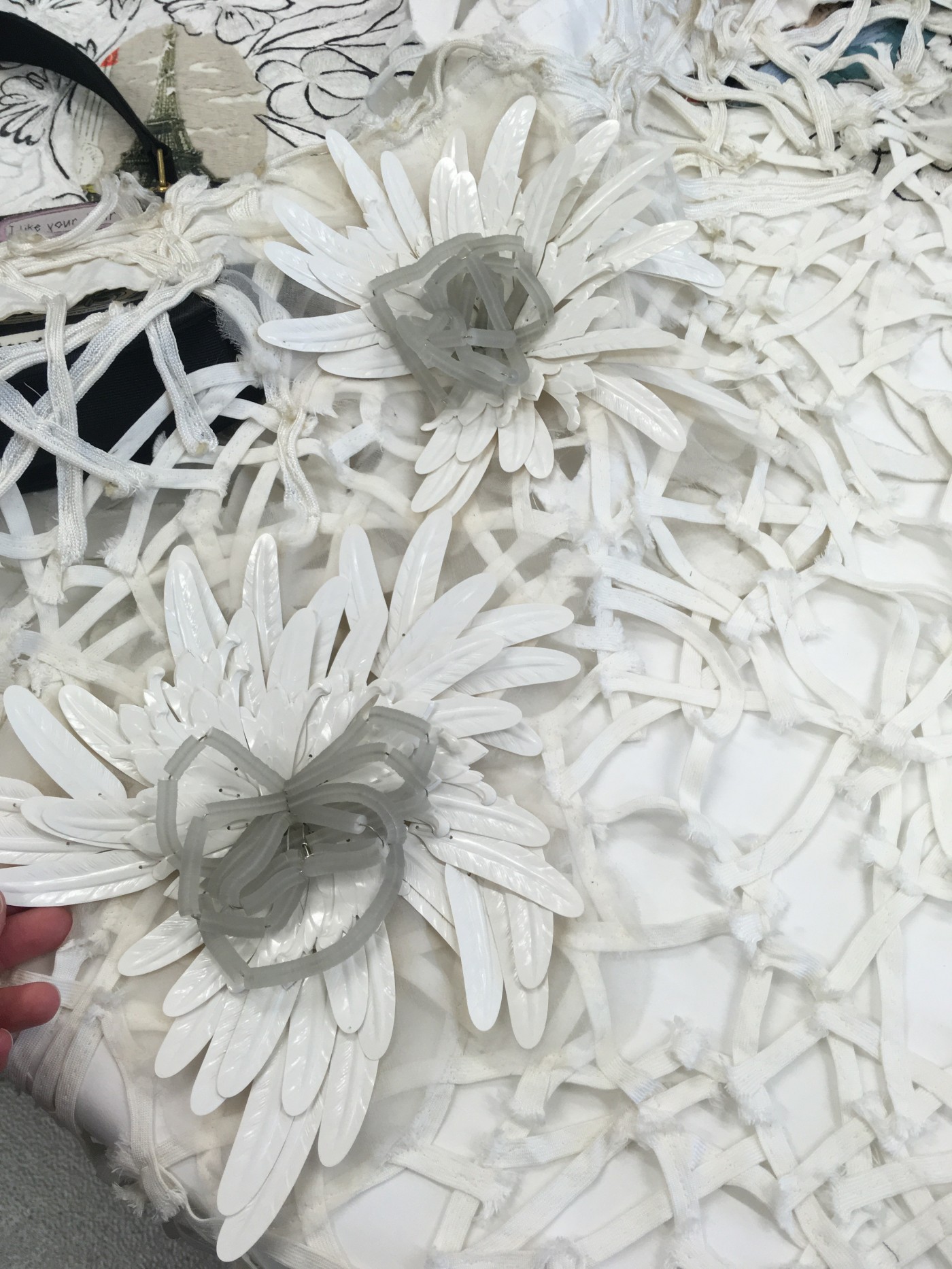 2. Karen Nicol Sketchbook 2, Grace Bentley
GB: What compels you to use vintage/ salvaged materials?
KN: Ethical reasons are really important to me and I don't like waste, but certainly with the vintage I really love to find materials that other people aren't using. Things that you can't buy with everyone else in the shops… I have been collecting second hand, flea market, car boot threads, fabrics, straw, beads etc. for almost half a century and I have an absolutely staggering, unique collection of mixed media materials. Working over a few different markets versatility and diversity are exceptionally strong tools and these collections are unparalleled.
GB: What do you enjoy most about using different types of media?
KN: I feel to create something different I need a few sources of inspiration so that I can get a truly personal slant on an idea and one of these inputs is the material side. When doing visual research I am hugely aware of the 'qualities' of the thing that is inspiring me visually so if I'm looking at some plasterwork for instance I will search out threads and fabrics that are matt and dry and powdery if it's a shiny leaf then I look for materials that are glazed and crisp or something I can clear foil etc. so materials are a huge part of my design process.
GB: How has developing traditional embroidery techniques informed your work?
KN: I was lucky enough to learn all the traditional embroidery techniques from amelia ars to trapunto and beyond and they have formed the foundation of a lot of what I do. They are an amazing vocabulary to explore and explode.
GB: What is the most rewarding material you have worked with?
KN: Probably old chiffon headscarves but there have really been too many to count.
GB: What exciting materials would you like to try in the future?
KN: I'm just starting to explore working with salvaged supermarket plastics which seem to have huge potential.
GB: What advice would you give to those looking to work with unusual/ reclaimed materials?
KN: I can only speak for myself; I think one's own personal vision and path is an artist's strongest asset. Just be open minded and let your imagination run wild… just try anything.
The work of a textile artist is driven by what stimulates their excitement, curiosity, and imagination. As Karen's work demonstrates, salvaged materials curated by the individual for their feel, texture, weight, and possibility can be used to develop one's personal style and create highly distinctive work. "I don't think in any way that everything's been done already, I think that there [are] always new things to see." [4] Vintage lace, beading, cord, raffia, crinoline tape, and ribbon can offer a wealth of beautiful detail and qualities. Karen's work is an example of the wonderful array of effects and textures that can be achieved through experimenting with different materials and practices. She draws her ideas from objects or concepts, such as cut glass, or delicate petals and emulates their specific characteristics or behaviours.
An increasing need to review and recycle our production waste can light the tinder for new ideas; scrap fabrics can be used in a variety of ways including applique, weaving, or quilting. Remnant yarns and scrap threads can be used in hand embroidery and trapunto. Scrap textiles need never be thrown into landfill. Everyday objects and rubbish can also hold their own secret possibilities; at a young age I discovered old cassette tapes could be knitted, but more recently have realized they can be woven, stitched into, or used for ribbon embroidery.
Single use plastics also hold a vista of opportunities; sequins can be made by cutting into plastics which can be feathered, folded, bent, and curled into unique shapes. Lighter plastics, such as bags or packaging, can be woven or knitted, cut, gathered, or ruffled to create 3D forms. Karen's own experimentation has recently extended to waste supermarket plastics during the UK lockdown, cutting and embroidering food packaging to create delicately coloured flowers [see image 5].
The versatility and sumptuousness of embroidery can be seen in the many unique effects and surfaces achieved in Karen's work, which draw the eye and delight the senses. "Embroidery's all about texture, it's all about materials, it's all about the qualities in something and you can get that from your inspiration." [4] Textiles has always been about ensnaring the senses, we can't help but touch and explore the medium. It has never and can never be a 'look but don't touch' affair. Incorporating recycled waste into embroidery can offer so much in the way of self-teaching, exploration, and hopefully lead to that precious 'Eureka!' moment. Within Karen's work is "a passion for the overlooked and discarded", [3] so when you are next trawling through a heap of scrap fabrics or drifting aimlessly through a junk sale, look again.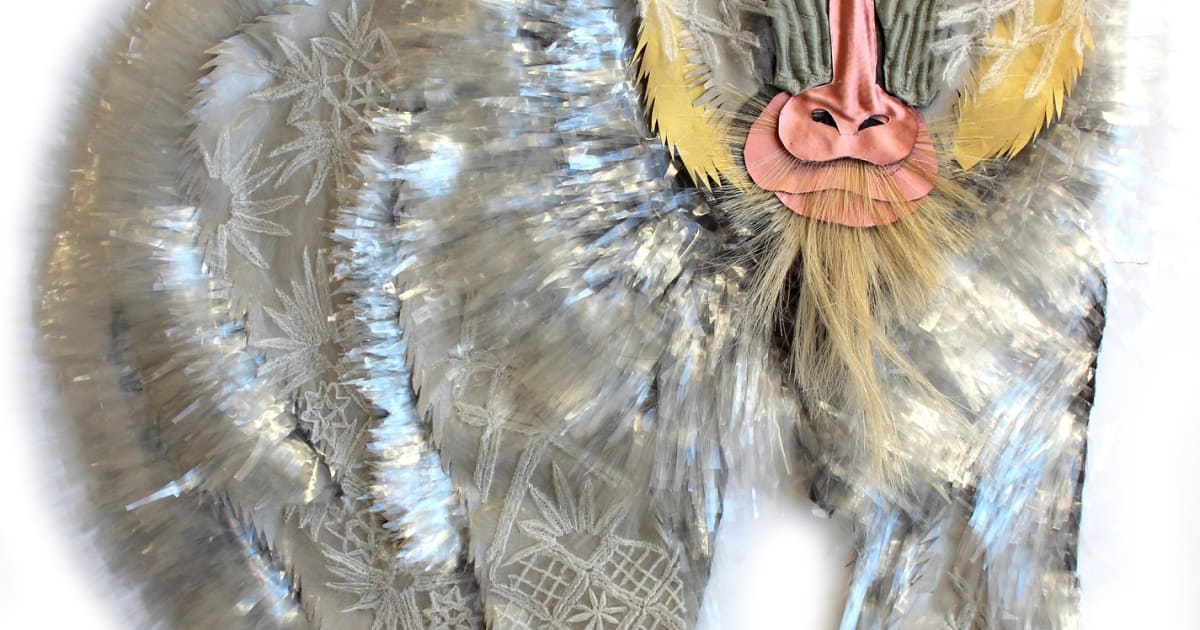 4. 'Crystal' by Karen Nicol (2013), Rebecca Rossak Gallery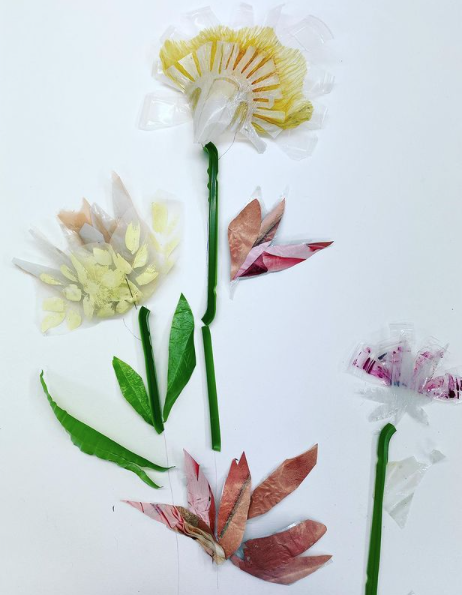 5. Supermarket plastics embroidery by Karen Nicol, via Instagram KarenNicol1
References:
Embellished: New Vintage (2012), by Karen Nicol
Bibliography/Further Reading: