"Let us be elegant or die": Frippery and Androgyny in Emma and Little Women
As awards season comes to a close, fashion and film takes centre stage in this weeks blog. CS Ambassador, Ella Muir, discusses all things sartorial in Little Women, winner of the 2020 Oscar for Best Costume Design, alongside the new adaptation of Jane Austin's Emma.
by Ella Muir
For historical dress devotees and film fans of the 19th century, these past few months have been kind. The recent theatrical release of Autumn de Wilde's much-anticipated telling of Jane Austen's Emma has been met with high praise from Regency experts and Austenites alike, whilst Greta Gerwig's critically-acclaimed version of Little Women , released at the end of 2019, has been heralded as the finest iteration of Louisa May Alcott's much-loved novel. Set several decades and an ocean apart, both female-led films are notable for their pitch-perfect costuming, with garments deftly combining historical accuracy and dress expertise with literary symbolism and character development, sartorially conveying the varying experiences of the women who inhabit them.

Based on Jane Austen's revolutionary social satire, Emma is an experience, star Anna Taylor-Joy says, akin to swimming in a giant cupcake [1]. A riot 'of feathered bonnets, corkscrew curls, and colourful carriage dress', costume designer Alexandra Byrne has stated that, despite often finding period dramas to be over-costumed, for Emma indulgence was the order of the day [2]. Austen's titular character is "handsome, clever and rich"; adorned with spectacular period dresses, magnificent bonnets and resplendent reticules, Emma's costume represents her luxurious circumstances - particularly when juxtaposed with the outfits worn by her less fortunate friend, Harriet Smith [3].

Protagonist Emma Woodhouse's enduring legacy is, amongst many other things, her status as an icon of the Regency era. Early 19th century clothing continues to be a source of immense interest across the world, as does a fascination with all-things Austen. Inspiration for the latest book from dress historian and Regency expert Hilary Davidson, Dress in the Age of Jane Austen , was borne in part from a recognition of the relationship between contemporary novels and the costume dramas inspired by them, and the public's understanding of historical clothing. With sources including everything from Austen's own letters to portraiture, costume periodicals, account books and fashion plates, Davidson uses the author's world to convey the meaning, accessibility and joy inherent in fashion history [4].

Alongside its puff sleeves and pleated pelisses, colour is particularly significant in de Wilde's version of Emma [5]. This was a deliberate decision made between the director and Byrne, who set out to address the misconception that the period was characterised by gloomy hues, instead emphasising the sheer amount of colour used in clothing. As the century progressed bright shades and sumptuous fabrics such as silk, taffeta and velvet were used by increasing numbers of people to convey or emulate a sense of status; and as the wealthiest woman in the fictional English village of Highbury, Emma would undoubtedly have had a wardrobe that commanded attention.

Several decades later in Massachusetts, U.S.A., Alcott's eponymous and similarly subversive Little Women tells the story of the March sisters, living - in somewhat lesser circumstances than Emma's imagined world - in genteel poverty, on the cusp of adulthood and navigating life beyond the safe haven of the family home. The tale is set against the backdrop of widespread cultural change and political instability rife at the time: having lost all of his money the March patriarch is forced to act as a pastor in the faraway American Civil War, leaving his wife and daughters working to support themselves. The family's financial straits are juxtaposed against themes of female empowerment and emancipation; something that Gerwig's retelling of the story conveys through the costuming of its characters.

Technological innovations were abound in the 19th century. From printing and communication to transportation and electricity, these developments were to have a profound effect on American society. Fashion, previously the prerogative of the elite, now became accessible as women across the social strata were targeted by affordable periodicals with a hands-on, practical approach to creating and consuming style [6].

These circumstances are reflected by costume designer Jacqueline Durran, who carefully studied and styled each of the film's characters. Heroine Jo, an aspiring writer who has little interest in clothing, opts for simple skirts and collared shirts worn under men's waistcoats (including one piece swapped between Jo and the March family's neighbour Laurie, both friend to Jo and one-time infatuated love interest; a styling decision that serves to emphasise both their closeness and Jo's discomfort with her own femininity).

Whereas Jo's disinterest in high society and romance is reflected through unembellished androgyny, Meg, the eldest of the March sisters and one who craves domesticity and romance above all, was modelled by Durran on the ethereal artistry of the Pre-Raphaelites. Ambitious sibling Amy's drive and determination is inspired by French Impressionism and reflected through her sophisticated Parisian wardrobe, whilst Beth, the only March sister never destined to leave the family home, sartorially represents its sanctuary: draped in soft fabrics and warm colour tones, she blends comfortingly into the corners of screen and space [7].

Both Byrne and Durran use colour to great effect in Emma and Little Women respectively. When Meg momentarily escapes from everyday life and attends a ball, her styling changes completely: donning a soft pink silk gown and addressed as "Daisy" by the other girls, Durran describes this as her 'aspirational' dress. Jo meanwhile is consciously muted in blues, browns and blacks, as she pursues her dreams of being a respected writer and confronts her perceived misfortune at being female. Even the film itself uses colour and shadow to convey time and emotion, with its many flashbacks dappled in a soft golden hue; the present-day dulled by comparison. In Emma , colour communicates the frivolity and fun experienced by its wealthy inhabitants and in particular its privileged protagonist, as she sets out on her self-appointed mission as a matchmaker (of sorts!).

In the ever-evolving sphere inhabited by fashion in the 21st century, the correlation between the characters of Austen and Alcott's novels and the modern day has been much-celebrated. Emma Woodhouse is described by The Telegraph's Fashion News and Feature Director Bethan Holt as a style icon and fashion obsessive, whilst The Guardian's Jess Cartner-Morley dubs the March sisters fashion influencers of 'civil war chic'. Their filmic adaptations and painstakingly-construed 19th century costumes speak to the cyclical and enduring nature of style: from colourful gowns and androgynous tailoring to exaggerated collars and puff sleeves, fashion can always be relied upon to come back around.


References
1 Harriet Fitch Little, Meet the Stars of the Sumptuous New Emma (2020) <https://www.vogue.com/article/anya-taylor-joy-johnny-flynn-emma-adaptation> [18 February 2020]
2 Bethan Holt, The New Adaptation Of 'Emma' May Be The Most Stylish Jane Austen Film Yet (2020)
<https://www.viva.co.nz/article/fashion/the-new-adaptation-of-emma-may-be-the-most-stylish-jane-austen-film-yet/> [18 February 2020]
3 Jane Austen, Emma (1815)
4 Hilary Davidson, Dress in the Age of Jane Austen: Regency Fashion (London: Yale Books, 2019)
5 Alden O'Brien, Movie Costumes: Emma 2020 (2020) <https://curatorscurio.com/2020/01/14/movie-costumes-emma-2020/> [20 February 2020]
6 Marianne Van Remoortel, 'Women Editors and the Rise of the Illustrated Fashion Press in the Nineteenth Century', Nineteenth Century Concepts, 39.4 (2017), 269-95
7 Naveen Kumar, The Costumes in Little Women Came Straight Out of Real Paintings (2020)
<https://www.instyle.com/fashion/little-women-movie-costumes-paintings> [18 February 2020]

Bibliography/ Further Reading
1 Percoco, Cassidy, Regency Women's Dress: Techniques and Patterns 1800-1830 (Los Angeles: Costume & Fashion Press, 2015)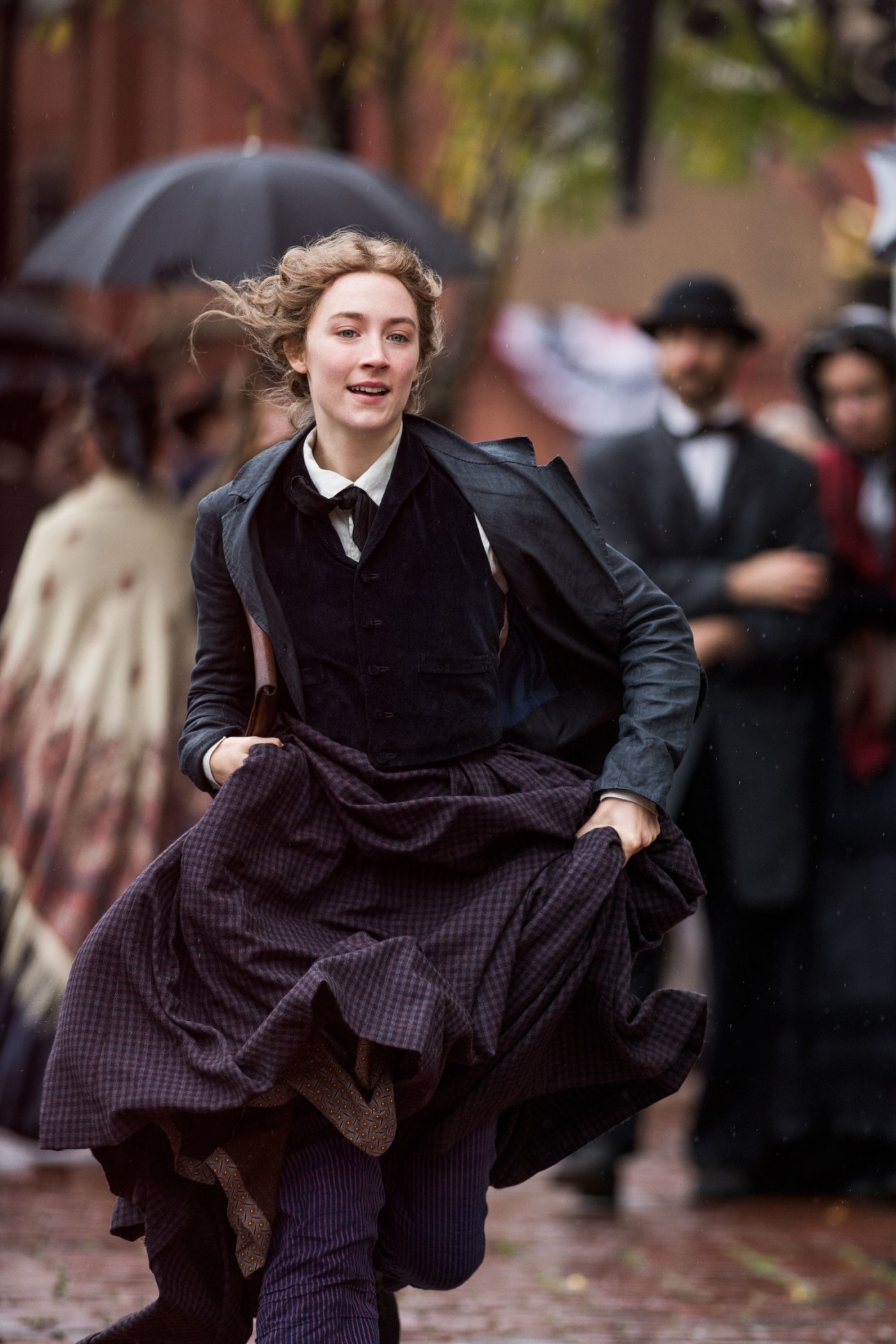 Jo March (Source: New Yorker)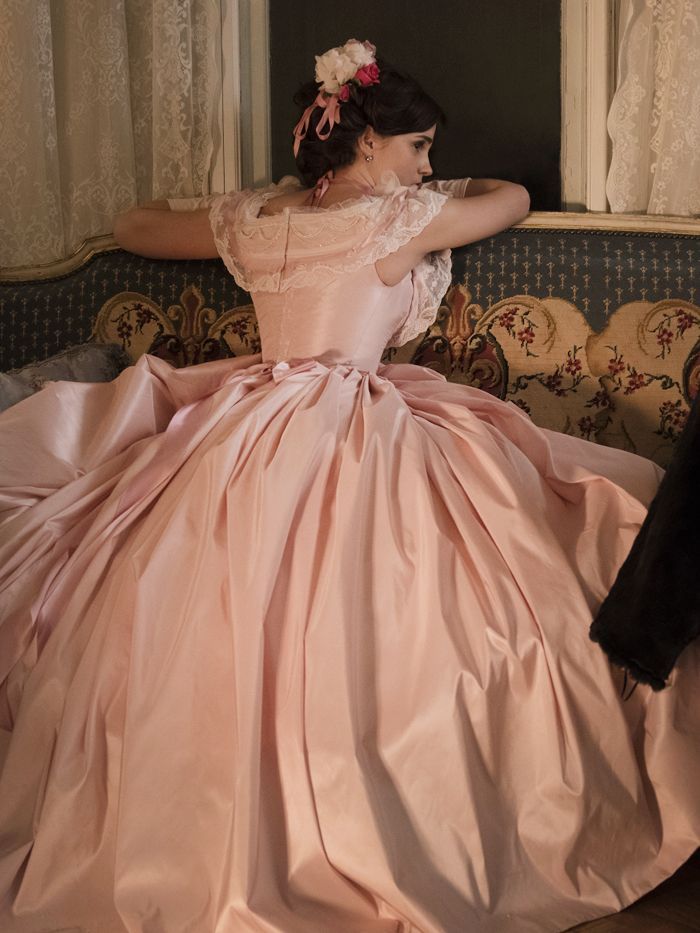 Meg March (Source: Pinterest)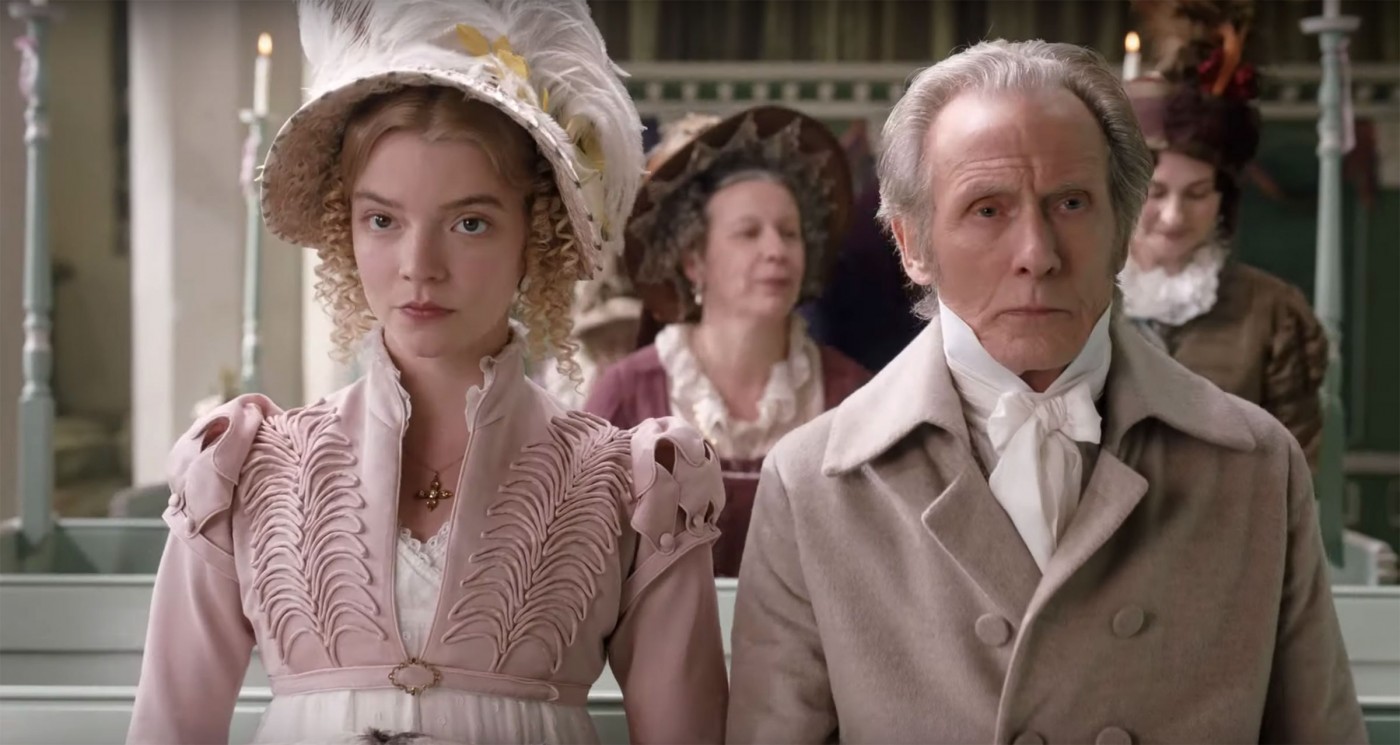 Emma Woodhouse (Source: Jumpcut)
"