Material Magnificence at the Field of Cloth of Gold
In this week's blog, CS Ambassador Ella Muir examines the textiles at the Field of the Cloth of Gold.
At 6 pm on 7 June 1520, between English-owned Guînes (or Guisnes as it was formerly known) and the French town of Ardres, the stage was set for a glittering display of staggering wealth and material magnificence. A summit of splendour and opulence, lasting 18 days and hosting over 12,000 people, would seek to bond together the kings and courts of historic foes. Devised by some of the most powerful men in Europe, in a valley close to Calais, rival royals broke bread and pledged a lasting peace at one of the most lavish parties the Western world has ever known: the Field of Cloth of Gold. This was a momentous event that brought together Henry VIII of England and Francis I of France for their first meeting [1]. Since the 14th century, the kings of England had been embroiled in battles for the French throne. When Charles IV of France died without male heirs in 1328, his closest relative was his nephew, the recently crowned Edward III of England. From 1337 —1453, ferocious battles waged for the French crown between the two royal houses were commonplace, which came to be known collectively as the Hundred Years' War.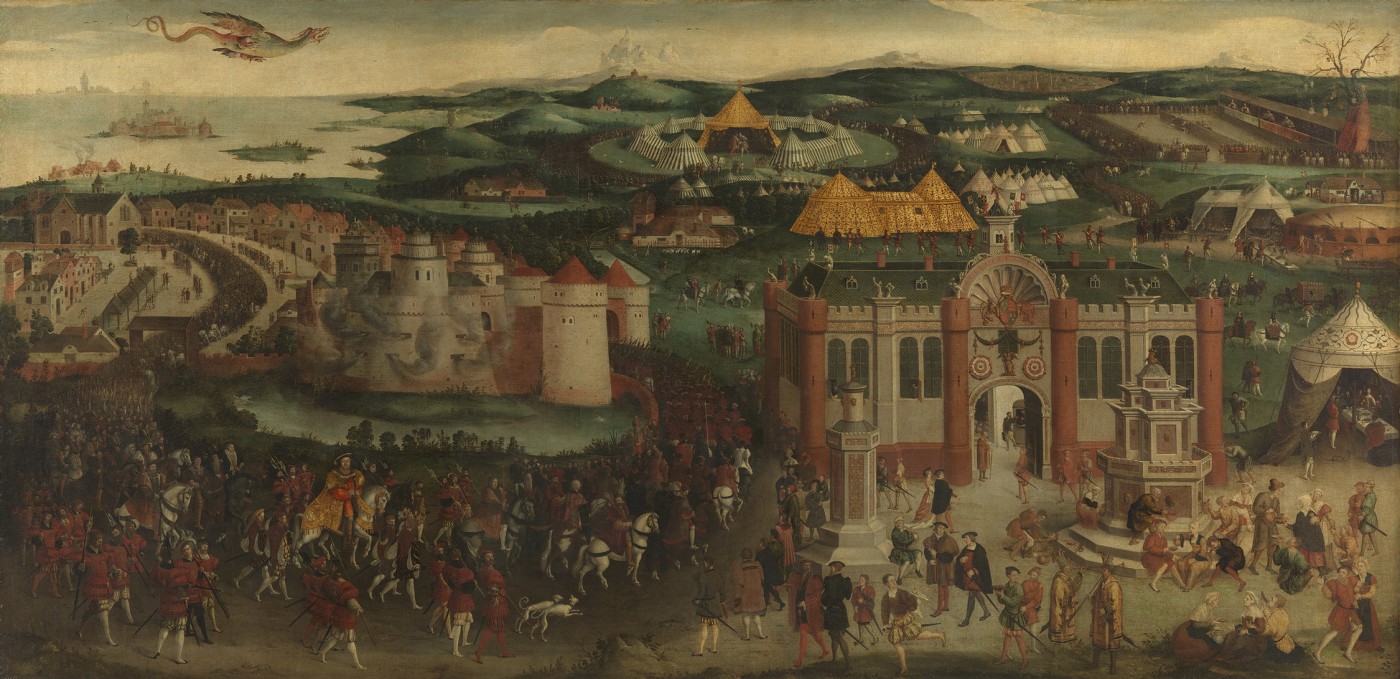 Figure 1: The Field of the Cloth of Gold, Hans Holbein the Younger, c.1545. Royal Collection, Hampton Court Palace, RCIN 405794.
In 1520, Henry and Francis regarded one another with a mutual degree of admiration and fascination, coupled with an intense rivalry. Each was a young man at the height of his powers, eager to expand his dominion and to vie for his place on the world stage. It was against this backdrop that one of Henry's most influential advisors, Cardinal Thomas Wolsey, conceived a meeting: a momentous festival of sorts, which would offer the opportunity to unite Henry and Francis whilst allowing each to prove his worth, and so secure lasting peace across a continent that had long been beset by volatility. As Glenn Richardson has confirmed in his seminal scholarly account of the event – the first monograph to be written on the topic for some 40 years – the spectacular display resulting from The Field of Cloth of Gold is a testament to the sheer importance of Early Modern material culture. The summit required an almost unprecedented level of preparation, everything from the king's accommodation to the clothing worn by his thousands of courtiers meticulously planned by Wolsey and his French counterpart, Guillaume Gouffier.
Textiles were supremely symbolic in sixteenth-century society. Fabrics, hues and heraldry carried great cultural significance at the royal courts of Europe, where clothing was often subject to strict legislative controls. Cloth of gold was immensely costly, woven with silk and gold thread. It had long been considered the material of monarchy in England. Its use was restricted only to the king's family and to the very highest members of the nobility under legislation enacted by Henry VII in the late 15th century and furthered by his son, Henry VIII. The latter passed multiple Acts of Apparel throughout his lifetime.
Extravagant clothing and jewels were essential to the display of royal magnificence, sought by both kings who were determined to outshine one another. Henry and Francis' respective insignias were blazoned across tents and tapestries across the valley, silks, velvets and delicate talent fabrics amongst the sumptuous fabrics worn by all in attendance. The days were filled with jousting and competitive sports; the evenings, with lavish feasts and dancing. When dining with Queen Katherine on the first Saturday of the summit, Francis wore expensive tissue cloth encrusted with the finest pearls. The following week and not to be outdone, Henry opted for a similarly extortionate outfit, practically dripping with thousands of ounces of gold embellishments.

In addition to costume, both Wolsey and Gouffier viewed the construction of accommodation as an opportunity to demonstrate the material might of the monarchs they served. Figure 3 depicts a spectacular crimson pavilion adorned with costly cloth of gold, believed to be the original design for the marquee erected for Henry and Queen Katherine of Aragon. Formed of canvas and dressed with sumptuous velvet, the royal pavilion followed the layout of the king's own Tudor palaces: private apartments, reception rooms, stately chambers and even chapels were held within its walls [2].
On the side of the French, an extraordinary tent was erected – a structure covered entirely in gold and standing 120ft tall, at the centre of the encampment. This was an incredible feat, though unfortunately scuppered by strong winds before the summit had even begun. Nevertheless, the sheer magnitude of these structures reinforces the significance of material culture at the Field of Cloth of Gold, where grand constructions, rich colours and luxurious fabrics coalesced to create overt displays of powerful kingly magnificence.
After sixteen days spent engaged in this demonstration of might, on the summit's penultimate day Wolsey conducted High Mass. Richly dressed in flowing robes of velvet and cloth of gold, the Cardinal's service was held at a temporary chapel erected within the tiltyard (where jousting also took place). The Stonyhurst vestments – originally ordered by Henry VII for use in Westminster Abbey and taken by Henry VIIII to the summit – is one of many items to be found at Historic Royal Palaces' forthcoming exhibition, which promises a dazzling display of Tudor treasures in celebration of the 500th anniversary of the Field of Cloth of Gold. The 15th garment is referenced in Edward Hall's chronicle: "and all the Coopes and Vestementes so riche as might be prepared or bought in the city of Florens, for all the Coopes and Vestementes were but of one piece, so woven for the purpose, cloth of Tissue and powdered with red Roses purled with fine gold" [3].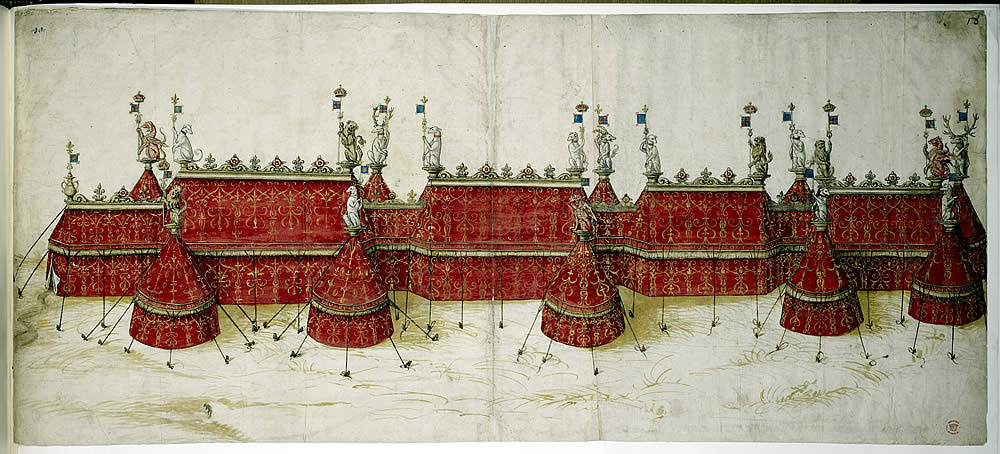 Figure 3: Tent design for the Field of Cloth of Gold. British Library, Cotton MS Augustus III/1.
Both Henry and Francis embraced the lively culture of gift-giving, a practice extant at all levels of English and French society in the 16th century. Textiles, objects and other material matter played a prominent role in the communication of status, items imbued with the power to make and break diplomatic alliances. As the Field of Cloth of Gold drew to its close, each had commanded the services of his finest goldsmith, producing exquisite pieces by way of presents as they prepared to part ways. Henry presented the French king with a bejewelled collar, receiving a bracelet in return, and both exchanged their finest horses.
The object (figure four) is an enamel and gilt-copper casket, possibly intended for use as a jewel box; legend has it that this was a gift from Francis to Cardinal Thomas Wolsey, passed on to Henry before coming into the possession of his second wife, Anne Boleyn [4]. Upon the queen's execution, many of her belongings were destroyed; others redistributed and subsequently lost from the historical record. As gifts remained in constant motion at the royal courts, circulating as a form of symbolic currency, this casket endured, surviving the charges of treason and sentences of death that had befallen two of its former owners.
The Field of Cloth of Gold was notionally devised to secure peace, often perceived as a lavish and fundamentally fruitless extravaganza. Richardson has demonstrated the event's history as one often misunderstood. Though it failed in its efforts to create a lasting alliance, this extraordinary event excelled in its truest cause: to display each king's magnificence and might, and thus signified the very pinnacle of Renaissance kingship and personal diplomacy [5]. Recognition of the Field of Cloth of Gold's impact for Anglo-French relations and its significance in European history is long overdue, rectified this year by the coming of 'Gold and Glory: Henry VIII and the French King', a new exhibition opening 20 May, at Historic Royal Palaces' Hampton Court.
For information can be found here
https://www.hrp.org.uk/hampton-court-palace/whats-on/gold-and-glory-henry-viii-and-the-french-king-exhibition/#gs.1hlxka
References:
[1] Glenn Richardson, The Field of Cloth of Gold (London: Yale University Press, 2020 edition)
[2] The British Library, Design for the Field of Cloth of Gold.Available at <https://www.bl.uk/learning/timeline/item101085.html>
[3] Edward Hall, Henry VIII (London: T.C. & E.C. Jack, 1904) /Available at <https://archive.org/details/cu31924091758288>
[4] Historic Royal Palaces, The Field of Cloth of Gold (2020). Available at <https://www.hrp.org.uk/hampton-court-palace/history-and-stories/the-field-of-cloth-of-gold/>
[5] Richardson, The Field of Cloth of Gold.