Painting Prestige: Henry VIII and Hans Holbein the Younger, Artist in a Changing World
The depiction of clothing in the Tudor Court is the subject of this week's blog by CS Ambassador Ella Muir, who discusses Jeanne Nuechterlein's new book 'Hans Holbein: The Artist in a Changing World'.
by Ella Muir
The royal court of Henry VIII was a vivid and vibrant place. Under the steely gaze of this titanic Tudor monarch the Crown's grand houses and imperious palaces swelled, resplendent in colour and teeming with activity. To conjure up some aspects of England's distant past is to view them through the lens of centuries past: not so the life and times of this king, whose likeness remains as imperial, impressive and knowable as it was in his own lifetime.
To envision Henry, his court and his wives, is to summon a familiar image; of an imperious man, chest broad, legs splayed, and his clothes majestic. The debt for this likeness and so many that came after it is owed to one of the greatest portraitists of the 16th century: Hans Holbein the Younger - now, the subject of a new monograph by Jeanne Nuechterlein, which aims to situate the prolific painter within the wider context of the extraordinary times in which he lived [1].
Portraiture as a genre developed exponentially in early 16th century England, and Henry was keenly aware of the importance of such self-representation. A military-minded and fiercely aspirational monarch, he carefully imbued his royal image with what Professor Maria Hayward describes as the kingly trait of magnificence, conveying 'sovereign bounty or munificence, glory, greatness of reputation, sumptuous surroundings, grandeur or an imposing appearance' [2]. In the same vein as his predecessors, Henry's sumptuary legislation decreed that only the king and his immediate family had the right to wear certain colours and fabrics, with the discernible effect of heightening their majesty and elevating them above all others.
Clothing was vital as a means of displaying this magnificence. From rich furs and costly velvet to sumptuous silks, adorned with gold embroidery, Henry and his advisors understood the magnitude of apparel in shaping public opinion, and used clothing and colour to convey his prestige. Painting in the style predominantly associated with the Northern Renaissance, Holbein produced art that was realistic in its representation of true likeness and masterful in its use of light and texture. His work was characterised by its exceptional detail and precision, and we are indebted in our understanding of the King's clothing to Holbein's exquisite depictions of fabric, colour and embellishment [3].
In Hans Holbein: The Artist in a Changing World, Nuechterlein considers the artist's creative contributions alongside major changes that took place across Europe in the early 16th century. Born in Augsburg, Germany, in 1497 and son of the already-esteemed painter Hans Holbein the Elder, Holbein worked in Basel before travelling to England in 1526. There he became quickly immersed within the inner circle of the great philosopher and Renaissance humanist, Sir Thomas More. Then secretary and personal adviser to the king, More would go on to become Lord High Chancellor of England in 1529, before his refusal to acknowledge Henry as Supreme Head of the Church of England saw him summarily executed on charges of treason (an occupational hazard at the early modern court).
Following a brief hiatus back in Basel, Holbein returned to the Tudor court in 1532 and began work under the patronage of Anne Boleyn and Thomas Cromwell. This prestigious position led in turn to his appointment as King's Painter in 1535. Installed at the royal court, Holbein thus found himself in the most extraordinary position: a front-row seat, during one of the most tumultuous periods in English history.
Between 1533–1537, Henry divorced his former Queen, Catherine of Aragon (1485–1536), paving the way for him to marry Anne Boleyn (1501–1536) who in September 1533 gave birth to the future Queen Elizabeth I (1533-1603). Having executed Anne on charges including treason and adultery three short years later, the King then married Jane Seymour (1508–1537), who gave him his much-desired male heir but lost her own life in the process. The annulment of Henry's union with Catherine caused the King to break with Rome, beginning the English Reformation and establishing the Church of England, which prevails to this day.
It was during this period of unrest that Holbein produced his most famous image of the king: his Portrait of Henry VIII, created in 1536–1537. The painting originally formed part of a mural, depicting Henry and his wife Jane Seymour alongside his parents and produced to adorn the Privy Chamber wall at the Palace of Whitehall. It is a testament to Holbein's prolificness that, despite the original image being lost to a fire in 1698, numerous copies throughout the centuries have ensured that it remains the defining image of the king. Conveying his authority, his wealth and his masculinity through his stance and attire, such propaganda acted as a demonstrable recognition of the divine right of House Tudor - a powerful visual antidote to the kingdom's actual turmoil [4].
Holbein is famous now for his fine attention to detail. In this painting Henry's shoulders are padded, his codpiece notable; he is shown wearing a doublet, embellished with gold-coloured yellow work at the collar and with wide sections of blackwork foliage at its front and sleeves [5]. Blackwork was a form of counted thread embroidery, carried out in a double running stitch known as 'Holbein stitch', and named so for Holbein himself. In his paintings of Henry and his children almost all sitters are shown wearing clothing decorated with blackwork embroidery [6]. Jane meanwhile wears an English gable hood with goldwork embroidery and pearled embellishments, her chemise sleeve cuffs decorated too with a band of blackwork [7].
The Henry of Holbein's 1536–1537 work is imposing, his masculinity clear for all to see. A propensity for clothing that was black, brown, crimson and cloth of gold is demonstrable in the King's substantial portraiture, though wardrobe accounts reveal a far greater affinity for colour: green, russet, white, purple, blue, tawny, yellow, carnation and cloth of silver are all referenced too, and the expense associated with such hues also denotes the King's wealth [8]. Jane too recognised the significance of clothing as a means of conveying majesty and might, and it is through Holbein's intensely realistic representations that we are able to gain a tangible sense of what such understanding resembled.
Portraits are of backdrops, props, clothes and jewels, as much as they are of people [9]. Through Holbein's paintings, Henry was able to convey both the conspicuous power and unreadability integral to his supreme status; thanks to the proliferation of these images, we are imbued to this day with an immense understanding of how the King used clothing to present his own prestige. And what of the portraitist behind the easel, who captured Henry's close-up during the most tumultuous period of his reign? Hans Holbein: The Artist in a Changing World offers an insight into the creator behind the works: an enigmatic man from Augsburg, who shaped contemporary perceptions of one of history's most famous monarchs.
References:
[1] Jeanne Nuechterlein, Hans Holbein: The Artist in a Changing World (London: Reaktion Books, 2020).
[2] Maria Hayward, Dress at the Court of King Henry VIII (London: Routledge, 2007), p.9.
[3] The Art Story, Hans Holbein the Younger <https://www.theartstory.org/artist/holbein-hans-the-younger/> [accessed 12 September 2020].
[4] Ibid.
[5] Hans Holbein the Younger and Blackwork (2017) <https://trc-leiden.nl/trc-needles/visual-archive/16th-century/hans-holbein-the-younger-and-blackwork> [accessed 12 September 2020].
[6] Holbein stitch (2018) <https://en.wikipedia.org/wiki/Holbein_stitch> [accessed 12 September 2020].
[7] Blackwork (2016) <https://trc-leiden.nl/trc-needles/regional-traditions/europe-and-north-america/embroideries/blackwork> [accessed 12 September 2020].
[8] Maria Hayward, 'Fashion, Finance, Foreign Politics and the Wardrobe of Henry VIII', in Clothing Culture, 1350-1650, ed. by C. Richardson (Aldershot: Ashgate, 2004), pp.165-178, p.171.
[9] Ann Rosalind Jones and Peter Stallybrass, Renaissance Clothing and the Materials of Memory (Cambridge: Cambridge University Press, 2000), pp.34-35.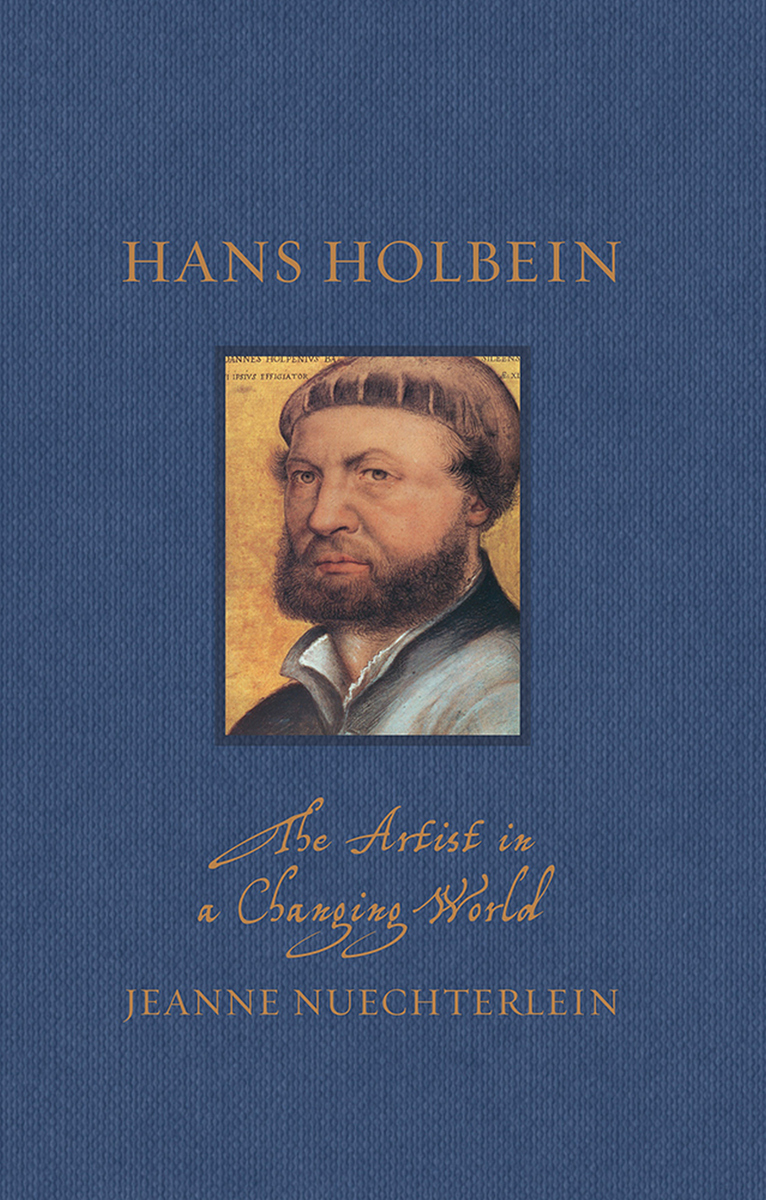 1. Jeanne Nuechterlein - Hans Holbein: The Artist in a Changing World (Source: bibliovault.org)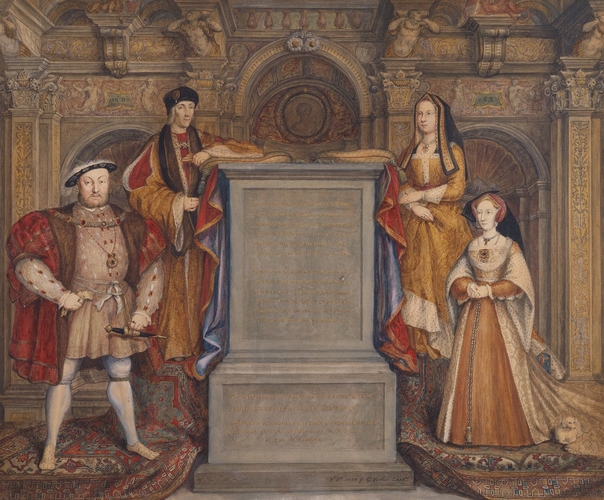 2. The Whitehall Mural (Source: Royal Collection Trust)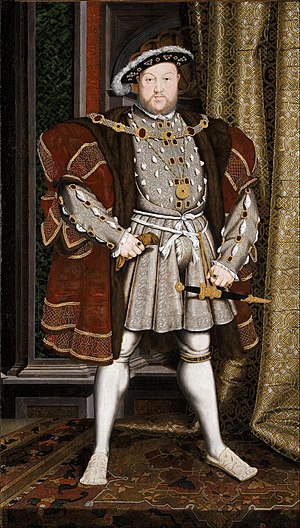 3. Portrait of Henry VIII (Source: Wikipedia)
"