(Patch) Working It: A History of Patchwork in Dress
In her first blog of 2021, CS Ambassador Isabella Rosner examines patchwork in fashion.
Although jackets made of antique quilts and shirts made of old table linens are some of the hippest fashions of 2020, patchwork fashion is nothing new. Before designers like Psychic Outlaw became famous on Instagram for turning your great grandmother's quilts into coats and dresses and before cottagecore took the Internet by storm, there were the Victorians with their penchant for patchwork. Patchwork quilts have leapt off of beds and onto our bodies for 200 years.
Even though patchwork goes back 5,000 years, to ancient China and Egypt, and the word "quilt" was first used in England in the 13th century, little is known about quilting and patchwork before the 18th century and there are few surviving examples. Notable 18th- and 19th-century patchworks include a 1718 coverlet, one of the earliest dated patchworks, and a sizeable patchwork made by author Jane Austen with her mother and sister.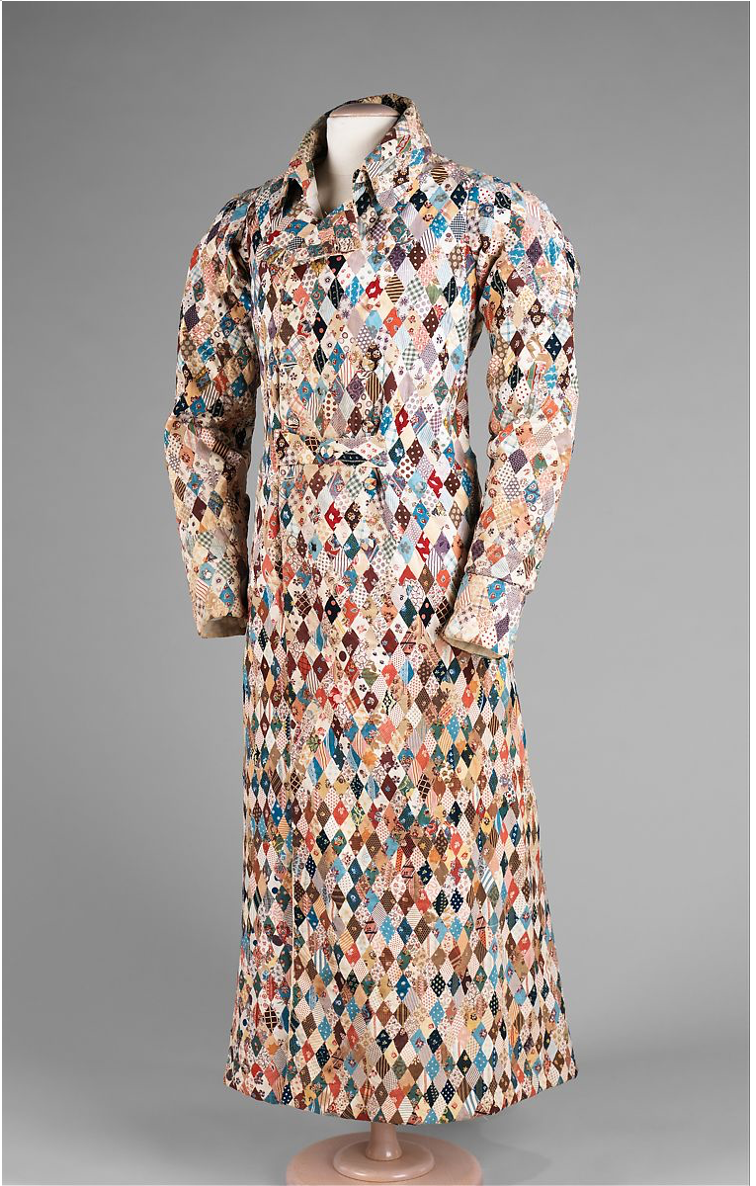 1:'Coverlet', 1718, English, The Quilters' Guild Collection, York.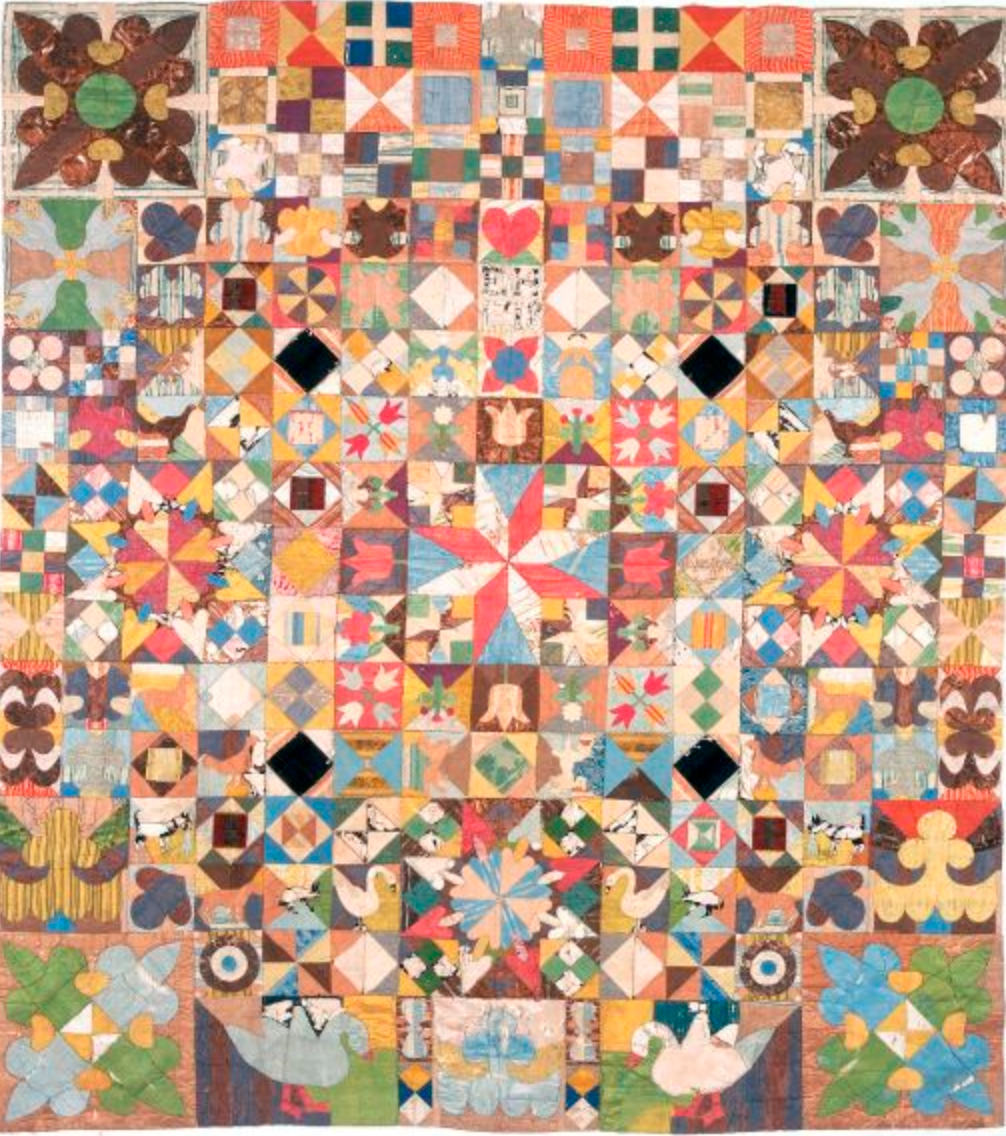 2:'Coverlet', 1718, English, The Quilters' Guild Collection, York.
The earliest surviving examples of patchwork clothing are from early 19th-century England. Norfolk Museums has a patchwork quilted dressing gown made by Hillington school children for the wedding of Sir W. Ffolkes in 1818 but no photo of the dressing gown exists. A more well-known dressing gown, from approximately 1825, is in the collection of the Metropolitan Museum of Art. It's made up entirely of tiny diamonds with various roller print patterns, all hand-stitched together. It's similar to another English dressing gown made ten years later, in the collection of the Museum of Applied Arts & Sciences. It features minute triangles stitched together to create larger square blocks, which are complemented by a velvet collar and cuffs. All of these dressing gowns were likely made by their wearer's wives, mothers, and/or daughters, suggesting that they were opportunities for quilters to show off their stitching skills and their affection for the gown's wearer.
But the trend of female family members sewing patchworked clothing for their husbands, sons, and brothers did not end in the 19th century. There is an early 20th-century example in Norfolk Museums made for a different purpose but with the same dedication to stitching together fabrics leftover from old clothing and home goods. The Norfolk piece is an evening coat made during World War I by a mother for her son as he was convalescing from injuries sustained during the war. The hexagonal patchwork is made of bright fabrics from the 1890s. It's impossible to look at the coat and not think of a mother's love stitched into the honeycomb pattern and her use of vibrant colours to distract her son from the ravages of war.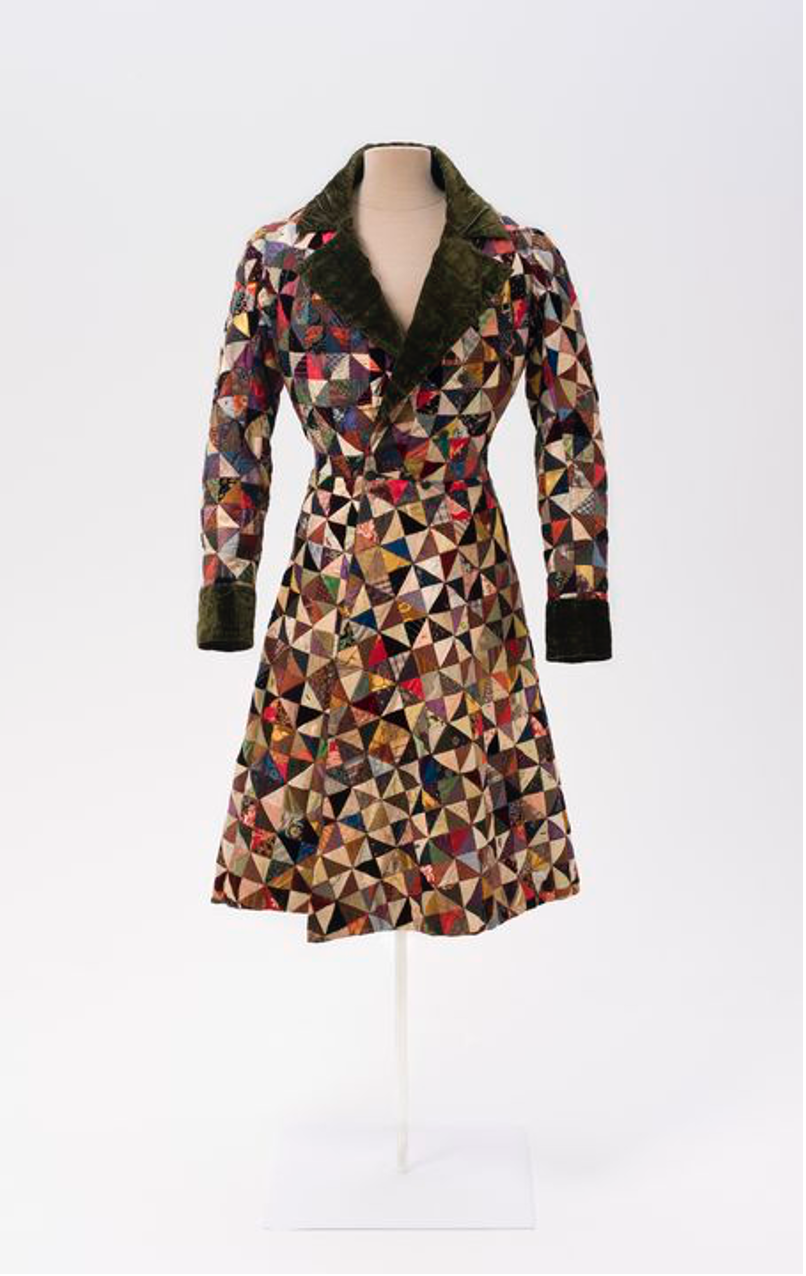 3:'Dressing gown', ca. 1835, British, Museum of Applied Arts & Sciences, H5687.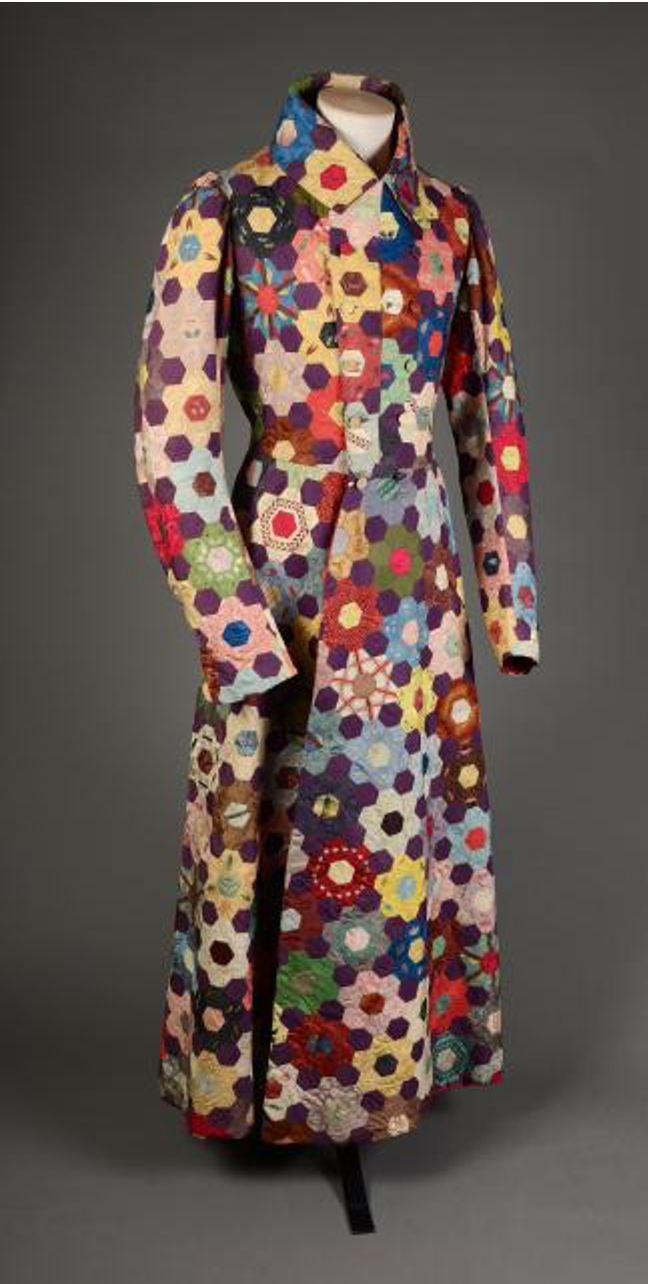 4:'Evening coat (coat)', c. 1919, British, Norfolk Museums, NWHCM: 1974.478.2
Fifty years after that mother stitched, patchwork evening clothes burst onto the scene once more. Cuban-born American designer Adolfo was known for his extravagant looks made of patchwork quilts. He followed the larger 1960s movement toward viewing quilts as textile art and reflected that appreciation in his work by avoiding cutting into the patchwork quilts he used.
Unfortunately, the same can't be said for how patchwork quilts are transformed into clothing now, cut apart and resewn into garments. Are those quilts benefiting from use after sitting in attics for years? Perhaps. Would it be more valuable to maintain the integrity of the needlework of past women even if their work was gathering dust? It's hard to say. While the debate is thorny and lacks a clear solution, what is obvious is even though patchwork fashion has existed for centuries, the 21st-century shift to turning already-made patchwork quilts into clothing involves a different attitude toward historic textiles. This author is hoping for a future of patchwork fashion that involves preserving the needlework of yore.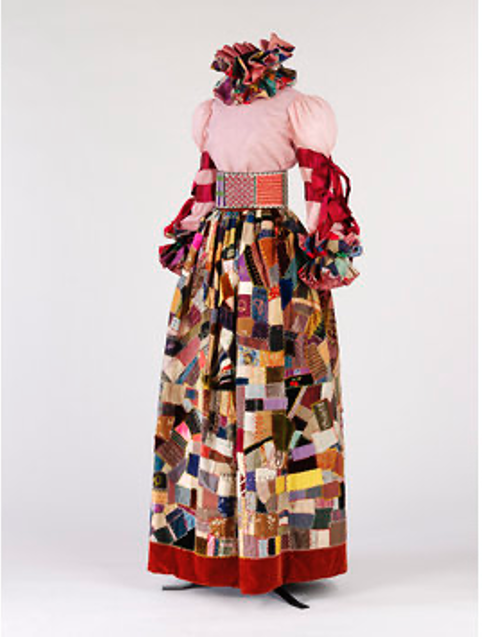 5:'Evening ensemble', Adolfo, 1967, American, Victoria and Albert Museum, T.2 to E-1974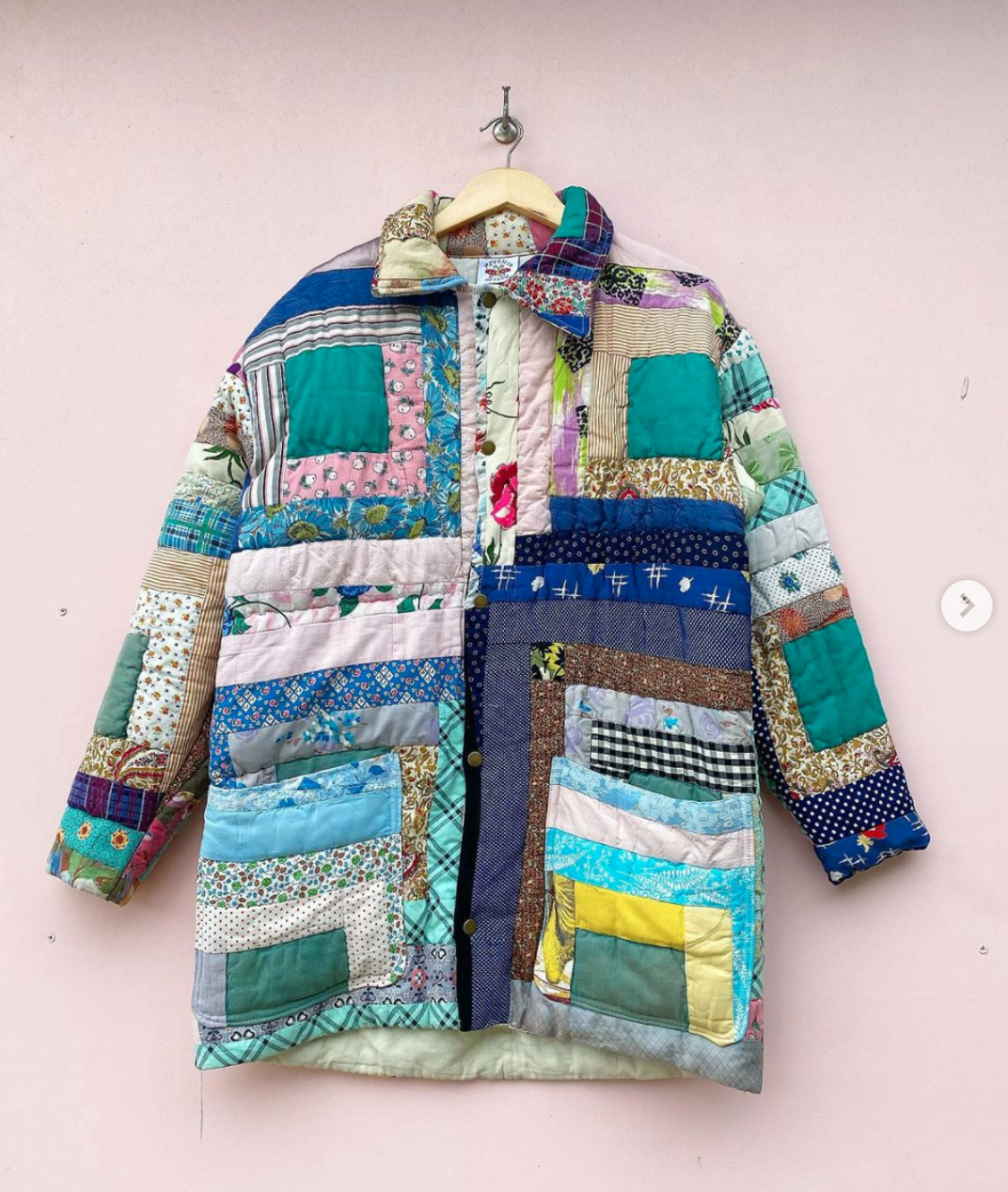 6:'Log Cabin Quilt Coat', 2020, American, @psychic.outlaw on Instagram
Bibliography/ Further Reading
'A Brief History of Patchwork & Quilting'. The Quilters' Guild. https://www.quiltersguild.org.uk/learn/a-brief-history-of-patchwork-quilting