Power of the Pouf: Women's Hairstyles as Social Power
Beth Graham shares her research into the 1770s hairstyle used as a form of self expression, presentation of allegiance and means of social and political activism.
By Beth Graham
The Pouf was a hairstyle popularised by Marie Antoinette and pioneered by her dressmaker Marie-Jeanne 'Rose' Bertain and hairdresser Léondard Autié throughout the 1770s. The word 'Pouf' describes the hairstyle itself; the pads and cushions used to shape and structure the hair. Hair was pinned round said-cushions, piled on top of the head, set with pomade (a mixture of animal fat and perfume - often clove oil, a natural flea and tick repellent) and powdered.[1] This was then decorated using gauze, feathers, sentimental trinkets and all manners of plumage (even vegetables!) to ornament the powdered peaks.[2]
The Pouf was first worn by the Duchess of Chartres in April 1774. Different variations became popular throughout the decade, each with its own name and expressed purpose. Women would often include symbols or objects in their Pouf that would cultivate a carefully curated image of their public persona. For example, the Duchess of Chartre's original Pouf aux sentiments featured the initials of the Duke of Chartres, of Penthievre, and of Orleans (her husband, father, and father-in-law), each initial made with locks of hair from each Duke.[3] By including these, the Duchess was projecting two things; that she was related to powerful men, and that she knew them intimately enough to own locks of their hair. Both of these ideas boosted her social standing and reinforced her status as an important Duchess.
In a society of manners such as eighteenth century France, visual signifiers in fashion were used to project statements that would not have been socially acceptable for women to say outright. Thus, the employment of fashion became a way of laying claim to a social space. An example of the Pouf being used to comment on (and influence) contemporary affairs is the Pouf à l'inoculation, which was worn by Marie Antoinette to celebrate Louis XVI's inoculation against Smallpox. At the time, inoculation was seen as a dangerous procedure which many feared. Louis' decision to undergo the procedure obviously had some sway, but Antoinette's hairstyle also played a part in normalising inoculation. As the Pouf (which featured symbols of Louis, medicine, and peace) grew in popularity, so did inoculation amongst the French.[4] Arguably the popularity of this specific Pouf contributed to a change in public opinion by a. entering the public consciousness and b. through the featured symbols acting as a form of visual argument.
Naturally, contemporary caricaturists jumped at the chance to mock women for this ever-expanding hairstyle. Like much of fashion history, commentators used current fashions to paint women as silly, frivolous and vain. They joked that, 'a woman's head was in the middle of her body,' and that some women wore their hair so big that, 'they were obliged in travelling, to lean out of their coaches, being willing...to make themselves ludicrous...in order to obey [fashion] decrees.'[5][6] There is often a narrative in history (still prevalent today), that states that women are somehow slaves to fashion - that they would do and endure anything, if only to keep up with the latest trends.
Not only is this narrative lazy, misogynistic and lumps half of the population into a thin stereotype, it also remains painfully (and ironically) unaware of the power of fashion, and how women have utilised it to play an unequal situation to their advantage. This hairstyle is an example of how women subliminally claimed an active stake in current affairs and their role in society through fashion. They existed within the boundaries of social acceptability, whilst using the Pouf's own innocuousness as a form of protest and expression of identity. Indeed, the Pouf was so much more than just a hairstyle.

Footnotes:
'The Queen also wore the pouf à la jardinière . It was a vegetable creation with such garden delectables as an artichoke, cabbage, and radishes. It impressed one woman so much, she declared: "I shall never again wear anything but vegetables! It looks so simple, and is so much more natural even than flowers."' https://www.geriwalton.com/the-french-pouf/
Barker, Will, Marie Antoinette's Head: The Royal Hairdresser, the Queen, and the Revolution , (Rowman & Littlefield: United States, 2013), p.65
The Pouf featured 'a rising sun which represented Louis XIV...an olive-tree laden with fruit that represented peace... a serpent (which represented medicine)...holding a flower-wreathed club, which represented the force that could overcome disease' https://www.geriwalton.com/the-french-pouf/
Barker, Will, p.66
Bibliography:
1. Barker, Will, Marie Antoinette's Head: The Royal Hairdresser, the Queen, and the Revolution , (Rowman & Littlefield: United States, 2013),
2. The French Pouf, Geri Walton , < https://www.geriwalton.com/the-french-pouf/ > [Accessed 23/07/18]
3. The Truth about the Big Hair of the 1770s: Part II: How They Did It, Two Nerdy History Girls , < http://twonerdyhistorygirls.blogspot.com/2014/07/the-truth-about-big-hair-of-1770s-part_24.html > , [Accessed 23/07/18]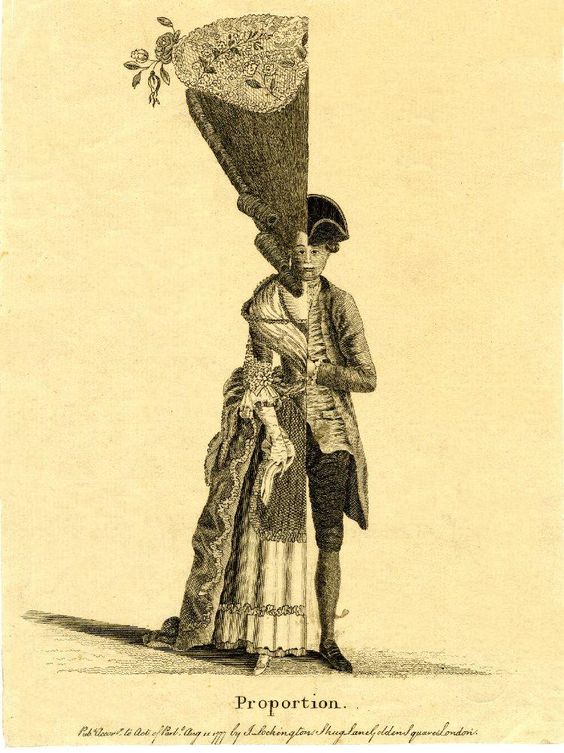 A contemporary satirical cartoon mocking women's ever-increasing hair-styles. https://www.pinterest.co.uk/pin/243616661078338486/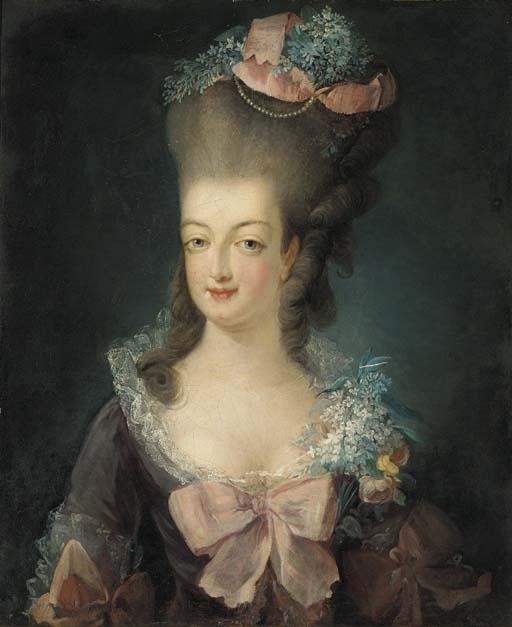 Marie Antoinette sporting a Pouf, 1775. https://www.pinterest.co.uk/pin/108297566010931820/?lp=true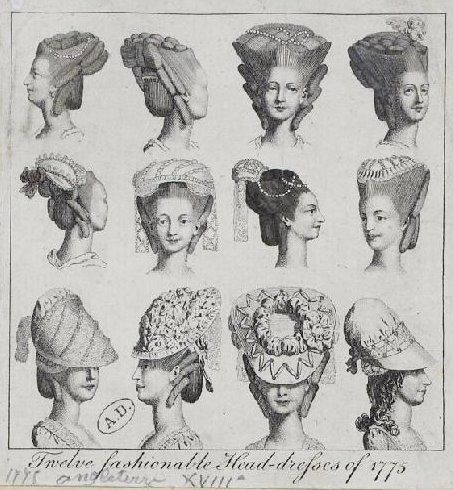 'Twelve fashionable Head-dresses of 1775' https://www.pinterest.co.uk/pin/155233518379834502/
"