Q&A with Lucy McConnell, Exhibitions Assistant at Dovecot Studios
CS Ambassador Abigail King conducted a Q&A with Lucy McConnell, emerging dress historian and Exhibitions Assistant at Dovecote Studios in Edinburgh.
by Abigail King (AK)
Initially, I had hoped to arrange our meeting in person over a cup of tea but the current crisis surrounding us made that impossible, so the internet stepped in. I sent my questions and a wonderful digital conversation took place. Lucy McConnell (LM) is part of the new generation of dress historians and curators, her career just beginning, she can offer insight into starting out and carving a place in the research community. Her work has focused on Paisley shawls and CC41 utility clothing, she has presented papers at the Everyday Fashion Conference in Leeds (2019) and the International Conference of Dress Historians in London (2019) and currently works as exhibitions assistant at Dovecot Studios in Edinburgh. In our virtual conversation, I spoke with her about how her education led her to dress history, how her career is developing and about her own collection practices.
AK: You have an undergraduate degree in Social Sciences, what led you to go on to do the Dress and Textile Histories MA course?
LM: I have always held a love of fashion and social history, for as long as I can remember! It was only natural that these interests combined, leading me to study Dress and Textile Histories. My undergraduate studies allowed me to complete joint honours in history and sociology, two subjects so intertwined. The social, cultural, dress and textile, technological and economic histories surrounding the production of imitation Kashmiri shawls had been of increasing interest to me, through volunteering at the Sma' Shot Cottages in Paisley throughout my undergraduate studies. It was therefore certain that my undergraduate dissertation research would focus on the impacts of the production of shawls on the town and weavers of Paisley. Throughout my undergraduate studies, I knew I would continue my studies to become a dress and textile historian through completing the MLitt course at the University of Glasgow. I still can't quite believe it!
AK: You currently work at Dovecot Studios; can you explain your role and how you ended up working there?
LM: Initially, I visited Dovecot in 2018 for a Q&A event between Dr Jade Halbert and Marion and David Donaldson. The talk was held while the Liberty Art Fabrics & Fashion exhibition was displayed. I adored the exhibition and returned not long after to review it for the Textile History journal. At the beginning of 2019, there was a call for volunteers to help with the de-installation of Liberty Art Fabrics & Fashion, and install the following exhibition, Orla Kiely: A Life in Pattern. I jumped at the chance! It was such a great experience and working with the multidisciplinary team at Dovecot allowed me to put into practice skills learnt during my studies and in other voluntary roles.
I was thrilled to receive an email from Kate Grenyer, Dovecot's Exhibitions Curator, regarding a further opportunity at the Studios. She described the need for someone to assist her with future projects, the first an exhibition on the life and work of May Morris. Working at Dovecot, I have been able to assist Kate with the planning and preparation, organisation, implementation and installation of exhibitions. This has involved working across several projects simultaneously, supporting Kate and working in partnership with other organisations and institutions.
AK: Often the public only sees the wonderful end results of the making of an exhibition, can you shed some light onto the processes behind the scenes?
LM: In curating or staging exhibitions, the process can take several years planning and organisation. From initial ideas to an exhibition which is open to the public, there is a huge amount of work to be done. Logistically, this involves liaising with lenders, both private and institutional, in object selection, lending and approving loan agreements. Exhibition design, organising object transport, arranging for couriers and institutional representatives to attend the venue to assist with installation, is also essential. Drafting, agreeing, and designing object label text and vinyl wall text, ready for print, along with large print graphics to set the scene in accompanying objects is an important element in relaying information to visitors. I have had the opportunity of being involved in the installation and de-rig of several exhibitions, working with the team at Dovecot. Condition checking, including completion of relevant documentation, each object is paramount, both during installation as well as at the end of an exhibition. Installing the exhibition involves receiving objects, checking items in, unpacking, condition checking and mounting (historic dress on mannequins, placing objects in cases and framed works on walls). To work so closely with the works featured, in handling, checking and mounting, is definitely a thrilling culmination of months, years, of hard work by all involved.
AK: Recently you worked on May Morris: Art and Life do you have a favourite piece or section of the exhibition?
LM: The whole exhibition was absolutely beautiful in so many ways. To learn so much about such a remarkable individual has been such a privilege. As an artist, socialist, and independent spirit who produced so many works in her lifetime, May Morris' work to preserve her father William Morris' memory somewhat overshadowed her own. The work of Rowan Bain, Curator of the exhibition at William Morris Gallery, and all involved, has to be commended in recognising the life and work of May Morris in such a ground-breaking exhibition. Every piece featured in the exhibition was amazing in its own right! If I had to choose, it would have to be the embroidered silk dress, c. 1905, part of Leicestershire Museums' collection. I was so very privileged to work so closely on in mounting the garment. I would also have to include the blue wool bodice, c. 1880s/1890s, loaned from Kelmscott Manor, Society of Antiquaries of London.
AK: Thinking of your own work, do you have a particular area of interest? Are you currently working on a new project?
LM: My interests in history range from the eighteenth century to the present day. I am keen to explore previously hidden histories, giving a voice to those who may not have otherwise been recognised. In this, it is important incorporate different means of analysis, both qualitative and quantitative, exploring social, cultural, dress and textile, economic, technological and political analysis in my work. I am interested in further exploring both the Utility Clothing Scheme and Paisley's textile manufacturing industries. I am excited to say my work on the Paisley shawl has allowed me to produce an article which will be included in the Spring 2020 edition of the Journal of Dress History, and conduct further research enabling me to work with local outlets in Paisley to produce written work on the involvement of Renfrewshire's towns and villages in textile production. At the Sma' Shot Cottages, we are also continuing to create an accessions register for objects within the collection and implement preventative measures in collections care.
AK: Do you have your own personal dress collection? What is your collection focus, how do you select and care for your pieces?
LM: I do! If I like an object, then it comes home with me! Particularly, I have an ever-growing collection of CC41 labelled Utility Clothing Scheme items. This is mainly made up of underwear and small accessories, though I have recently invested in a pair of ice skates! I have also recently acquired a Paisley shawl, which I am very excited about. This is another part of my collection which continues to grow – it accompanies shawl fragments and contemporaneous photographs of individuals wearing shawls in the mid to late nineteenth century. Along with these, the personal collection also includes kimono and Japanese fabric samples, photographs, fans, parasols and other accessories, sewing items (particularly pertaining to Paisley's cotton processing industry), and several sewing machines… rather eclectic!
I employ museum practice to care for these pieces, including utilising acid free tissue to wrap objects, and storing them away from light in closed boxes. Of course, it is important to enjoy these objects! Every so often I take the time to studying them, share photographs online, and conduct research to find out more about each item. One textile piece which is always on open display is a beautiful Utility eiderdown, a gift from my family, which I keep on the end of my bed.
What is clear is there is a strong emotional connection between McConnell and the work that she does, she puts great care and thought into the smallest of details at work and in her personal collection. Carefully preserving these pieces of history whilst sharing them with us either in an exhibition or online and revealing their hidden lives.
Further Reading:
Lucy McConnell is on Twitter Diary_DressHist and Instagram diary_of_a_dress_historian
To read Lucy's article on the Paisley shawl in the Spring 2020 edition of the Journal of Dress History, click link below:
https://dresshistorians.org/wp/wp-content/uploads/2020/04/JDH_Spring_2020.pdf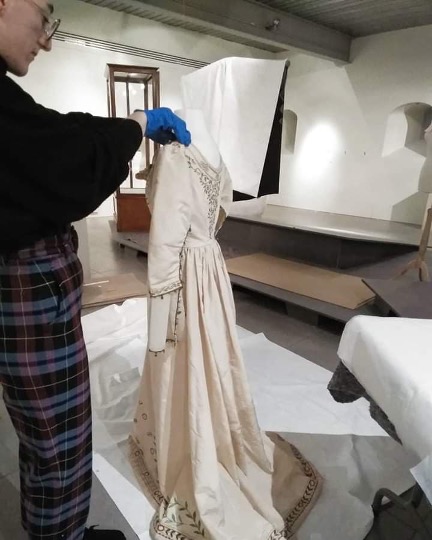 Lucy McConnell mounting the embroidered silk dress, c. 1905, part of Leicestershire Museums' collection. Image courtesy of Lucy McConnell.
"