Reflections: My Time as Recipient of The Museum Work Experience Grant
With this year's applications now extended to 30th July 2020, Costume Society Ambassador Aimée Palmer reflects on her time spent at the Ulster Folk Museum as recipient of The Costume Society's Museum Work Experience Grant.
by Aimée Palmer
With this year's applications for the Costume Society Museum Work Experience Grant now extended to 30th July 2020, I have been reminiscing about my own experience with the grant during the autumn of 2019. Over the course of two months, I completed my placement two days a week at the Ulster Folk Museum (National Museums NI) with Valerie Wilson, the museum's curator of textiles.
As any textile art and fashion graduate would be, I was completely in my element in the textiles store, surrounded by the most stunning pieces ranging from costumes to embroidery samplers. The first task I worked on was hats from the 1920's to 1940's, which involved researching the different styles of hats to pinpoint which year they were designed, which would help when updating entries on the museum's Collections Management System (CMS), MIMSY. I began by photographing the hats, making sure each one had its own unique accession number or assigning one if it didn't. I then had to make the labels with the object's number on them, that would then be hand stitched onto the hat. Once those tasks were complete, I was shown how to pack the hats away using acid free tissue paper and boxes. My next task was cataloguing dresses from the 1950s and '60s, which allowed me to gain experience in dressing and padding mannequins, so the dresses hung correctly before photographing them.
The work placement gave me an insight into the tasks a museum curator completes on a daily basis, for example facilitating public access to the collections in store. I assisted the Curator with preparing a session for a PHD researcher and a local artist preparing for an upcoming art exhibition. It was great to see the museum's collection being used for two diverse reasons. I also accompanied Valerie to a public lecture and workshop by embroidery artist Rebecca Devaney at the University of Ulster, Belfast. Rebecca has worked for numerous fashion houses in Paris including Chanel and Dior, to name a few. This gave an insight into how the museum and its Curators make outside contacts and use new information to assist with their current research and collections. I also got to assist in displaying Costume and textiles in an open-air museum setting which I thoroughly enjoyed.
Through writing blogs, my work within the museum lead me to collaborate across other departments including Documentation and the Sound Archives. Using the sound and image archives, as well as resources in other departments, I was able to inform my research within the Textiles department. This gave me a well-rounded overview of what it's like to work in a museum and how each department works together.
I would encourage anyone with an interest in costume, textiles and curatorial work to apply for The Museum Work Experience Grant as it is the perfect opportunity for practical, hands on experience with one to one guidance from a curator. Valerie Wilson was extremely generous with her knowledge and I have gained so much insight from my work placement. I enjoyed my experience so much so that I have decided to volunteer once a week with the museum's Textile Curator. Not only will this give me the opportunity to develop my knowledge and skill set, it will also provide inspiration for my future Costume Ambassador blogs.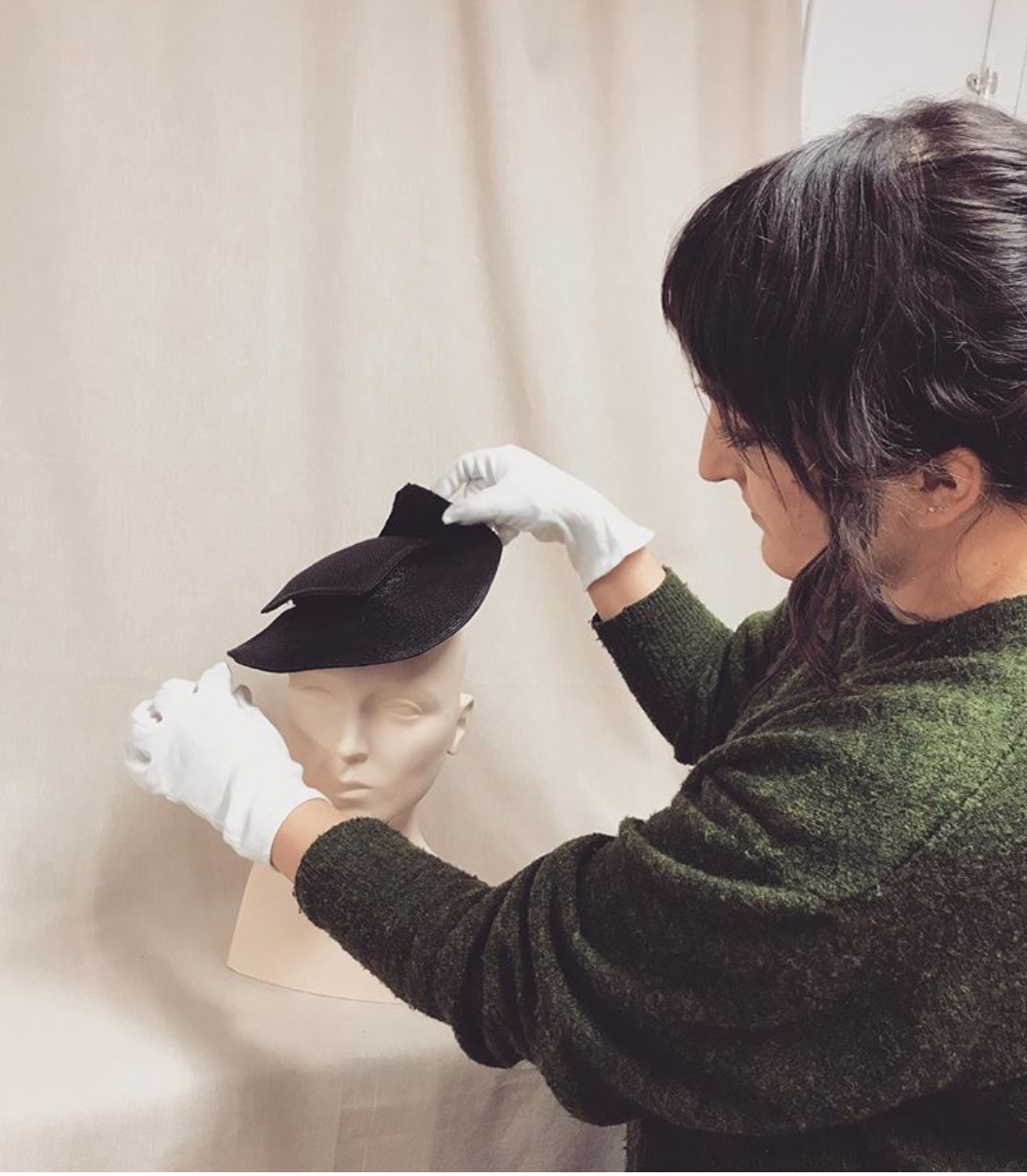 Aimée Palmer, recipient of The Museum Work Experience Grant, Ulster Folk Museum.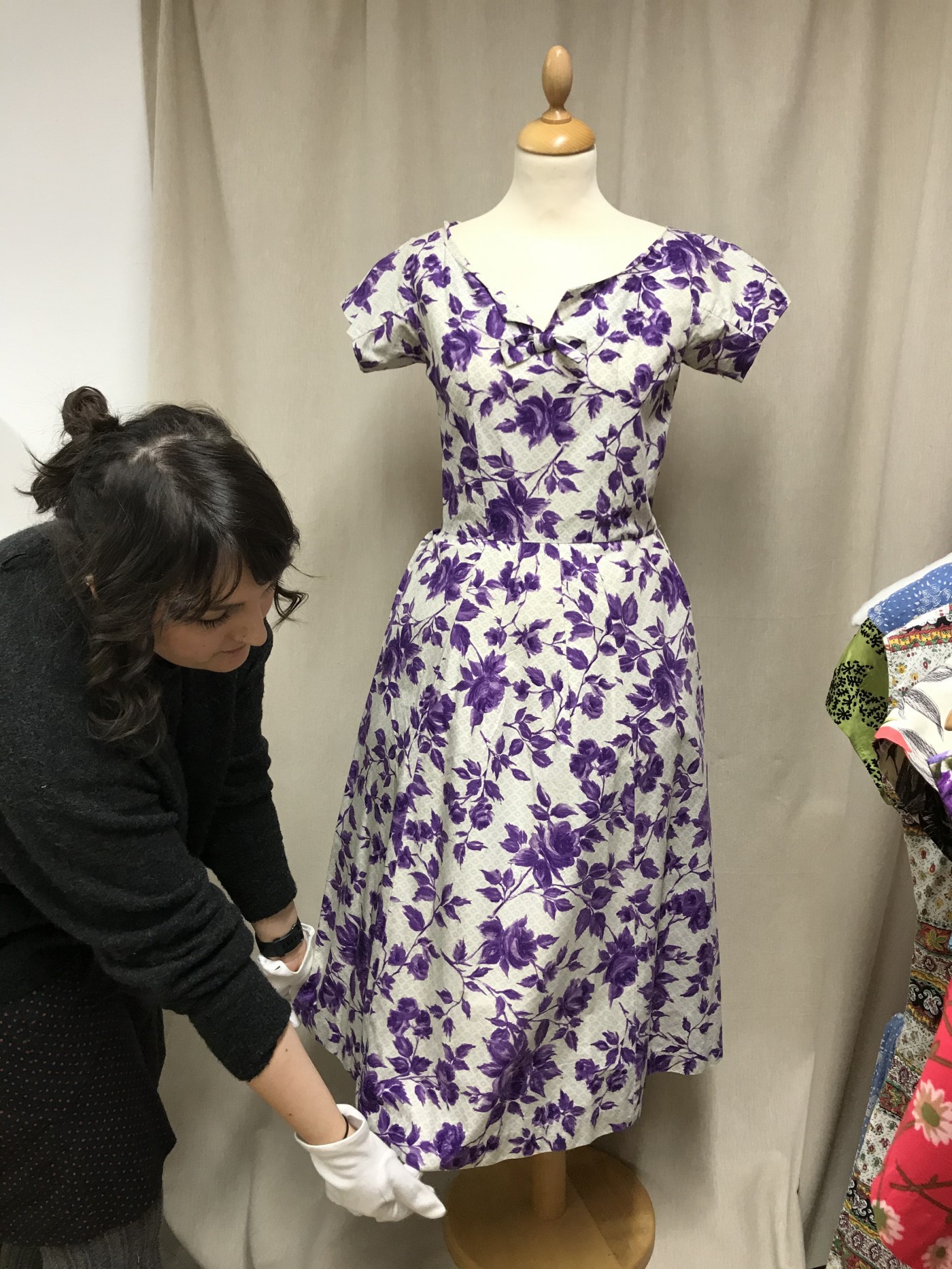 Aimée Palmer, recipient of The Museum Work Experience Grant, Ulster Folk Museum.
"