Small but mighty: 'Love's Labour's Found'
In this week's blog Costume Society Ambassador Ella Muir reviews Love's Labours Found, an exhibition of Elizabethan and Jacobean portraiture held at Philip Mould & Company's London gallery.
Embroidery, lace, and resplendent ruffs galore: between 21 April-28 May 2021, on London's historic Pall Mall a sumptuous array of Elizabethan and Jacobean costume in portraiture was on display at the Philip Mould & Company's 'Love's Labour's Found' exhibition.
Specialists in British art and Old Master Paintings for more than 30 years, the Philip Mould & Company gallery has showcased some sensational historic paintings; a visual testament to the progression of fine art over the past half a century. An art dealer since his early teens, one of Mould's most notable findings includes the discovery of the only surviving portrait of Prince Arthur Tudor, in the form of a tiny portrait hidden away inside a larger panel. Arthur had been married to Katherine of Aragon before dying suddenly at the untimely age of 15, setting in motion the unexpected kingship of Arthur's younger brother, who would go on to become one of Britain's most notorious monarchs, King Henry VIII of England.
The capacity to make discoveries is at the heart of Mould's life's work. It's at the core of this exhibition, too: crucially, in presenting these eighteen paintings 'Love's Labour's Found' sets out not only to display magnificent historic works but to bring to the fore the advances in art history brought about by digital innovation. This display is therefore as much about the impact technology has had on new discoveries as it is about the portraits of the distant past. For Mould and his team, including Head of Research Lawrence Hendra, modern technology such as pigment analysis and infra-red imaging is key to opening the field and drawing connections between artworks anew.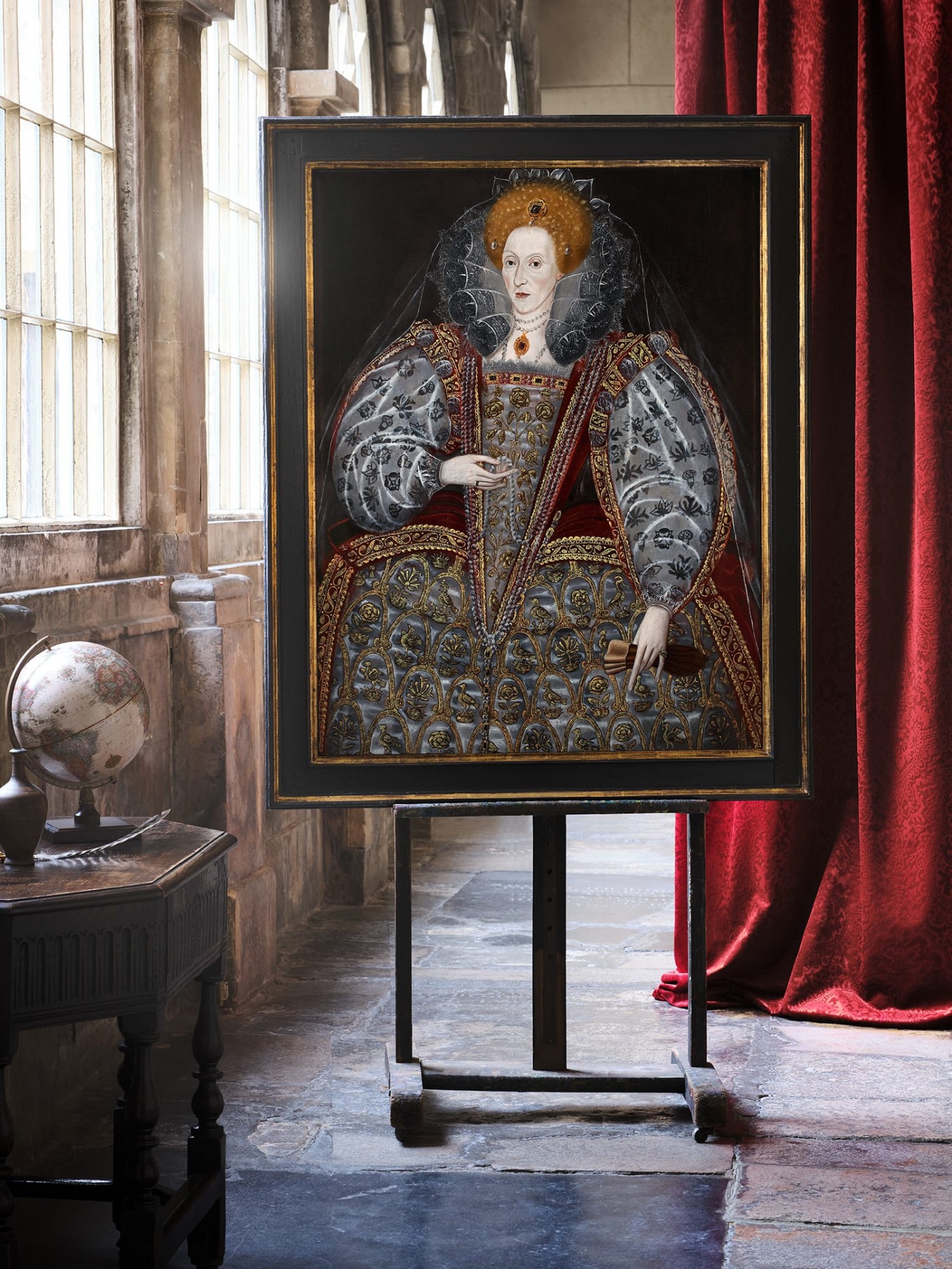 2. Portrait of Elizabeth I, artist unknown, c.1590s (Source: Philip Mould & Company)
Small but mighty, 'Love's Labour's Found' is an exhibition that acts as a taster of sorts; a visual reminder of just how much more there is to uncover from this rich artistic period. Renderings of monarchs, courtiers, and other notable figures, formed by the likes of Jean de Court, painter to the kings of France, and Nicholas Hilliard, famed for his miniatures of Queen Elizabeth I, hang alongside exquisite images whose creators and sitters remain unknown. This is a conscious decision, a careful curation designed to remind the observer that for every story each painting reveals, there remain secrets and meanings waiting to be uncovered.
The costume displayed in each work is as spectacular as one might imagine from a time in which clothing was saturated with powerful symbolism. A miniature by de Court - once presumed to have portrayed Walter Raleigh - has in fact been found to depict the French king Henri III. Supplementary information tells us that this image, the only signed work by the French artist known to date, was one of the last portraits to present the monarch in this style, 'before his taste for rich ornaments and large ruffs was supplanted by a preference for black silks and folded collars'. The knots and lines of Henri's collar are enlarged to match the fashion of 1578, its exquisite lace masterfully represented by the brush strokes. [1] As 'Love's Labour's Found' informs us, much of the iconography associated with Henri III was destroyed during the Wars of Religion; this minute offering thus represents an essential representation of an often misunderstood monarch, about whose image we know comparatively little.
Perhaps unsurprisingly, the ornate clothing on display reaches its zenith with the exhibition's two portraits of power-dresser Queen Elizabeth I. Few people understood the propagandic potential of portraiture so acutely nor used it to such great effect, as the queen's attire in a painting made by an unknown artist in the 1590s makes clear. Beneath an imposing ruff Elizabeth's gown is embroidered with the finest thread of gold; her broad red sleeves are split to display a pair of white silk sleeves, adorned with Tudor roses and other motifs symbolic of the queen's prestige and authority. [2] We are able to glean that the queen's likeness here derives from the famous 'Darnley' portrait of c.1575; the exhibition cites recent dendrochronological analysis (tree-ring dating) of the oak panel as a technology that has provided a possible creation date of c.1591-97 for this depiction.
In addition to these monarchic models of sumptuous attire, there is much to be gleaned from garments worn by the other subjects of 'Love's Labour's Found'. In a miniature painted by Isaac Oliver (c.1610s) an unknown nobleman wears a black doublet with an ornate embroidered pink sash, his courtly attire and possible military rank denoted by his clothing making his lack of identity all the more intriguing. [3] Elsewhere a portrait by an unknown artist presents a young girl in an open-standing ruff with matching cuffs, decorated with the intricate blackwork embroidery around the motif of the Tudor rose, also known as the Holbein stitch for its association with the famous Tudor painter. [4] This emblem signified monarchical support, whilst the subject's dress, decorated with evergreen foliage including ivy, would have been inherently symbolic of fidelity and everlasting love; potent motifs during the Elizabethan and Jacobean periods.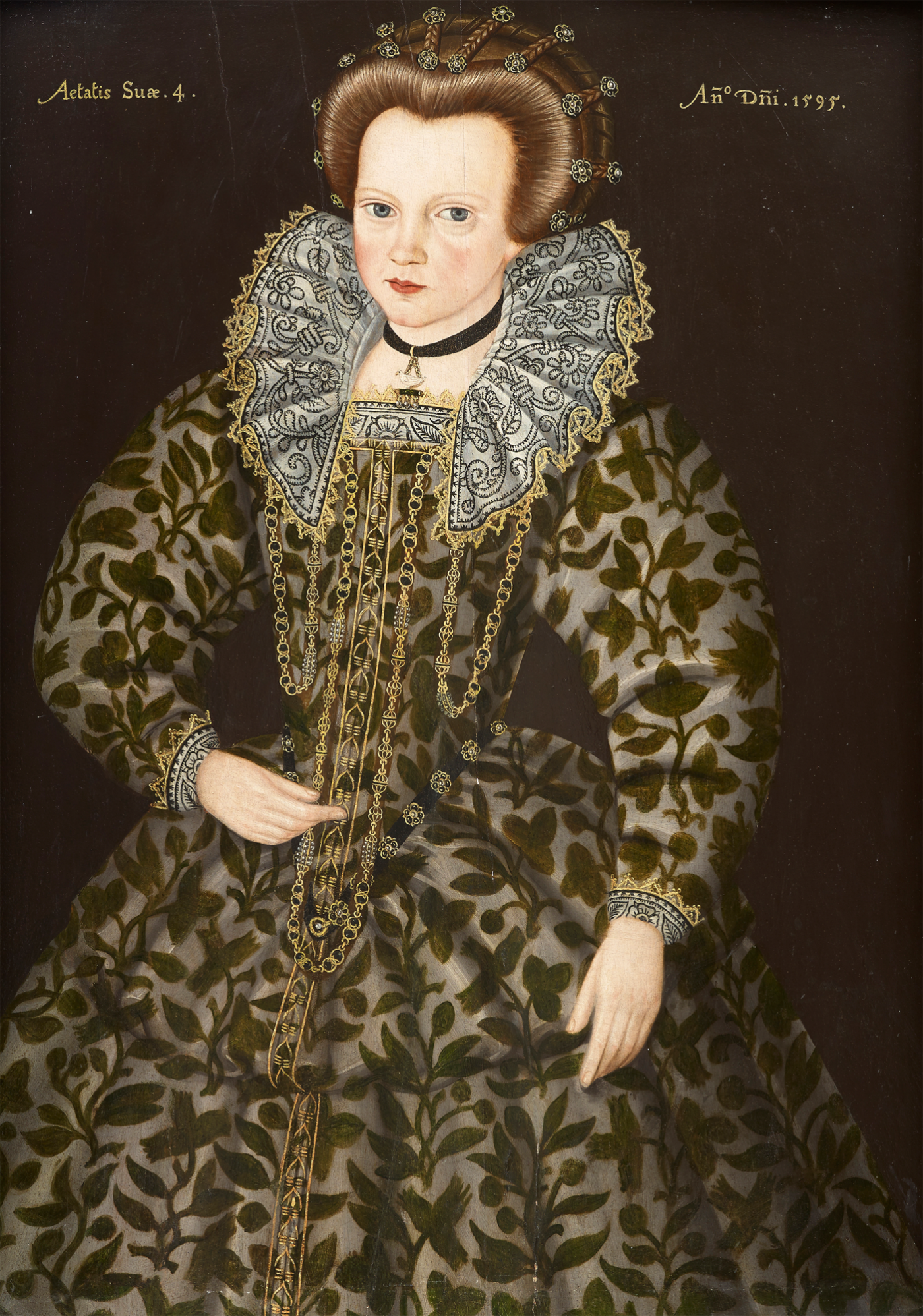 4. Portrait of a Young Girl, artist unknown, 1595 (Source: Philip Mould & Company)
"A Shakespearean way of showing a face", this homage to the 17th-century's greats presents sumptuous yet wholly uncluttered portrayals, of individuals well-known and those lost to the annals of time. Through each image within this well-formed exhibition we are invited to view with clarity its sitter's persona, and with that the stories imbued in their attire. In Elizabethan and Jacobean England these subjects understood the power of paint and the transformative nature of the attire they chose to be presented in, and in 'Love's Labour's Found' their rich legacies are apparent. Even better, in the spirit of all-things digitised 'Love's Labour's Found' remains accessible to view online, rendering each of its holdings in the form of high-quality images with extensive supplementary information, and ensuring access to these masterpieces for all who wish to "drop in".
Philip Mould & Company specialises in British art and Old Master Paintings with a gallery that showcases 500 years of British art from Tudor and Jacobean portraiture, rediscovered masterpieces by Sir Anthony Van Dyck, outstanding works by Thomas Gainsborough and Sir Joshua Reynolds, fine Portrait Miniatures, leading examples of Modern British painting and sculpture and much more. Philip Mould is a notable figure in the art world and star of the BBC1 programme Fake or Fortune?
Images:
1. Henri III of France, by Isaac Oliver, c.1610s. Philip Mould & Company, Love's Labour's Found
2. Portrait of Elizabeth I, artist unknown, c.1590s. Philip Mould & Company, Love's Labour's Found
3. A Nobleman, by Isaac Oliver, c.1610s. Philip Mould & Company, Love's Labour's Found
4. Portrait of a Young Girl, artist unknown, 1595 Philip Mould & Company, Love's Labour's Found
Bibliography:
Tarnya Cooper, Citizen Portrait: Portrait Painting and the Urban Elite of Tudor and Jacobean England and Wales (London: Yale University Press, 2012)
Lawrence Hendra and Emma Rutherford, (eds), Love's Labour's Found: Elizabethan and Jacobean Portraiture (Philip Mould and Company exhibition catalogue, 2021)